Six Nations: Marcus Smith sparkles but sterner tests await
As ever, the Six Nations delivered. It delivered on saving Wales from a second weekend of crushing disappointment, and it delivered a mortal blow to any early optimism from Scotland when the same scoreline was posted as the Calcutta Cup win against England, yet this time it was not in their favour. France and Ireland served up some more sophisticated fare at a pulsating Stade de France, where both sides could laud the positives from their game but only Les Bleus were left with the hopes of a first Grand Slam in 12 years. The weekend finished with a rudimentary victory by Eddie Jones' England over an eager yet limited Italian side, that left his squad sated but with sterner challenges ahead…
Marcus Smith has potential but sterner tests are to come
Such is the hyperbole around Marcus Smith, that you suspect his hitch-kick will be trademarked soon.
Of course, for someone of such tender years – he turns 23 today – there is no doubt his achievements are noteworthy. A British & Irish Lion, the scorer of over 1000 points for Harlequins and now a fulcrum of the English attack, it is perhaps unsurprising that the cacophony of noise around his gifts reverberate around TV studios, sofas and clubhouses, almost to the detriment of his team-mates, but the pleasing way he unpicked the Italian defence should be put into context. Indeed, the Azzurri lost their 34th consecutive game and you suspect Smith's opposite number, Paolo Garbisi, whom Smith shared some supportive words at the final whistle, could have similarly shone against such limited opposition.
Shrewd commentators will know far more about the young Harlequin's ability to thrive at the very highest level when he pits his wits against Dan Biggar, Johnny Sexton and Romain Ntamack in the final three fixtures of the Six Nations. At least Eddie Jones seems to be coming round. Jones gave him 80 precious minutes in Rome, even utilising George Ford in a 10-12 combination late on when the result was a foregone conclusion, rather than hooking him, as he did against Scotland when the going got tough.
Smith now has 30 points for the tournament, including two tries, and Jones has said 'there is no ceiling' to how good the Brighton College-educated pivot could be, adding, 'he could be an absolutely outstanding player at Test level by the World Cup'. The was a marked softening in his rhetoric towards Smith, where months ago his tone was more like a stern teacher (his former profession), warning him not to get distracted by celebrity.
In Owen Farrell's absence, Smith has time to hone his instincts and lead the squad's attacking DNA, he is looking increasingly likely to play a pivotal part in England's sojourn to France next year and that should excite fans – just don't use Rome as a benchmark to his undoubted potential.
French renaissance – or don't believe the hype?
They're back. Twelve years since their last championship, they have one hand on this year's trophy, and already have claimed a prize of sorts. For years the French national team had suffered a disconnect with the French public, the joke going that there was more engagement between players and the stands two years ago than there was in 2018. Those games two years ago were played behind closed doors, remember.
Saturday's certainly wasn't. Those 81,000 voices singing La Marseillaise before kick-off created an atmosphere not heard in the ground in years. There's a team and a dream to believe in again, one that is entirely focused on 2023. "For us, the priority is not this year's Six Nations but next year's World Cup," says Romain Magellan, the former Saracens and France A prop and now the voice of rugby on Canal Plus. "To be champion of the world, on home soil, that would be everything."
They've a chance. Quite apart from the considerable brilliance of their half-backs, Antoine Dupont and Romain Ntamack, they have a pack that is big enough and ugly enough to go toe-to-toe with anyone's – yes, even South Africa's. Ireland arrived into Saturday's match with genuine belief they had the best front row in the world. They left it with sore limbs and bruised pride, their set-piece suffering from French pressure all afternoon.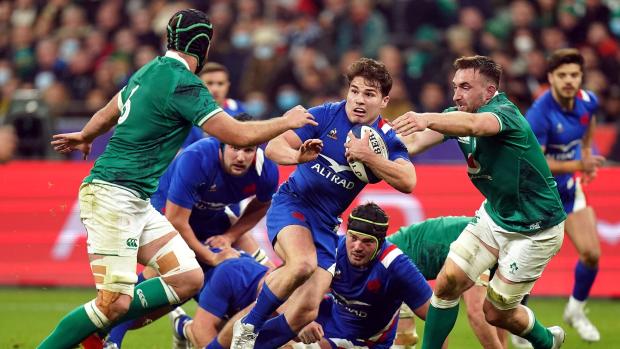 Well, for most of the afternoon.
Questions about the French mentality won't go away until they make them go away. The third quarter meltdown on Saturday was reminiscent of the same issues they had against a tired All Blacks side in November. Yes, they ended up seeing both games out – but world champion sides tend not to give away those sorts of leads.
France are on the up. That pre-season trip to the French Foreign Legion's army base was not a mere gimmick; it sums up the tough-as-nails philosophy of Gathie and Edwards, their generals. So too does the presence of Gabin Villiere on their wing. He may not have the panache of a Teddy Thomas but he has the toughness of an Edwards. We saw that when he emptied Hugo Keenan on Saturday.
It all bodes well but until France seal the deal, and turn opportunity into deliverance, then doubts will remain. Cardiff and Murrayfield have caused them nightmares across the last decade. Win there, beat England in the final game, then we'll fully believe. Right now, something is holding us back from emptying the family savings to invest fully in them. A bit like Clive Woodward's England in 2003, they need a grand slam to convince the rest of us, possibly even themselves, they can make the step to the next level.
Ireland's leadership void
Ireland have spent the last couple of years building depth but there are some things that take longer to acquire, and that's the sixth sense of what to do at any particular time. We saw it on Saturday, when James Ryan opted to go for the posts rather than the corner with nine minutes to go. At the time Ireland trailed by six, the margin they ended up losing by.
What would Johnny Sexton have done had he been on the pitch? Or Munster captain, Peter O'Mahony?  They picked up injuries this week, Sexton in training, O'Mahony six minutes after arriving into the fray on Saturday. Rob Herring, another with a minor injury, is now third choice in the pecking order for a No2 jersey. Herring has often captained Ulster with a calm assurance.
You can't coach these things, these pressure moments. You just have to live them. Ryan, down after the defeat, was backed by his coach, Farrell, after the game – as you would expect and hope. Memory's scrapbook is a powerful aide in big games. Often you have to suffer to learn. That's what Ryan and Ireland have endured since Saturday. At some stage down the line, they'll be better off for the experience.
Wales prove they can prosper without titans
Wales' nerve-shredding win over Scotland was transformative for a squad under severe pressure. Wayne Pivac's men were good for their three-point victory, and could have had a larger winning margin if Alex Cuthbert hadn't come up inches short with some desperate cover tackling from Scotland's much-improved defence.
It was a victory that did something notable. It made the wonderful Welsh support forget about two men who have been the emotional heartbeat of the squad for over a decade. Ken Owens was in the stadium on presenting duty and he could not have failed to be impressed by Ryan Elias' barnstorming Man of the Match performance, and the steady throwing arm of 22-year-old Dewi Lake, who found his jumpers when called upon. For all the pain caused by absent friends, Wales are showing their titans are not irreplaceable.
The other is Alun Wyn Jones. Now absent for the last five Tests, the performance and leadership of Adam Beard, showed Wales that they can, and must, look to the future. Cory Hill and Jake Ball are also missed but Will Rowlands put in one of his best performances in a Wales shirt after the collective front-five horror show in Dublin.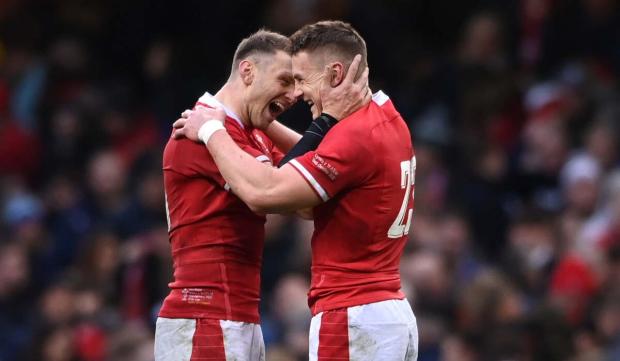 In the post-match missives, there were more slithers of good news. Taulupe Faletau put in a try-scoring return for Bath after being out since July last year, and Pivac announced that Josh Navidi was close to a return with Cardiff. With Willis Halaholo and Josh Adams expected to be back in contention, Wales' resources are finally starting to strengthen at the right time. They could even see the return of George North before the end of the tournament.
Jac Morgan and Taine Basham, both 22, were a promising window into the future for Wales but at the end of the game it was Dan Biggar and Jonathan Davies, both a decade older, who steered Wales home. Pivac said Davies, who had been under some scrutiny for his place in the squad, had been looking more like his old self in training and a rip, some thunderous tackling and a powerful counter-ruck, that saw Wales earn the penalty to win the game, showed that perhaps rumours of his demise had been overstated.
Biggar, who had been stoically playing through the pain after a knock to the knee, departed with minutes to go, but his celebrations on the final whistle typified his famed will-to-win. It showed  the decision by Wayne Pivac to select him as captain was shrewd. Ultimately, the morale-boosting victory told us that despite hardship, the squad is very much together.
Lamaro leads from the front
At just 23 years old, Michele Lamaro shines brightly as a beacon of strength in an evolving Italy.
Lamaro, despite his youth, was Kieran Crowley's immediate choice of captain when he took charge as head coach in the autumn. He is not Crowley's biggest flanker, nor his most seasoned campaigner, but his ferociously competitive brilliance inspires those around him.
On Sunday, as Italy swam into an English tide, he made 59m from eight carries, 19 tackles – adding to the 21 completed in Paris in round one – and pinched a turnover.
Crowley treasures his resilience as well as his considerable prowess on the field. Lamaro battled back from a heinous ACL injury that starved him of rugby. He speaks passionately and beautifully about what this team means to him. His rousing pre-match speech as Italy prepared to face New Zealand was the stand-out clip from the recent RugbyPass documentary, Facing Goliath, which profiles the new Azzurri.
Just this week, on this website, Paul Gustard inflated Lamaro's tyres to near-bursting point. Gustard has played with and coached some of England's greatest back-rows.
Lamaro could lead Italy for a decade yet. Their task – winning a Six Nations game for the first time since he was 16 – is mountainous, but he may be the man to drive them to new heights.
Scotland's rude awakening
Scottish rugby fans didn't just come crashing back to Earth on Saturday afternoon – they landed with a bang and a wallop as well.
The insipid, mistake-ridden showing in Cardiff was a horrific comedown from the highs of Murrayfield and the Calcutta Cup. The efficiency, snarl and nous they showed in Edinburgh utterly deserted them.
Scotland made a raft of dull errors and conceded 13 penalties, nine of which came at the breakdown. This is not a great Wales side, but it played like a team on the ropes. It looked hungrier. Its players looked like they wanted it more. That will be of grave concern to Gregor Townsend.