Back
By Jamie Lyall
Saracens power up
On a bumper weekend of rugby, the Basque derby and Top 14 promotion was won by a penalty from a 35-year-old back row, the Premiership season drew to a close with tries and drama galore, and Saracens delivered a crushing reminder of the chasm between England's top two divisions.
Saracens blast their way back to the Premiership
The scoreline doesn't lie. 60-0. It's a weary cliché but in the first leg of the Championship play-off, there was no getting away from the fact the Ealing v Saracens match was a mismatch. The scoreboard was nearing cricket proportions by the time Sean Maitland powered over the line for an eighth and final team try in the 80th minute as Mark McCall's men rammed home their pre-match missives that the match 'was as big as any Champions Cup' they'd been involved in.
Here's another number; 562. That's the number of starting Test caps fielded by the north London club in comparison to 0 from the West Londoners.
Ealing are handsomely funded compared to most Championship clubs who, lest we forget, were told their funding from the RFU would halve in February last year (from £534,000 to £288,000 from 2022-23), and this was before the pandemic, leaving many clubs on life support.
This one-sided result should give pause for thought within the corridors of power about the make-up at the top of England's pyramid because the lack of competition is not a good look when Biarritz topped Bayonne in France's equivalent.
For Saracens, who have been kicked from pillar to post in a nightmare 18 months that most will say they brought upon themselves with their salary-cap transgressions, the result would have showed the rest of the Premiership that they will be some force with the returning Max Malins, Nick Isiekwe, Alex Lozowski and Ben Earl to add to their complement, and short term, the Lions will be heartened by Owen Farrell's competitive zeal from first minute to last.
The return leg is next weekend, but the result is a formality. Ealing will know what they need to do to pull themselves up the ladder, while Saracens will return to give arrivistes Exeter Chiefs, Sale and Bristol sleepless nights in a matter of months.
The Hawaiian experiment
It was an hour after the final whistle had blown at Soldier Field five years ago. Ireland had just beaten the All Blacks and the evening was beginning to drag when Eddie O'Sullivan's phone rang.
Now, ordinarily, someone would ignore a call at a moment like that, when there was a cab to catch and a precious victory to celebrate. But O'Sullivan recognised the number and wanted the chat.
It was a wise move. The man on the other end of the line was a contact of O'Sullivan's, a New Zealander called Stephen Fitzgerald, who not only knew his rugby but was also aware of this talent factory on Hawaii's north island.
Laie is a working-class town with just 6,138 inhabitants. Over the years, 17 of those residents have ended up in the NFL – but an 18th, Roman Salanoa, was about to go a lot further afield, to Thomond Park via a three-year spell in Leinster's academy.
In Hawaii, Salanoa's name was already known. He had won state titles in three different sports, American football, weightlifting, and – just prior to O'Sullivan's phone call – rugby. Still, there's a bit of a gap between high-school rugby in Hawaii and the pro ranks in one of Europe's most famous clubs, and we aren't just thinking along geographic terms.
As it happened, that was to work to Salanoa's advantage.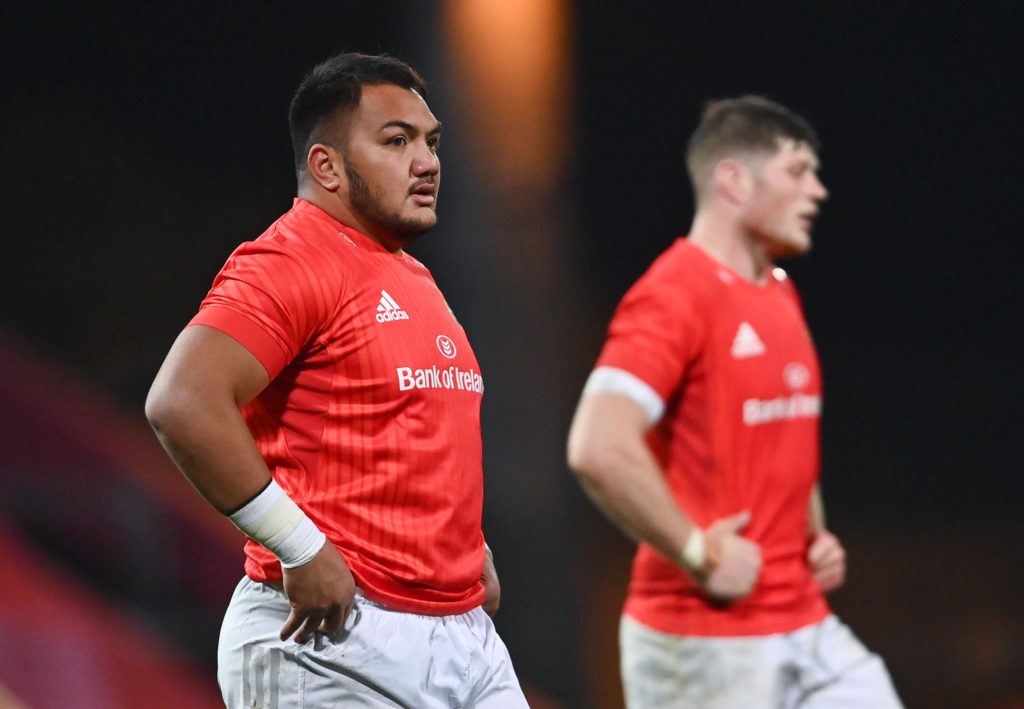 The Sunday Game draws bigger audiences than any other Irish sports programme. Its producer, Wesley Liddy, is a rugby nut with a curious mind. In 2016, he was studying for a Masters in Sports Management and was writing a paper on athletes who had transitioned to a new sport from scratch. After seeing a statistic that came out of the 2015 World Cup, whereby a quarter of the participants in that tournament were Polynesian, Liddy wondered if this could apply to rugby.
This is where the dots start to get joined. Liddy and O'Sullivan are friends going back years. They discuss his Masters and O'Sullivan remembers the thoughtful New Zealander coaching rugby on Hawaii's north shore. Fitzgerald returns his call just after Robbie Henshaw had touched down for Ireland's first win over the All Blacks in 111 years.
When he hears what O'Sullivan has to say, Salanoa is the name he recommends. "He's extremely coachable," says Fitzgerald. That was the key. Being blessed with physical benefits was one thing, but having the mentality to readjust to a new country as well as a new sport was another.
Between them, Liddy and O'Sullivan had the contacts to get Salanoa a 10-day trial at Leinster in spring 2017. He makes a big enough impression to secure a contract in their academy, where his progress is rapid enough for him to make his debut for the four-time European champions last season.
That was when things started to get really interesting as three of Ireland's four provinces chased his signature. Leinster wanted to keep him; Connacht and Munster want to steal him. Eventually he ended up in Munster, conscious of the age profiles of the two tightheads there, John Ryan and Stephen Archer, who are both in their 30s, considerably older than Tadhg Furlong (28) and Andrew Porter (25).
Pitching up at Munster is fascinating to watch, Salanoa sharing accommodation with Matt Gallagher, the former Saracens full-back who is John Gallagher's son, the rookie and the blueblood.
Arguably, Salanoa makes more of an impression in his first year at Munster, coming off the bench seven times, including Saturday's cameo in Zebre. At 23, he's still a baby in prop terms. Yet he has it all, the physique, the footwork, the courage and, increasingly, the technique.
Already he has made huge strides, conquering a new sport, settling in a new country, moving up the pecking order at a two-time European champion club. Eligible also for Ireland, he's on course to become an international in the medium-term future. If it happens, it will be unique. Never before has Irish rugby had a backstory like this.
Biarritz return to the promised land
Much like the grand, if slightly dilapidated, Victorian architecture that dominates Biarritz's stunning bay, the town's rugby team have been in need of some patching up in recent years. The trapdoor opened to the ProD2 in 2015 and since then, like Bristol for so long, they struggled to lift themselves beyond the mediocrity of mid-table. After losing to Perpignan in the D2 final last weekend, they had one more chance at redemption and took it in the most gleeful way possible – by beating hated Basque rivals Bayonne in the play-off final, who lay 13th in the premier division, to return to the promised land.
For supporters of BO, the denouement of the game was nail-biting. After it finished 3-3 in regulation time, in extra-time another set of penalties saw the match end 6-6 and a sudden-death penalty shoot-out. After five kicks were landed successfully by both sides, the coup de grace was applied by captain Steffon Armitage, who coolly stepped up to put the ball between the uprights after Bayonne's Aymeric Luc had skewed his effort right of the posts.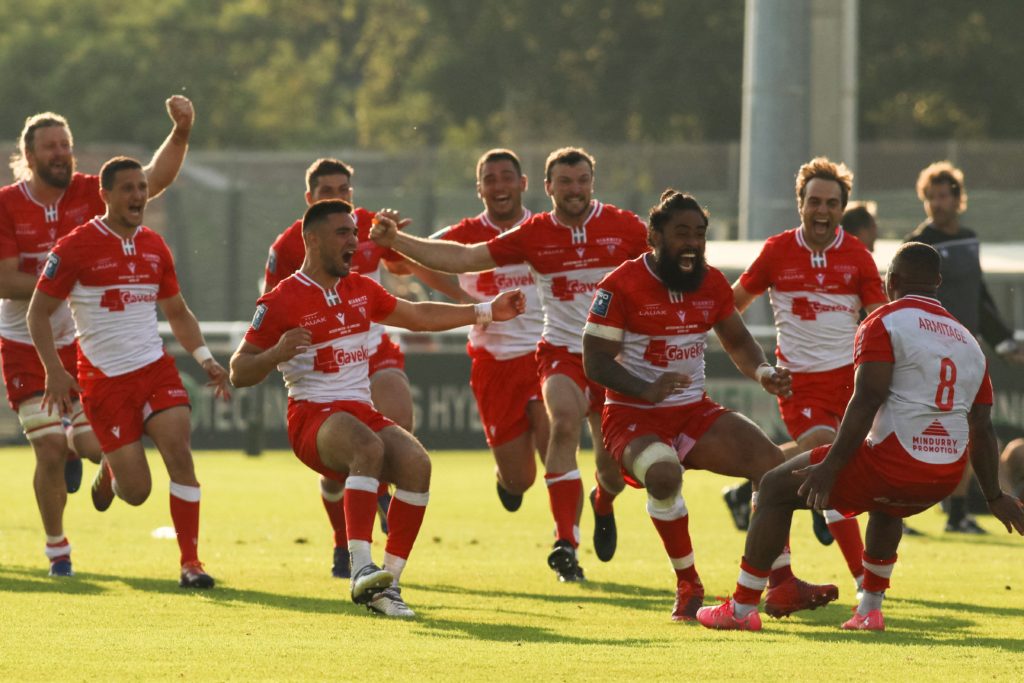 The winning kick set off pandemonium in the stadium as fans invaded the pitch and players collapsed in disbelief. It was a reminder of the moment Jordan Crane slotted after Martyn Williams had pulled the ball left of the sticks in the Heineken Cup semi-final, but also the strength of the D2, in comparison to the widening chasm that exists between the Premiership and the Championship in England. Congratulations, Biarritz. Commiserations to Bayonne.
Blistering Bayliss
Mike Blair and, from afar, Gregor Townsend, must be salivating at the prospect of unleashing Josh Bayliss in a Scotland jersey this summer.
The blistering Bath flanker was called up to the Six Nations squad ahead of Scotland's match against France, but an injury kept him out of contention before the game was postponed. Townsend has long admired Bayliss, eligible through his grandmother from Aberdeen, for his searing pace, excellence on both sides of the ball, turnover prowess and leadership, captaining Bath at just 20 years old.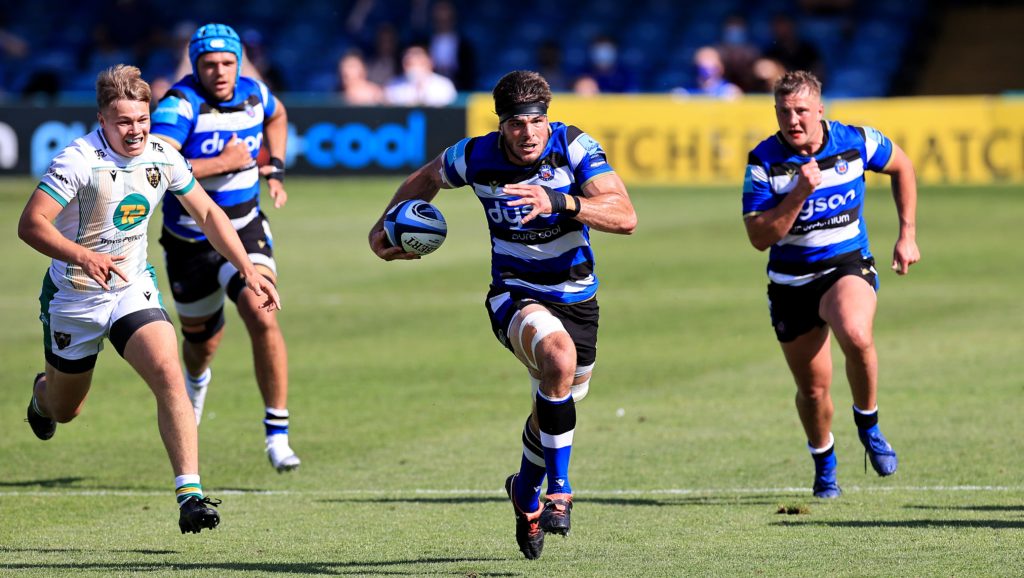 On Saturday, he delivered a scorcher, swerving past a couple of Northampton Saints on his own 10m, and galloping all the way to the whitewash. There were backs chasing him, but the gap between the Saints and the flanker only widened as Bayliss hammered for the line.
His try, with the final play of the match, sealed Bath's victory and, more importantly, their Champions Cup status for next season. Well before then, Bayliss will surely be capped against Romania or Georgia, and be given the opportunity to show his broad and compelling talent on the Test stage.
Exeter remain England's elite
For all the talk of Bristol's new-found malevolence, Sale's irrepressible brutality and growth under Alex Sanderson and DoR-less Harlequins' wizardry on the ball, each of them are outsiders for the Premiership title. Exeter, the defending champions, remain favourites.
It is odd to say it, but the Chiefs have flown under the radar this season. They have not been so bombastically excellent as they were on their seminal march to English and European glory last term. Others have grabbed headlines and drawn fawning praise – Bristol, for consistently winning tight games to complement their elan; Sale, for becoming yet more physical and yet more ruthless; Quins, for hauling themselves from the unseemly departure of Paul Gustard into the semi-finals, scoring an eye-watering volume of tries in the process.
Exeter are no longer the Premiership's coming team. They have not been as brilliant as often this campaign. They have been beaten by their rivals. They crashed out of the Champions Cup at the quarter-final stage. And yet, despite everything, it is fiendishly hard to see them relinquishing their crown in the weeks ahead. This side have a ruthlessness, a mentality and a clarity of purpose that others would kill for.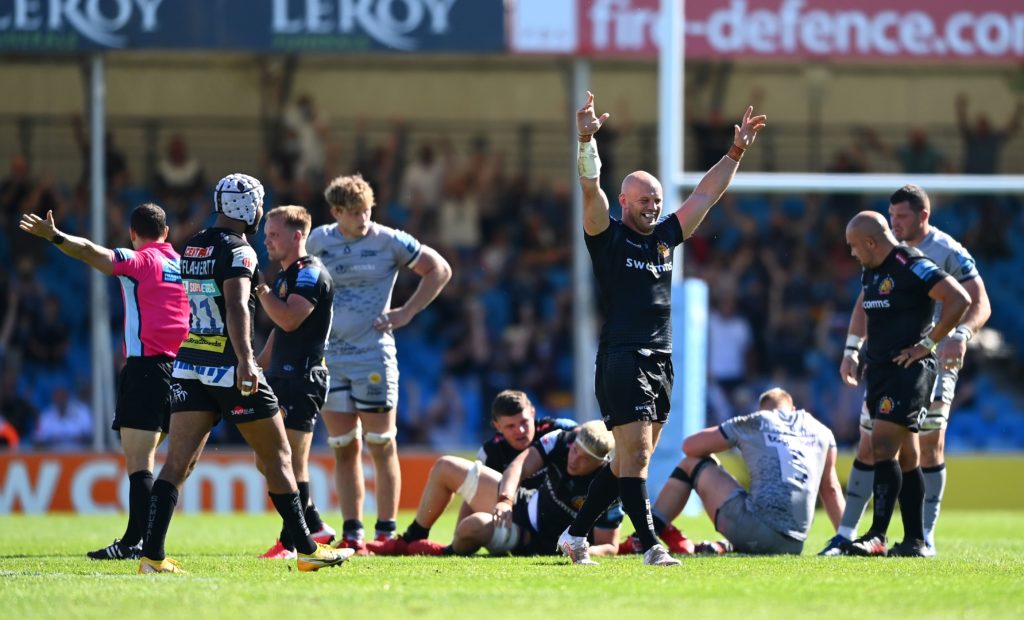 At the weekend, they trailed a rampant Sale 19-3 at half-time. Then they lost Sam Skinner to a red card. They had been repeatedly thwarted by the power of Sale's defence and the immenseness of their breakdown work. The final score? 20-19. Exeter did what Exeter do – territory, pressure, phase after relentless, strength-sapping phase, try. Luke Cowan-Dickie and Stu Townsend went over, with Joe Simmonds' penalty capping a ferocious comeback. For the second week running, a three-score deficit was overturned.
"It just shows you that when we have nowhere to go and no avenue to go and we have to stand and fight we're a good side," said Rob Baxter, their director of rugby, in the aftermath.
Exeter and Sale meet again in Devon for Saturday's semi-final. The Chiefs cannot, of course, continue to give their rivals such massive headstarts, but it is a champion side who roar back from such crippling adversity to prevail.
Treviso – nice story but no fairy tale
You'd like to be kinder to Benetton Treviso. You'd like to be hyping up the biggest game of their history, pointing to their success against the odds. Yet you can't ignore the truth either.
They are in the Rainbow Cup final on the back of two wins over Zebre, a victory in Glasgow, one at home to Connacht and a walkover. That's not conquer-the-world material. That's profiting from the quirks of a format that left second-placed Munster with a five-game fixture list that saw them face Leinster, Ulster and Connacht, three of the four best sides in the regular Pro14 season.
In many respects, Munster have no one to blame bar themselves. They lost a game (to Connacht) they should have won, turning the ball over repeatedly in the closing minutes as they chased the victory that would have guaranteed them a spot in the decider.
Still, Benetton are facing South Africa's best side, the Bulls, in the final, qualifying to do so even though they didn't play Pro14's top three teams, Leinster, Munster and Ulster. That's bonkers.
If you've enjoyed this article, please share it with friends or on social media. We rely solely on new subscribers to fund high-quality journalism and appreciate you sharing this so we can continue to grow, produce more quality content and support our writers.