Saracens back on their perch to continue the dynasty
Premiership Rugby has had a woeful season, which could get a whole lot worse if London Irish become the third team to drop out of the league this week, but the Premiership final showed the public the joy a game could bring when you had the two best clubs in England duking it out for the big prize, in the glorious sunshine in front of 62,000 fans – granted 20,000 shy of Twickenham's official capacity.
The divisive intervention of Just Stop Oil protagonists brought opprobrium from the majority of the crowd, but it did not detract from the occasion, in what was 80 frenetic minutes. Of course, what will be remembered beyond all the shenanigans surrounding the game is that Saracens are back on their perch as England's most successful team.
From their first fixture against Harlequins back in September, when they snuck a three-point victory, they have seemed like a team with a score to settle. The defeat by Leicester with virtually the last kick of the match, brought up memories of Michael Jordan's famous quote, 'and I took that personally', and sure enough, with the game going into the last quarter, you felt there was no way a hugely competitive Sale Sharks side were going to wrestle the Premiership title out of Owen Farrell's vice-like grip. The England test centurion has cut a relaxed figure this season, and he was all smiles at Twickenham, enjoying his joust with George Ford, but behind the grin was a steely determination to cajole his side to silverware. The full repertoire was on show at HQ; the offloads, spiral kicks to the corner, delayed passes and thunderous tackles.
Ably abetted by the likes of Max Malins, Theo Dan and the timeless Alex Goode, only the most diehard Sale fans felt that their men could deny a Saracens side winning their sixth Premiership in a decade, and so it proved.
Mark McCall has built a dynasty and there are no signs, with the injured Billy Vunipola, Theo McFarland and bolstered by the power of Tom Willis that they cannot return in 12 months and do it all again. The gauntlet has been laid down for the chasing pack.
Get the Irish back into London
Entrepreneurs are forever telling us that a recession equates to opportunity. In other words, when times are tough economically, this is the time to shop for a bargain.
So, let's re-introduce two old flames to one another. It's like a rugby blind date, London Irish and the IRFU. They flirted with one another back in the day, the Exiles effectively being London Irish dressed up in different clothing during the Irish interprovincial series in the 1990s.
For a spell nearly half of London Irish's squad were Irish internationals, from the original quintet of Simon Geoghegan, Jim Staples, Gary Halpin, Rob Saunders and David Curtis who played in the 1991 World Cup, through to the mid-90s when they were joined by Ken O'Connell, Eddie Halvey, Malcolm O'Kelly, Jeremy Davidson, Justin Bishop, Conor O'Shea and Kieran Dawson.
By the time the IRFU got its act together, realising that their future was best served with their stars returning home and under the control of their paymasters, London Irish had to reinvent themselves, outgrowing Sunbury, their original home, to move to the Madjeski Stadium in Berkshire.
That move, combined with the cosmopolitan make-up of their squad, led to the nickname, Reading Samoa. Needless to say, the club's custodians hated it, proud of their identity, their Irish fan base, their ability to keep a little piece of Ireland on English soil.
Now they need help. Running a professional rugby club is difficult at best, nearly impossible at worst. You have an onus to be as competitive as you can even though funding a large coaching and playing squad does not come cheap. The market dictates what you can spend and the television deals and gate receipts that are available just don't match up.
That's the problem. Here's the solution.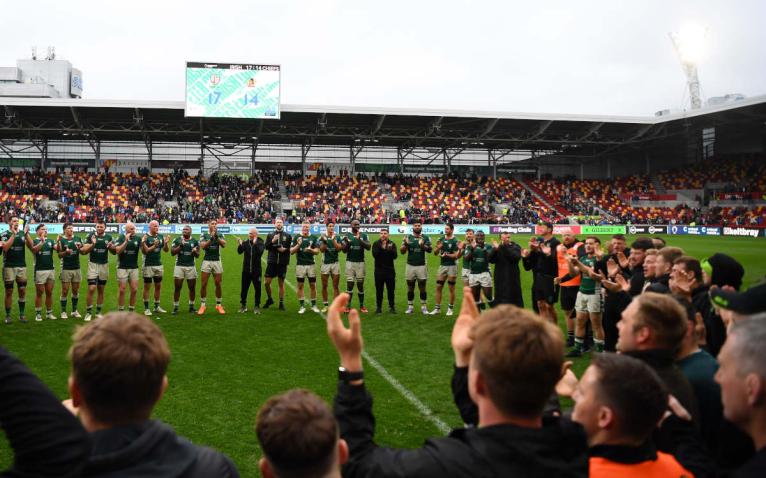 The IRFU have walked the tightrope between paying the market rate and putting out competitive teams for a quarter of a century. They are the best in the business at it. Now they can get even stronger. The possibility of acquiring the London Irish franchise, even if that means a drop to the Championship, has to be explored.
Year after year Ireland are producing winning teams at Under 20s level. Year after year there is nowhere for large numbers of them to go, the four provinces congested with players. There is a surplus there, you only had to look at the number of players Ulster released at the end of this season, to realise that.
Some would relish a move abroad, away from mum's home cooking, the challenge of a different league to grow their game. You only have to look at how Jack Crowley was neglected last year at Munster and how he has grown into a possible heir to Johnny Sexton this year, to realise a star could have been lost.
This concept has the potential to work as a loyal fan base is likely to stay with a club, especially one packed with Irish-born players. Mix that with a historically prudent union who have managed their personnel smartly but who could now add to their workforce and depth charts by taking on a fifth team. Is it a runner? The least they could do is crunch the numbers and find out.
Munster do it the hard way
Munster began the season with losses at the Dragons and Cardiff. They lost five of their opening seven matches. They were beaten in their first three interpros against Connacht, Ulster and Leinster. They showed not the merest sign of being ready to end the 12-year trophy drought which has gnawed at the province for an age. They looked nothing like a champion team.
They were excoriated, in the early throes, from many quarters. After those back-to-back defeats in Wales, Donncha O'Callaghan, the legendary former lock, was highly critical. Graham Rowntree did a lot of explaining and a lot of defending back then. He talked calmly but passionately about the building process, the "body of work", as he called it, invested over a long pre-season.
Rowntree has been blunt, too. The belligerence of his Leicester schooling breeds searing honesty. When Munster lost to Leinster by a point in the December derby, his interview lasted less than 100 seconds. "Genuinely struggling for positives at the moment," he said. "They had a guy in the bin, then we concede two soft tries – can't sugar-coat it more than that. Two soft tries which we never recovered from, if I'm honest with you."
This kind of stuff, delivered by a gnarled former prop, steeped in the game, but with vast emotional intelligence, appeals to the people of the province. Standards are loftier than the Burj Khalifa. The intensity of a matchday at Thomond Park is virtually unparalleled anywhere in the sport. It's a place where miracles happen, where the impossible unfolds before your eyes.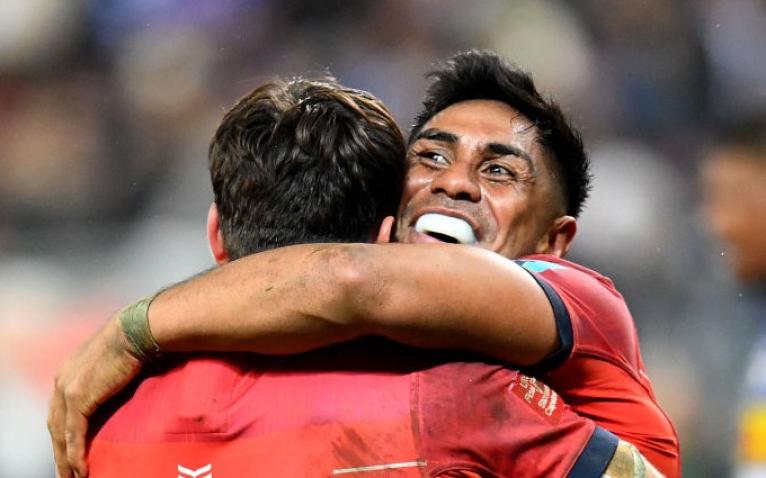 Yet Thomond played a staggeringly minor role in Munster's URC triumph. They didn't host any of their knockout matches at the simmering Limerick fortress. They wound up fifth in the table, facing a tougher run to glory than almost any side in any competition has overcome. A quarter-final at Scotstoun, where resurgent Glasgow had not lost in 14 months and 13 matches. A semi-final in the teeming RDS against their white whale, Leinster, with all their riches and all their lavish success and all their lust to win a double. A final in Cape Town against the defending champion Stormers, a team bursting with Springboks and potency.
The DHL Stadium was laced with pockets of striking red. There isn't another team in the land who would take more than 5,000 supporters on an 8,000-mile journey at an eye-watering cost given two weeks' notice.
Munster's following is incredible, given their long wait for silverware, and how Leinster have kept them squashed under their thumb in Ireland for year after maddening year.
These Munster folk will tell you they never do things the easy way. Not for them, a comfortable, 20-point victory when supporters can pop champagne corks and bring their heart rates down in the last minutes. The hard road is their road. They wouldn't have it any other way.
Glasgow, Leinster, Stormers, splatted in their own back yards. How this team has come of age. How they stood up and fought.
Theo Dan, take a bow
Ten minutes into the Premiership final, Saracens were dealt a hammer blow. Jamie George, their magnificent hooker, an England veteran and Test Lion, was forced off injured.
Enter Theo Dan. Anybody who has watched much of Saracens over the past year or so would know that as brilliant as George is, a riveting replacement lurked in the wings. At just 22, Dan is one of the foremost young talents in England, a front-row forward with all the tools to excel in the elite game.
Dan is rapid and dynamic, a menace over ball, and a solid set-piece operator. In keeping with the way the sport has developed, he is more rugby player first, hooker second.
And what a final Dan had. He averaged four metres per carry, including a line break, and scuttled four Sale defenders. He ransacked Sharks behind the gainline, clamping on felled opponents and winning penalties. His energy with and without the ball was constant and compelling and typified Saracens' ferocity to reclaim their English crown.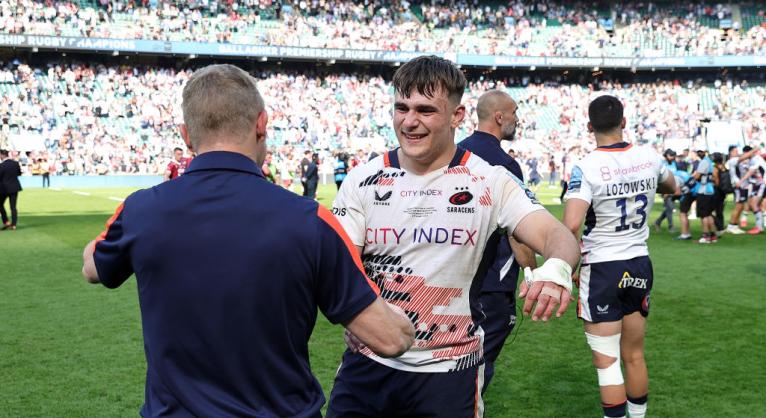 As time ticked away, he led the champions' defensive effort, bludgeoning and choking the last vestiges of hope from Sale hearts. He even hoovered up a loose ball and spiralled an amazing 50-22 kick into fresh Twickenham pasture.
Hookers these days seldom play 70 minutes. Dan would have expected 30 at most from the bench. He seized his opportunity and made the final his own. A World Cup berth is not beyond him.
The last dance
Any Munster fan who knows the Keith Earls story will have had double reason to be anxious last Saturday. First there was a final that was drifting away, Stormers on top and in the lead, Munster hanging on, literally, for dear life.
Secondly, there was the Earls scenario.
The Limerick wing has been a one-club man throughout his career. He won Celtic and Magners League titles in an era when no one cared much about the competition. And he was on the bench when Munster won the Heineken Cup when that doubled up as a Holy Grail for the province.
Yet that was just the point. He was on the bench. "I didn't feel a part of that win, didn't feel I contributed, it means nothing to me," said Earls.
That sat with him as Munster lost seven subsequent semi-finals in Europe; indeed it prolonged his career, as he somehow found the energy to repair his injury-wrecked body year after year, to go again, in search of one last prize in a Munster jersey.
Again, in this year, his last full season as a pro, he looked to have missed out. Munster sneaked into the play-offs while Earls was tormented by further injury. A hamstring tear threatened to end his year in March. Yet by April he was back. So were Munster. Wins over Glasgow and Leinster put them into Saturday's final.
And then we watched as the clock ticked down. Seventy minutes in, they trailed. And Earls stayed on the bench, just as he did in Cardiff in 2008. Would they win without him? Would the feeling of missing out happen again? Not this time. He came on for the finale, playing with his usual gusto, heavily involved in the move that led to John Hodnett's winning try, as he scrapped for inches. Finally his contribution paid off. Hodnett scored, Munster won, and for Earls, 12 years after his last trophy, he had another. His wait was over. His weight had lifted.