Sale Sharks show true Northern pride
The sharp end of domestic rugby is upon us. With only three finals left to see who lifts silverware in the Gallagher Premiership, URC and Heineken Cup. The excitement is palpable for fans of Sale Sharks and Munster, who have been starved of success in recent years, while the likes of Leinster, the Stormers and La Rochelle are more used to the intoxicating thrill of lifting silverware. It promises to be a giddy few weeks of drama, heartache and tears of joy.
Here's what RugbyPass+ made of the action…
Sale show some Northern grit to return to the big time
It is 17 years since Sale Sharks graced the Premiership Final, with talisman Jason Robinson flat-footing defenders for fun, Charlie Hodgson playing the 'George Ford' role and Mark Cueto at his clinical best as they comfortable beat yesterday's opponents, Leicester Tigers 45-20.
All that was forgotten at the rocking AJ Ball Stadium yesterday, because they have a new generation looking to create a legacy and their return to the big time couldn't have felt sweeter. They wear their 'Northerness' as a badge of honour. Alex Sanderson, the Curry twins from Malpas near the Welsh border, and their outstanding pivot George Ford is from Oldham. There is a clutch of young emerging stars like Joe Carpenter is from Leeds and Tom Roebuck grew up on the Wirral and Gus Warr is from Manchester.
True they've needed helped from the South – South Africa to be precise, but the fortress Sanderson has built will feel they are fully entitled to their day in the sun down in TW2. Against Leicester, they were irresistible. They played with an intensity Leicester Tigers couldn't quite match, despite the best efforts of Jasper Wiese, George Martin and Freddie Steward, who were all quite outstanding, in a losing effort, and theirs is a just reward after a season saw them finishing 10pts ahead of Tigers.
They will travel to Twickenham as underdogs, with a Saracens side hellbent on retaining their Premiership trophy after last year's heartbreak but they will relish the chance to dent reputations as they have been doing all season. They will do so with George Ford renewing acquaintances with his old friend Owen Farrell. Ford was imperious against Leicester, who lost their fly-half Handre Pollard an hour before kick-off, and his form will have been duly noted by a watching Steve Borthwick. The 79-cap fly-half turned 30 in March, and he is surely too good a player to be overlooked in the cauldron of a World Cup.
Another to impress was Manu Tuilagi, who seemed to have regained the hunger to skittle would-be defenders in his wake. Indeed, he relished the big occasion. The club has a loyal but modest following yet results like this will prove to be a huge fillip for the area and the North as a hot-bed for young talent – and their success should be celebrated by English rugby, which has had such a chastening season.
The only downside to the day was the injury to Ben Curry, who was helped off the pitch with what looked like an hamstring injury, but his team-mates will surely be motivated to bring the trophy back to Manchester for him.
Munster's timely return
Now, finally, Munster deserve some praise. We've reserved the right to jump on that particular bandwagon this season, essentially because there was no room left on the trailer, what with all those good ole boys shouting and roaring about the Rowntree Revolution.
Whether it was the 50 points shipped to the Sharks, the 38 to Glasgow, the two defeats from four in the Champions Cup group stage, the five defeats from seven at the start of the season, there was something about the gushing praise the Munster coaching regime were receiving back then that that seemed a little too generous.
Now, let's be clear here. The backroom team of Graham Rowntree, Mike Prendergast and Denis Leamy deserve time, two years at least, to make their mark. Let's be doubly clear. They have done a good job so far. The result on Saturday was impressive, albeit against a team that stupidly didn't go for a shot at goal five minutes from time, which if converted, would have won them the game.
The team Munster beat on Saturday was Leinster, who have dominated this rivalry since 2009, particularly at the knock-out stages of tournaments. Yet, let's not shy away from the truth, either. Only three of that Leinster starting XV stand a chance of lining out from the opening minute of this weekend's Champions Cup final.
Leaving all that aside, there was so much Munster got right at the Aviva Stadium. Their attack, under the studied eye of Prendergast, the former Racing 92 backs coach, is considerably better than it was under Stephen Larkham's tutelage. You could see it in the build up to Tadhg Beirne's try, the skills execution, the subtle positioning, the defined roles.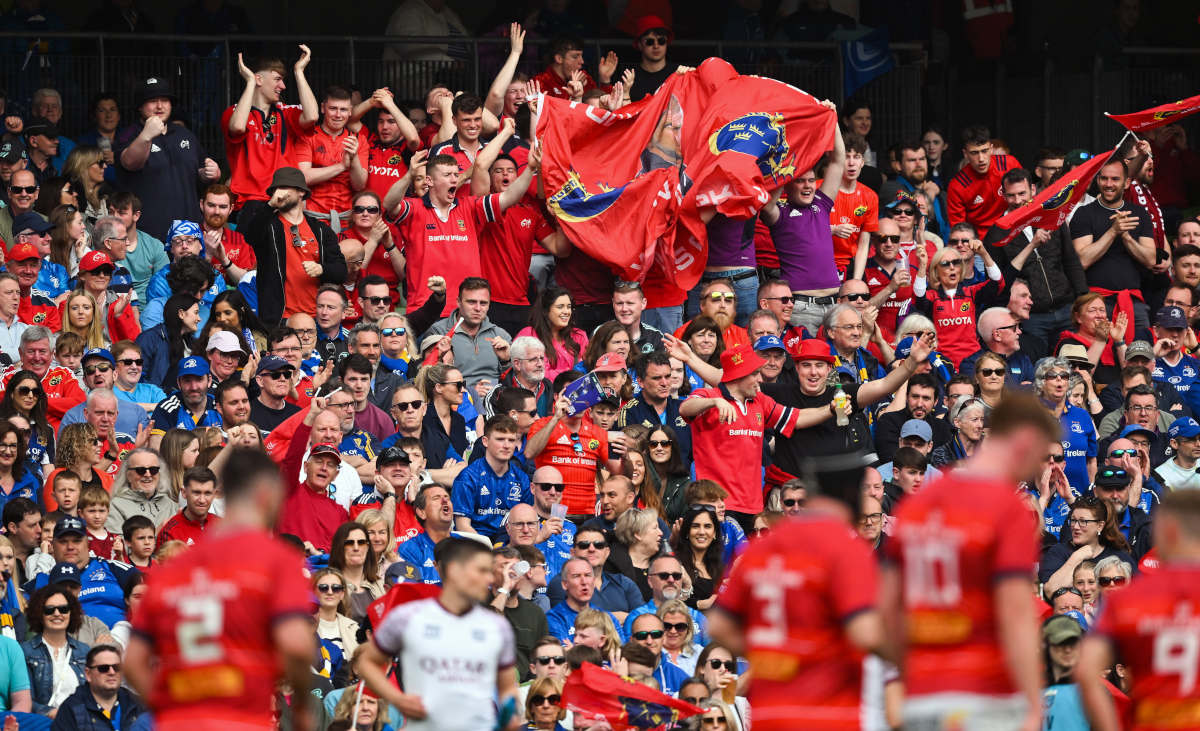 Those things weren't as noticeable in Munster's game a year ago. For this, Prendergast in particular deserves credit, but so too does Rowntree for facilitating the tactical shift.
But the bit that has grated about the analysis of the current coaching team is that the shortcomings of the old one, led by Johann van Graan, were constantly referenced to. And this reappeared again in Saturday's post-match by a series of commentators, even though van Graan did a fine job in Limerick, taking the team to a couple of European semi-finals, three Pro12 semi-finals and a final.
Last year they exited the Champions Cup after a penalty shoot out against Toulouse in the quarter-finals. This year Toulouse beat Munster twice in the pool stages before Munster bowed out unimpressively in the round of 16.
Yes, Van Graan had his shortcomings. He was tactically conservative, he didn't always pick the right players –
Jack Crowley
, Saturday's matchwinner being a case in point – and his time was undoubtedly up when last season's limp exit to
Ulster
was confirmed at the URC quarter-final stage.
Still, he left graciously, refusing to criticise anyone within Munster, either the fans who took pops at him online while hiding behind fake accounts, or the legion of former players who reminded us us time after time about the 'Munster way'. Was the present team of coaches subjected to the same scrutiny when results were poor earlier this season? The answer is no, absolutely not. The message that things were changing was swallowed dutifully by everyone, when it was only right to wonder if it really was, as they got comprehensively beaten in the last 16 of the Champions Cup, and struggled to make the URC play-offs.
However, on Saturday, those coaching appointments were vindicated following a brilliantly spirited but also skilful performance from their injury-hit side in Irish rugby's crucible.
Even if it does not lead to a win in the final, the Rowntree coaching team deserve to be cut some slack. But so do their predecessors. They did their best. The time has come to knock it off and accept that
Farrell imperious as Saracens return to Twickenham to heal wounds
Owen Farrell has cut a more relaxed figure this season. A more contented soul. What the reasons for his sunnier disposition are unclear. Maybe it's the gifts of being a young father that have given him perspective, or maybe it's Saracens' more attacking outlook that has allowed him to play with a smile on his face. Either way, the 106-cap England fly-half was in his element at the StoneX.
One aspect of his game that he has roundly accepted wasn't up to his usual standards, especially in the white of England, was his kicking but a number of touchline conversions showed he was getting his eye in again and his sublime left-footed grubber behind the Saints defence for Sean Maitland's second try showed his subtly and vision was purring. In defence, he was aggressive, putting a huge hit on Rory Hutchinson and in attack, it was the speed of his fizzing pass to Elliot Daly that sent Max Malins on his way for the fourth try of the afternoon. Even when his towering spiral bomb bounced the wrong side of the corner flag, he could afford a little smile because he knew his side were heading back to Twickenham.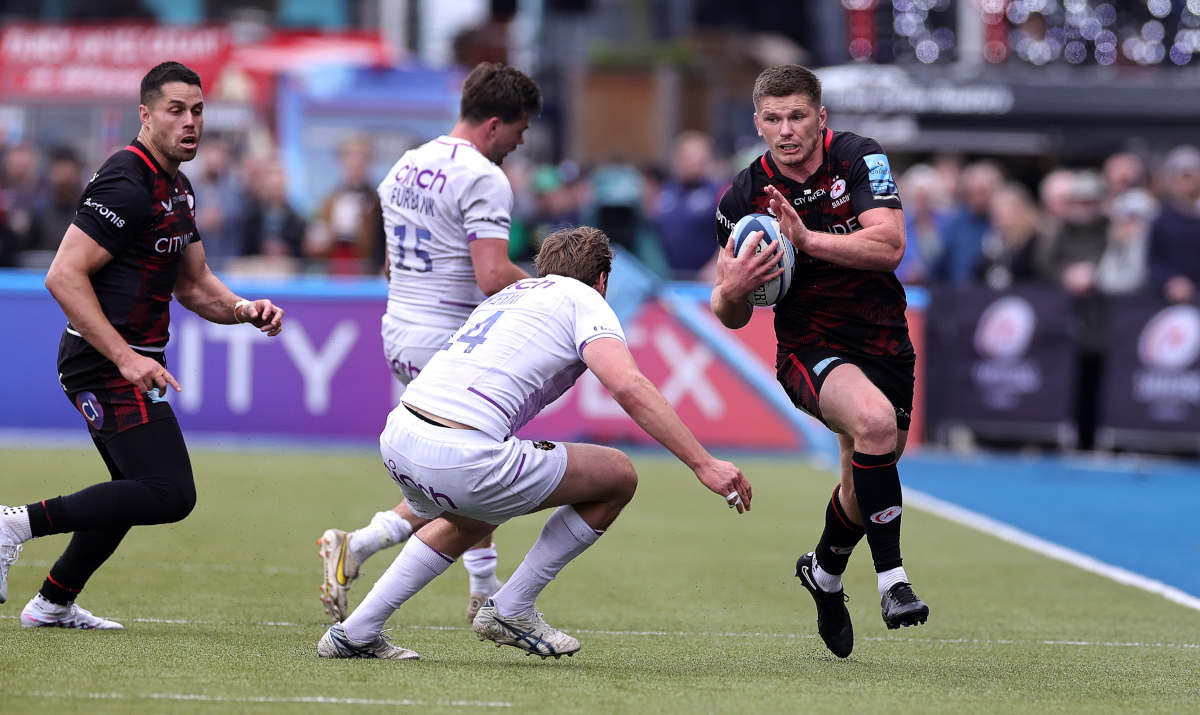 While Sale Sharks will travel to HQ full of belief, Farrell, will be reminding his team-mates of the hurt inflicted by last year's loss and it was the Saracens skipper who threw himself, arms outstretched, at Freddie Burns with second to go. That last-ditch effort and subsequent disappointment will have burnt inside the England captain for 12-months and you can be assured that he will be driving standards in the run-up to the Premiership final. Steve Borthwick will have noted Farrell's inner calm and it bodes well for an assault on a third-World Cup.
At 31, Farrell is in no mood to relinquish his No 10 shirt for club or country and England would be foolhardy not to harness his put him front, middle and centre of the squad for his galvanising effect. There can be no doubt he is one of England's greats.
Leinster the new Leeds United
If you are of a certain age, you'll know the Leeds United story. Tough, uncompromising team, dominant in English football for a decade from 1965 to 1975, were successful yet somewhat unfulfilled.
They did win a lot, two league titles, the FA Cup, the EFL Cup, two Fairs Cups (the Europa League's predecessor). But they lost a lot more, finishing runner up in the league five times, the FA Cup three times, the European Cup once, the Cup Winners Cup once and the Fairs Cup once.
"We deserved more than we got," their Irish general, John Giles recalled. "But because we challenged for so much, year after year, we fell short, largely because of fatigue."
Well, it is a different sport, a different era, but it is becoming a similar story with Leinster.
Year after year we hear rival coaches complain about their limitless resources yet year after year we check the Champions Cup honours board and one name is regularly missing from it. Leinster have won the biggest trophy in club rugby just once since 2012, losing two finals, three semi-finals and three quarter-finals since.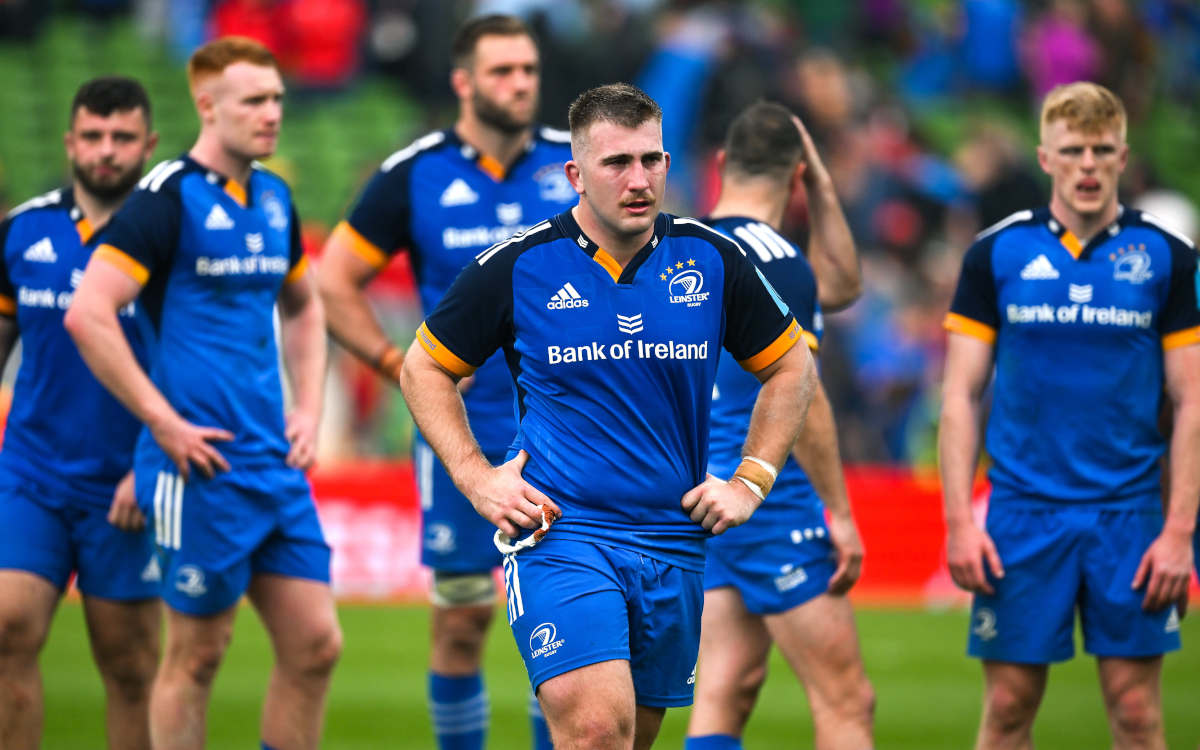 At least they had the Pro14/URC to console themselves with. Didn't they? Four times in a row they won the Pro14. And twice they have dominated the league section of the URC since its inception.
But just like Don Revie's Leeds, the battle on two fronts has hit them in recent years, as last year the Bulls did a number on them in the RDS at the URC semi-final stage, and now this year, Munster have finished their hopes of a double.
No one will remember they finished six points clear of the pack last season or 11 points this term. The only name etched onto a trophy is the winning side in the final.
In a sport like rugby, where squad rotation is a must, the itinerary of five knockout games in successive weeks at the end of a long season, is a brutal one. No team could feasibly play their best XV week after week and expect to survive, let alone win, in those circumstances. Okay, Leinster managed a Pro14/Champions Cup double in 2018 but that was a once-off. It may never happen again.
Welsh rugby simply has to do better
Reports last week suggested Joe Hawkins was turning out for his country during the Autumn Nations and Six Nations, while on a paltry £20,000 salary. This at a time he lacing his boots up opposite players who were earning 20 times as much as him for putting their bodies on the line. Granted Hawkins is still young, and is yet to celebrate his 21st birthday, but his is a much-debated case of how the system in Wales is in need of a major reset. How a player born in England – who has represented England on nine occasions, can be eligible to represent Wales when a youngster from the Swansea valleys, who was honed at the Ospreys Academy and has turned out for Wales on six occasions cannot is nonsensical.
Members of the PRB can point to the 'rules' and how he had signed his contract after his first Wales cap – had he signed before his first Wales cap he would have been eligible – but sometimes common sense has to prevail, and often the rules are an ass and not fit for purpose. Hawkins, like Rhys Webb before him, has been caught up in muddled, short-term thinking, and there is no faith that the rules will not change again.
His mature, considered and ultimately transparent statement on the reasons for him leaving Welsh rugby gained widespread praise, and he must have thought when signing that he would for a Welsh power triumvirate alongside Dafydd Jenkins and Christ Tshiunza, but that door has been closed and he will have to wait four long years for another chance to represent Wales on the grandest stage – but only if he moves back to the land of his father.
With more than 50 players leaving the game in Wales, whether that's retiring of heading to other countries as economic migrants, because they can't find work at home, few can blame a young man for looking for renumeration which fits his status as one of Wales' top young talents. Indeed, Warren Gatland said as much when he spoke of his disappointment at the ruling and said he had expected Joe to be a big part of Wales' future.
It is a sorry mess, so good luck in Exeter, Joe Hawkins. You deserve so much better.