Farrell divides opinion like no other
Rugby fans are firmly in Six Nations territory, where every incident, try, or individual piece of brilliance is dissected into what it means ahead of the much-loved annual tournament. Owen Farrell is in the dock, eyebrows have been raised at Manu Tuilagi's physicality and Huw Jones is fizzing for Glasgow, while Irish provinces seem in fine fettle. Lumped in the bottom half of the URC, the Welsh regions, are spluttering into life with a bevy of young starlets and we still have two more Heineken Cup weekends to see who makes it to the start of the tournament. It's going to be some ride.
Here's what RugbyPass+ made of the weekend's action…
Farrell in the dock but there will be no recriminations from team-mates
Owen Farrell is used to the drill. From being lauded as Wigan's finest export since George Formby, after his exquisite performance against Exeter Chiefs, days later he manages to elevate himself from zero to hero in the space of three second-half minutes, which is some going.
The England test centurion, has been cited for his high tackle on Gloucester's replacement Jack Clement, after it was not addressed by referee Karl Dickson during the game on 77 minutes, and he will hope mitigating circumstances see his likely ban lowered from the entry point of six-weeks to a lower number which allows him to line-up against Scotland at Twickenham on February 4.
His profile, and chequered tackle history, saw his robust challenge blow up social media over the weekend, especially given he was able to slot the match-winning drop goal with the last kick of the match, but if we're being honest, had he been a middle-ranking Premiership player, it would have barely registered in most post-match reports.
Farrell divides fans like no other because he doesn't play the game. Whereas Joe Marler can take to his self-titled podcast to defend himself from his latest self-created PR disaster, the fly-half eschews self-promotion and likes to keep his thoughts private, with those he can trust. What is beyond doubt is that his team-mates love him, and that, ultimately, that is all Farrell cares about. The respect of those he plays alongside and against, not the keyboard warriors who chastise him at every misstep.
The 31-year-old was obvious discomfort at the end of the game, with his egregious challenge leaving him needing treatment. He was caught on camera wincing, with many England fans wondering whether he had a serious injury that would derail his Six Nations hopes. Indeed, he was slow to get to his feet on several occasions, but showed bravery to carry on. He'd also had an uncharacteristic off-day from the tee, missing 10 kickable points to leave the game at 16-16 in front of a vocal Kingsholm crowd. In short, he owed his team, so when the ball was fired back from Van Zyl, nearly 40m out. Farrell steadied himself, and somehow clipped the ball between the uprights to silence the Shed. Ben Earl said he was surprised how far out Farrell, who had only kicked four drop goals before, was but his doe-eyed debt to his skipper was clear.
For all the criticism, as a team-mate, you want Farrell by your side in the tough spots and you'll take the rough with the smooth. He's Saracens' MVP and a key cog in Steve Borthwick's first Six Nations campaign.
Ulster pick up worrying habit
At 8.15pm on the first Saturday of December, Ulster Rugby appeared to be on the cusp of something. Not just a significant scalp, which an away win in Leinster is for any team, but a glimpse into the future.
Batons often pass in sport, up-and-comers replacing the established force, pivotal matches where the new kids arrive on the block and punch the bullies in the face. That's what we thought was happening when Ethan McIlroy crossed just before half-time. Ulster led Leinster 22-3. Ulster led 14-man Leinster 22-3.
So, yes, Ulster were on the cusp of something, alright. We just didn't realise it was the most spectacular meltdown the province has seen since Dan McFarland took charge.
For starters, that 22-3 lead didn't last long. The 14-men recovered to win 38-29. Next came Sale, 39-0, a whitewash defeat. They were 29-0 to La Rochelle before they remembered how to play rugby again, a stirring fightback leading to a couple of bonus points in a 36-29 defeat.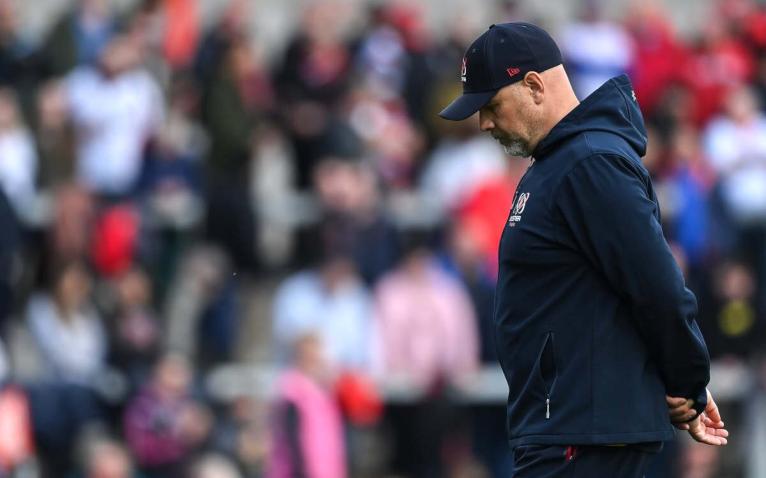 With the post-match discussions focusing on the enforced relocation of the game from Belfast to Dublin because of pitch conditions, the real issue was by-passed. Namely that Ulster's confidence is shot, their consistency destroyed.
They've become a panicky team. Leading 22-8 with 10 minutes to go against Connacht, they relied on the upright to save them from a draw; leading 14-5 against Munster a week later, again with under 10 minutes remaining, they didn't get so lucky, losing by a point.
Then to Saturda, when they lost again at the death, this time to Benetton after coming from 28-15 down to lead 29-28 with their Italian hosts reduced to 14 players. You can see why McFarland was critical of the players in public, post Munster, but once you go down that road, it's a slippery surface for coaches. Sporting history has shown they rarely recover their footing.
The good times are back at Glasgow
Standing trackside before the towering main stand at Scotstoun, gazing up at the limbs flailing and the fervour erupting, felt like looking through a window to the glorious past.
Sunday's pulsating win over the champion Stormers conjured memories of a time when one by one, the big guns fetched up in Glasgow and one by one, they were sent packing. A period when Glasgow weaved the most scintillating rugby en route to the Pro12 title, when their forwards off-loaded like backs and their backs were a match for almost any in the game.
Scotstoun has not known days like this for a while. They were relatively scarce in the Danny Wilson era and the Warriors made a fluctuating start to life under Franco Smith. How that has changed. The South African has his feet under the desk now, and his fingerprints all over Glasgow's attacking blueprint. That's six wins in a row now. Fifth in the URC table, with a game in hand on many teams around them, and in good shape in the Challenge Cup.
The brilliance of Smith's backline is melded to the mighty grunt and set-piece excellence of his forwards. Glasgow put in two huge defensive sets in their own 22 as the Stormers bludgeoned away at their line. They won a couple of scrum penalties against Steven Kitshoff and co and did not lose a single lineout, despite missing Richie Gray, their go-to man in the air. The gargantuan back-row of Matt Fagerson, Sione Vailanu and Jack Dempsey could run the doors on any of Glasgow's roughest establishments without a hint of trouble breaking out.
Most compelling, though, was Glasgow's midfield combination. Smith has not had much access to Huw Jones since the centre's return from Harlequins owing to injury. This was his first Scotstoun outing in two years, and partnered with the relentlessly superb Sione Tuipulotu, he dazzled.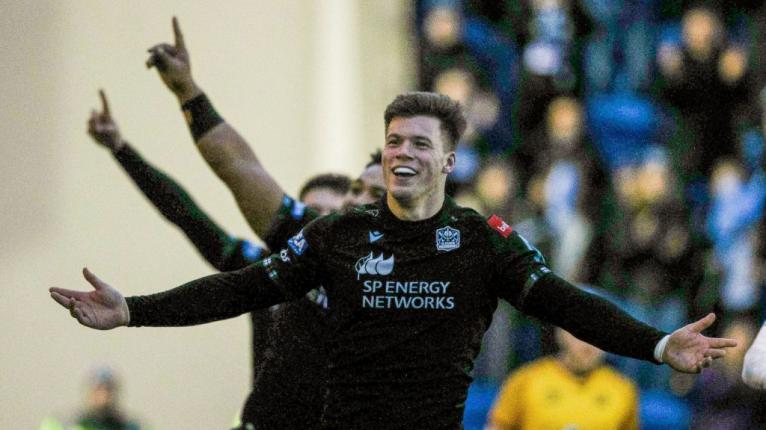 Between them, 'Huwipulotu', as they shall henceforth be known, contributed 17 carries for nearly 250m, 17 of Glasgow's 47 tackle breaks and four of their 10 linebreaks, while assisting three and scoring one of their four majestic tries.
Jones set up the first two, scorching long-rangers when he put Sebastian Cancelliere then Kyle Steyn tearing home on opposite flanks, and scored the third while beating four defenders on a 10m surge to the whitewash. Against his former side, it was a magnificent display.
We need to talk more about Tuipulotu, though, for the squat midfield juggernaut has become a talismanic figure for Glasgow. He has power, no question. A good turn of pace and a whole heap of dynamism on the charge and in the tackle. But what, until recently, has been oft-overlooked is his immense array of footballing skills. Tuipulotu is a shrewd enough distributor to play 12 as well as 13, to tip little passes on or spray great, swooping parabolas to the edges. His short kicking game is exceptional. He put in a delicious little grubber to set Glasgow on their way to a match-settling score against Edinburgh last weekend, and his perfect 79th-minute, chips-down, game-at-stake effort sent Cancelliere free-wheeling over for the winner. A performance that looks all the more remarkable and a character all the more impressive after we learned Tuipulotu was mourning his grandmother, who passed away in the days leading up to the match.
For some months now, Tuipulotu has dazzled so. He had a terrific autumn with Scotland, particularly in the rout of Argentina. Gregor Townsend's midfield options are plenty, but one of the two starting jerseys for Twickenham and the Six Nations opener now belongs to the Glasgow man.
A player at the top of his game. A team at the top of theirs.
Edinburgh rely on Harrison again
For the second week running, Edinburgh sent for 20-year-old hooker Patrick Harrison off the bench and for the second week running, the young forward salvaged his team precious URC points.
Against Glasgow, in the forlorn second leg of the 1872 Cup, Harrison stepped, scampered and plunged in at the corner to earn Edinburgh a losing bonus point. It was a fine one-handed put-down by the flag. On Saturday, with lowly Zebre Parma in town, Edinburgh plodding and the scores locked at 17-17, Harrison bashed aside three tacklers to burrow over from close range. A bonus-point-clinching, match-settling score. In eight days, Harrison had won his team six points.
The logjam of hookers at Edinburgh mean we are only now catching regular glimpses of Harrison's talent. Stuart McInally and Dave Cherry are experienced internationals. Adam McBurney is third in the pecking order. Tom Cruse has come in from Wasps to plug the gap created by various knocks, niggles and injuries to the established trio. Until recently, Harrison had to make do with a handful of minutes off the bench last term and a couple of loan matches to London Irish at the start of this.
He was selected in the team of the Summer Series after scoring a tournament-best haul of five tries in four matches, and beating more defenders than any front-row forward, but senior game time has proved elusive.
That can't have been easy. Even at 20, there is not a great deal Harrison will take from playing Super6, Scotland's semi-professional tier below the URC. The set-piece is not as advanced, and most of his rivals are club players or men he has already bested to establish himself as the Scotland Under-20s starter. Edinburgh may be reluctant to sanction more loan deals in case a hooker goes down and Harrison is suddenly needed. It was ever thus for the emerging youngster in Scotland, but particularly so now the URC does not stage matches on international weekends.
So Harrison has had to be patient. But good things come to those who wait. Edinburgh will want to add a few more kilos of muscle to his lithe frame. Like any young hooker, his lineout work needs some attention, but he is a pulse-quickening prospect and everybody in Scottish rugby is seeing that now.
And he is still so young. Harrison, aged 20. Ewan Ashman, at Sale, and already a regular international, is 22. Behind them, Corey Tait and Jerry Blyth-Lafferty are making great strides. Scotland's number two jersey looks in very safe paws for the foreseeable.
Young talent shines while off-field issues dog Wales
While off-field rancour continues in Welsh rugby politics, at the coal face, the players have had the added incentive of a watching Warren Gatland jotting down potential squad names into his little black book.
Yes, while the WRU and the Regions are yet to put pen-to-paper on a long-term pay deal, after a verbal agreement was made six weeks ago, there are crumbs of optimism that Welsh rugby can still produce talent through its pathway.
With the Six Nations squad being announced on Jan 17, players have one more round of Heineken Cup games to impress, but we're already in 'bolter' territory for fans and pundits alike. So who is likely to be called out next week?
Well, Kieran Williams' power packed running troubled Leinster, as the Ospreys narrowly lost but emerged in credit, with their set-piece causing the Irish province all sorts of problems. He is low-slung and his leg-drive and ability to get over the gainline should appeal to Gatland. Nicky Smith going viral on Twitter with his glorious upending of Michael Alla'latoa.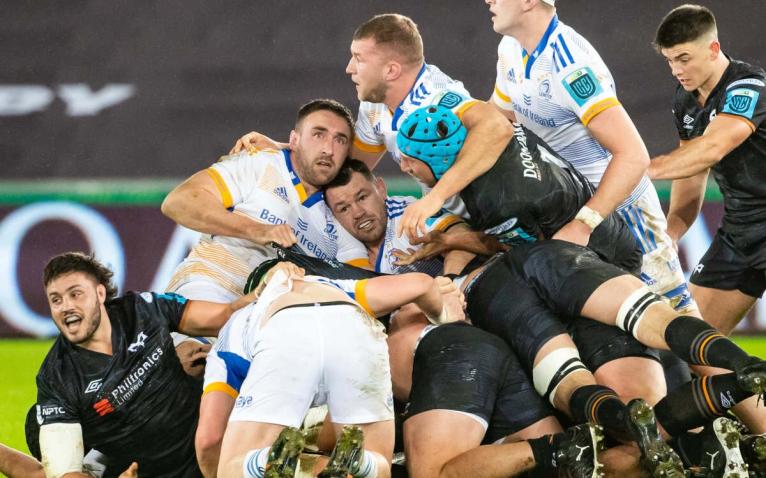 Expect the Ospreys front five to figure heavily, with Dewi Lake, Gareth Thomas, Adam Beard, Rhys Davies and Alun Wyn Jones expected to form a Welsh engine room. The Scarlets seem to have shaken off their season-long torpor in recent weeks and the performance of outside-centre Joe Roberts and Dane Blacker could see them parachuted into the reckoning. Dwayne Peel's side trumped Cardiff 28-22, but the eye-catching cameo of 6ft 5in, 17st centre Mason Grady and consistent form shown by try-scorer Rhys Carre should showed the latter should slot straight back into the international reckoning.
At the Dragons, it is Bradley Roberts, who has been punching holes in opposition defences and in the backrow, Ross Moriarty will surely bring his hard edge back into a Welsh pack that was frequently out-fought in 2022.
So while Wales will plot to downfall of the world's No 1 ranked side, Ireland, they are in a curious position. The WRU are yet to officially appoint an attack and defence coach with the Six Nations only 26 days away. It is making some people twitchy. Yes, Gatland knows his way around the Welsh system, but he needs his key men in post sooner rather than later. The clock is ticking, and a nation expects.
Leinster march on
Leinster played poorly in Swansea on Saturday, although to a large extent that was down to the fact Ospreys performed particularly well, and looked like becoming the first side to defeat the Irish province this season.
But Leinster found a way. The best sides normally do. So far this term they have won 14 from 14 in the URC and in Europe; their points tally from their domestic league now standing at a staggering 56 points from 12 games. To put that figure in context, 56 was the total that sixth-placed Munster finished up with last season, 61 the number of points eventual champions, Stormers, accumulated through their regular season.
Those who scoff at the URC's standards should consider the following stat. Leinster have a points differential in their domestic league of +196 points; in two Champions Cup matches, their points differential is +89. In other words, their average winning margin is just over 16 points in the much-maligned URC, and 44.5 points against the supposed heavyweights from England and France.
Imagine how good they'll be when Johnny Sexton recovers from injury.