Borthwick eyes English revival
European competition continued with some fine performances from Saracens and the Ospreys on French soil but there continues to be question marks over the format of the tournament which is coming under close scrutiny, and allows sides to field weakened line-up and yet still progress to the latter stages. One club coach who will not get a crack at the biggest domestic prize is Steve Borthwick, who has finally left Leicester Tigers for a five-year contract with England.
Here's what RugbyPass+ made of the action…
Borthwick to bring a sense of calm back to Twickenham
Steve Borthwick was never going to swagger into Twickenham, Conor McGregor-style, or plonk himself down in front of the press and announce with a knowing smile, that he is the 'special one'. It's not how the softly-spoke Cumbrian rolls.
What will be interesting is whether the 43-year-old can bring any surprises to the table, because he has devoted his life the English game, and is as dependable as English oak. An England Schools, Colts, U21 and Saxon, he went on to win 57 caps for England, captaining them on 21 occasions. As recently as 2018, he was on the RFU payroll after a three-year stint as assistant coach to Eddie Jones. One of the most durable club players in Premiership Rugby history, after two long stints at Saracens and Bath, he knows every nook and cranny in the wood-pannelled corridors of Twickenham as well as anyone. He's also well acquainted with Pennyhill Park, where he can map out his next nine months from his war room – Borthwick told this writer he admired Sir Winston Churchill's leadership qualities.
With one of the UK's most respected sportsmen, Kevin Sinfield, already following him from Leicester, when his extra assistants are named, to the relief of HR managers at HQ, you'd expect a slowing down of NDAs being signed, as deflated coaches exit stage door, right.
Maybe, just maybe, after seven years of adrenalin-fuelled japes with Eddie Jones, Bill Sweeney and his merry-men, just wanted a breather, and if that's a bit boring and conventional, then so be it. Sweeney labelled his expensive signing, as a 'new age of England Rugby', but will know his neck is on the line if England fail to deliver in France.
Indeed, if they were watching the evolution of the England football team under Gareth Southgate, they would have surmised that as long as Borthwick can use his obsessive levels of detail to turn a misfiring England team around, as he did with Leicester Tigers, then they don't really need to have a coach lobbing grenades to garner headlines. Get the results right, and everything will take care of itself.
Borthwick himself said all the right things at his press conference unveiling, talking about his 'immense pride' at being given the role, but he knows it will count for nothing if England don't deliver. His objective is to build a team that 'the nation can get behind, and can inspire our supporters'. You have needed to be fairly hard of hearing not to have picked up boos as Jones' team succumbed meekly to South Africa in the Autumn Series.
For a man who counts Winning by Alistair Campbell, as bedtime reading, no stone will be left unturned and with the return of Warren Gatland, the 2023 Six Nations is already sizing up to be a thrilling hors d'oeuvres to the Rugby World Cup. The Borthwick era is underway.
Are the Welsh regions turning a corner?
When the powerbrokers of Welsh rugby were wracking their brains, desperate to elicit some positivity out of a game in crisis, few of them would have thought that Montpellier, the Top 14 Champions, in the South of France, would offer solace and some unexpected Christmas cheer, yet that is what has given the regional game a rather timely adrenalin shot.
The Ospreys were 25/1 rank outsiders to win, after limply going down to a much-changed Leicester outfit, yet from minute one to 80, they outplayed Philippe Saint-Andre's side, to pull off a 21-10 win. It was their first over French opposition in the Heineken Cup for 14 years. There were several eye-catching individual performances, with Morgan Morris, Rhys Davies and Kieran Williams showcasing their talent, but mostly this was a team effort built on defensive resolve, technical expertise and teamwork, as Toby Booth's side repeatedly frustrated the Montpellier side who fielded stars Zach Mercer, Louis Carbonel, Paul Willemse and Anthony Bouthier playing.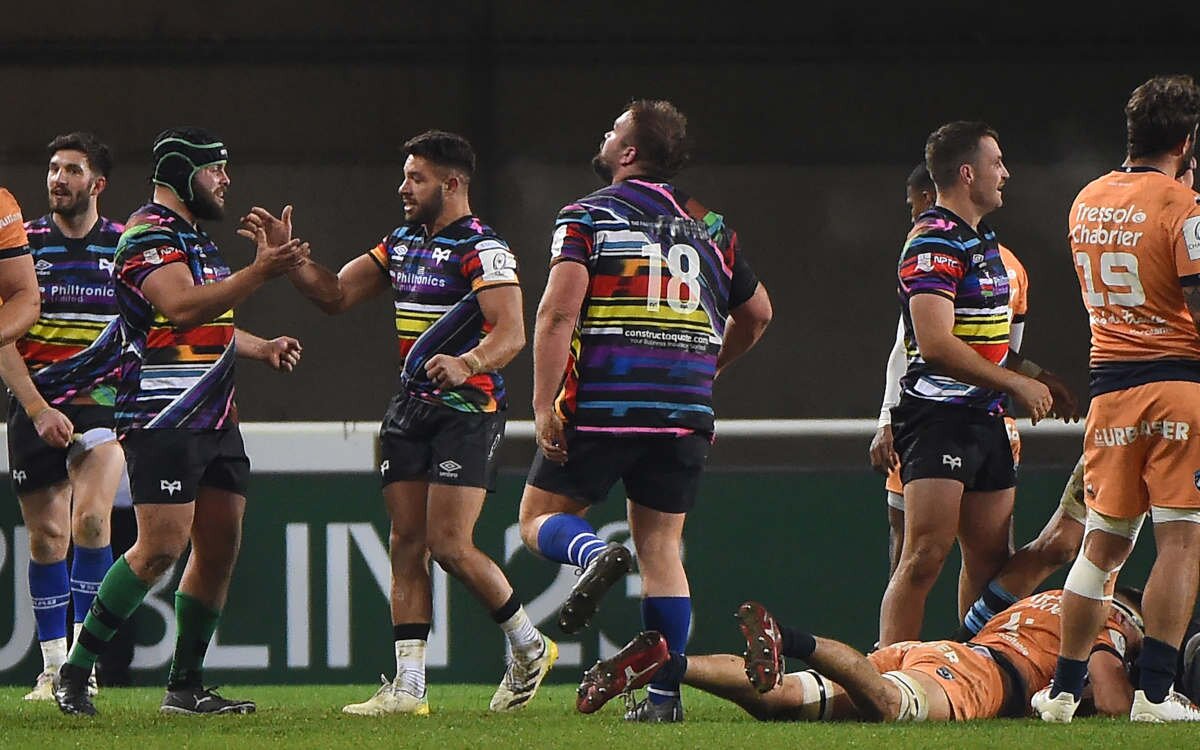 Orchestrating the Ospreys rear-guard action were two wily operators, with over 350 appearances for the region; Justin Tipuric and Rhys Webb, both showed their vast experience in harrying, spoiling and frustrating the hosts, using all their guile, and for should now serious come into consideration for a Test recall next month.
Elsewhere – despite the painfully slow progress off the pitch between the WRU and the regions – there are signs of recovery on it. Cardiff Rugby's recent good form continued with a 41-0 win over Brive, while the Scarlets, who have been having a very challenging period, made it two wins on the bounce with a win over the Cheetahs. Thought the Dragons lost narrowly to Pau, they have been on an upward curve since Dean Ryan mysteriously disappeared from Rodney Parade in late September.
With Warren Gatland returning to Wales, there are signs of cautious optimism springing up that all is not lost. If the Welsh game could, 'align', and it's a big 'if', the Six Nations may just see Wales turning a corner.
Penalise Gloucester – set a precedent
No other sport in the world rewards mediocrity quite like rugby. Italy, perennial losers in the Six Nations, remain assured of their place in the competition; their beleaguered clubs, Benetton and Zebre, have suffered some disastrous seasons in the Pro14/URC all the while knowing their return ticket to the following season has already been stamped.
It's not just them, of course. Ringfencing is the new buzzword in the Premiership (replacing insolvency). Basically no matter how bad you are, you can't be removed.
That's why Europe always felt different. You had to qualify for it for starters and there was a lengthy period when the format of the Champions Cup made it the greatest competition in sport, not just rugby, where every try mattered, every bonus point wrestled from an away day stored proudly in the bank.
Now? Now the average get rewarded and the dire go unpunished.
Whereas once the organisers reduced 24 to eight for the knockout stages; now 24 becomes 16, so teams can get away acting dispassionately about the pool stages, and can act like Montpellier last season and Gloucester this, by sending B teams to Dublin, all the while knowing two, even three, defeats won't necessarily end their interest in the competition.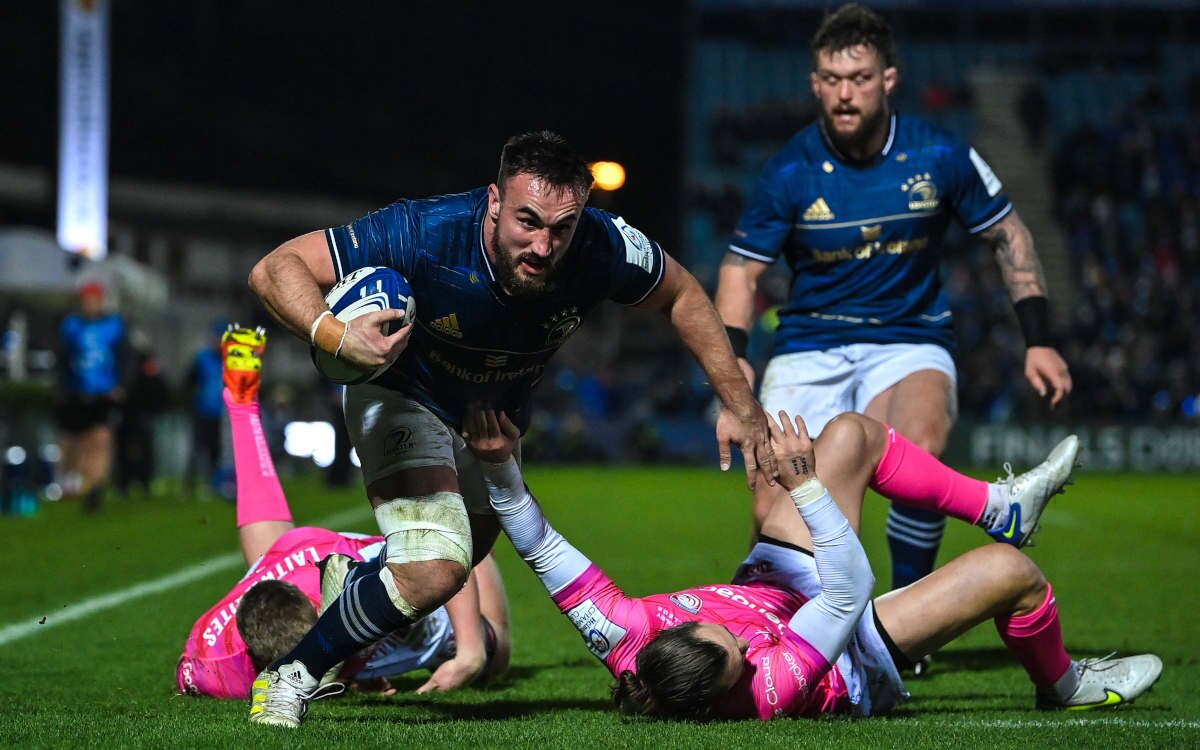 And that's the problem. Long-term this behaviour will end interest in the competition.
That's what irks. You don't mind so much the teams who aren't good enough to win; you despise those who choose not to try.
There has to be repercussions for Gloucester. If they, or any team, rotates its side as heavily as the Cherries did last Friday, making 14 changes en route to a 57-0 loss, then they should either be banned from Europe next season or have their prize money withheld this year.
Be merciless ECPR, wave the disinterested goodbye. If they don't care enough about Europe's premier club competition to try their best in it, then let someone else in who wants to be there.
Will the next great tight-head please stand up?
It is both a credit to WP Nel's marvellous longevity and an indictment on the dearth of emerging alternatives that at nearly 37 years old, the venerable prop is expected to head in to the Six Nations as Scotland's first-choice tight-head.
Zander Fagerson is sidelined for the next few months, having damaged a hamstring in Glasgow's win over Zebre Parma a fortnight ago. His prospects of making the championship opener at Twickenham do not seem great, and his absence leaves a gaping chasm in the Scottish depth chart.
Over the past two seasons, Gregor Townsend has given opportunities to Javan Sebastian, the meaty Scarlet, who has only started four club games since touring Argentina in the summer. Simon Berghan is not long back from injury and desperately short of game time at Glasgow. Oli Kebble was tried on the tight-head side but is now back in his primary slot on the opposite prong of the front-row trident. D'Arcy Rae has not been seen in a national jersey since his only cap in early 2019, but is going nicely at Bath. Murray McCallum remains club-less after starting the campaign admirably at Worcester. Injury has prevented Dan Gamble progressing through the Edinburgh ranks as it was hoped he would.
Murphy Walker is the coming man, but has seen precious little professional action, never mind the ruthless business of international tournament rugby. Prior to his Scotland debut against Fiji last month, Walker had started only three matches and played just 325 minutes for Glasgow Warriors.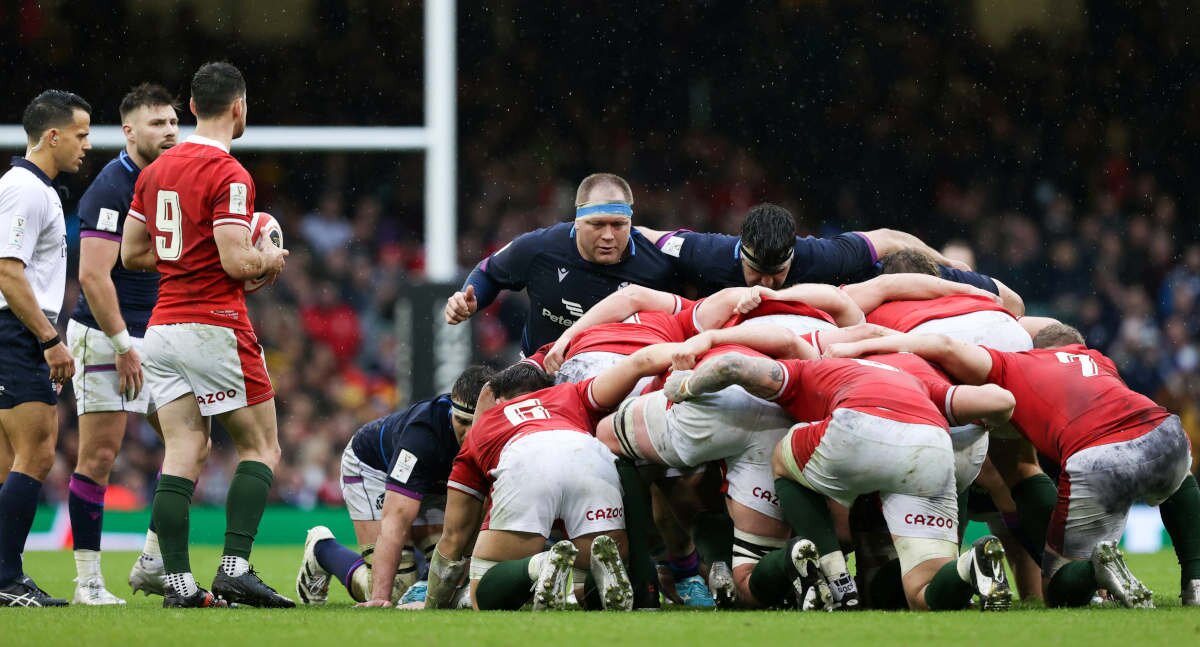 Nel, who turns 37 in April, remains the obvious and outstanding back-up. For all his relentless excellence and tremendous service to the Scottish game, with retirement around the corner, it should not be so.
Scottish Rugby generally does a good job of maximising its modest resources and building depth, but at tight-head there is a glaring dearth of Test-ready options.
And more pointedly, very few of the contenders learned their rugby in Scotland, progressing through the national pathways. The top four props at Edinburgh – Nel, Pierre Schoeman, Luan de Bruin and Boan Venter – were all born and raised in South Africa. So was Kebble. Sebastian is a product of the Welsh system; Berghan hails originally from New Zealand.
With only two professional teams, opportunities for the next crop to develop, and pack down in the brutal world of elite scrummages, are limited. Only two of the Scotland Under-20s squad habitually thrashed throughout 2022 had played any professional rugby, in stark contrast to their national rivals. Neither was a prop. There is talent in that group, no doubt, but Scottish Rugby must find a platform on which it can flourish.
As Scots fret over Fagerson's fitness, they are entitled to ask: will the next great tight-head please stand up?
Put some respect on the URC's name
For some time now, the URC has been a figure of fun in the rugby world. A league to sneer at, deride or belittle, what with its never-ending expansion, constant tinkering and occasionally bewildering format.
There are not many sniggers across the continent now, though. Not as the URC sides get motoring in Europe.
The first two weekends have the URC teams in marginal credit statistically, with nine wins from 16 Champions Cup matches. Some of those victories were spectacular. The performances even more so. Take the Ospreys, for instance, who went to Montpellier, the reigning Top 14 champions laden with stars, and bested them. They scored three tries – and should have scored a fourth – while winning by a comfortable two-score margin.
The Sharks headed to Bordeaux to face another established French heavyweight, and prevailed. Leinster, as machine-like as they are, were not expected to fetch up in Paris and stick 42 points on Racing 92.
Munster swatted aside Northampton in the East Midlands. The Bulls, fielding a heavily rotated team, edged Lyon in Pretoria, before their second string took an unsurprising beating at Sandy Park. Edinburgh were a botched try away from sinking hitherto unbeaten Saracens. Of the URC big dogs, only Ulster have been a major disappointment.
Even in the Challenge Cup, injury-ravaged Glasgow have triumphed at The Rec, Cardiff demolished Newcastle Falcons at Kingston Park, and Connacht did a number on Brive in France. Across the opening two rounds, Benetton, at Stade Francais, Zebre Parma, at home to Toulon, and the Dragons, facing Pau, were the only URC teams to lose.
The South African sides have brought a much-needed edge to the league, and are starting to bring that same competitive snarl to the European tournaments. Salary-cap pressures and national quota systems have made moves from the Celtic nations to England or France less common and less profitable. The URC has become a coveted championship in which to play again.
Maitland remains a class act
Nearly two years have passed since Sean Maitland last donned a Scotland jersey. At 34, with Duhan van der Merwe and Darcy Graham demolishing and dazzling on either wing, you might assume the Saracen's international days are over.
Maitland, for one, does not. He has spoken repeatedly about his desire to wear the thistle again, to add to the 54 caps he has amassed since moving to Glasgow from New Zealand a decade ago. And he may yet get his opportunity.
Maitland is not an eye-catching show-stopper in the way he was as a young man. He is not physically enormous or blisteringly quick. What he does have is an exemplary array of basic skills – flawless in the air, positionally astute, defensively excellent, and of course, deadly in attack. Each is a prized asset in the international arena.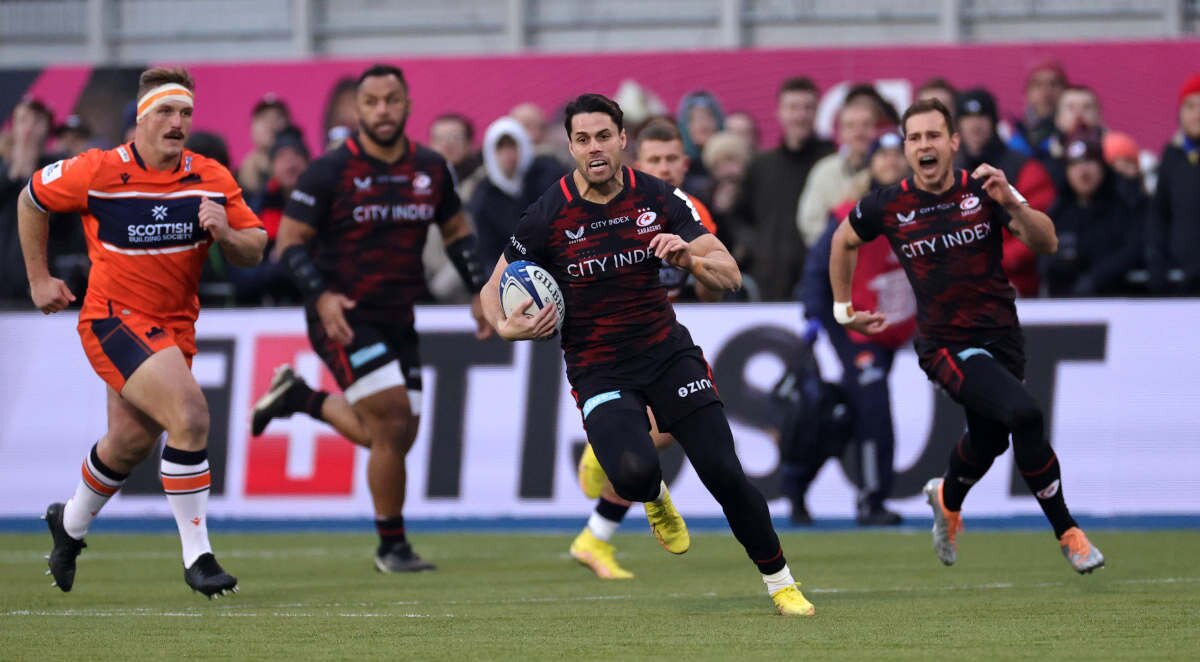 And the winger continues to deliver. In polishing off a stunning coast-to-coast effort in Lyon, Maitland took his try tally for the season to four in six matches, including a terrific double against Northampton Saints. He remains a pivotal cog in a Saracens team undefeated in eleven Premiership and Champions Cup outings. And crucially, Gregor Townsend is still a serious admirer.
Why the talk of a Maitland renaissance? Graham has seen his irrepressible start to the season halted by a knee injury and is scheduled to be out until February. Kyle Rowe is still sidelined long-term with a more serious knee problem. Rufus McLean is in a similar mould, but callow as an international player and not long fit again himself.
For that seismic curtain-raiser at Twickenham, Maitland's guile, skill and unflappable demeanour, against a host of his Saracens colleagues, could be invaluable.
Life's a pitch
Okay, let's try and make sense of this one. Ulster's pitch was playable on Saturday according to their coach, Dan McFarland. So what happened? They ran out at the Aviva Stadium, 100 miles away for their Champions Cup tie against La Rochelle.
Confused? We haven't even started yet.
The game was ordered to be behind closed doors and yet La Rochelle's travelling delegation (supporters to you and I) were accommodated in the stadium, Ulster's die-hard fans locked out of a home match.
You actually couldn't make this nonsense up if you tried.
The cost to Ulster is huge, £600,000 approximately in lost match-day earnings, three potential points lost from switching the game from their home to a neutral venue, from a packed house to a ghost estate.
It didn't have to be that way. Yes, Ulster's ground was unplayable on Friday but forecasters had predicted a bit of a thaw to arrive in Belfast by Saturday and temperatures to rise further by Sunday. In other words, if the panic button had have been hidden, a later decision could have been made and a game could have been played.
And so Ulster lost a game they could have won and are now in danger of crashing out of Europe – partly because of their own inadequacy but also because a TV schedule had to be adhered to. The bottom line is broadcasters seem to matter more than players these days.