Battered Ireland close in on a Grand Slam
The 2023 Six Nations is coming to a close, with just one more week and 'Super' Saturday to come, the report card for each country is mixed. For France and Ireland, the future looks rosy and opportunities abound. So too for Scotland, who put up quite a fight against the world's No 1 ranked team, but for England and Wales, the picture is more mixed. Both have dispatched with their coaches as they hit the panic button, and both are wondering whether they can mount a serious challenge at the World Cup. As for Italy, despite serious signs of progress, they would end up winless which would be a shame for all their effort but overall, they can be point to a brighter future.
Here's what RugbyPass+ made of the action…
Winning a Grand Slam is as good as victory in a World Cup quarter-final
There has been an obsession in Irish sport about the World Cup, namely because each and every tournament has been a disaster for the national rugby team.
Well, here is some breaking news.
Rugby continues in between World Cups. And if you are an Irish fan, you've had plenty to cheer about, the inaugural win over the All Blacks in 2016, the victorious tour of Australia in 2018, the successful sequel to New Zealand last year.
Along the way there have also been Grand Slams in 2009 and 2018, plus back-to-back championships in 2014 and 2015.
We tend to overlook these things, as well as the seven European Cups shared between Leinster, Munster and Ulster, by staring at what we haven't got, namely a place in the last four of the game's biggest tournament.
But what of it?
Scotland, Argentina (twice) and Wales (three times) have ticked that box but look at the state of the game in those countries compared to Ireland. The Scots have only two teams, the Jaguares no longer exist, while the Welsh regions are a byword for chaos.
That's before we get to the events of last summer in New Zealand, when Ireland became the first touring side to win a series there in 28 years, and then to the events of this winter, where Ireland defeated a wonderful France side in a Dublin thriller, before defying setback after setback to nail a superb victory in Murrayfield yesterday.
We have to enjoy these achievements for what they are, rather than constantly looking forward, or worse again, mourning the past.
These last couple of decades have been the best in Irish rugby history, one golden generation arriving to replace another. Given the Under 20s won last year's Grand Slam and this year's batch are on the cusp of repeating that trick, what they have achieved is monumental in the context of what went on before. It's time we Irish learned to live in the moment and enjoy the here and now.
Webb shows patience is a virtue
Rare as it may seem, there must have been times in recent years when Rhys Webb sat back on his sun lounger in Toulon and dreamt of the home comforts of Bridgend. It was back in 2017, when as one of the world's premier scrum-halves, after a successful British & Irish Lions tour, he headed to the South of France and found himself the sacrificial lamb of a now scrapped 60-cap law which precluded him from playing for his country, even though he he'd put in 10 years of service for his home region. While the move to Toulon saw his bank balance bolstered, on a playing front, it didn't work out, and he returned home in 2020 citing the difficulties of not being present for his three young boys.
Yet despite living miles from the Wales base camp in the Vale of Glamorgan, his chances of returning to the Wales fold didn't improve. A clash of personalities with Wayne Pivac, saw his coach overlook him, even when he was consistently performing at the highest level and captaining his beloved Ospreys. Pivac told the assembled press corps that Webb had lost pace and his service was not up to the required standard. It was a public rebuke that must have stung the proud No 9. Still, he got his head down and didn't give up belief.
When Pivac was given his P45 in November, Webb, who has never played at a World Cup, after being injured in a World Cup warm-up game in 2015 and being unqualified for 2019, sensed his chance. Two classy performances against Montpellier over Christmas was enough to see him returning to the Test stage, and while he only had two opportunities off the bench against Ireland and England, he did enough to see Gatland turn to him for the Italian job for his first start in five years.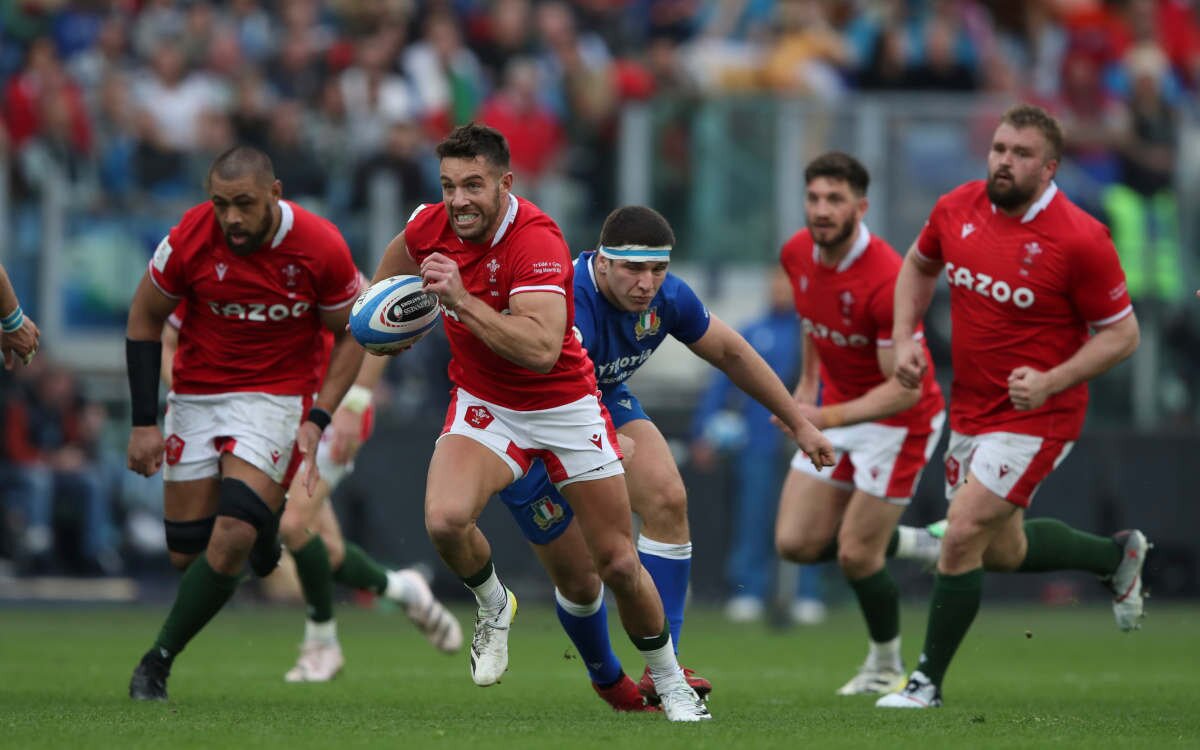 In those 53 minutes he was on the field, Webb did enough to suggest he could still cut it at Test level, in a man of the match performance. His service was smooth and snappy, his box-ticking on point and he even showed the trademark dummy to send the Italian defenders the wrong way before scurrying up field to feed the supporting Taulupe Faletau for a fine try. His speculative kick also set up Rio Dyer for his opportunistic try. In all, it was a good day at the office and there must be hope that at 34, he can spend the rest of the year as first-choice 9 and finish his Test career in France.
He willsurely head to Paris on Saturday to earn just his 40th cap, which is a paltry return for a player of his sumptuous talent but he will take it, and play every cap as if it's his last. After being replaced by Tomos Williams at the Stadio Olympico, many thoughts must have been racing through his mind, principally a metaphorical two fingers to his detractors. Webb has had to show patience but it was worth the wait.
It's not over until the fat prop sings
Try telling any Irish person to relax in a week that starts with the Cheltenham Festival and ends with St Patrick's Day and a shot at a Grand Slam.
Well, they must.
Irrespective of what happened in Twickenham on Saturday, where England lost in humiliating circumstances to France, it was the events of Murrayfield 24 hours later that really need to be examined closely.
England may have some psychological wounds to treat but Ireland's physical ones are arguably worse. Dan Sheehan, Ronan Kelleher, Iain Henderson, Tadhg Beirne, Garry Ringrose and Finlay Bealham are either ruled out or considered doubts for the Grand Slam decider.
In other words, by the time we come down the stretch on Saturday evening, Ireland will be looking towards their fourth choice hooker, third choice tighthead and fifth choice lock to see them home. At least Ringrose's absence is balanced out by the return of Robbie Henshaw.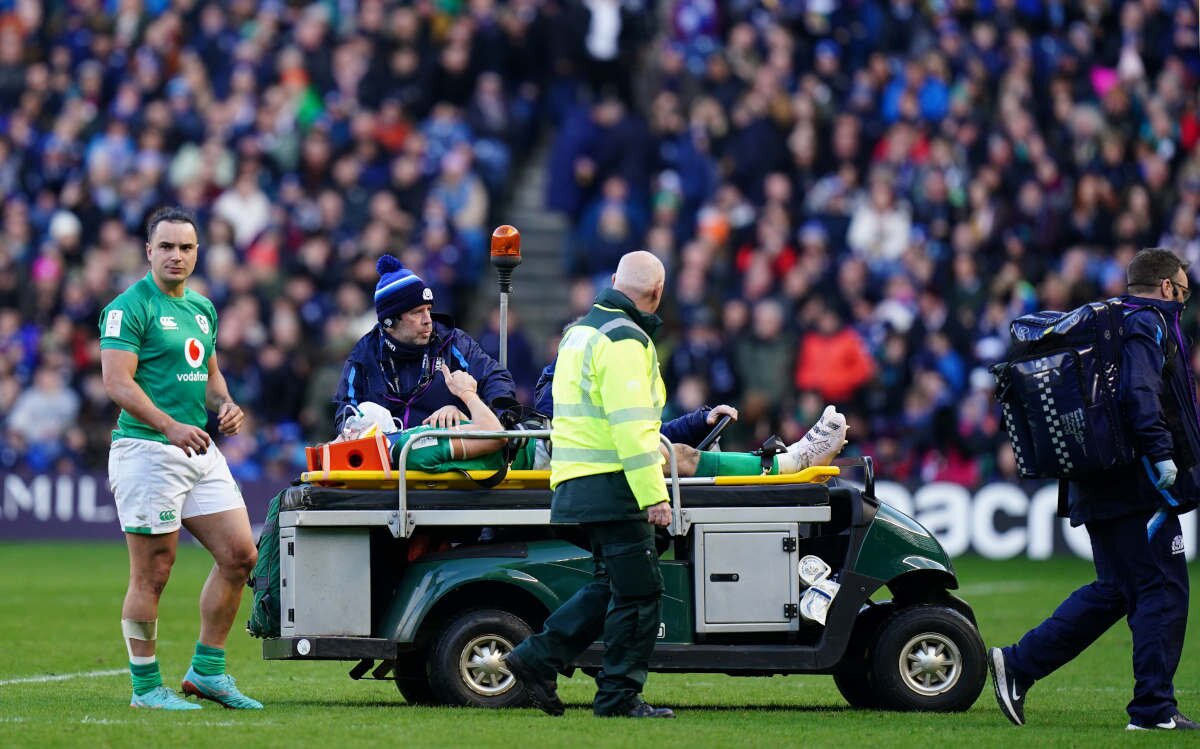 But a point has to be made. While this championship appears destined to end up in Irish hands, it's not inconceivable that France could end up with the championship.
Their final game is against the Welsh in Paris. Would anyone be truly surprised if they won that with a bonus point attached? And as rugby shocks go, an English win over Ireland would not equate to a Japanese win over the Springboks in 2015.
Even if Ireland were to lose with a bonus point, France's 53-10 victory on Saturday has boosted their points differential significantly. This championship is far from over for even if England were truly awful last weekend, it's this weekend that counts. A six-day turnaround with a weakened team is hardly the best preparation for any side. As they say around these parts, don't drink your pints until they are poured.
Scotland fail to ask the obvious questions
One should never underestimate the capacity of a Scotland team to load up a gun and fire both barrels into their foot.
So it was on Sunday afternoon, a second-half performance devoid of tactical nous, intelligence and composure. Forty painful minutes that followed the same pattern of so many of the recent editions of this fixture.
Ireland are an immense rugby team, and boy it showed at Murrayfield. Not so much in the first half, when Scotland stressed their fearsome defence and coped admirably with their multi-phase attack. But after the break, losing bodies by the boatload, the green juggernaut motored on. They thrived in adversity like a true champion outfit. Wonderfully unflustered by the personnel chaos visited upon them.
Scotland may never have a better chance to beat this Irish group. They scored a fabulous try through Huw Jones and they left more out there in a ferociously competitive opening period. Stuart Hogg was bumped into touch. Duhan van der Merwe was turned over metres from the away line. Red-zone possession was squandered. You can't do that against the best team in the world – and Ireland are, unquestionably, worthy of their place atop the world rankings – but the flow of traffic and a 7-8 half-time scoreline filled Murrayfield with hope.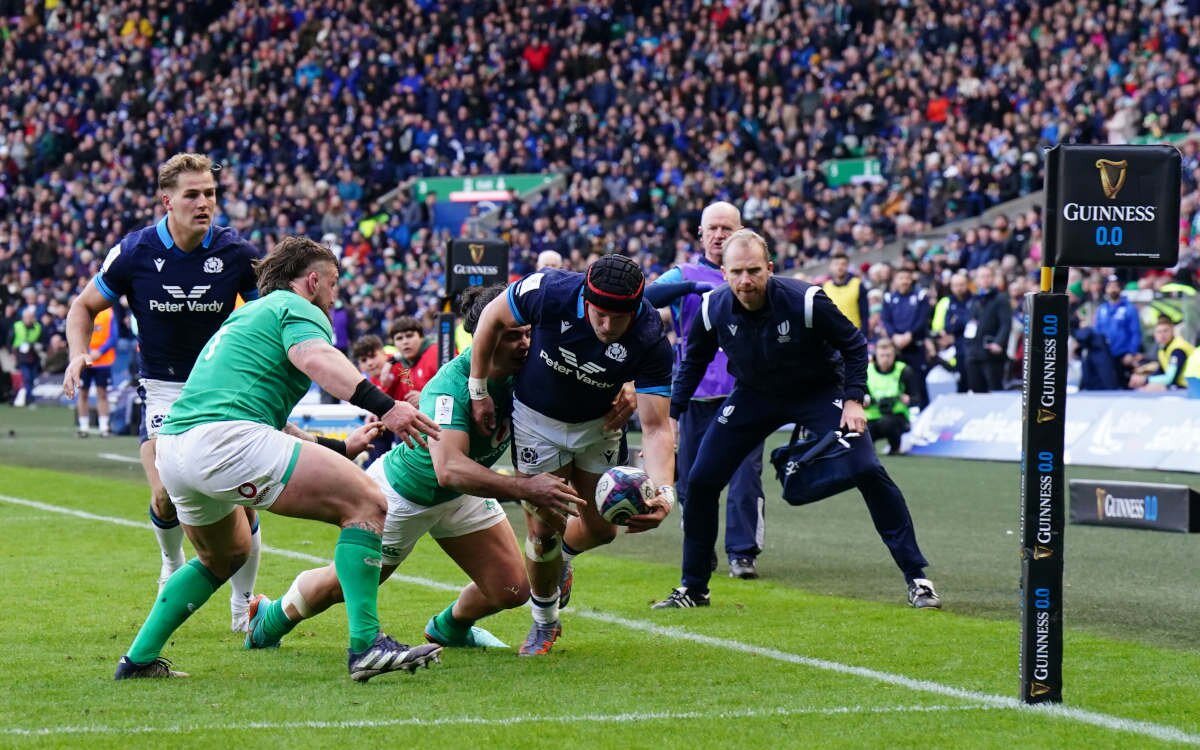 What happened next was brutal. Ireland had been shorn of Caelan Doris, their colossus number eight. Dan Sheehan was crocked and so too, his replacement at hooker, Ronan Kelleher. Ian Henderson was invalided out as well.
The bizarre sight of Josh van der Flier throwing in to lineouts should have felt, to the Scottish pack, as a child feels waking up on Christmas morning. Not only did they fail to pressure Van der Flier, they chose to run into the teeth of the Irish defence over and over, instead of playing the corners, squeezing Ireland back and asking Van der Flier to throw inside his own 22. They never really posed the most obvious of questions, seldom forced Ireland to exit with a makeshift set-piece. Cian Healy came on at hooker and with a three-prop front-row, Andy Farrell's pack obliterated Scotland. Ireland owned the ball, the territory, and ultimately, the game, in that second half. It was a supremely impressive display.
In the aftermath, Gregor Townsend lamented a "forty-minute" performance. "There's a game there and a playing group there that can really trouble Ireland, but you've got to do it for 80 minutes," he said.
That's what will hurt Scots the most. Forty excellent minutes against Ireland. Fifty minutes in Paris when France were reeling. Another fifty against the All Blacks in November yielding 23 unanswered points. The ledger shows each ended in defeat. Near misses; coulda-woulda-shouldas. Scotland can wound the the world's top teams, but can they rouse themselves for 80 minutes to land a killer blow?
This is a squad of tantalising potential, no doubt. The question is whether that potential will be realised.
Dupont is a talent who can be enjoyed, whatever your national affiliation
There's a cliché in football circles that a certain supporter bases are some of the most 'educated fans in the game'. If we were to transfer this to rugby, we could apply this liberally, but for now, we can credit the Twickenham masses; they can recognise a world-class talent when see one. Indeed, when Antoine Dupont left the hallowed turf on 68 minutes, despite England being blown away by France in a one-sided contest, some rose to their feet to applaud the mercurial French captain and express their appreciation at the superlative performance he had just treated 82,000 fans to.
His powers are such that if he ran into a nearby telephone box wearing a suit, you'd half expect him to re-emerge wearing a blue and red leotard with an emblazoned 'S' on the chest, such are his otherworldly talents.
Dupont laid on his full repertoire of tricks against England. There was the dummy to send Maro Itoje to Timbuktu, the switch and reverse box-kick with his 'weaker' left foot from 50m that gained France territory with a 50-22 and the impudent chip over the top of the England defence to reclaim the ball and nudge through a perfectly weighted kick that left Marcus Smith scrambling on his line. Thomas Ramos, a consistent thorn in the Red Rose, also nudged a kick towards the try-line after a brilliant break, and you'd swear he was outsprinting a covering Anthony Watson, before Charles Ollivon was credited with a try. Hell, he even manages to box-kick an extra 5m further than any mere mortal at 9.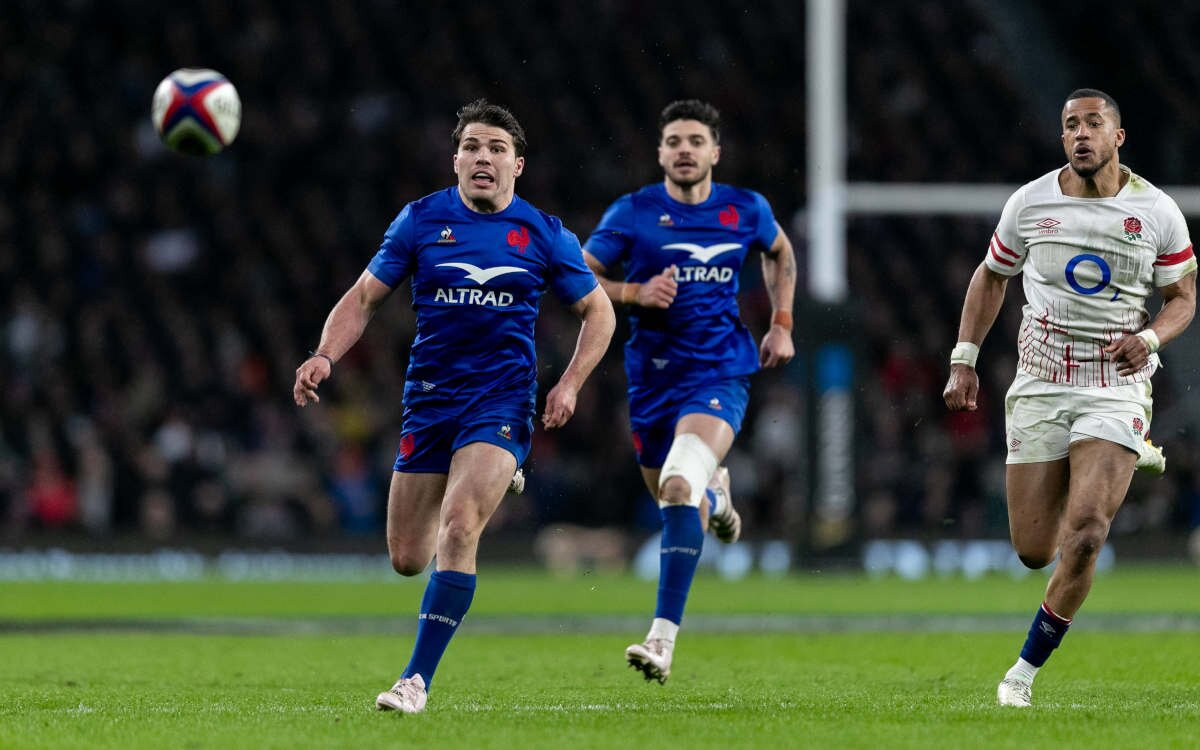 He does the nuts and bolts well, too. His service was on point, his kicking from hand was from the top-drawer and when he made one error by having a kick charged down, his team-mates worked doubly-hard to make sure they scrambled and kept the English side at bay, as if thanking him for all the stardust he adds to their game.
At 26, Dupont does not seem overwhelmed by having the hoisted on his compact shoulders and appears to take most things in his stride. If an injury was to befall him before the World Cup, there would be shutters closed and tears from his countrymen and women, such is his importance to their cause. If he can keep up these rarefied levels of play for a few more years, he will surely be in the conversation for the best player and even, dare we say it, rugby's GOAT (greatest of all time). History tells us that injury, off-field distractions and fate can unsettle even the most naturally gifted sportsmen, but Dupont has a shot and the rugby world can just sit back and regale in his gifts.
Home advantage means nothing to the best
For the first time ever, the Six Nations has delivered two full rounds of away victories. After Ireland, Scotland and France got the job done in the opening batch of fixtures, Wales, France and Ireland prevailed on the road this weekend. Rugby statistician Russ Petty confirms it is a first. Fellow analyst Stu Farmer says there have never been more than eight away wins in a single Six Nations. Ireland's triumph at Murrayfield equalled that record in 2023.
It is hard to see the tally growing on Super Saturday, mind you. For all Ireland's injuries, a Slam-stopping English win in Dublin would be stunning. Marginally less stunning than free-wheeling Italy conquering Murrayfield or troubled Wales doing a number on France in Paris.
Home comforts are huge in sport but perhaps less so in rugby. Atmospheres are typically not as febrile as, say, the tribal roars of a football stadium. And the greatest sides – in this competition, Ireland and France are a cut above the rest – are so well drilled, so unflappable and unshakeable in strategy and execution that the arena seldom seems to matter.
Murrayfield was cacophonous on Sunday and yet Ireland, for all their injury-enforced disruption, stuck to their task and their roles and went to work in an awesome way. A revved up Twickenham, where France had not won in 18 years, a venue filled with horror and ghosts for Les Bleus, soon became eerily quiet, save the joyous French and the booing hosts. When Wales put daylight between themselves and the Azzurri, Italy's Olimpico lost its vibrant lustre.
Away wins are generally good for the championship and its competitiveness. We have been treated to plenty this year, but in Saturday's denouement, expect class to tell.