Why hasn't Lima Sopoaga caught fire in his first season with Wasps?
Big signings always bring big expectations, however unrealistic they can be.
For newly minted Wasps flyhalf Lima Sopoaga, the adjustment into the English Premiership directly after playing a Super Rugby season has been a challenge for the All Black, however, there are growing signs that Sopoaga's class will translate to Premiership Rugby.
Unfortunately for Sopoaga, he has been caught in the middle of a club in transition, losing key players to rival clubs, rep duties, and a roster-destroying injury crisis.
The most crucial missing cog for Wasps has arguably been the man he replaced, Danny Cipriani, who has been the form flyhalf in the Premiership in recent years.
This has become crystal clear in hindsight, with many of the plays Wasps successfully using last year being rolled out at Gloucester. When Cipriani left he took the playbook with him, one that meshes so well with his own unique skill set it seems it cannot be replicated to the exact specifications.
Cipriani's direction in attack gave the Wasps runners cohesion as a conductor does with an orchestra. Installing a new conductor has thrown off everyone's tune, and with a host of frontline starters missing in action, it is no surprise Wasps have struggled.
With Jimmy Gopperth (ACL) and Dan Robson (ankle) suffering injuries, combined with the recent absence of Juan De Jongh (non-selection) and Christian Wade (NFL pursuit), the back line is unrecognizable to the well-oiled machine that performed perfectly orchestrated plays last season.
Valuable role players that provided a spark last year like the experienced Gaby Lovobalavu and Marcus Watson have been after-thoughts, rarely seen at all, while Kyle Eastmond was let go leaving Championship-recruit Michael Bourgeois as the backup to Gopperth.
The lethal connection Cipriani built with star fullback recruit Willie le Roux, who missed the first five games with Springbok duties, has not materialised yet with Sopoaga.
Since returning from international duty, Le Roux has been starved of quality space on the outside this year, instead playing a second receiver role further in-field more often.
His assist tallies have dried up without being able to ball-play on the edge with overlaps created by inside lead-up work, which was usually done by Cipriani. This has caused visible frustration for himself and England flyer Elliot Daly.
These are all important factors in judging Sopoaga's impact – no player can do it alone. The whole has to be greater than the sum of the parts, which hasn't been the case.
Wasps need to rebuild a system around Sopoaga's own skills as a ball-playing artist, which is going to take time. The disruption to the pieces around him this season has only lengthened the time that will take to start gelling.
Sopoaga's own never-ending season is not helping – from pre-season training in December 2017 with the Highlanders he will play non-stop with Wasps until May 2019, without a break and without the improved sharpness off-season conditioning brings.
This may partly explain why his running game hasn't been as potent in the Premiership – there has been a noticeable drop off in his ability to shed tackles even in the same calendar year.
During Super Rugby in 2018, he beat a defender every 2.7 runs, with Wasps this rate has dropped to one every 6.8 attempts. His line break rate has gone from one in every 14.5 runs to one in 25.
Whether this is a sign Sopoaga is hitting the inevitable downward trend in his athleticism is yet to be determined, a full off-season break and pre-season training schedule may see a rejuvenated player next season, but he still promises longevity as a flyhalf due to his ball-playing ability.
In his last season with the Highlanders, he lodged 21 line break assists despite his running game slowing.
The attack with Cipriani at the helm was all about the ability to strike from set-piece plays, and Wasps need to re-discover this identity with Sopoaga. Too much of the attack so far has been funneled into the midfield, resulting in carries for centres Michele Campagnaro and Michael Le Bourgeois in search of second and third phase strikes, which often don't eventuate due to slow ball.
Campagnaro and Le Bourgeoise are handy players but should fill secondary roles to the likes of Sopoaga, Le Roux and Daly when the set-piece platform presents.
The collective strike power of those three alone can conjure up tries from anywhere, as illustrated against Toulouse in the return leg when a simple 'ID' screen to Daly, playing centre at the time, resulted in an 80-metre try to Willie le Roux after Daly burned his opposite on the outside.
There are signs that Wasps are starting to lean more towards a 'sweep' attack similar to way Cipriani was used last year. At Twickenham against Harlequins they used this 'halfback slingshot' play twice to get Sopoaga wider ball with halfback Dan Robson back in the starting line up.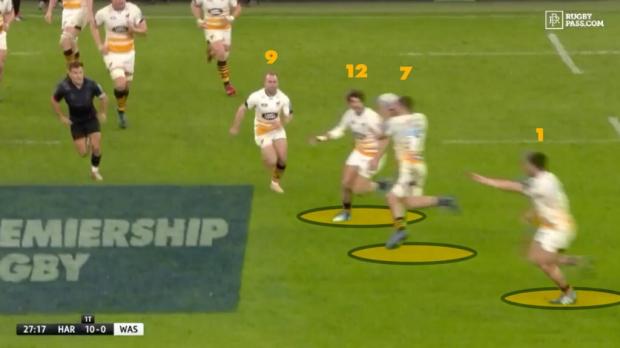 From a 5-man lineout Wasps set a three-man pod at first receiver with Thomas Young (7) in the middle flanked by Le Bourgeoise (12) and Ben Harris (1).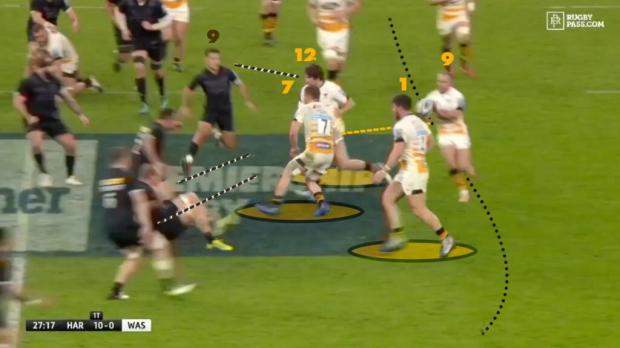 Robson (9) runs a wrap around receiving the ball back from Youngs on the run.
Harlequins interior defence has squeezed down hard on the pod, while Danny Care who was in pursuit of Robson, now has his path roadblocked to his opposite number.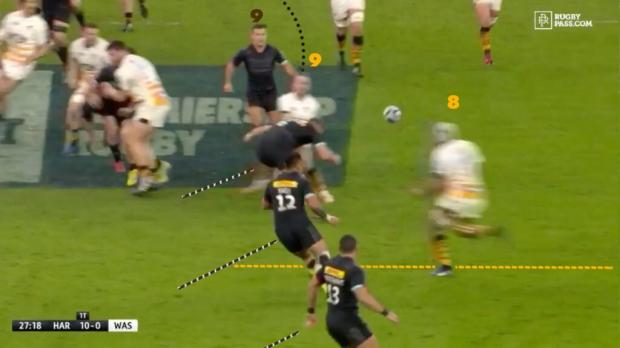 Robson gets to the first defender outside the pod and draws contact while Nizaam Carr (8) runs a hard line giving him a short option, however, Robson delivers out the back.
Harlequins midfielder Francis Saili bites in to cover Carr leaving Joe Marchant as the last defender in the Harlequins front line.
The ball goes out the back to a wider Sopoaga, who has the blind winger Josh Bassett (14) with him and on the inside and his centre Campagnaro on his outside.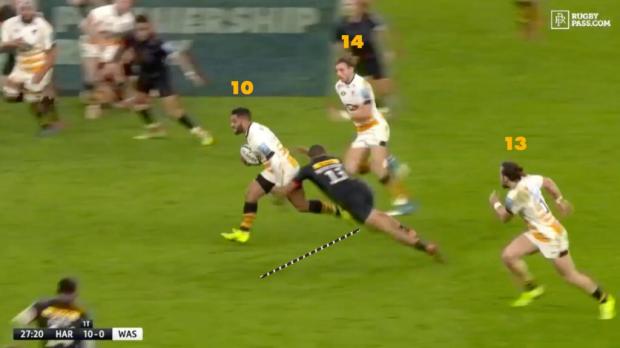 Sopoaga trusts his inside winger will be running off his hip and in the low tackle of Marchant, he gets away a ridiculous contortionist-offload to free Bassett.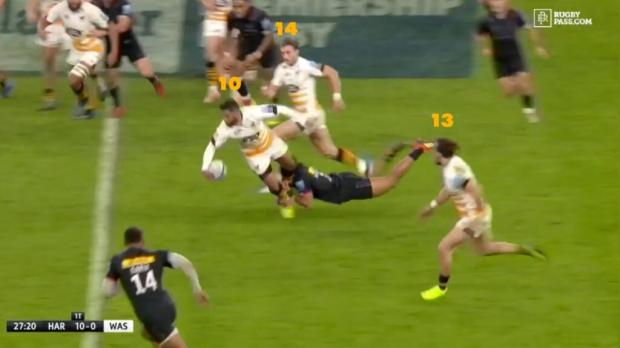 Bassett streaks away with an opportunity to link outside with Le Roux and Daly for what would be almost a walk-in given their international calibre.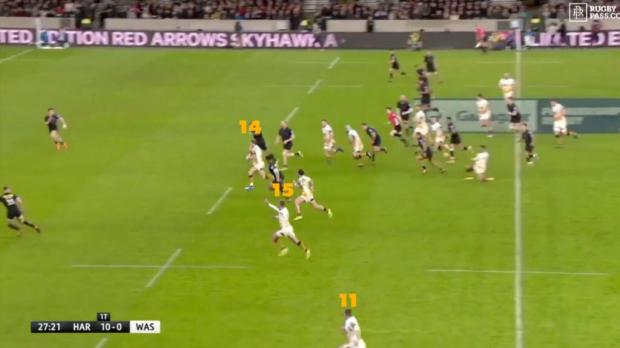 With Harlequins fullback Mike Brown using a bail technique to buy time, Bassett should veer that way before linking with le Roux.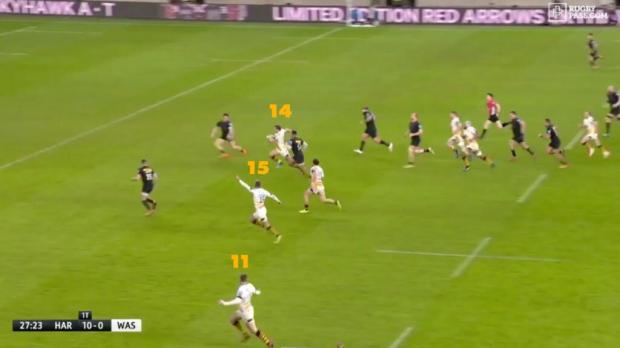 Instead he tries an in-and-away on the covering defender without looking at his outside options where le Roux is screaming for the ball in unison with Daly.
Bassett is tackled inside the 22 and a few phases later Wasps are turned over and Harlequins are able to clear, receiving no reward for some smart play by Robson and Sopoaga.
In the second half they try to use the same play again, but this time without Robson it falls apart.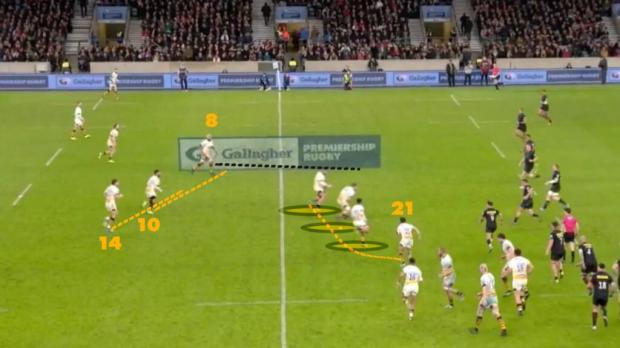 Reserve halfback Craig Hampson (21) does a great job on the loop around to get on the outside.
With Harlequins outside centre Joe Marchant (13) pushing down outside-in, Sopoaga is skilled enough to try and take a pass under pressure and release his outside.
With Marchant jamming in, it gives Wasps a huge opportunity to isolate Earle (14). However, Hampson decides to try and hit Carr short using a head fake instead.
Francis Saili has eyes for the ball and the loose pass is tipped, falls to ground and the opportunity is lost.
The return of first choice halfback Dan Robson will give Sopoaga's play a boost. As illustrated on this play design, Robson's running game can be integrated to allow Sopoaga to attack the wider channels on sweep lines, which will in turn hopefully open up more opportunities for le Roux to do what he does best.
Wasps won't be ultra competitive in Europe this year having already slumped to the bottom of their pool, but in a tighter Premiership race with more parity, an improved set-piece attack can make a difference. The 20-13 loss to Harlequins was decided by seven points, and on the first slingshot play, Wasps blew a near certain try.
With big money tied up in Sopoaga, Wasps have to trust him to make the big plays and call for more opportunities for him to do so. Until they get their starting pack back with names like Nathan Hughes, Joe Launchbury and Tommy Taylor, a higher percentage of first phase strikes using the star recruits in the backline is a good place to start.
Rugby World Cup City Guide – Oita Preview:
Comments
Join free and tell us what you really think!
Join Free