'Saracens and Exeter basically hide the ball from the public… you can fall asleep watching some of that rugby'
Ireland and England make for quite a difference. 
This weekend's top of the tournament clashes in
Munster and Leinster provided 20 of the 23 chosen by Joe Schmidt for Ireland's recent World Cup quarter-final loss to New Zealand, but just three of those players togged off for Saturday evening's meeting in Limerick between the respective Guinness PRO14 Conference A and B leaders. 
Contrast that to the Sunday afternoon showdown in Devon. Ten players who played in the World Cup final will feature, as will another seven involved at the tournament in Japan. 
In other words, the Sandy Park rematch between two teams who contested one of the best ever Gallagher Premiership finals last June won't be shortchanging fans who want to see the stars of the English league, unlike the previous night's encounter at Thomond Park where household names were in very short supply. 
Undercooked Irish selections are a large stick to beat the PRO14 with in terms of its credibility as a fully-fledged, constantly competitive league compared to the weekly full-on collisions by mostly full-strength teams in the Premiership.
(Continue reading below…)   
RugbyPass went behind the scenes with the Barbarians before their recent clash with Wales
Yet, ask Michael Bradley which match he would prefer to pull up a chair to watch and he curiously plumps for the offering in Ireland. He will automatically be accused of bias. After all, he was a long-serving Irish scrum-half before the sport turned professional in the mid-1990s. 
But his opinion is instead hewn from stripes earned on the PRO14 coaching circuit. Nineteen seasons the tournament has been on the go in a variety of different guises and Bradley has been involved in twelve, head coaching at Connacht for seven, Edinburgh for two and he's now in his third at lowly Zebre. 
His 226th league game in charge didn't go well on Saturday, his Parma-based side losing their Italian derby to Benetton. Then again, winning has never been the weekly be all and end all for the coach as his teams have only ever won on 60 occasions, 158 losses and eight draws leaving him with a meagre 26.5 per cent win ratio. 
Great atmosphere here in beautiful Treviso for @BenettonRugby vs @ZebreRugby @PRO14Official #fullhouse #GuinnessPro14 pic.twitter.com/04m2CjCDtz

— Martin Anayi (@TinoAnayi) December 28, 2019
But what keeps him energetically getting up out of bed in the morning is the variety in playing styles and the overall player development purpose of his five-nation, 14-team league in contrast to a twelve-team Premiership where so much seems to be invested in not getting sucked into the annual relegation battle. 
"You could say the Premiership is the same thing all of the time every year," said Bradley to RugbyPass when asked to assess how PRO14 compares to its main tournament rival. "You know, you can fall asleep watching some of that rugby. 
"PRO14 rugby is much more exciting than Premiership rugby, has been for years. The dominant side is Saracens and the next dominant side is Exeter and both those sides became dominant because they basically hide the ball from the public for a year.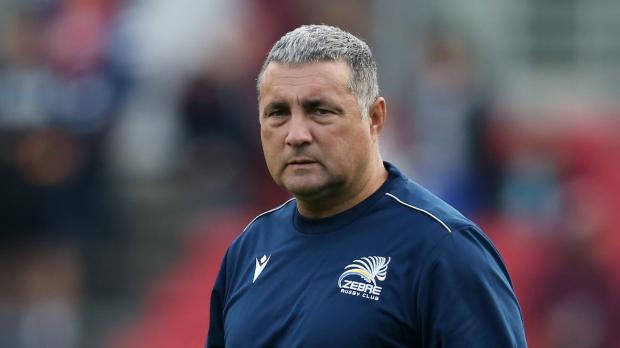 "Now, they are very good and very effective at it. They have got the results and you can't argue with the results. But while Leinster won the PRO14 last year, you had teams like Connacht coming through, Glasgow coming through, Scarlets when they won it were fantastic. Fantastic rugby was played.
"The year Connacht won the final in Murrayfield (2016) it was a super game of rugby. You had the David and Goliath situation… and David won. That is what PRO14 can produce. I don't see that happening in the Premiership.
"There are different challenges all the time," he continued, warming to the theme. "Like you go to Italy and you play an Italian side, it is different than an Italian side coming here (to the UK and Ireland) because you are used to your conditions and you have to get used to their conditions. 
'Behind the rugby player there is a person and they go through all the different challenges outside of rugby as well'
– Ruan Pienaar tells @heagneyl about how a family tragedy brought him home to Bloemfontein and into @CheetahsRugby https://t.co/nkh8W21WSN

— RugbyPass (@RugbyPass) December 4, 2019
"It's a subtle change. You go to South Africa and it's a different time of the year. Winter here, summer there. You have all sorts of different challenges. It is not like going down the road from London to Bath, or Bath to Bristol which is twelve miles of a difference."
Bradley, though, isn't some blind loyalist preaching from a hymn sheet handed down from on high by the PRO14's powers that be. He is equally eloquent in nit-picking areas where the tournament he has fostered his coaching career in comes up short. 
Given his longevity, he is perfectly positioned to embrace a blue-sky thinking question put to him by RugbyPass… if he was the PRO14's managing director and had a blank canvas at his disposal to immediately change things for the better, what would he do first thing on Monday morning? 
? The BIG day out, BIGGEST SAVING YET! – Adults from £10, Concessions from £5

? SuperSaver ticket prices ends midnight 29th December 2019

? Cardiff City Stadium, Cardiff
? Saturday 20th June 2020

? https://t.co/Te1nxvQURl pic.twitter.com/lNdIrQ7CzA

— PRO14 RUGBY (@PRO14Official) December 26, 2019
"I'd get as much promotion of the game," he volunteered. "A higher visibility in promotion, so you would look to invest in mechanisms of getting the profile of the game as high as possible. The more you invest in that the better the product will be in terms of visual. 
"It is a good product, but I'm not sure what the policy is now in relation to its packaging and promotion. I don't think you can get much more out of the playing side but what you put on the TV screen and the consistency of that in generating excitement about matches, that needs marketing.
"Why do people go to derbies in the English Premiership when two sides are at the bottom? Because there is a history, there is an atmosphere, there is an event. You are watching the Premiership on BT Sport, the offering as an event is very strong and they present a very good programme. 
Charles Piutau… What a tackle!! ?

The @BistolBears star DENIES Marcus Watson with a try-saving hit from the top drawer ? pic.twitter.com/EXFSjSaUwH

— Rugby on BT Sport (@btsportrugby) December 27, 2019
"The game could be not so good but the whole programme and how they get the excitement around the event is very, very good. That is what I mean about promotion – you get the spectacle out there. 
"The provider is BT and it was Sky Sports in the past, so the offering is good, it is strong and it is consistent. That does help in the positioning of the brand and then you will have sponsors and people interested in going to the event. That is what happens. There is your momentum."
Moving on, the standard of refereeing and creating more of a buzz about players are other topics he highlights are ripe for improvement.
'We need to have another 20, 30 players that are playing at a high level'
– @15GavinHastings tells @heagneyl what is needed to help @Scotlandteam, his pride in @adamhastings96 and @GlasgowWarriors, and his support for old pals @DoddieWeir5 and Tom Smithhttps://t.co/Z2bYF21t2M

— RugbyPass (@RugbyPass) December 14, 2019
"They are working hard on the referees and TMOs now which is a good concept, a development from last year to this year," he said, referencing how the PRO14 now has teams of officials hailing from the same country on duty week after week in order that they build up a better rapport and manage their matches more efficiently.  
"That is much better now so you have got consistency in relation to how the games are refereed and you also have accountability across a team as opposed to an individual referee as there is too much pressure on the referee.
"That is a good development that is just starting now, so that will make the competition a better competition because it means there is three teams on the pitch and the referee is supported by his own team and they work together. That will make a big difference to the consistency of how the games are refereed.
Having just suffered a chastening 44-0 loss to @scarlets_rugby to make it one win in 13 this season, @ospreys are enduring a disastrous season. @OwainJTJones investigates what has happened to Wales' most successful regionhttps://t.co/njE9UQhMNO

— RugbyPass (@RugbyPass) December 27, 2019
"So promotion of games and refereeing is going in the right direction – Greg (Garner, referees manager) has done a good job there – and then the higher the profile of the player the better. If you can get some more marquee signings, that is one way of looking at it. But you also have to develop your own so it is to get that balance and keep that balance right. There are they three things (to address)."
Bradley's introduction at the helm in Connacht coincided with the establishment of the five regional sides in Wales, down from the nine club teams that participated during the tournament's first two seasons. That switch was the first of many major transformations the Celtic League has since undergone in its evolution from a three-nation, twelve-team tournament in 2003 to what it currently is. 
Having been along for most of that journey – when he wasn't involved he was away spreading the Test rugby gospel on the books of Georgia – he is pleased with what has transpired. 
The incredible tale of what former rugby star Andy Powell been doing since he retired from the sport. Coming soon… pic.twitter.com/AXaWyNLVB1

— RugbyPass (@RugbyPass) December 27, 2019
"I'm very happy that they are brave enough to make decisions to expand it because when I coached in it at the start with Connacht, it was the three countries and you were getting dizzy because it was nearly the same people you were meeting, same hotels, same game plans, same everything and now there is a different challenge every week so it's a lot better now.
"It is developing all the time. They have been brave. Over time they have brought in the Italians and have brought in the South Africans and they haven't been afraid to take chances in that sense, but you'd like (more people watching) the games.
"Like the stadiums in South Africa are a very good example of fantastic stadiums. The Cheetahs, it is next to impossible to win there. They put up big scores and play beautiful rugby but there are very little people at the matches.
'It's not a weight issue with us. What we're looking at is the speed and velocity' @UlsterRugby coach Kieran Campbell talks pace with @heagneyl @PRO14Official #SUFTUM https://t.co/NnkpMf4J3d

— RugbyPass (@RugbyPass) August 18, 2019
"From a spectacle point of view you have to be careful with that because you look at that and it is not appealing to people who could support the sport," he said, switching to his own bold project – turning Zebre from habitual Italian strugglers at the foot of the table into a way more competitive outfit. It's tough going. 
"We are not happy with the results to date but the direction the team is going in, we have got a much better team this year. People from the teams that we have played recognise that as well and have set their teams up accordingly. 
"For the first time we have the ability to rest and rotate players which puts us on the same level as most of the other sides, so we will stick with the brand of rugby we are trying to play which is keeping the ball alive, keeping it up off the ground, keeping it fast. 
"We will make mistakes but if we keep practising and keep our focus on this area, we will get better and better and we will start knocking over some decent teams and getting to the play-off side of things."
WATCH: This is Zebre, the behind the scenes documentary on Michael Bradley's Parma-based Italian PRO14 franchise  
Comments
Join free and tell us what you really think!
Join Free