'It's a stupid rule' - Soon-to-be Ireland eligible James Lowe weighs in on eligibility drama
New Zealand-born Leinster wing James Lowe has branded World Rugby's eligibility laws as "stupid" and "weird", less than a year before he becomes eligible to play for Ireland on residency grounds.
Speaking at a World Cup preview event for Irish website The42, Lowe revealed to a Dublin audience how close he came to making his test debut for the All Blacks in 2015 and talked about the prospect of representing Ireland as early as next year.
Much has been made of World Rugby's eligibility laws in the wake of Ireland's World Cup squad announcement, with the selection of South African-born lock Jean Kleyn – who only qualified for Ireland two days before his test debut against Italy last month – ahead of veteran second rower Devin Toner causing a stir.
Kiwi-born Bundee Aki is another who has utilised the residency law to enable him to represent Ireland, as have South African-born Irish teammate CJ Stander.
After joining Pro14 club Leinster from the Chiefs in Super Rugby two years ago, Lowe will be eligible to play for Ireland in 2020 after having lived in the country for three years.
While he said he would give his "absolute best" for Ireland if given the chance, Lowe was conflicted about the prospect of representing his adopted nation.
"If I look at it, it's a stupid [eligibility] rule, isn't it?" he said.
"Like … I could dig myself a big hole here, obviously.
"I would love to play international rugby, don't get me wrong. And it would be such a privilege — such an honour — to represent Ireland. That would be awesome.
"Obviously, we've still got a long way to see if that's going to happen.
"But it's a weird rule, eh? Like, three years? It's [moving] up to five which is probably more reasonable in a way. But it's weird that I could be Irish, isn't it? Like, it is weird."
Continue reading below…
Turning out in the emerald green is not the career path most would have envisaged for the 27-year-old, especially given he was on the cusp of representing the All Blacks four years ago.
"I got to a stage in my career where I was down to play a test match [for the All Blacks] against Samoa in Samoa [in 2015] but I had to get shoulder surgery," Lowe said.
"So instead of me going, George Moala went over and he made his test debut.
"So when I think about it like that, like if I hadn't hurt my shoulder… It was pretty bad, I rehabbed it for six weeks and got back and was able to play, but I even met with the All Blacks coaches and they were like, 'We don't want to play you in your test debut when you're not at a 100 per cent. And you don't want to do that either'."
At the time, Lowe was plying his trade for the Chiefs in Super Rugby alongside his good friend Brad Weber, who had joined Moala, Nepo Laulala and Charlie Ngatai in making their international debuts against Samoa.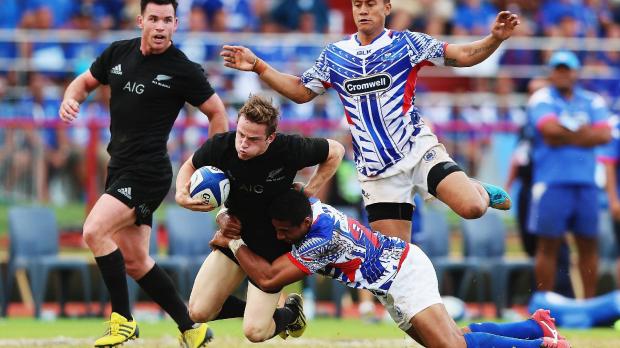 Coincidentally, it was Weber who Lowe was with when he received the contract offer from Leinster in 2017.
"Literally, at the time when this [Leinster] contract came through, I was in … Taranaki… at [Chiefs] a team-building exercise and I had Brad Weber next to me.
"We were on this coal track — you could do this thing where you could hop in a coal mine, in a cart, and there's pedals and you'd pedal your way down.
"I was literally on that, and I got this email from my agent. And I was like, 'An offer's come through', and I showed Brad and he was like, 'Holy heck!'
"Because Brad Weber is a very good friend of mine but he was in the exact same position where he was on the fringe [of All Black contention], and we were supposed to make our debut together against Samoa.
"Obviously, I couldn't because I had to get surgery, but he made his debut then."
Lowe conceded that it would have been "a dream" to play for the All Blacks, but his non-selection for the Samoa test led him to look at opportunities elsewhere.
"I would have been in the exact same boat as him [Weber] where I was given the opportunity, I would have been capped once and then I would have been battling hard every single year, trying to perform the best that I can just so I could hopefully sit on the bench for a couple of caps, you know?" he said.
"When you put it into perspective like that, like… I would have been happy. Obviously, it was a dream for me to play for the All Blacks, you know, being a kid from New Zealand.
"But then you get to a stage in your life where you've got to sometimes park dreams and think of opportunity."
In other news:
Comments
Join free and tell us what you really think!
Join Free