'I was back at the airport with another hangover 24 years on'
It's a weird coincidence not lost on Andy Nicol, the Bath Heineken Cup-winning captain. Not since that fateful January 1998 day in Bordeaux when he led the English club to European glory had he set foot in the French city that marked the high point of his club career. Yet there he was on Tuesday, touching down by the banks of the Garonne for the first time in 24 years – only this time with some very sombre business to attend to.
The funeral of Tom Smith, his former Scotland and Lions teammate, was taking place down the road and it was there in the Lot-et-Garonne region that he and so many other rugby stars of the past bade farewell to the 50-year-old who tragically passed away last week after being diagnosed with stage four colon cancer in November 2019.
"I went back to Bordeaux for the first time since then for Tom Smith's funeral," explained Nicol to RugbyPass, back in the UK and talking over Zoom following a 36-hour flying visit to the place that the late Scotland prop called home in recent years.
"He coached over in France at a number of different clubs and they just settled there and loved it. They have a beautiful house that they built out of disrepair and they just love it down there. His home was about an hour out from Bordeaux and it was a hell of a turnout from the rugby community to see him off."
It was 1988 when Nicol first crossed paths with Smith, the pair playing together for an U18s schools rep team, and the midweek farewell resulted in multiple rugby memories flooding back, including that long-ago day of joy with Bath in Bordeaux when they became the first English team to win the Heineken Cup. "I was going back through the airport with another hangover 24 years on. I'd not been back. I'd threatened to go back for a golf and wine trip but never been back since that day, the 31st of January in 1998."
What a send off for Tommy Smith! Can you name the rugby players in photo? @DundeeRugbyClub @Scotlandteam @lionsofficial @wallabies pic.twitter.com/YDpOp2W0dX

— Andy Nicol (@AndyNic9) April 12, 2022
That seminal moment is the reason why Nicol was chatting: BT Sport is featuring Bath this Friday night in the latest episode of their Rugby Stories docuseries and with success at the club something that has repeatedly been beyond them in the noughties, it's the season that culminated in an epic trophy-winning collision versus Brive that is the subject of the broadcaster's deep-dive into one of the Gallagher Premiership's 13 current clubs.
For Nicol, it was a Bath escapade that could have had a disastrous sting in the tail. It was his knock-on by the posts in the final minute that handed the French side a five-metre scrum and it was only after the resulting drop kick was pushed right and wide and the loose ball touched down behind the goalline for safety that the ashen look on the half-back's face due to his dramatic fumble began to recede.
The scrum-half has much more colourful detail about that final which Bath narrowly won 19-18, about how they soon took the cup to a nearby McDonald's for a scoff before continuing their celebrations in a Cuban bar, but we first need to retrace the steps of Nicol to some years earlier and learn how the Scot was picked up by Bath from Dundee in 1994.
Originally capped at the age of 20, Nicol had accumulated nine Scotland appearances when an unexpected Bath call came from Brian Ashton literally an hour before he was ready to say yes to an offer to join Gloucester. "The game was still amateur, I was finishing my degree in Dundee and fancied playing rugby in England," explained the now 51-year-old Nicol, who went on to win 23 Test caps despite twice going uncapped for three-year periods during his Scotland career.
"I'd met a few of the English guys in international rugby, went to the Hong Kong 10s with Jason Leonard, Peter Winterbottom. It was before agents or anything like that and I made it known to a few people that I fancied playing in England and very nearly joined Gloucester. Barrie Corless was the director of rugby at the time and on a Wednesday he said he'd like me to sign.
"I said give me a few days to consider it, to discuss it with my family and coaches which I did. I said I'd call him back on Sunday at seven o'clock. I came to the conclusion I was going to go to Gloucester and no word of a lie, Brian Ashton phoned from Bath at six o'clock and I gave my answer immediately.
"Bath in 1994 were completely dominant in the English game and there were 23 internationalists, so it was a no-brainer. It was brilliant, I loved it. I agreed to go to Bath and the following week in my last game for Dundee I tore the ACL in my knee, so I actually went down to Bath injured in January 1995."
It wasn't until August 1996 that Bath offered full-time professional contracts, so Nicol divided his time between rugby and working at a printing firm in Bristol. His training ground baptism wasn't all sweetness and light. "It was brutal. The history of Bath was there was a group of local guys that came through together, Roger Spurrell, John Palmer and Gareth Chilcott and before the league system in England, they went across the Severn Bridge to play the south Wales teams.
Back for a fleeting visit so had to have a wander around and see the Rec! Stunning city! #bath @BathRugby ????? pic.twitter.com/nLNX9sYZbF

— Andy Nicol (@AndyNic9) December 2, 2021
"That is what got them the hard edge and then they started to attract people who were coming out of school and wanted to play in the top team. It was full of characters, it was uncompromising, you had to stand up for yourself and it was challenging, we challenged each other. We'd people who had been there so long, like John Hall and Andy Robinson, who were steeped in the tradition and we continued that.
"It wasn't for the faint-hearted. A few people came on trial and if they dropped a ball they would get a mouthful. A certain Mr Guscott was always quick for that, so you had to fight your corner and you earned respect on the pitch be it training or playing. We used to train on Mondays and Wednesdays in the amateur days and on a Monday night, we used to play a 15, 20-minute game.
"It was basically the first team from the Saturday against the United side, the seconds team, and sometimes that 20 minutes was a harder game on the Monday than the actual game on the Saturday because there were so many good players. What was great about that squad I was lucky enough to captain, it was hugely experienced. Jerry Guscott, Phil de Glanville, Nigel Redman, Martin Haag, Victor Ubogu, these guys had been around the club for years and then you bring in players like Ieuan Evans. The actual captaincy was very easy because it was just full of experienced people."
English rugby at that time was very different. "The likes of Saracens, it was almost a guaranteed win, Exeter were in the junior leagues, it was Orrell who were the top team in the north-west back then, not Sale. It's amazing how it has changed and it is so much more competitive. You had Leicester, Bath and Wasps as the standout teams back then and if you won those games you pretty much won the league."
The problem for Bath, though, was making the leap as a club from amateur to pro. They struggled. "We didn't do it particularly well," continued Nicol. "Not many of the English clubs did. Newcastle were the one that did it best because they were aligned to Newcastle United at the time with the connections there. We didn't make a great transition. Somebody described it perfectly as we were the most professional amateur side but the most amateur professional side when we made that transition."
What ultimately helped was Bath placing their full focus on the holy grail, winning the Heineken Cup. They were league runners-up to Wasps and beaten at Cardiff in a 1996/97 European quarter-final in their first professional season, but the next year they got it right by throwing everything into Europe and letting their league form slide. Five of their six pool matches were won to clinch a last-eight rematch with Cardiff, this time at The Rec.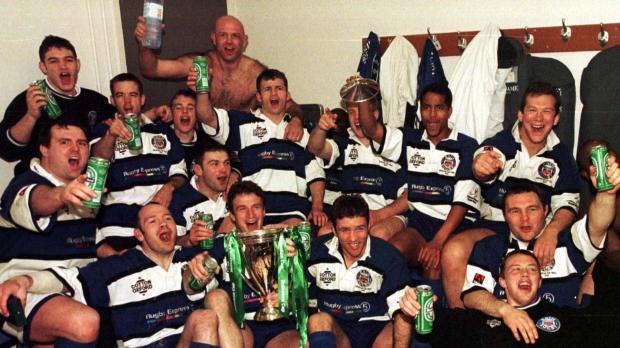 "That was one of my favourite games of my whole Bath career because the atmosphere was amazing," recounted Nicol. "Cardiff brought maybe 3,000 fans and they put them in one corner of the stand so it almost created a football-style environment with the rival fans. I loved it. I grew up in football in Dundee, so I revelled in that. That was a really tough game."
With the tournament's two previous winners, Toulouse and Brive, drawn to face each other in one semi-final, Bath comfortably saw off Pau at home to reach the final that oddly took place the Saturday before the opening round of the 1998 Five Nations. Bath milked the moment. "It was like an international week. We went out early, stayed in a beautiful hotel in Saint-Emilion and went to the Cheval Blanc vineyard which was amazing to see.
"Some of the boys bought some wine and sent it home. I was 27 at the time so I wasn't into my wine and I wish I had been because it was seemingly beautiful when they opened it a couple of years ago when it was 20 years old. But that week it felt like Scotland (or England) against France and you were over for a few days beforehand and the excitement was really special.
"There were all these pictures at the club of the guys like de Glanville, Robinson and Hall holding trophies and I unashamedly wanted that. We were confident but knew that Brive and we were getting stuffed. We'd about seven or eight scrums on our own line when we were 15-6 down and if they scored there it was game over, we weren't coming back for it but we held out. They kept getting penalties. Nowadays it would be a penalty try or a yellow card but we held them out, went down the other end and scored a try to get back in it."
This was after the half-time talk had taken place on the pitch in front of everyone at the stadium. "The football World Cup was taking place later that summer and the changing rooms were getting redeveloped. There was a school behind the stadium and we changed in there. We did the half-time on the pitch, it would have taken ten minutes to get back to the changing room."
An absorbing contest boiled down to three late kicks. "Brive were leading 18-16 and we got a penalty to take the lead and it was just bizarre. In a moment like that which was about to hopefully win us the Heineken Cup, John Allen, who came on with the kicking tee, said to Jon Callard, 'Just remember Murrayfield'. What he was referring to was four years earlier when England won in the last second when Jon Callard kicked over the winning penalty to beat Scotland. He was saying it to JC to inspire him and it really pissed me off."
#Rugby
La respuesta !

Arbizu la rompió en Brive, pero le tocó desperdiciar el drop más importante.

Final @ChampionsCup 1998 en Bordeaux
BRIVE 18-19 BATH (con Fede Mendez en los últimos minutos y Germán Llanes en el plantel)

? Las últimas tres acciones son cinematográficas pic.twitter.com/LNVtmV5sj9

— Fran Capizzi ???? (@Fran_Capizzi) April 22, 2020
Next up, a missed Brive kick and Nicol's moment of fumble madness. "They kicked long, we kicked it out, they had a lineout and we gave away a penalty. It was on the 15-yard line, Christophe Lamaison had the kick and I was standing next to the post. Lo and behold the ball came to me and I maintain I didn't knock it on, that it went straight through me and went down behind the goal and we touched it down.
"Referee Jim Fleming gave a drop out 22 first of all but then Dave McHugh on the touchline overruled him and said it was a knock-on, so they had a scrum-five right in front of the posts and I thought I'd dropped the Heineken Cup. If you watch the video my face was ashen, I was in a bit of a trance. They went for a drop goal straight from the scrum, so we were all piling up to put pressure on (Lisandro) Arbizu and he knocked it to the side of the posts, we touched it down, the final whistle went and that was it, 19-18."
Next stop? McDonald's. "A meal in France is quite a big thing and we didn't want a big thing, we just wanted some food and then go and have a few beers so we actually took the Heineken Cup into McDonald's and fans couldn't believe it that the Bath squad had come in. We had a quick scoff and had a bar booked in town with a private room upstairs and for an hour it was just the playing group, the coaches and the medics, not all the hangars-on that always happens at these events.
"This was the absolute core of the club and we were in a Cuban bar, so it all old leather sofas, we were just drinking champagne and some of the boys got the cigars out. It was just a quiet reflection and job done. That was very special. After that, we opened the doors, brought everyone else in and there was a nightclub called Caesars. My brother was over with one of his mates and we were in there until all hours and then flew home the next day. There weren't many Bath fans out that night because the vast majority of the 7,000 had come on day trips from Bristol airport."
Nicol still has a picture at home of him lifting the cup as well as the touch flag inscribed with his name and that of Brive skipper Philippe Carbonneau, but his Bath shirt has gone AWOL, missing since the refit of an Edinburgh sports bar owned by Gregor Townsend, Derek Stark and Rowan Shepherd. No one can steal his vibrant memories, however, and having had a 20-year reunion at a 2018 match versus Scarlets, Nicol likes to think there will be another Bath celebration next year to mark the 25th anniversary.
His wish, though, is that the fortunes of the club by then will be on an upward swing given their latest struggles. "It's like Man United post-Fergie [Alex Ferguson], Bath have not been able to keep it going after a sustained period of success. If you look across a lot of sports there is always a shelf life and it is hard to keep that going.
"Bath have just jumped from coaching team to coaching team and by the time they get players bedded in they [the coaches] are moved on because the results haven't been there, so it has been really difficult. This year was terrible to start with and you look at the quality they have got players-wise, they should be doing better than they are.
"They are always being compared to the successful Bath teams and that weight around their neck is difficult, but I'm hearing good things coming out of the club and with some of the youngsters – it's the next generation. There is Tom de Glanville and Max Ojomoh, whose fathers were teammates of mine.
"The competition tough, much tougher than it ever was. Look at Leinster and how strong they are, look at France, look at the salary cap in England, it will be very difficult for an English team to compete in Europe. We didn't have any of that back then so it was slightly easier for us. It is going to be a challenge and it has been disappointing to see Bath fall off the way they have."
Watch Rugby Stories, a new documentary series airing every Friday on BT Sport around the 13 clubs in the 2021/22 Gallagher Premiership. The series continues with 'The First Emperors, the story of Bath, this Friday, April 15, at 10.15pm on BT Sport 1. For more information visit bt.com/sport
Comments
Join free and tell us what you really think!
Join Free