All Blacks ageless wonder Ben Smith is defying history with vintage year
Just twelve months ago, Ben Smith's career was teetering as a series of concussions threatened to prematurely end it, only months after re-committing to NZR.
A crossroads presented when the then-30-year-old's contract was coming up for renewal at the end of the 2017 season. In February of that year, he re-committed to the Highlanders and NZR with a two-year extension, famously choosing Speights over Champagne in his unique announcement video.
The commitment was one made with heart in mind – love of family, his Highlanders and the black jersey. The homegrown hero was staying put in the Deep South and aiming towards another World Cup campaign.
The decision was honourable for more than just those reasons – at 30-years-old Smith would be stepping into rather unchartered territory for an All Blacks outside back.
The short-lived lifespan of All Blacks wingers is well documented – Julian Savea became another in a long list to leave at just 26-years old, following others like Doug Howlett (29), Joe Rokocoko (27), Rico Gear (29) and Sitiveni Sivivatu (29) to not reach their thirties. Even the great fullback Christian Cullen was out of the All Blacks fold by 26-years old.
The rise of professionalism has seen players last at the international level well into their thirties, but few outside backs have yet to achieve this.
A dual international wing-fullback like Smith, Cory Jane played his last test at 31-years-old and Israel Dagg last donned the black jersey as a 29-years-old. All Black Centurian Mils Muliaina ended his career during the 2011 World Cup at 31, Leon MacDonald at 30 in 2008.
At the time of inking a new two-year extension, history was already against him. Shortly after the excitement of securing his future, 2017 quickly became a year from hell.
Two concussion injuries during the start of the Highlanders campaign started the year badly, before a fall in the first test against the Lions at Eden Park was thought to be a gut-wrenching third in just a few months.
He failed a head injury assessment and did not return.
"You hear of guys that have had to give up the game," he later revealed on Amazon Prime's All or Nothing documentary.
"You worry that you're not going to be able to do something you love.
"I hope to play for as many years as I can — and hopefully for another three or four — but my most important job is being a dad and husband, and the scariest thing is that if something was to happen and I wasn't able to do that.
The possible third concussion was later diagnosed as an inner ear problem to Smith's relief. What could have been a sixth knock in the past five years sparked speculation he might opt to retire, but Smith returned to the All Blacks fold to play two Bledisloe tests, before opting to exercise his sabbatical clause to take a non-playing break.
A horror year at the worst possible time still left a dark cloud over Smith's future as he headed off to take time out, but his break was hardly a holiday.
The fullback was back at work, relentlessly training, turning up to Highlanders pre-season despite being on a sabbatical. Footage of Smith turning up to Highlanders facilities to do yo-yo tests surfaced on social media. This was a man possessed, not taking a moment for granted.
What has transpired on his return this year is possibly one of the most remarkable seasons by any player in the game, ever.
At 32-years-old Smith has not only returned to the All Blacks, but he has also been arguably their best player with age-defying performances in a vintage season. He now stands alone in the professional era as the oldest All Black fullback and hasn't missed a beat.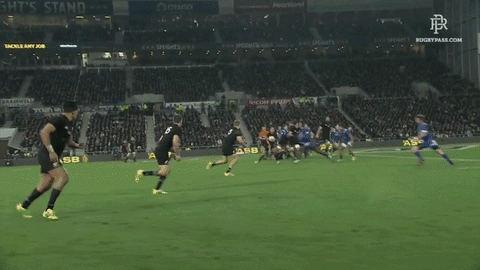 In nine tests he has played 96 percent of all minutes. He has racked up 507 running metres but it is his agility and elusiveness that is truly astounding – on 35 carries he has made 20 line breaks, beating 32 defenders in the process.
Over half the time he has run he has opened up the opposition and is beating someone on just about every carry. Smith is showing no signs of fatigue or deterioration athletically, with ability in test rugby not seen before by anyone his age in his position.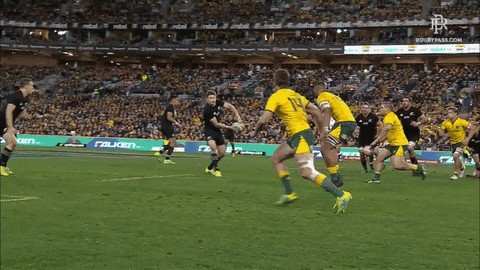 Longevity is seen as a pre-requisite to all-time greatness and Smith's high level of play is impossible to ignore. The case is there to be made that this the All Blacks greatest fullback, (if not then winger), of all time.
When the All Blacks 2019 World Cup campaign kicks off next year Smith will be 33-years-old. If he can make it, which looks likely, he will be pushing a new frontier for All Blacks fullbacks.
If for some reason he doesn't, this comeback has truly been one for the ages and Smith's 2018 year should still be remembered as one of the best.
Mailing List
Sign up to our mailing list for a weekly digest from the wide world of rugby.
Sign Up Now