Back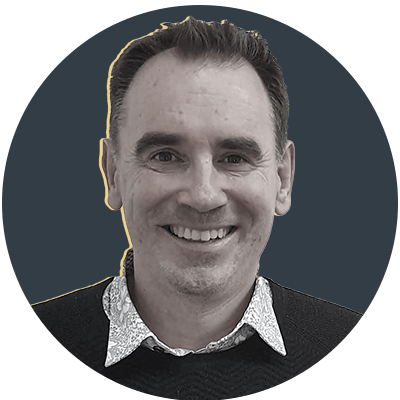 By Owain Jones
The cap Fitz emerging Bear Harding
Pat Lam has never been a coach swayed solely on reputation. Of course, he has been fortunate enough to have a hugely supportive club owner, but for every Semi Radradra, Kyle Sinckler and Charles Piutau, there are a clutch of players, picked from relative obscurity, who are developed into top-drawer Premiership players. Take Harry Randall and Callum Sheedy. Both were with Bristol in the Championship and have developed into full internationals. They will not be the last Bears to be moulded under the Samoan's watchful gaze at their Abbots Leigh training facility.
A matter of months ago, Nathan Hughes, the human wrecking ball, would have been the first person associated with the No 8 shirt, but a loss of form and the emergence of a young English backrow, Fitz Harding, saw the former England No 8 shipped out to Bath mid-season.
Harding, who is still only 22, had no glittering You Tube highlights reel to fall back on, yet week after week, in a Bristol side that has been a model of inconsistency this season, the youngster from Buckinghamshire, has been one of their most consistent performers.
He will pack down at the base of the scrum against Saracens this afternoon at the Tottenham Hotspur Stadium, where he will make his 27th club appearance, still relatively unknown to all but the keenest of eyes, but word is spreading. Indeed, when Andre Esterhuizen picked up his Player of the Month Award in early February, Harding was mentioned in dispatches by fans for his relentless workrate, footwork into contact and intelligent support lines.
Speaking to a player who has raised eyebrows in recent months, you wonder if his emergence is down to a bit of luck, or has his genius finally revealed?
Well-spoken and polite, Harding swats away any light-hearted hyperbole, for his journey to professional rugby has been anything but smooth. Harding has had to fight every step of the way for a contract and has fortune to thank for his route from fresh-faced Durham graduate to up-and-coming Premiership tyro. He picks up the story. "I had a few friends at uni who were dual-contracted to a university and club. A mate of mine, Matt Welsh, was contracted to Bristol and for the 2019 Premiership 7s, but they were short and needed a ringer. The call was put out to the boys to get someone in sharpish and Matt asked me. The rest, as they say, is history," he smiles.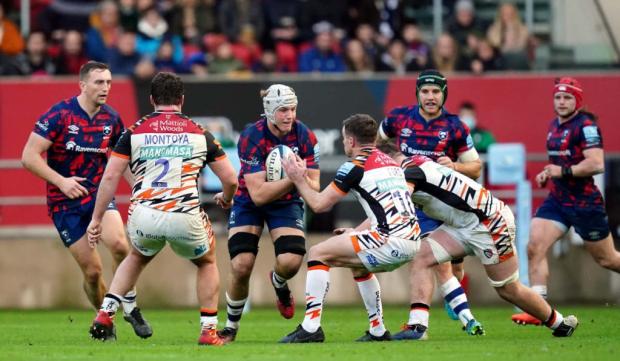 Even to be considered good enough for a late cameo at the elite level had seemed far-fetched for Harding in his teens. A talented sportsman in Beaconsfield, where he lived in a boisterous house with three younger brothers, Dan, Alfie and Joe, once he moved to Wellington College, surrounded by some of England's most gifted rugby players, his confidence took a pounding.
"Wellington is big rugby school. It has an incredible rugby programme. In my year group alone, I was surrounded by guys who were in Academies from the age of 13 or 14. Guys like Tom Parton and Ben Loader at London Irish. It wasn't that I hadn't been given an opportunity, it was more I wasn't good enough. I was a late physical developer and I just couldn't compete. They were really frustrating years for me."
If I'm honest, when I went to university, I thought that my rugby dream had ended. I figured I'd end up getting a job in the City, parked behind a desk."
Even when he headed North to Durham, despite a growth spurt taking him over 6ft, his callow frame wasn't deemed particularly suited to top-flight rugby. "If I'm honest, when I went to university, I thought that my rugby dream had ended. I didn't go to Durham to play rugby. I thought, 'I'd love to be a professional rugby player' but I figured I'd end up getting a job in the City, parked behind a desk."
That resilience, forced upon him in his teens, worked in his favour. He moved up a level to the First XV, so by the end his three years, he could see a chink of light. "I thought, maybe there's a route for me to play a decent level of rugby after all."
Doing a history degree, he was able to retain vast swathes of information, so does he think his academic background has helped him adapt to Pat Lam's system-heavy learning environment. "I think so, yes. I was big into essays at uni, and I know how I learn, I'm very visual and still carry a notebook around with me so I have all the details I need at my fingertips."
Despite a breakthrough season, Harding, isn't for a second getting carried away. He knows now he's made the grade; the challenge is to stay there. Physically, he's filled out. He's put on 20kgs of muscle since going to university and aims to hit 105kgs (16st 5lbs) by the season end. "I enjoy S&C but it's a work on to be stronger and fitter. I feel I'm a lot better player now than I was, even at the start of the season. It's not just the technical and physicality side, it's the tactical nous that improves."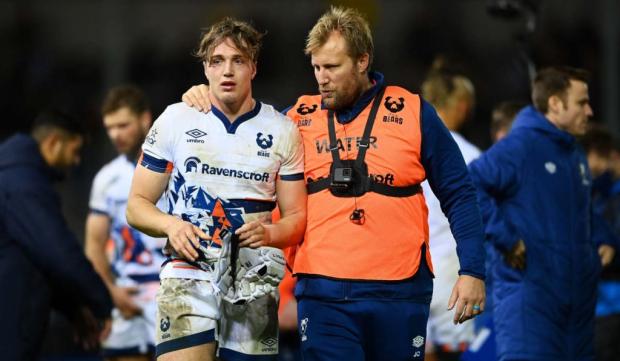 Harding has, again, tapped into his teenage angst to thrive in the land of giants. "One of the benefits of not being the biggest or heaviest at a young age is that I had to adapt my game, with regards to footwork and technique. When you're younger, the massive lads relied solely on size but when kids caught-up it became more difficult for them. I feel like I've spent my entire rugby career fighting above my weight."
Even though he's been thrust into the Bristol team with a No 8 on his back, he clarifies that he went to the club as an openside and wants to evolve so he can play with any backrow number on his shirt. "In terms of my development, I've said to Pat I want to play across the backrow. The way we are defending at the moment, we're less a jackalling team than some other sides, but I still want that side of my game to improve. It's the same with the set-piece. The 8, because of the systems we use, doesn't always jump much at the tail, but I really want to become a complete all-round player."
Playing against Tom Curry was eye-opening. We all knew he could defend like a bull, but his ball-carrying and offloading skills have really improved
After rattling up the appearances this season, he has had the chance to survey the opposition and one player stood out. "Playing against Tom Curry was eye-opening. He was superb. One of the things I noticed was what extra elements he had added to his game. We all knew he could defend like a bull, but his ball-carrying and offloading skills have really improved. Alex Dombrandt and Sam Simmonds also really stood out. There's so much quality in the Premiership, it's unreal."
After a childhood in Berkshire and Norfolk, and his latter years in the North-East, the peripatetic Harding has now bedded down in the upmarket Clifton, when he is ensconced in a city that lives and breathes rugby.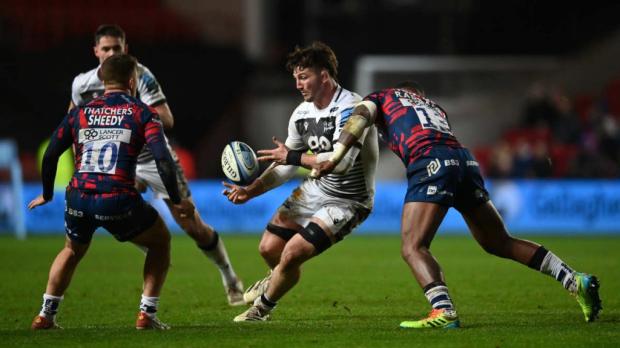 The local connection is led by Joe Joyce and Yann Thomas and will be furnished by Ellis Genge next season. With Kyle Sinckler also in the front five, you wouldn't expect sand to be kicked in the face of that muscular rabble.
In the backrow, Harding rubs shoulders with the likes of Chris Vui, Dan Thomas and Steven Luatua. It is the perfect learning environment for a rookie. "Take DT (Thomas). What I would say about him is that when you walk out on the pitch with him, you know he'll give absolutely everything. He reads the game well and is just a classy player. Steven (Luatua) is next level. In terms of the lads I've played with, he's taught me the most in terms of the set-piece, positioning the loose and the way he reads the game so well. He leads our core principles in attack and defence. In fact, I wouldn't be surprised if was a coach in the future. He has really rugby intellect. Chris (Vui) is similar. They're not massive talkers but when they do talk, you listen."
What I like about Pat (Lam) is he's understood my journey. He understands my purpose as an individual and as a cog in the squad so I've appreciated that.
The elephant in the room is the almost elephant-sized Hughes, who seems surplus to requirements at Bristol. Has it led to any awkwardness? "Nathan has been awesome. It would have been easy for him to check out of the group, but before leaving for Bath, he brought energy to every session. It's never nice when you're not performing as well as you can, and he'd be the first to say that, but when he's on form, he's one of the best No 8s in the world. I can't speak highly enough about him."
The fact that Hughes has been seen as dispensable has probably been answered with the similarly direct signing of Bradbury, who will move down from Edinburgh in the summer, but Harding, as versatile as he is dependable, doesn't see it as a threat. He has complete faith in Lam, even though the season has had more lows than highs. "What I like about Pat is he's understood my journey. He understands my purpose as an individual and as a cog in the squad so I've appreciated that. He demands high-performance from everyone and expects the group to buy into that."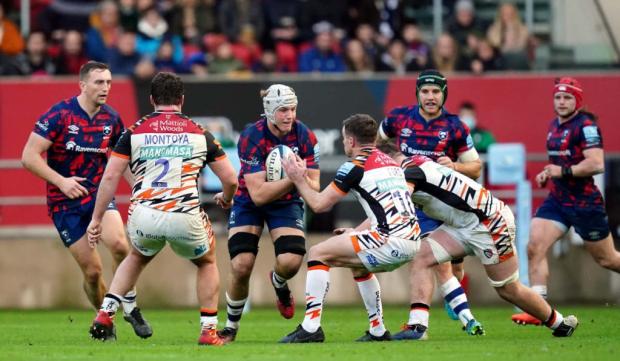 After the jaw-dropping comeback Harlequins in last year's Premiership semi-final, the Bears, who had been on an upward curve for two seasons, seemed to have the stuffing knocked out of them, and they are yet to get their breath back. Harding is frustrated, but not concerned that the good times will once again ring out at Ashton Gate. "This year has been a mixed bag. Some of the learnings we've taken will help carry us into next season. We still have a chance in the Champions Cup but it's been tough. What I do know is that the whole group is focused on winning trophies. We have a really clear vision of that. Even though results haven't gone our way, and a few narrow losses, as a group we don't feel too far off."
While their progress has been checked this term, Harding believe with squad reinforcements and better luck with injuries, next season will see them kick on again. "We need to find a more ruthless edge over the next few years. That will be key if we're to compete in finals and win things. The fans can be optimistic, with AJ (McGinty) and (Magnus) Bradbury coming in, and guys like Rands (Harry Randall) and Chris Vui resigning, we have a really strong core that has been together through thick and thin. Hopefully this will take us to another level."