Six Nations: Scotland dare to dream
The Six Nations never fails to disappoint. After all the pre-tournament rhetoric, cold hard results can pierce a team's brittle confidence and that most prized of assets, momentum, can fade away to be replaced by uncertainty, fear and pressure. Wayne Pivac will be feeling hot under the collar after Wales' no-show, and Eddie Jones will be thanking his lucky stars Italy are on the horizon, but for Gregor Townsend, Andy Farrell and Fabien Galthie, dreams of tournament glory abound…
Power of Scotland
You can always massage statistics to suit your agenda, but here's one that leaps out from the mayhem and tension at Murrayfield on Saturday: Scotland spent a grand total of 54 seconds attacking in the English 22. They scored 17 of their 20 points; an average of 3.4 points per 22 entry.
England spent nearly three times as long in Scotland's red zone. They scored fewer points and averaged just 1.2 per visit.
Sure, England's attack faltered. Sure, they were missing front-line heavyweights. And sure, Scotland's first try came, brilliantly, from distance and their second the product of an almighty brain-fart from Luke Cowan-Dickie. But this is a level of ruthlessness the Scots have seldom achieved when the big dogs are in town.
This was by no means a vintage performance. In fact, you might not rank it in the top three under Gregor Townsend. Scotland made too many silly errors, conceded too many dumb penalties. Yet they found a way to win. They defended fantastically. They gorged themselves on English mistakes. They handled the huge white juggernaut at the death when it looked for all the world that their pack would splinter.
Finding a way to win, when you're some way from your best? That's a champion trait. A knack that has eluded Scotland since Townsend himself was playing. An imperfect performance, but a perfect start to the Six Nations.
The perils of top-flight coaching
Who'd be an elite coach, eh? Not Eddie Jones at 6.41pm on a Saturday night in Edinburgh. His decision to whip out the shepherd's crook and yank Marcus Smith from the fray after a more than accomplished 17-point haul, was always going to be queried. You could see his reckoning, of course. Entrust 77-cap George Ford to guide the boys home. After all, he'd done it before with distinction.
Only sport has a mendacious way of not ceding ground to logic and despite Ford's best efforts, the England team came up short when they seemed, at times, to have control over an obdurate opponent buoyed on by a partisan crowd not prone to garland-laden welcomes.
As history now tells us, despite having the better of the play and certainly having the upper-hand at the set-piece, England didn't prosper when it mattered and fell to their fourth loss in five Calcutta Cup outings to Gregor Townsend's men. Post-match Jones was left to rail about the unfairness of refereeing in not giving a late scrum-penalty, and Tom Curry, the England captain was left to rue not going for the posts late on to rescue a draw. It was all, 'ifs, buts, and maybes' from the England camp who will be desperately disappointed to have fallen foul of their own poor decision making and lack of clinical edge.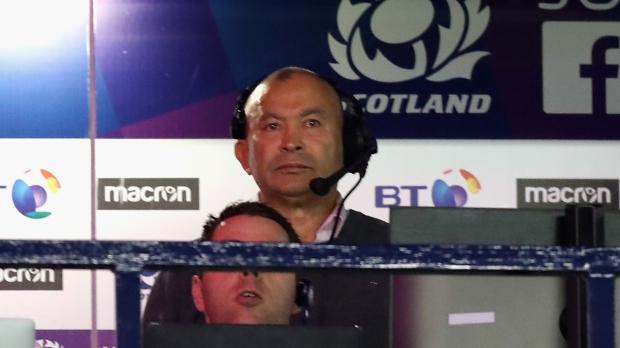 The decision to substitute Smith, the new darling of English rugby, was seen as conservative, undermining his 'New England' narrative. If Smith, a past master in escape acts, was not entrusted to find a way out of the Scottish booby trap now, will he be handed the keys in a World Cup knock-out game? Surely building the experience of the 22-year-old, in Owen Farrell's absence would have been prudent.
Jones, as we know, will not lose sleep. He will surely cruise to a thumping win against Italy and point out that England are in with a fine chance of lifting the Championship title, but from a wider lens one Grand Slam in 20 attempts from England cannot be dressed up as anything other than a major disappointment.
Here's a surprise tip for this year's Six Nations title – Leinster
Look at the Ireland XV that beat Wales on Saturday. Now look again. Notice a theme? It was essentially a Leinster team – 11 players currently on their books, two more, Andrew Conway and Tadhg Beirne, who came through their system.
Considering Robbie Henshaw and James Lowe are still to come back in, it is not hard to imagine 13 of Andy Farrell's side being Leinster-men. All that has changed is the colour of the jerseys, green replacing blue.
It isn't just the players who have been borrowed. Since Farrell's decision in November to overload his team with Leinster players, Ireland have adopted a very Leinster-like game-plan, an emphasis placed on quick ruck ball, tip on passes, decoy runners.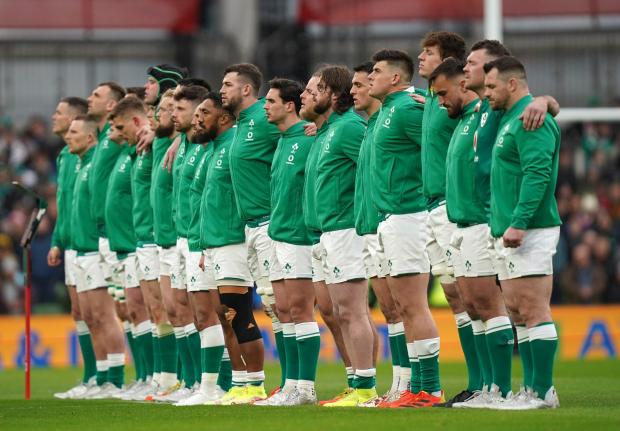 Certainly they have become better to watch, and also harder to play against. Their last defeat was in round two of last year's championship, at home to the same French side they will face this weekend. This is a different Ireland, though. Only six of last year's starting team are likely to be selected this week, Johnny Sexton and James Ryan available now after missing last year's game.
That's one point of difference. But there are others. No one foresaw Jack Conan's re-emergence or Mack Hansen's emergence. This weekend last year Conan was in Rodney Parade playing for Leinster against Dragons, while Hansen was working as an electrician in Canberra. A year ago,
Andrew Porter
was a tighthead,
Ronan Kelleher
a replacement,
Caelan Doris
injured. Way back then Ireland were struggling for an identity, the patterns of play Farrell described in press conferences not backed up by what we saw on the pitch. That's changed. Ireland have a clear understanding of where they want to go now. If it is not to the championship podium, they'll be a close second.
Russell waves his wand
Of all the Calcutta Cup photographs and all the GIFs and all the videos cascading through social media, one stands above the rest.
Finn Russell, surrounded by team-mates, gazing straight down the lens with lips pursed, index and pinkie fingers extended, revelling in another elite display.
Russell tends to wound teams with his mesmeric handling, his snake-charming and hypnotising flat to the line. This time, it was his excellence with the boot that inflicted most grievous damage.
The pivot's two terrific cross-kicks, from back-to-back phases, yanked play from the left touchline to the right. He put Duhan van der Merwe thundering deep into English territory, stretching the visiting defence, with the first. His second left Luke Cowan-Dickie exposed and stressed on the edge – stressed enough to get himself a yellow card and hand Scotland a penalty try.
With Cowan-Dickie off, his probing grubber into the England 22 heaped pressure on the line-out. Joe Marler chucked a scrappy throw that did not go five metres. Scottish possession. Scottish penalty. Scottish points.
Much of the preamble was about the box-office showdown between Russell and Marcus Smith, two of the most captivating people in the game. Smith scored all his team's points, but it was Russell who prevailed in the duel of the sorcerers.
Every point counts: late lapse may return to haunt Ireland
Think of all the tries scored over the weekend and Taine Basham's consolation for Wales and Gabin Villière's injury time effort to complete his hat-trick probably won't be in the forefront of your mind. Villière's first, a tidy finish after a succession of tip passes from left to right inside the Italy 22, was the eyecatching one.
But it is his third, scored when the clock was deep in the red that could end up being critical. The 2020 championship, remember, was decided by points differential and the odds on this one going down to the wire with two teams from Scotland, Ireland, France or England locked together with the same number of match-day points, cannot be discounted.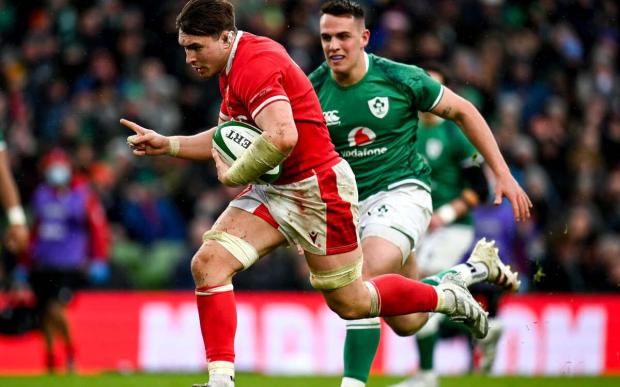 With this in mind, Saturday's late twist in Dublin, and Sunday's final-minute score in Paris, has put France top of the table. Remove those two scores and Ireland would have had a psychological as well as a scoring advantage heading to Paris this weekend. Yet it is week five, when all the scores are tallied up, that they may come to regret their failure to capitalise on their position against a Welsh side who were 29-0 down and drowning in the final quarter.
Italy cannot be protected forever
At what point is enough, enough? It is 33 games and counting since Italy last won a Six Nations game. An appalling record has replaced what was – until then – a mediocre one.
Will it ever improve? Anyone who has looked closely enough can see they have put time, thought and money into their structures, their underage teams now more competitive than ever. At some point, though, that has to yield results at senior level, or at least, a result. Their last one in the Six Nations was seven years ago.
They certainly didn't disgrace themselves in Paris yesterday – better game-management could have prevented the concession of those stoppage time tries at the end of each half and gave the scoreboard a tidier look.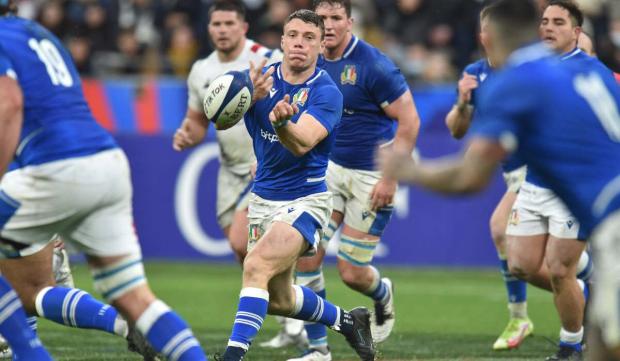 But with South Africa's franchises inhabiting the URC now, with the Springboks' status in the game dwarfing Italy's, an alternative is there. Likewise, there have been murmurings of Argentina setting up camp in Spain and entering the Six Nations via the side door. For sure, this is a particularly callous way of looking at Italy, a developing nation. Would it be fair to dump them? No. Then again, shutting the door on Georgia hasn't exactly been charitable either.
Sooner or later, though, someone will read the small print here. It is called the Six Nations championship but right now only five are competitive. That'll wear thin if it hasn't already.