Scotland the braves
Gregor Townsend is making a habit of beating bigger fry, with England, France and now Australia scuttled, as a glut of British & Irish Lions pepper the Scottish line-up. In many ways, that has ramped up the pressure on England, who face the Wallabies next, and Wales, who tackle them the week after. England and Ireland didn't break sweat in dispatching Tonga and Japan, so they will find sterner tasks in the coming weeks. That and much more is covered in this week's Talking Points.
Scotland prevail
In the past, Scotland often found a way to lose big games rather than win them. A mistake here, a silly penalty there. A failure to thrive in the sense-scrambling pressure of Test-match rugby.
Not any more. It would be a stretch to suggest this team are on the cusp of greatness, but they are indisputably better – and by some margin – than anything the nation has put out since 1999 and the last Five Nations title.
They have smashed hoodoo after hoodoo this past year. Wales were conquered on their own turf for the first time in 18 years; England gloriously outdone at Twickenham for the first time in 38; France in Paris in a rip-roaring finale for the first time in 22.
Sunday's win over Australia, the third in a row for Scotland, was deeply heartening. It felt significant too. Not because it was a vintage performance – it wasn't – or because of the raucous backing of a full Murrayfield, but because this squad, playing together for the first time since March, took control of the end game and saw a fiercely contested match over the line.
This group has real depth to it now. Ewan Ashman, the fourth-choice hooker, made his debut 12 minutes in when George Turner went down and scored a stunning try in the corner. Any of the game's finest wingers would have been proud of the 21-year-old's outstanding aerial finish. Pierre Schoeman has shone with Rory Sutherland unavailable. Scotland are still bereft of their two front-line locks in Jonny Gray and Scott Cummings. Rufus McLean and Kyle Steyn, who contributed six tries in the thrashing of Tonga, were not in the starting XV. And there is still no place for Matt Scott, consistently excellent for unbeaten Gallagher Premiership leaders Leicester.
Townsend deserves credit for cultivating this bounty, and for his willingness to change. He had to significantly alter his game plan, veer away from the all-court, 'fastest rugby in the world' that ended in misery at the 2019 World Cup. He had to perform more serious self-examination in the wake of the Finn Russell debacle and the hideously public fall-out with his brilliant fly-half. Scotland could have been missing their greatest talent indefinitely. Instead, Russell is reinvigorated, maturing and steering the ship with aplomb.
The challenge now is to extend this run of scalps further. The hulking Springboks are in town, six days after Australia, for a fascinating clash. Scotland will not attempt to match muscle with muscle as the Lions did. Victory over the mighty world champions would be huge.
Whatever the outcome, this Six Nations is a colossal opportunity. Scotland are good enough to win championships and how they have waited for a shot at glory. What once was a pipe dream for success-starved fans is now an exhilarating possibility.
Eddie Jones does it again
This morning, Eddie Jones should be basking in the warm glow of victory over a limited Tonga team but, instead, he is being given trial by Twitter after making some ill-advised comments about Emma "that girl" Raducanu. Jones linked the US Open champion's dip in form being due to her off-court tie-ups with the likes of Christian Dior and Tiffany, as a warning to Marcus Smith he shouldn't be distracted from the job at hand of being England's next wunderkind.
It is a comment that could have been made in any number of rugby clubs, muttered by an old-school hooker of 61, who can't quite place the name of the 18-year-old athlete who charmed a nation back in August.
The problem for Jones is he is England coach and fairly proactive on the commercial front himself with contracts from Sapporo, luggage makers, Hunting World, a few book deals and several coaching commitments outside his England role. It opens him up to calls of rank hypocrisy.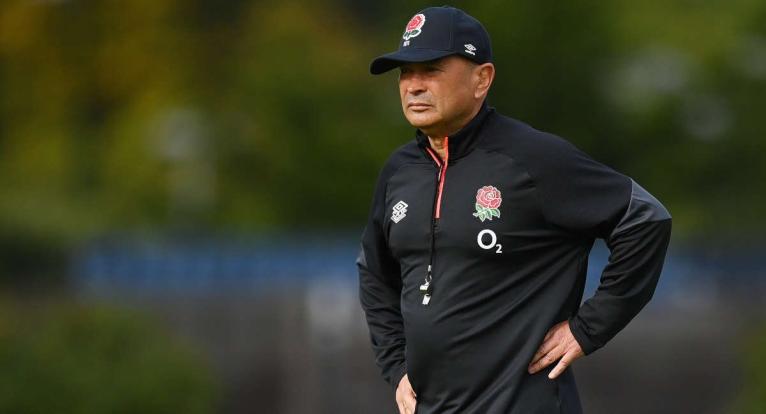 It also sums up the suspicion rugby has of individual talent outshining a sport built on a 'team comes first' ethos, in a period when the professional game needs to decide whether it remains a pint-and-a-pie sport at elite level, or a sport which can hang on the coat-tails of football and American football by adopting some razzmatazz and celebrating superstars.
The RFU will be weighing up whether the mini-furore will pass, or whether they should go on record with an olive branch to Raducanu, a fervent follower of the England football team in the summer and a committed F1 fan. A place in the directors' box would surely have been incoming had Jones not put his foot in it.
This writer has no doubt Jones will emerge unscathed from this latest faux pas, as he has from many other gaffes in the past six years, but after an in-depth article from The Times on his rigorous working methods, he must know his critics are circling. If he keeps winning, no problem, but if results fall off a cliff, the knives will come out.
Good things come to those who wait
It is funny how often perception ends up as reality. On Thursday, Andy Farrell selected an Ireland team that resulted in a mini-outcry, weeping eyes berating the coach for being overly conservative and not experimenting more. That's how it looked. This is how it is. Of the starting XV, nine were not first-choice players at the last World Cup and five only made their debut since Farrell became head coach.
This isn't a PR exercise on behalf of the coach, by the way. He has made mistakes; he has his flaws, it is an imperfect situation he has become an international head coach before he was ever a head coach at club level.
No, this is more about the addiction of Irish fans and pundits to constantly look for something new, their desire to discard the old or even the relatively fresh. The reality is that players develop at different speeds. Ireland's latest international centurion, Johnny Sexton, was 24 before he made his Test debut.
At 24, Tadhg Beirne's career was in freefall. Now he is a British & Irish Lion. What Ireland have now is a collection of late bloomers – Beirne, Jack Conan, Jamison Gibson-Park, James Lowe. Even Andrew Conway, scorer of a hat-trick on Saturday, has had a stuttering rather than smooth passage to this stage of his Ireland career. Four of those players are 29, Conway is 30.
That's how it is some times. You can't dismiss someone – like Conway, Lowe or Gibson-Park – because of their age. They have served their time, Conway winning just 25 caps prior to Saturday, which is more than eight others in that starting side have on their CV.
Sometimes you have to be patient, not just with players but also with a coach's instinct. Saturday's performance was certainly a vindication of that even if it was against a Japanese side who missed touch three times from penalties and who were shockingly average in comparison to their previous outing, when they ran Australia to nine points. The All Blacks this Saturday will clearly be a different exam for Farrell. Still, credit where it is due, Ireland got top marks for what they did last weekend.
Adieu, Romain
Romain Poite was never going to slope quietly off the international stage, even if that is precisely how the wily French official would have wanted it.
Controversy is not Poite's thing. Nor is publicity. Once a police detective in fraught Toulouse neighbourhoods, he has seen and managed more harrowing scenes than anything a boiling rugby match could throw his way.
Poite's haul of 72 Tests, a career spanning three World Cups and 15 years, is surpassed only by Wayne Barnes and Nigel Owens. Of those three refereeing greats, only Barnes remains active on the international scene. As younger officials, many of whom have played professionally, rise through the ranks and the lawbook is constantly reimagined, Poite's longevity is testament to his skill.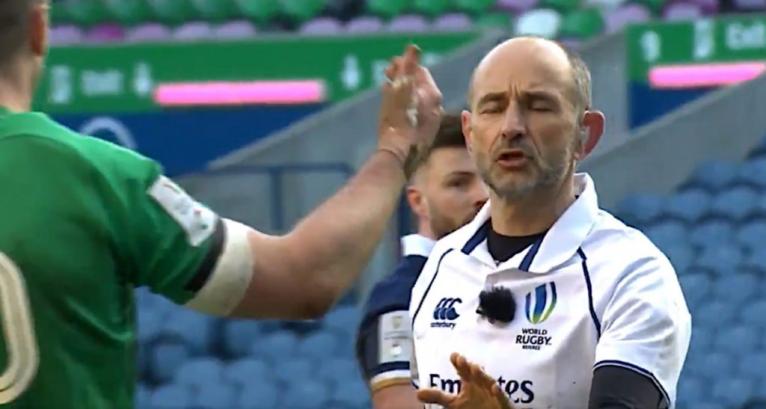 If the Frenchman sounds harsh in his verbiage, it is because he believes every player must be treated the same. His incorruptible integrity was honed during those long hours on the beat and he would never deal any differently with the 100-Test veteran than the 18-year-old on debut. He shows a little personality; enough to furnish us with brilliant one-liners, but not so much as to appear beholden to the spotlight. He trusts his eyes and his instincts over a barrage of replays, angles and hyper-slow-motion footage.
Perhaps, as rugby evolves, the authorities are wary of a referee who does their job so. Maybe he no longer fits World Rugby's mould. Indeed, maybe that is why Poite, whose desire was to bow out on home soil at the 2023 World Cup, is finishing two years earlier.
In June, he spoke frankly and revealingly to RugbyPass. He confronted his vulnerabilities and mistakes. The latter, naturally, grabbed headlines amid the slew of follow-up pieces. But what really shone through was Poite's love for the game and its players. Woe betide anyone who would denigrate it on his watch.
The Scotland-Australia Test which brought down the curtain on a tremendous international career was pock-marked by major calls. Hamish Watson's try and the question of a pre-latch. The yellow card shown to Allan Ala'alatoa when brushing the chops of Matt Fagerson with a poorly executed clean-out. The wandering fingers of Matt's elder brother, Zander, plastered across Michael Hooper's face in the aftermath. Poite dealt with him all in the same strong, indefatigable manner as always, before hiding his bashful grin with the match ball as he was applauded from the field. Though he will continue officiating at club level, rugby will miss him. The refereeing panel will be poorer for his absence.
New breed of Irish forward augurs well
Back in the day, it seemed as though it was practically illegal for any Irish prop to possess ball handling skills. Nick Popplewell was an obvious exception but there were not too many others.
Now look at the modern Irish front row. On Saturday, we saw perhaps the most skilful and dynamic front row Ireland they have ever produced delivering the goods against Japan.
Between them, Andrew Porter, Ronan Kelleher and Tadhg Furlong combined for 27 carries; just seven fewer than their back-row counterparts, Josh van der Flier, Conan and Caelan Doris. Bear in mind, two-thirds of the back row played 80 minutes whereas the front-row trio weren't afforded that luxury. That shows the level of impact they made, that and their contribution of 12 passes.
What this provides is additional options. No longer do Ireland have to run their entire game plan through their half-backs. When you have a mobile and skilful pack, you have a Plan B, a Plan C and a Plan D. "We don't want to become predictable," said Farrell afterwards. Unstructured attack is his thing. Games are won on the field, not the training ground.
Ireland, by the way, have now won six in a row. The All Blacks would be foolish to underestimate them.
Welsh set-piece woes need fixing
Against New Zealand, Wales' darts misfired, with Ryan Elias the guilty perpetrator as his aim went amiss under the pressure of Sam Whitelock and Brodie Retallick. With that, the game and the All Blacks rapidly disappeared out of sight. Against South Africa, Elias found his range leading to a far more balanced tussle in the air.
The problem for Jonathan Humphreys and Wales is their scrum was pulverised into Principality Stadium turf time after time, leading to penalties and the pack trundling backwards. What was a sorry state of affairs turned ugly when the self-titled 'Bomb Squad' rumbled on – Vincent Koch, Malcolm Marx and Steven Kitshoff.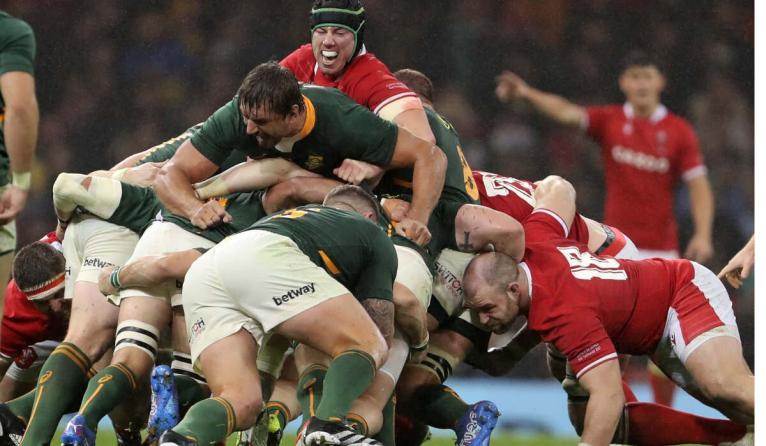 In South Africa, you pay thousands to spot that trio on a game reserve, such is their prodigious heft. It made the Welsh eight look ill-equipped to hold their position and late on Wyn Jones and WillGriff John replaced Rhys Carre and Tomas Francis, with newcomer Bradley Roberts dwarfed by Marx, but little improved.
Where does this leave Wales? Do they have to accept they cannot mix it with the world's most fearsome pack, or do they need additional help technically? Wayne Pivac said the week would be spent under the hood, but Fiji have never been renowned scrummagers, and neither have Australia, so dominance may be a red herring. Had that scrummage functioned, Wales would likely be toasting a hard-fought victory. Small margins, indeed.
Century man Sexton must be held on to
At the 2015 and 2019 World Cups, Ireland fans were obsessed with Sexton's health, fearing what would happen if he went down. Well, Argentina provided the answer in 2015, Japan in 2019.
Now here we are again, over-reliant on a 36-year-old fly-half. It has led to this never-ending discussion about whether Sexton should be dropped now to blood someone else – anyone else – in time for 2023. 'What happens if Sexton isn't even at that World Cup?' everyone seems to ask.
Here's another question. What happens if we dismissed Sexton too early and he was ready in 2023? How stupid would we all look then? And how many games would we have sacrificed in the meantime? The bottom line is you should pick a team on form and if Joey Carbery, Harry Byrne or Jack Carty aren't playing better rugby than Sexton then they shouldn't be rewarded for being inferior.