Back

By Daniel Gallan
Lukhanyo Am: 'I just needed someone to notice. Rugby had to become my life'
Top school-boy rugby in South Africa is a big deal. On any given Saturday during the autumn and winter months, thousands, often tens of thousands of spectators jostle for the best views available of these teenage superstars-in-waiting.
Ten years ago, Lukhanyo Am was among them. Not as a player but as another face in the crowd. A comparatively small group would watch the world's best centre run out for Hoërskool (High School) De Vos Malan. Instead Am was part of the mass of humanity gawping at the burgeoning talent on show whenever Dale College were at home.
Dale College Boys' High School, to give it its proper name, is one of the top sports talent factories in South Africa. Just under an hours' drive inland from East London in the Eastern Cape province, Dale has produced 13 Springboks in its 161 year history. Until Am made his Test debut against Wales in December 2017, De Vos Malan had never contributed to the Springbok cause.
"It's not surprising when you compare the two schools," Am says. "It's night and day, chalk and cheese, however you want to call it. Dale is a proper rugby school. Their facilities are amazing. They have strength and conditioning coaches, they have nutritionists, they have sponsors and everything you can want to develop their rugby. We didn't have any of that."
Am would finish playing for his school's first team around one in the afternoon and immediately set off for the 25-minute walk to Dale. By the time he'd get there all the good seats were taken. Sometimes, if Dale were playing a rival school, he would have to peer over a fence to catch a glimpse of the action.
Am describes his younger self as "rugby mad" and so would lose himself in the action. But occasionally his mind would wander. He'd start to make-believe and imagine himself playing in front of a roaring rabble. What's more, he was adamant that this grander stage was where he belonged.
"I'm not going to lie, I would think to myself, 'I'm better than most of these guys','' he says. "I don't mean to sound arrogant or anything, it's just that I knew how good I was and I didn't see anything on the field that was intimidating.
"Of course there were some huge guys who played for the big schools. When the other massive schools came to play Dale I would think, 'Wow, okay, those are some big boys'. But I wasn't scared. It made me really want to test myself. And I knew that part of the reason they were so big was because of their training and access to top facilities, so it wasn't like they were special."
Am admits that he occasionally felt pangs of jealousy. But these were fleeting. His own rugby was developing and he was highly regarded amongst his peers. The first time he bristled at the inequities of the world was when the team for Craven Week, the prestigious under-18 provincial tournament in the country, was selected.
"It was all guys from the big schools," Am laments. "If you were from a small school like me you had to be twice as good and even then it probably didn't matter. Those big schools are like highways for a professional rugby contract. The scouts and provincial coaches expect the best players to come from there so they don't bother looking anywhere else.
"I know my school coaches tried to get scouts to come and watch but it didn't matter either way. I had a choice though. I could either sulk and quit or I could back myself and commit to the long dirt road. I never considered taking the easy option."
I just needed someone to notice. I couldn't allow myself to lose focus. Rugby had to become my life
It is surprising to hear Am talk about injustice and inequality and only relate it to his youth rugby experience. He grew up in the small town of Zwelitsha where most households lived paycheque to paycheque, if indeed they received one at all.
And though he describes his upbringing as "one filled with love", and details a world that seems a mile away from the hardships endured by teammates Siya Kolisi or Makazole Mapimpi, this was no pampered childhood. Am would wake up early in the morning and leave the house before sunrise or risk missing his minibus taxi to school.
Am believes that his formative years had a profound effect on his life. Most importantly, it strengthened his resolve to realise his ambition of becoming a Springbok. "I just needed someone to notice," he says. "Eventually my talent would shine and someone would notice. But I had to stay fit and strong. I couldn't allow myself to lose focus. Rugby had to become my life."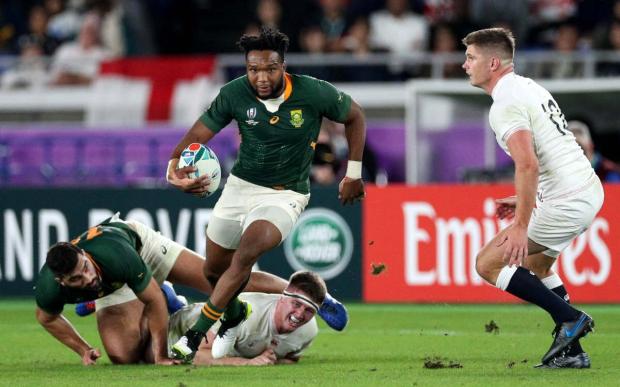 Barred from the fast lane to a professional contract, he took an off-ramp after graduating to the coastal town of Margate in the neighbouring Kwa-Zulu Natal province. More than seven hours away from home, he threw himself into his craft. He wouldn't stay there long. Soon after he was called into his local Border Bulldogs under-19 team and helped win promotion to the Provincial Championship first division in 2012.
He spent a pre-season with Saracens in 2013 as part of the South African Rugby and British High Commission Rugby Exchange Programme established to give a leg-up for young players from disadvantaged backgrounds. Stints with the Border Bulldogs senior team and the Falcons followed before he signed with the Southern Kings franchise in 2016.
This was a breakout year for Am as he was selected for the two match series between South Africa 'A' and the touring England Saxons alongside future Springboks teammates Malcom Marx, RG Snyaman and Vincent Koch. Later that year he made his Currie Cup debut for the Sharks.
I grew up admiring players around the world that had flair and skill. Shane Williams used to excite me. But there are others, too many to name now.
"I never felt like an outsider at any stage in my career but I was aware that I was different to most of the guys," Am says. "When I first started making waves and getting selected for teams, I'd join a group where the other guys all knew each other well. A lot of them had been playing provincial rugby together since they were in school. So I was a newbie of sorts. I didn't say much in those early days. I had to let my rugby speak for itself."
For this, Am is additionally grateful for his upbringing. As he explains, "township rugby" is a world apart from the more organised, structured brand that is cultivated in elite schools where winning is a priority. On less manicured fields around the country, hot-steps carry more cachet than rumbling mauls.
"I grew up admiring players around the world that had flair and skill," Am says, singling out Shane Williams. "He used to excite me. But there are others, too many to name now. I always wanted to excite people."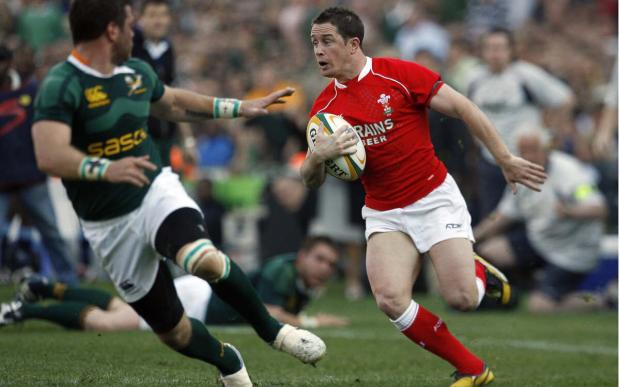 Rugby analyst Robbie Owen, better known as Squidge Rugby, has dedicated 16 minutes to Am's blockbuster talent in a detailed video. There's the assist for Mapimpi in the World Cup final, his ability to intuit exactly what his teammates and opponents are going to next, and the try he scored for the Sharks straight from a kick-off that involved a perfectly weighted grubber.
One move tops them all: the no-look, behind the back pass that set up Damian de Allende's try against New Zealand last year. It is one of the more outrageous pieces of skill ever performed by a Springbok. Not even Am can explain how he did it.
"Oh man, I think there is a saying that some people can live in the moment on the field," he says, struggling to find the right words. "I just thought that was the best option for me. It was instinctual. You can't really practice that sort of thing. I guess the most important thing is you've got to have the confidence to pull it off.
My hope is that we develop a Springbok side that is more representative of the school system in the country. Imagine how much stronger we'll be then.
"Having that inside me is one of my strengths. Having that in the bag is one thing but you've got to be able to have the hard yards and graft behind you. That combination makes me a complete rugby player."
That hard graft coupled with that flamboyant skill has taken Am to the pinnacle of the game but he is adamant to use his platform to change the world, to make sure that others like him are afforded opportunities that were beyond his reach.
Last year he partnered with the South African terrestrial broadcaster SuperSport to promote a new initiative that aims to expose talent in previously hidden corners of the country. "It's a game changer," Am says of the streaming service that now includes schools outside of the established institutions. "This closes the gap. All it takes is for one provincial coach to watch these games and think that there's someone worth investing in.
"That's why I joined with SuperSport. I want to help make a difference. It's not enough for us to give kids hope and be their heroes. We have to set an example as well. My hope is that we develop a Springbok side that is more representative of the school system in the country. Imagine how much stronger we'll be then."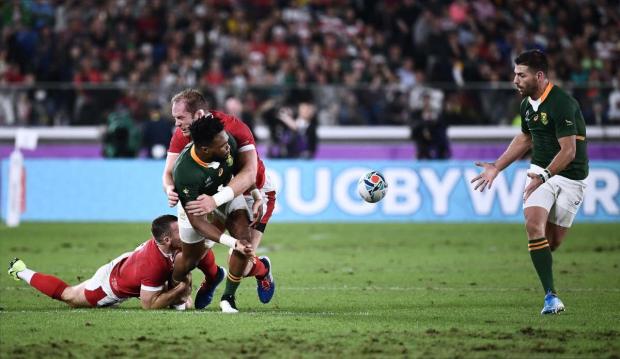 The match-day 23 against Wales includes four players who are the first from their schools to don the green and gold. Alongside Am there's Mapimpi, Cheslin Kolbe and Trevor Nyakane who are outliers among their peers. That three of them are creative backs is also no coincidence, giving further credence to Am's theory that flair and speed are traits that flourish in rugby's backwaters.
Perhaps this is why Am feels so at home in a Springbok backline that often gets forgotten in the discourse. Am and Kolbe are strong candidates for a place in a composite Springboks XV of all time. The same is true for fly-half Handre Pollard. Does Am feel that his fellow backs get the recognition they deserve?
"Not always, no," he says matter of factly. "We don't mind. We've got a game plan that works for us. I've also played in enough Springbok games where we've moved the ball around. We're more than capable of doing it when we want to. We get the respect from inside the camp. And our forwards know that if they need us we can deliver."
If he does get the opportunity to unfurl a bewildering pass or change the shape of the series-deciding game with Wales with little more than a step or turn, Am will be ready. He's been ready his whole life. He's walking a path that feels preordained, though that couldn't be further from the truth.