Is Johnny Sexton set to become Ireland's greatest player?
For most of you it is a sacrilege to whisper never mind shout it. But what we are witnessing from Johnny Sexton these days and nights are steps from the minor places on the podium to the top of it. He is in the process of being anointed the greatest player Ireland has ever produced.
In certain parts of Ireland, that's the kind of statement that could get you a public stoning because unlike incumbent Brian O'Driscoll, Sexton is not universally popular. He's capable of a scowl and a rant but he also has the ability to do something no Irish player has managed before which is to defy time.
At 36, he should be finished. O'Driscoll was at that age. At 36, he should not be the player whipping passes beyond three defenders for James Lowe to score a decisive try in a European Cup semi-final, nor skipping through a hole in the Toulouse defence to set up Josh van der Flier for the tone-setting opener.
At 36, he should be in a pundit's seat rather than lining up for his sixth European final, seeking to win the cup for the fifth time. O'Driscoll, by the way, won three.
O'Driscoll also did plenty more besides, cutting through defences with regularity, reinventing himself in his final years as a master of the breakdown, proving time after time that he was as brave as he was brilliant.
Sexton isn't as elegant a player. But this isn't a beauty contest. This is a debate weighing up respective CVs. Sexton has been the conductor in three Irish wins over New Zealand; O'Driscoll never won against the All Blacks. Sexton has a grand slam and two Six Nations titles on his resume, one title more than O'Driscoll. Sexton has started five Lions tests; fewer than O'Driscoll – but he was instrumental in the Lions' success in the third test in 2013. O'Driscoll was dropped for that one.
You could say so what, you could argue Sexton was fortunate to be surrounded by better players with Leinster and Ireland. You could also run a lengthy highlights reel of O'Driscoll's greatest tries and line breaks and moments of magic.
But this isn't a case of one being great and another not. Both men are.
Old timers refuse to overlook the brilliance of Jack Kyle, the outhalf on Ireland's 1948 grand slam winning team without mentioning the brevity of Kyle's career or the fact he never needed to wash his shorts because he refused to tackle.
You can't throw that accusation at Sexton, the greatest tackling outhalf Ireland have had. His excellence extends to all facets of the game. Remember his drop goal to win the opening Six Nations game in Paris four years ago? He went down with cramp in the middle of that 42-phase move, self-medicating before getting up to complete the job.
That summer he guided Ireland to the series win over Australia, their first on southern hemisphere soil since 1979; a year earlier he was instrumental in the Lions' come from behind run to draw the series in New Zealand. And now, in his 37th year, he is showing the full repertoire of an old pro's tricks, holding his nerve from the tee in the way Ihaia West and Nolann Le Garrec could not yesterday for La Rochelle and Racing
Long before this weekend, he was a nobody hoping to be a somebody.
Everyone can relate to that kind of story. If O'Driscoll was a teenage prodigy, Sexton was a grafter, talented but still a late bloomer. He was 24 when he made his Ireland debut in 2009. Earlier that year he was lining out with his club, St Mary's, against Old Belvedere in the All-Ireland League.
His is an Irish kind of tale. Try and make the best of yourself. Fight for your dreams. Don't give up. Given the ruggedness of his play and his character, it seems entirely fitting that he's still going, even as the flecks of grey appear on his hair.
At no stage did he ever look as majestic as O'Driscoll or Kyle or Mike Gibson or any of the rivals for his GOAT status. But it is hard to appear stylish when you are weighed down by so much silverware; 15 major medals stretching out from 2008 to this year. That number could be up to 17 by the end of this season. He may have another win over New Zealand on his CV then, too. Is that the stage when we say, okay, he's the best Ireland have had? For some of us, he's already there.
Rugby will never grow with robots
The most watched piece of rugby content on social media this weekend was not a bonkers, 90m try. It was not a try at all, in fact. It was not a rib-shattering hit, nor a sumptuous offload, nor a touchline clutch kick to win a game at the last.
Instead, through a combination of originality, vibrancy and humour, the Chiefs unassuming lock Naitoa Ah Kuoi went viral on rugby Twitter. The 22-year-old's man-of-the-match interview with Australian network Stan Sport already has over 150,000 views.
After a monumental display to sink the Rebels, Ah Kuoi ripped up the media handbook favoured by modern sports stars. No banalities here. No platitudes about the much-vaunted "buzz in camp" (which, if it were remotely true, would have every team in world rugby swarming like excitable bees), "taking it one game at a time" (searing insight) or, perhaps the worst of the lot, "focusing on ourselves" (everybody knows teams devote many hours to analysing opponents).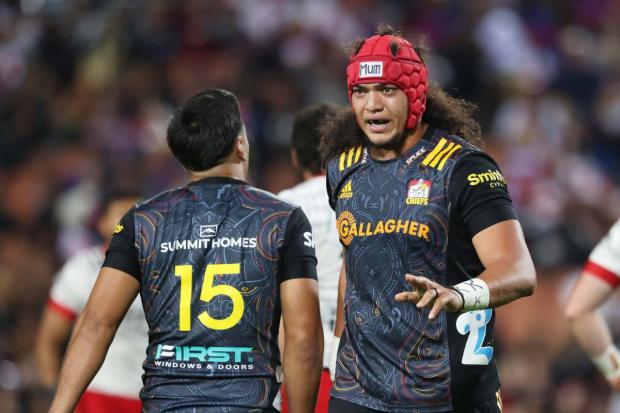 No, instead, in a beautiful display of authenticity, Ah Kuoi lurched from painted fingernails and dinner with his mum to reggae music and being bopped by tight-head props. He gave us a blast of Stevie Nicks and then asked the broadcast team for a job when his playing career is over. In amongst it all, and perhaps lost amidst the laughs, Ah Kuoi actually gave a good measure of serious, insightful comment on his team and himself.
Rugby shoots itself in the foot many times over when it comes to attracting new eyeballs. Sometimes through its mind-bending complexity, others through its odd scheduling. Perhaps most egregious and avoidable of all, though, is its staid nature. The "be a good chap" mentality where those who stand out from the crowd get hammered.
The game needs Ellis Genges. It needs Finn Russells. It needs Danny Ciprianis. It needs to give people a reason to care, beyond the fortunes of one team or another. It needs to create stories and capture minds, to find ways of resonating beyond its traditional audience. It needs to cultivate personality that transcends rugby – personality in which the public can really, truly, emotionally invest.
The more Naitoa Ah Kuois allowed to shine, the better the game will be for it.
Leinster is a double act – not just the Lancaster show
There was a telling moment in an interview with Mick Dawson, the Leinster chief executive, earlier this year. A question came up about Stuart Lancaster, the interviewer wondering how the Englishman compared with previous Leinster employees, Joe Schmidt and Michael Cheika.
"Well, you shouldn't forget that Leo (Cullen) is the head coach," replied Dawson pointedly.
It seems – judging by so many of this morning's reports – that this minor matter has indeed been overlooked.
You can see why. The Leinster style of play is unique; Lancaster the drawer of it. His voice is the dominant one on the training field; he, undoubtedly, is their tactical visionary.
If he is Mr Fun then Cullen is Mr Bad News, the one who signs off on team selections, who purposely keeps his office door open and invites players in to explain why they're out. He was the one who risked his job and reputation, way back in 2016, by dropping a third of his team to give youngsters – Tadhg Furlong and Garry Ringrose among them – a first European start.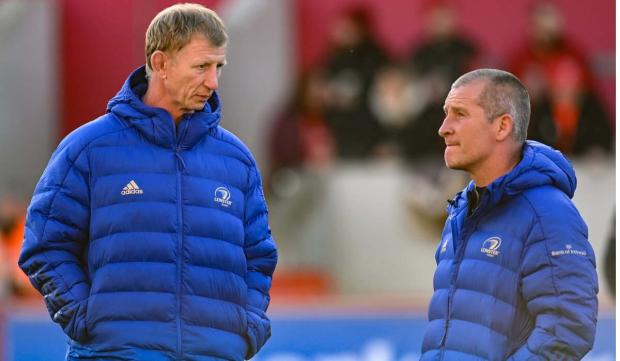 That's been the Leinster way ever since. Their emphasis is on growing their own, simply because there is so much talent on their doorstep, also because the policy has been shown to work. So often you hear about Ireland's practice of resting key players in between European matches. Cullen has perfected the art.
Prior to Saturday, Leinster had played 17 URC matches this season, six European ones. Yet 11 of his 15 starters had played more Champions Cup games for the province this term than they had in their domestic league.
That requires nerve on behalf of the coach, especially when it is a crunch Irish derby, especially if points are still needed to secure a top seeding in the URC play-offs when the fixture list throws up a trip to South Africa. A coach less comfortable in his own skin would have panicked with team selections for URC games. Cullen, somehow, has walked the tightrope and kept his balance, managing to keep a 45-man squad happy, offering game-time to the up-and-comers, successfully plotting a path to the knock-out stages of both competitions. Could he have done this without Lancaster? Probably not. But make no mistake, Cullen is an equal partner in this double-act. This is rugby's Clough/Taylor.
Welsh rugby looks to South Africa to restore pride
After the wagons were circled around the Welsh regions after a week of uncertainty, following the bombshell Oakwell report, that put the Dragons and Ospreys in the line of fire, and led the WRU and PRB to issue a statement saying, well, precious little, but to reaffirm that all options were being looked at. This week brings some respite, at last, in the shape of a Wales squad announcement for the daunting trip to South Africa. In truth, the mediocre 18-19 ding-dong between the Dragons and Cardiff did little to change perceptions that Welsh rugby is at a low ebb, all while the French and Irish domestic rugby is still alive and kicking in Europe, months after Welsh interest ended.
The job now for Wayne Pivac, himself reeling after an unforgivable loss to Italy, in the Six Nations, is to stabilise the game and come away from the Tests in Pretoria, Bloemfontein and Cape Town with some pride restored. No one, honestly, is expecting a 3-0 triumph in the Rainbow Nation, given Wales have never succeeded there in ten attempts, averaging a 42-16 deficit, but Pivac has to restore some belief in a squad.
After an emotional Dan Biggar said the loss to the Azzurri could be the last time some players step out in the red of Wales, those dropped from the squad could feel a little unease for their Test futures.
So what changes could we see? If Tomos Williams is out with a hand injury, Rhys Webb, who has been excellent all season warrants a place in the squad, but Lloyd Williams has shown there's still a spring in the step in recent weeks, so could be preferred given Webb's frosty relationship with Pivac.
In the back three, Ryan Conbeer could be set for his first Wales call-up if Josh Adams fails to recover from his knee injury, alongside a rejuvenated Louis Rees-Zammit, Alex Cuthbert and Liam Williams. In midfield, there should be a welcome return for the sizeable George North, and with Willis Halaholo definitely ruled out, Johnny Williams, Owen Watkin and Jonathan Davies will battle it out for two spots, with Nick Tompkins, the form midfielder.
In the backrow, with Justin Tipuric's continued absence and Aaron Wainwright's recent withdrawal, alongside Taulupe Faletau and Josh Navidi, Tommy Reffell could add the mongrel, while Harrison Keddie or James Ratti could be called upon to add much needed ballast, and in the engine room, Dafydd Jenkins is heavily rumoured to be getting a call, even if it's just as an 'apprenctice', given his ripe potential.
One place, where Wales appear well-placed for renovation is the front-row, where Rhys Carré has refound the ball-carrying menace that saw him picked for the 2019 Rugby World Cup, and Dewi Lake has shown he is able to step in for Ken Owens, who has not played since October with a back complaint.
All will be revealed by the Welsh management tomorrow with fans desperate for some end-of-season cheer after a campaign which has revealed worrying fault lines in the game.
Villiere is Toulon's unbreakable 'piece of iron'
Near the end of the fourth Rocky movie, as our hero is copping every one of Drago's best shots, his eyes pulped and the claret streaming from his cheek, the Soviet stares across the ring wearing a look somewhere between stoic admiration and downright indignance. "He is not human. He is like a piece of iron."
You wonder how opposition forwards must feel as they smash, body after colossal body, into Gabin Villiere, all 88KG of him, and the wiry little winger refuses to wilt. Wedged over ball, Villiere is as effective as many of the game's top loose forwards, and quicker than all of them.
It is often said that having a strong-jackaling back in your arsenal is like having an extra flanker on the field. In Villiere's case, it is like having an extra flanker, scrum-half, centre and full-back.
His breakdown instincts, honed on the sevens circuit, are remarkable. Look how he tracks play off his wing, rides collisions, and bites at just the right moment. Against Saracens, as Toulon surged into the Challenge Cup final, he came up with two momentum-swinging whoppers. Nobody arrived at more opposition rucks than Villiere and virtually nobody made as much of a nuisance of themselves.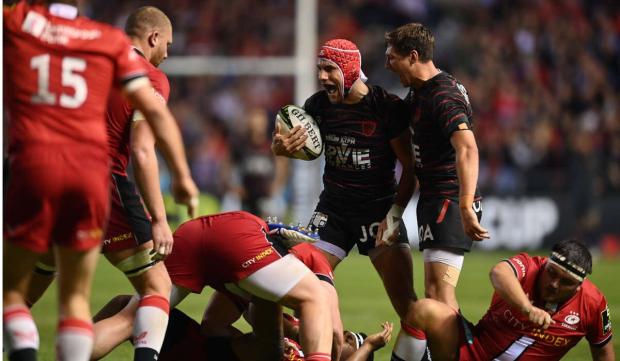 None of this dogged excellence comes at the expense of attacking incision. Nobody beat more defenders than Villiere either. Nobody made more metres. No back carried the ball as many times. He had two opportunities to score tries and hoovered up both with ruthless efficiency.
It is no stretch to say Villiere is among the form players the sport has to offer right now. An indispensable member of Fabien Galthie's grand slammers. An unrelenting, effervescent machine for resurgent Toulon. And, lest we forget, a failed lower-league scrum-half before coaches spied the raw materials that would help him become a great.
As Toulon await the return to fitness of Cheslin Kolbe, they will toast the brilliance of another little winger wreaking mayhem in a red scrum cap.