Back
By Will Owen
How Ellis Genge is redefining the England loosehead role
Everyone has an opinion on Ellis Genge, as both a player and a person. To some, he's a ticking time bomb. To others, he's a wonderfully aggressive ball-carrier. To some, he oversteps the line. To others, he's the sort of engaging figure English men's rugby is lacking. He may be divisive, but there's no doubting his integral place in the England team.
Genge was originally called up for his destructive scrummaging and explosive ability to make line breaks. He's no stranger to big hits, running from the backfield and, most importantly, scoring tries. What makes him particularly unique from many Premiership props is that he is still capable of doing these things in the 80th minute of games. This weekend, he's been tasked with defusing South Africa's infamous "bomb squad", from the bench. Eddie Jones is extremely set in his ways that "finishers" are just as important as starters, so Genge's role in downing the Boks could be crucial.
It's fascinating how Genge's strengths suit England, Leicester Tigers and Bristol Bears so well; three teams spread thinly among the spectrum of attacking styles. One imagines it was a much smoother transition from Steve Borthwick MurderBall to the England setup, as opposed to walking out of Pat Lam's Fun House and into the international ring.
It feels slightly redundant to analyse a player's role in England's structure at the moment, because Eddie Jones has openly admitted that virtually none of it correlates with what we're going to see at the World Cup next year. However, the mark of a great international prop is an ability to play to a gameplan, and Genge's versatility in this department is unrivalled.
Let's have a look at a clip of Genge attacking for all three of these teams, and analyse the array of different types of carry in his arsenal. We'll start with Leicester Tigers, specifically a viral charging run he made against Racing 92.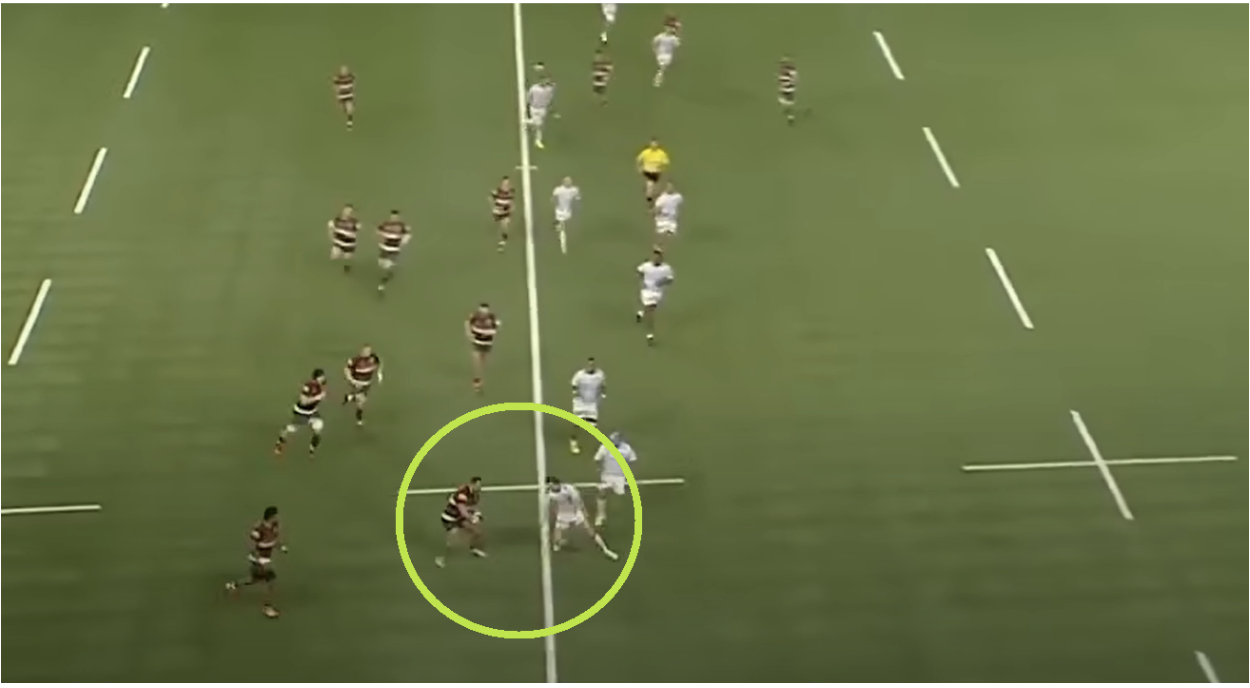 As a heads up, one thing we're going to learn from this piece is that Genge thrives off 1v1s. As such, Leicester use him as an edge forward here in their 1-3-3-1 system, hoping to plot him against some weaker tacklers.
Usually, you would ask a player to cut inside here. Avoid the touchline, and go toward your teammates. But Genge wants to keep this as a 1v1 with winger Juan Imhoff. If this the other way round, you would absolutely back Imhoff to run on the outside and burn any loosehead prop for pace. Genge thinks along the same lines: if I run into a much smaller man, stood completely upright and on his own, there's no chance he's sending me into touch.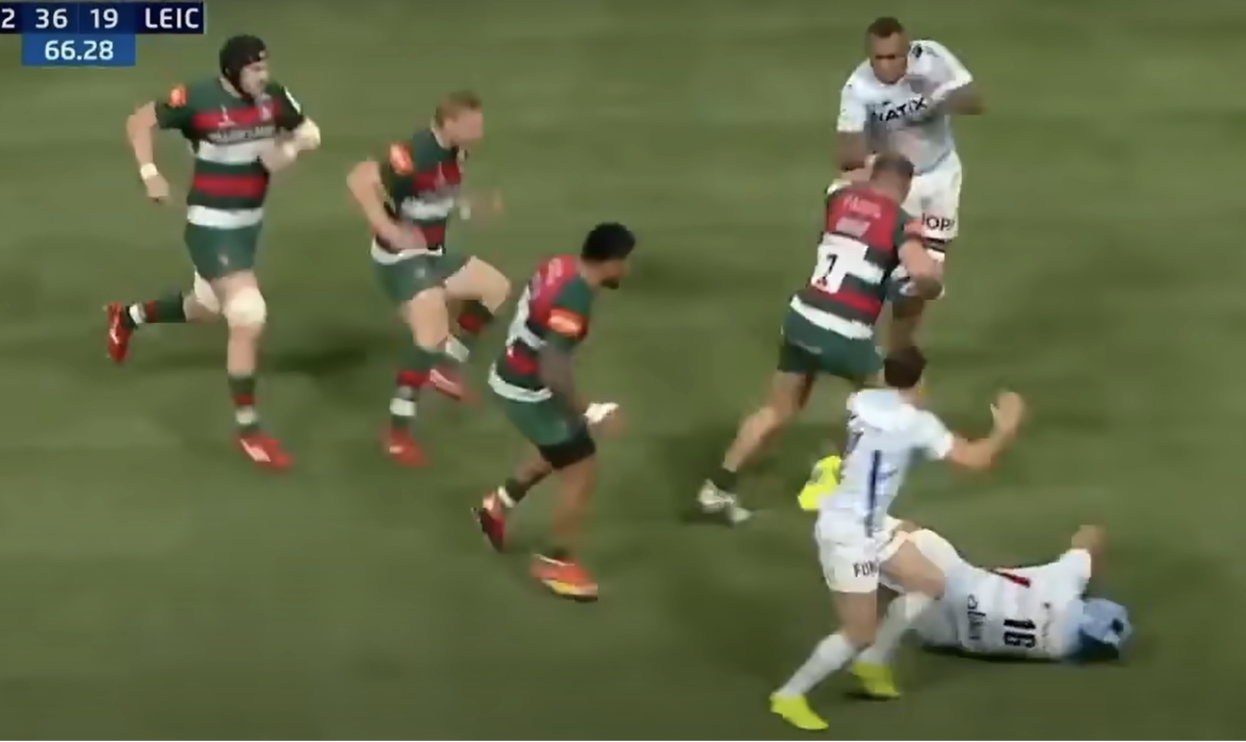 Genge swats Imhoff aside and decks Ole Avei to the floor. Next up is Leone Nakarawa.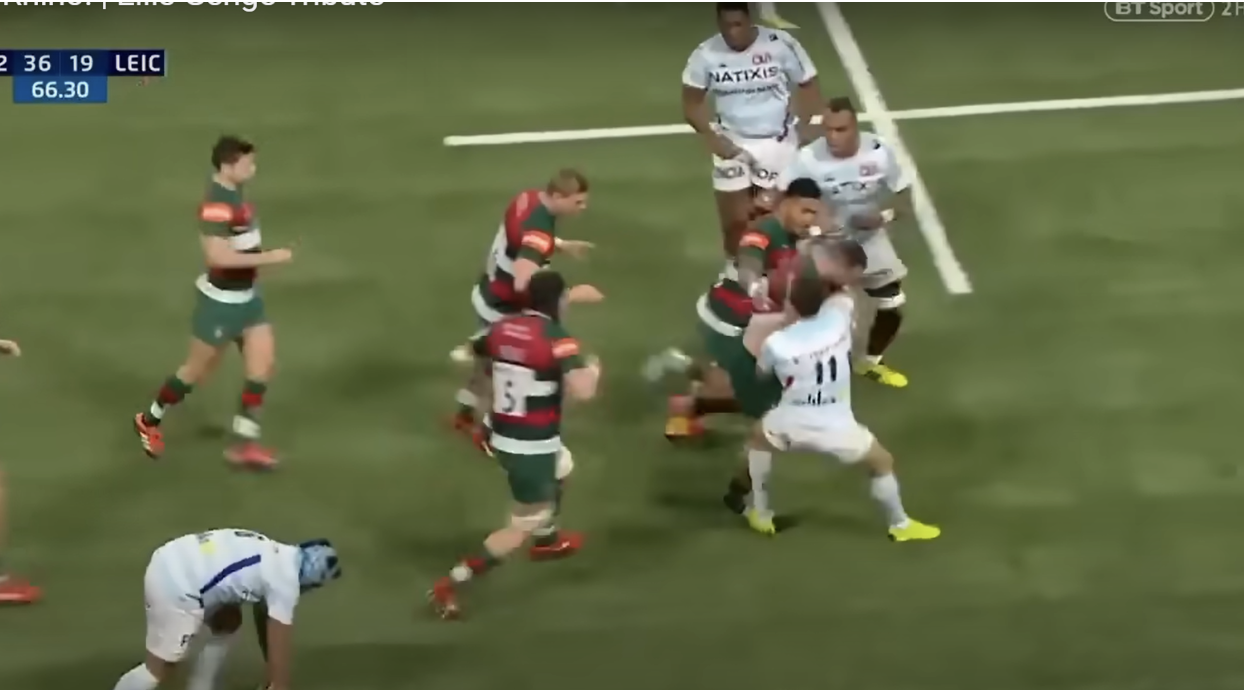 The Baby Rhino palms off Nakarawa and bounces towards the outside again. Genge has already won three 1v1s, so if he had to choose another opponent, he is of course going to select the significantly lighter Imhoff to trample over, rather than 18st second-row forward Nakarawa.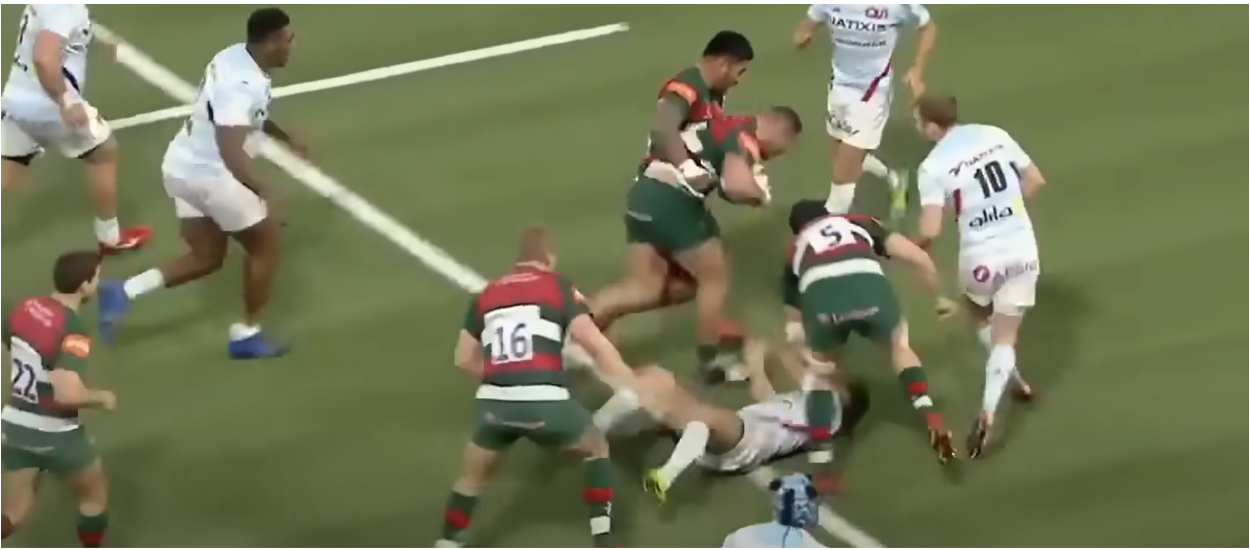 To Imhoff's credit, he stays in the fight – but Genge carries him 20 metres before eventually sitting him down. With Manu Tuilagi propelling him forward, he is eventually tackled around 15m from the goal line, and he pops the ball up to Ben Youngs allowing for quick ball.
Leicester's decision to put him in the wide channels really pays off here, with him finding a mismatch he wouldn't get in midfield. Even if he gets to run at a fly-half, it presumably wouldn't be a 1v1, and a flanker or centre would often scythe him down after a few yards. On this occasion, Genge chalks up around 40 metres in one run.
Next, let's watch him in action for Bristol, operating in the middle of the park instead.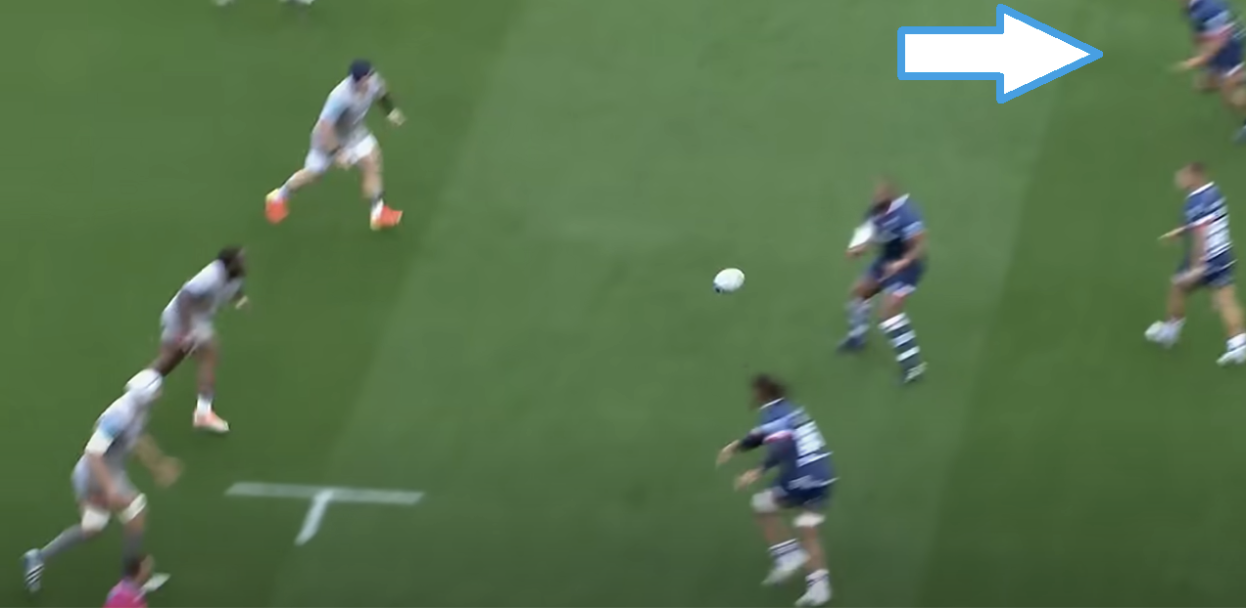 Bristol use a 1-3-2-2 structure here, with two back-row forwards operating as a "2" out wide, with Genge working in a three with Kyle Sinckler (head carrier) and Steven Luatua (inside tip-on). Genge has spotted a slight disconnect in the Bath defensive line and held his width until the very final moment, aiming to stretch the gap as wide as possible. Hence, he is half off-screen in the above photo.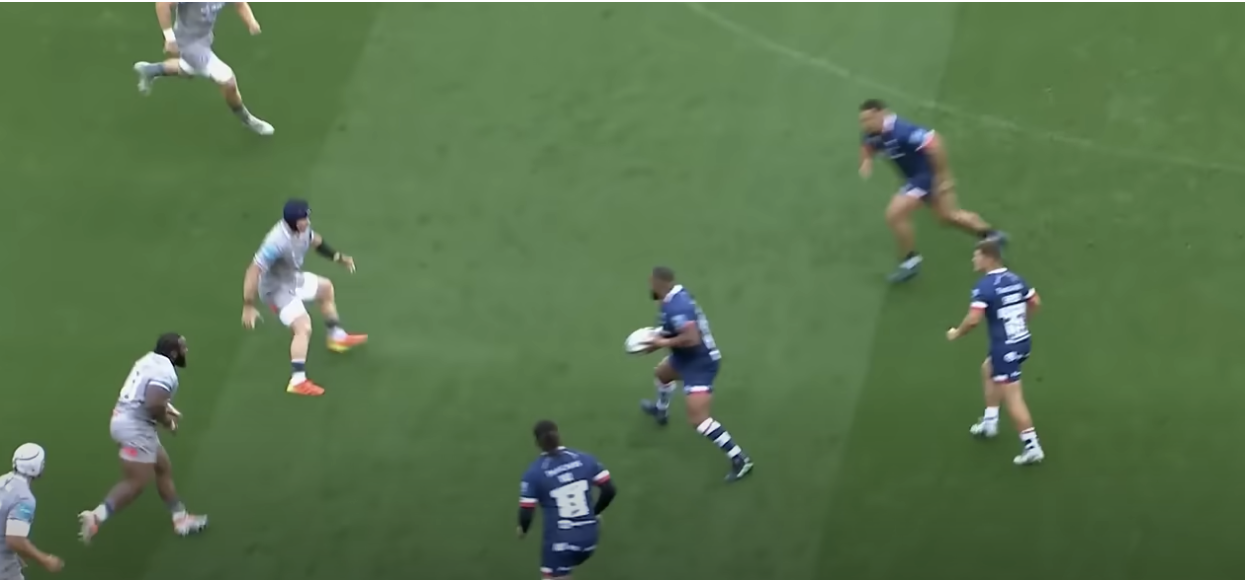 Genge curves his line inwards, aiming for the hole outside Chris Cloete in the blue scrum cap. With Cloete planting his feet to mark Sinckler, Genge knows he has a good chance at a 1v1 with Josh McNally outside him.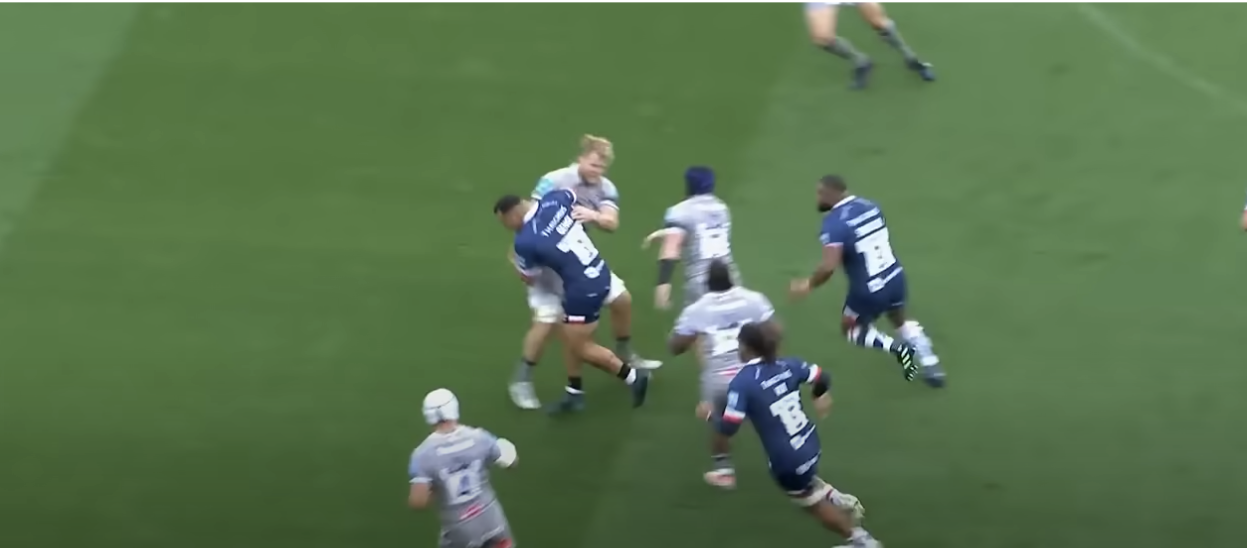 With McNally coming across from such a wide position, he doesn't have time to get low on Genge, which is what he thrives on. Genge breaks the contact and carries on running.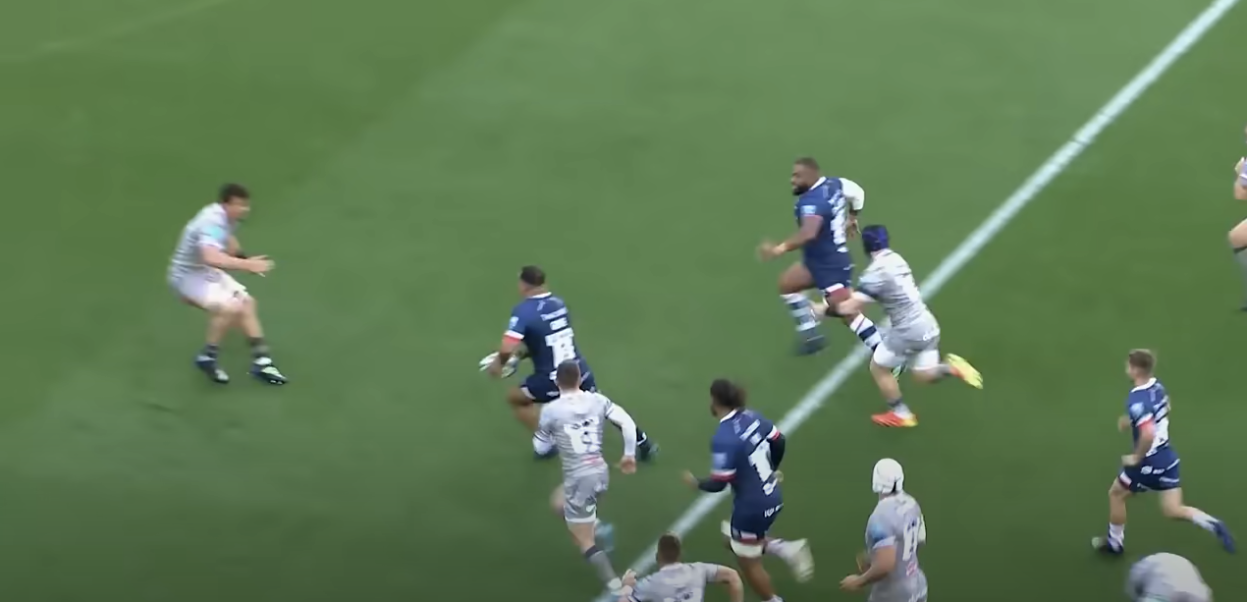 With fullback Tom De Glanville stood in the unenviable position of choosing whether to tackle Genge or Sinckler at full flight, Genge throws the dummy, knowing De Glanville will at most get a half-tackle on him. Even if Ben Spencer catches up to scrag him, two weaker tackles from smaller men won't be enough to put Genge down. Genge fends off De Glanville and scores without anyone really threatening to bring him to deck.
Finally, let's look at his try for England against Japan a couple of weeks ago.
Rather than playing in one consistent structure, England are currently fluid in where their forwards play, and Genge shows here that he can play to that: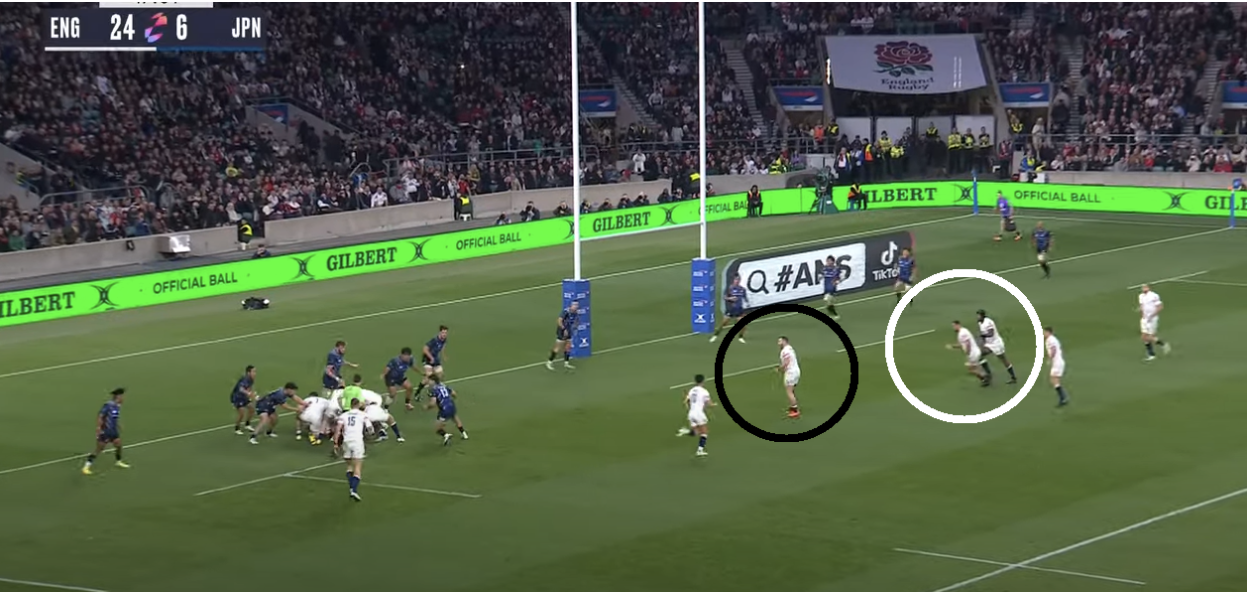 While the ball is still in the breakdown, Luke Cowan-Dickie (circled in black) appears to be England's head carrier, opposite Japan's backs. Genge (circled in white) starts out as the tip-on, but instead starts to make a run.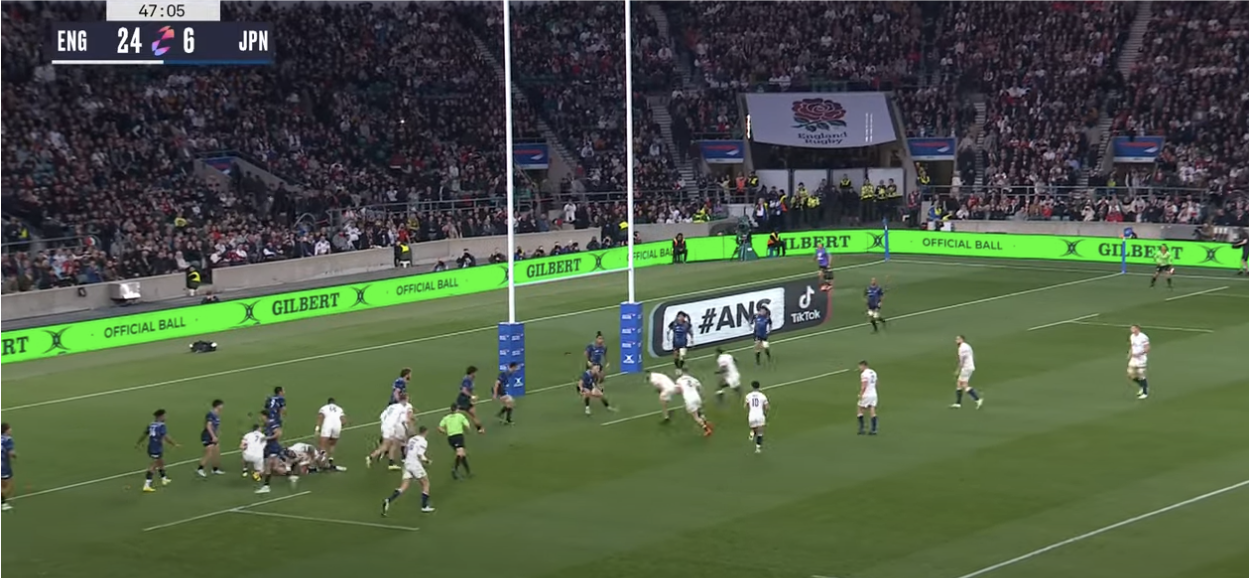 Genge takes the ball from Jack van Poortvliet, with Cowan-Dickie sliding into the inside latch role.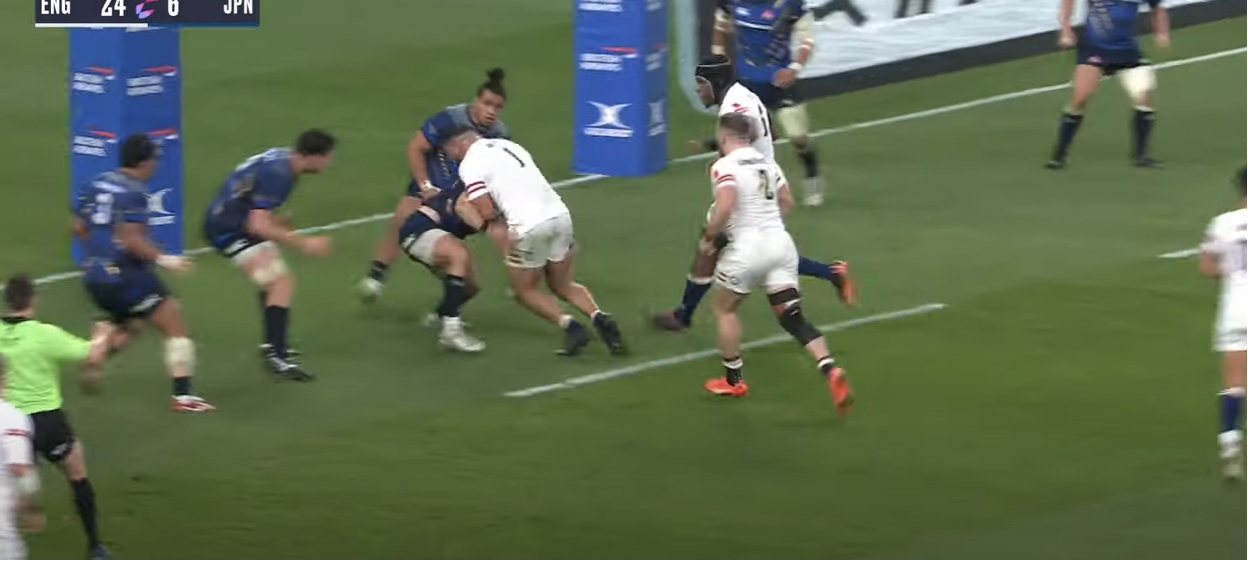 Genge singles out fly-half Yu Tamura, who shoots up to try tackling him low. Genge relishes this 1v1 against a fly-half and bounces him.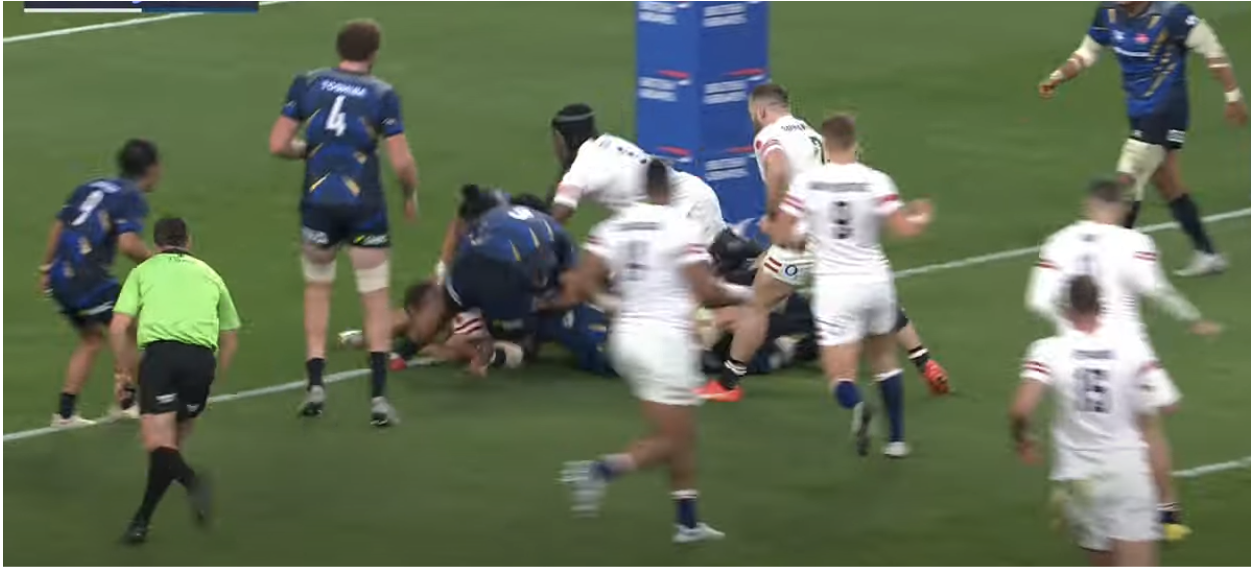 Japan's surrounding defenders attempt to pinsir in on him, but Genge has already found the gap in the defensive line – and it came in the form of moving Tamura out of the way and onto his backside. Genge dives over from 5m to score what is, for him, a relatively simple try.
This ability to break tackles is special, but Genge's ability to engineer opportunities to spot 1v1 carries sets him apart from other loosehead props. Ten years ago, this was the role of any world class 8, but now we have a certain Bristol prop who can identify these moments too.
As he creeps up on the 50-cap mark, there's no doubting Genge has brought something different to this England team. At 27, he is not the finished article, and he may not yet be up there with the likes of Jason Leonard and Joe Marler for England caps, but there's no doubting that on the list of great English looseheads, Genge is a truly unique player.