Back
By Jamie Lyall
'Beating Ireland would be Scotland's greatest win of the century'
There's a weird phenomenon that grips a certain group of Irish pundits around this time of year. Some kind of righteous indignation at the gobby Scots across the water, touting their chances of derailing the green juggernaut.
Andy Dunne, the former Leinster fly-half and a respected analyst, was the latest to take up the cause last week.
"I think we're going to do a job on them," he said. "A solid back-in-your-box performance? I think Ireland are very driven to do that in Murrayfield against a particular Scottish group that have talked a lot."
This has become a strangely entrenched narrative whenever the fixture – a fixture Ireland have ruled almost unerringly since the Five Nations became Six – rolls around.
Here's Matt Williams, the least successful Scotland coach of all time, last February, after Scotland were dispatched in the Aviva.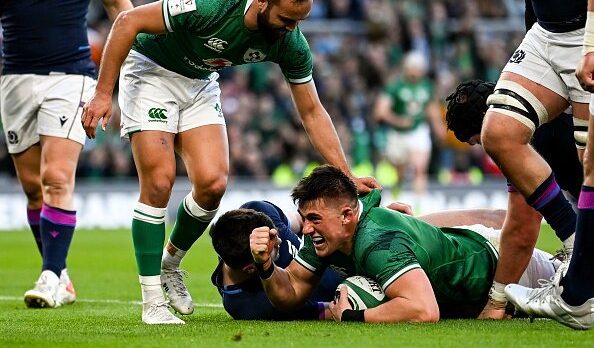 "I think that talk about it being their year was coming from the Scotland camp, again. They have just got to shut up. Until they actually action our and live their talk, they have got to shut up because they are making fools of themselves. Each time they come out and say, 'we're going to win, we're a great side'. They're not doing themselves any favours in the rugby world."
In November 2020, after Stuart Hogg vowed his team were on the path to achieving "something special" despite another perfunctory Dublin loss, Eddie O'Sullivan got the machine gun out.
"We've seen all this before," said the former Ireland coach. "They always talk themselves up. They have some deluded notion that they are better than they are."
What is it about Scotland that offends these guys so? Perhaps the looming World Cup showdown in Paris has something to do with it.
Nobody but nobody in the Scotland camp is talking up their prospects of beating a hitherto unstoppable Ireland side.
You could blitz Scotland for their rank inconsistency as a Test outfit and be utterly justified. You could hammer them for failing to convert significant talent into regular results. You could understand the ire if Scottish players actually came out with the arrogant garbage of which they stand accused. Nobody but nobody in the Scotland camp is talking up their prospects of beating a hitherto unstoppable Ireland side. Nobody was doing it in 2022 or 2020 or any other year in recent memory.
After Twickenham was sacked, again, in this season's curtain-raiser, Scottish celebrations were muted. The group spoke about how they'd oscillated from extreme to maddening extreme and how they had to, at last, match one statement result with another. Focus flitted swiftly to Wales. The need to back up the win far outweighed the compulsion to revel.
And where this game is concerned, far from putting Scotland back in their box, Ireland have kept them locked in the damned thing for an age. In six years in charge, Gregor Townsend has never got the better of Joe Schmidt or Andy Farrell. The record reads: played seven, lost seven. The aggregate scoreline is 26-12. There have been some real stinkers too. The mortifying evisceration at the start of the 2019 World Cup has a special place in Scottish nightmares. Everybody knew how Schmidt's Ireland would play that day; Scotland had no answer to prevent it. There have been tighter encounters at Murrayfield, but matches when you never felt Ireland would let Scotland reel them in.
And then there was last year, the build-up marred by the latest Finn Russell saga, the players' unsanctioned visit to an Edinburgh bar and their omission from the starting XV. The public rancour. The strained Townsend interviews and the tetchy Stuart Hogg press conference when the full-back, captaining his country for the final time, muttered "I won't miss this" as he left the top table.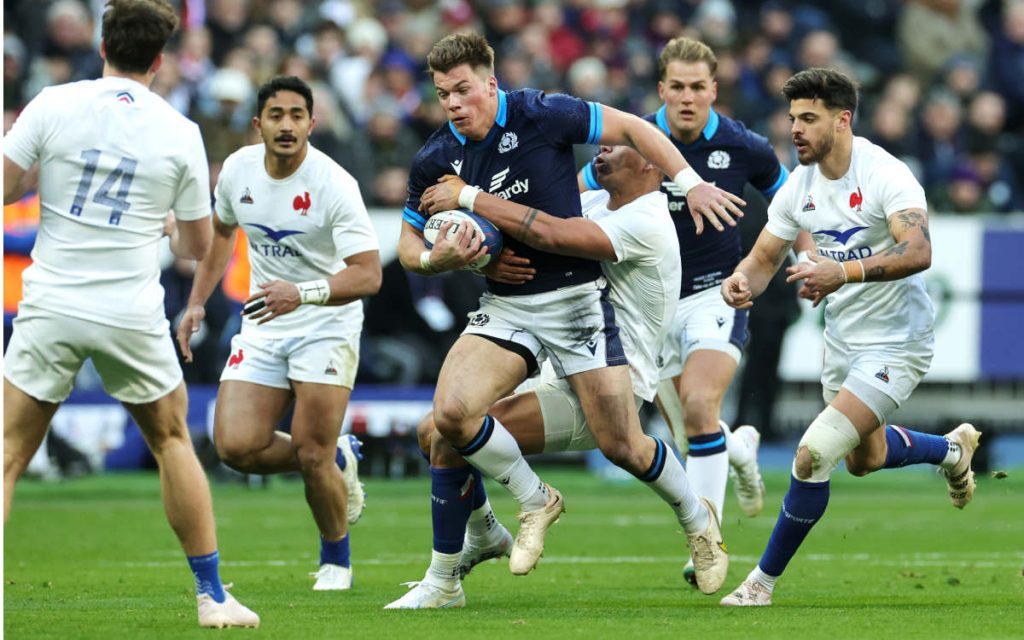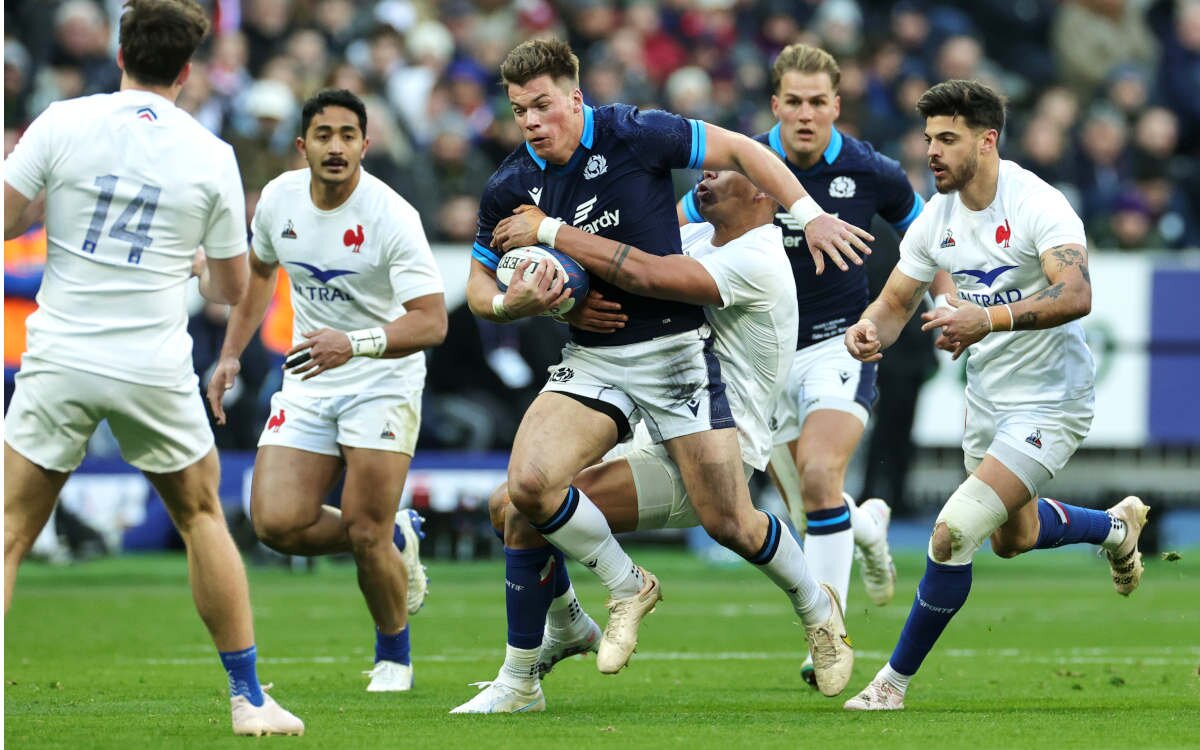 For Scotland, much has changed since then. Russell is motivated and motoring. They have a fabulous centre pairing of Huw Jones and Sione Tuipulotu who can maim teams in any number of ways. Richie Gray has bolstered their lineout. Rory Sutherland, a Lion, hasn't made a matchday squad yet because Scotland's options up front are better than ever, and their scrum is becoming a weapon. They have back-row wealth in Jamie Ritchie, Matt Fagerson, Luke Crosbie, Hamish Watson and Jack Dempsey. They have depth in every position in a way they never have before and Test Lions waiting in the wings.
A year on from his awkward press conference, Hogg is poised to win his 100th cap, only the fifth Scot to reach the benchmark and at 30 years old, the youngest to do so. Hogg is a content figure now, serenity brought by fatherhood and an internal calm. He is at ease with himself, no longer feeling the weight of Scottish expectation on his shoulders or the pressing need to pluck rabbits from hats. Hogg's status mirrors several of his team-mates'. A supreme rugby player with generational talent and drive by the boatload, but a player who has won nothing on the Test stage. For Hogg's crop, there is a very real chance that if they don't do something soon, they never will.
You can look at all these good-news stories, all the positivity and excellence that has built around this Scottish team, and still struggle to see a route to victory on Sunday. Scotland have been stung too many times to be carried away by giddying thoughts of triumph. Ireland's speed, dynamism and intelligence has been a silver bullet for Townsend. He has, at various points, seen his lineout dismantled, his scrum obliterated, his defence ravaged and his beloved attack blunted.
His opposite number will draw the eyeballs and the social media love-bombing but Andy Farrell wouldn't swap three Russells for Sexton.
Scotland cannot start this game as tepidly as they have the previous three. England owned the first-half possession and territory at Twickenham and led at the interval. Scotland were wasteful and fretful against a poor Wales in round two, and should have trailed at half-time had Rio Dyer not fumbled a pass with the clock red and the line at his mercy. They were 19-0 down in Paris, a score that proved just too high to surmount. Ireland's intensity will blow them off the park and suck the energy right out of Murrayfield if they serve up something similar.
Much will depend on Scotland's midfield unit, the swaggering trio of Russell, Tuipulotu and Jones. The centres can run, kick or pass beautifully. Each cuts devastating angles and Russell is the perfect man to find them, late on the gainline. Tuipulotu eases the pressure on the fly-half by stepping up to play-make at first receiver. Jones flourished in the teeth of Shaun Edwards' Parisian blitz. Russell had a classic Russell game; a try, an assist, some awesome attacking play, but a flat pass picked off by Thomas Ramos for a seven-point reverse. He is carrying often – more than anybody else in the entire competition – and carrying well. He is assisting with a variety of chips, flips and swooping parabolas.
But while Russell, left leg strapped, was playing 80 bruising minutes for Racing 92 against Toulouse on Sunday, Johnny Sexton was resting. Russell struggled from the tee in the latter stages and kicked a penalty for touch dead with the last play as Racing fell to a four-point loss. If anyone can shrug off such anguish it's Russell, but his preparation for one of the games of the championship has hardly been optimal.
Sexton is back for the trip to Murrayfield, perhaps the last chance Scots will have to see the great man in their capital city. The totem is a sporting marvel, not just in his longevity in this brutal age of rugby, but in his supreme consistency in staying at the top of the pile. Ireland are a better outfit when their greying maestro is in the saddle, no doubt. His opposite number will draw the eyeballs and the social media love-bombing but Andy Farrell wouldn't swap three Russells for Sexton. The 37-year-old has played Scotland thirteen times and lost twice.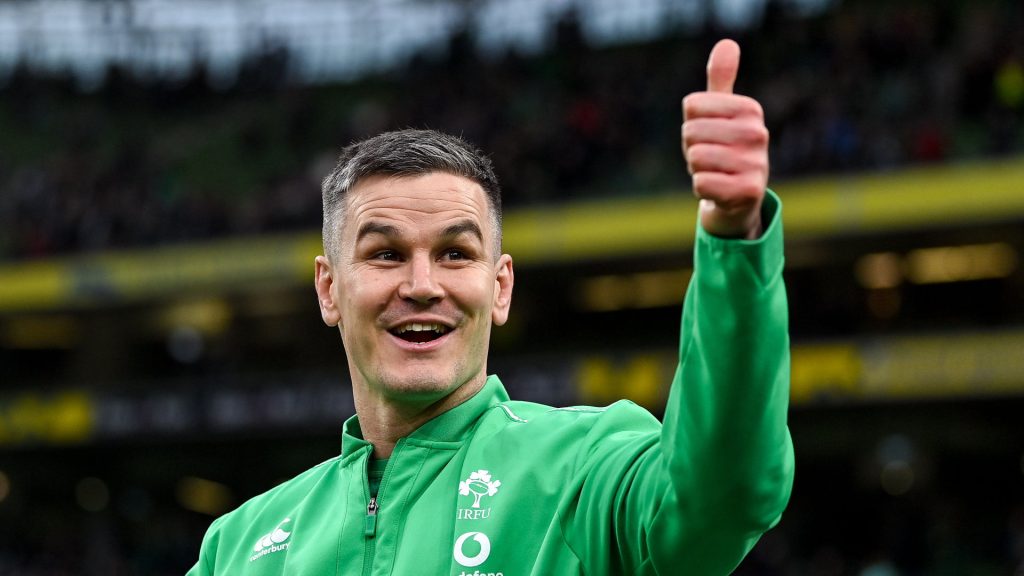 It's not just Sexton who Farrell can summon. Tadgh Furlong, Jamison Gibson-Park, Garry Ringrose and Robbie Henshaw are all back involved. Each is integral to how Ireland play and each has done Scotland grievous damage over the years.
And they will be ravenous, no doubt. They know, however dangerous Scotland have become, they hold the whip hand. They know what is at stake: another step on the road to the championship and the coveted slam.
There's always been a bit of needle in this game, too, all the way back to Ronan O'Gara and the allegations of choking in 2007. The mystery bus safari around Edinburgh that delayed Ireland's arrival at Murrayfield before their rare, and most recent, defeat in 2017. The simmering enmity between Glasgow and Munster. Scotland voting against Ireland's World Cup hosting bid. Even the number of world-class Irishmen left at home by Warren Gatland in 2021 while a heavy Scottish contingent became Lions. Russell, not Sexton, toured. James Ryan, Josh van der Flier and Garry Ringrose were left at home while Hamish Watson and Chris Harris boarded the plane.
Scotland are a side who have promised much and delivered little, until now. They have shattered hoodoos and ended barren records across the continent, without ever producing the kind of consistency required to challenge for titles. Save the Calcutta Cup, they have nothing tangible to show for their growth.
Champions they may have been, but today's group have an opportunity to do what even Alan Tait, Gary Armstrong, Tom Smith and Townsend himself could not 24 years ago.
Maybe that's what really irked Dunne, Williams and O'Sullivan. The narrative around this Scottish squad, peddled by precisely none of the players involved. Expectations rising at home, and not being met. Those standards heightened because this is, by a distance, the finest team the nation has known since the champions of 1999.
Champions they may have been, but today's group have an opportunity to do what even Alan Tait, Gary Armstrong, Tom Smith and Townsend himself could not 24 years ago. The triple crown has eluded Scotland for over three decades, since the country's last slam in 1990.
A shot at the title is gone now, realistically. A near miss in Paris, and the failure to pick up at least one bonus point, did for that. But the triple crown is a glorious prize in itself. Riches not seen in Scotland for the longest time. Silverware to go with the quicksilver rugby on show. And the tantalising reward of toppling the best team in the world, a team that has seen off the mighty All Blacks in a series, beaten the world champions, the dangerous Wallabies and the Six Nations holders on a record winning streak in the past nine months alone.
Sinking this Ireland side would not only be Scotland's greatest win under Townsend, it would be their greatest win of the 21st century. It will take extraordinary levels of accuracy and steel to pull it off. Do so, and Scotland really would have something to crow about.