The first Six Nations tournament of a new Rugby World Cup cycle is always fascinating. Every side has something to prove on top of the usual pressure, many will be considering whether to stick or twist going forward, there are rankings to factor in… the list goes on.
On top of that, the Guinness Six Nations is one of the most fiercely competitive tournaments in sport. Despite being annual, no team has ever won it three years in a row. The pressure and prestige of the tournament means coaches can rarely be seen to disregard it for the "bigger picture", whatever the circumstances.
This year, we have the added spice of four new coaches and a world cup with even more repercussions than usual. The expectations game is massive. And the opening round certainly added a layer of intrigue.
What does each team want, what's their current state, and what fans might accept?
England
World cup runners-up, the most settled side, were favourites for the Six Nations going in. Anything less than first place would probably be a disappointment after the performances against Australia and New Zealand. That's asking a lot, especially after the result of Le Crunch, but England have set the bar high at this point and Eddie Jones has repeatedly talked about being "the greatest team rugby has ever seen".
In the run-up, England looked to have the most going for them, despite losing Billy Vunipola to yet another arm injury, and foregoing a specialist No8. Their squad is in pretty good shape and the selection of George Furbank at full-back added some excitement.
Elsewhere, the idea of opting for the carrying of Courtney Lawes on the blindside and moving Tom Curry to the base of the scrum, where he could play the type of role that both David Pocock and Josh Navidi managed so successfully, seemed plausible. The power of England's tight five means they can probably pull this positional risk better than most. That was the theory…
After a disappointing first 60 minutes in France, how will Jones manage expectations going forward? Furbank has the ball-playing and running instincts that Jones seems to favour in his 15 jersey and he has certainly impressed for Saints this season but he was exposed against France. Will Daly return? Will Jones summon Alex Dombrandt to add the running lines England lacked against France?
It's an extremely competitive year but, with this squad, England should be aiming for the title. Whether they achieve it or not now depends on how they bounce back from their opening round disappointment. But anything less than top two will definitely be a disappointment.
France
The hipster team of choice, definitely. After years of commentators saying, "you never know which France side will show up", despite it repeatedly being an underwhelming one, France look like they could be back in all their unpredictable brilliance. New coach Fabien Galthié finally has the job he has wanted for so long, with a mandate to bring back both the glory days and the 2023 RWC trophy that France will be hosting.
To do so, he has gone all-in on youth, with an emphasis on the generation which culminated with back-to-back U20s titles and has been impressing in Europe. The average age of the side named to play England was 25, with the bench clocking in at a remarkable average of 23.5 years old. Their starting pack had a combined 85 caps. It did not stop them putting in a thrilling performance.
There were two moments of brilliance from Johnny May that will have new defence coach Sean Edwards fuming but their phase defence was vastly improved. England had sustained periods of play in the French 22 seven times without coming away with a try. If France can improve their fitness further, they are going to be formidable.
France are in a similar position to England in 2012 – a home world cup in three years time that might focus fans' minds on performances and building blocks rather than immediate results, giving Galthié a little more room in the immediate term. However, the experience of England in 2015 means he won't have a lot of rope in the long-term and, with a group of young players this talent and that first round performance under their belts, fans' expectations are going to go through the roof.
Ireland
They are not the only team in this Six Nations to be bitterly disappointed with how their world cup ended – indeed, that could be said of every side – but perhaps nobody fell so far, so fast as Ireland. From topping the rankings and beating New Zealand twice in three attempts in the build-up, they flopped against Japan and were eviscerated by an All Blacks side who were clearly ready for them. Pride needs to be restored.
Given that Ireland's ratio between success in the Six Nations and world cups is a little one-sided, new coach Andy Farrell might have been forgiven for prioritising RWC 2023 as part of a new broom approach. On the surface, however, continuity appears to be the word of the day. Half-back pairing Connor Murray and Johnny Sexton were retained for Round 1, despite questions over their form and durability.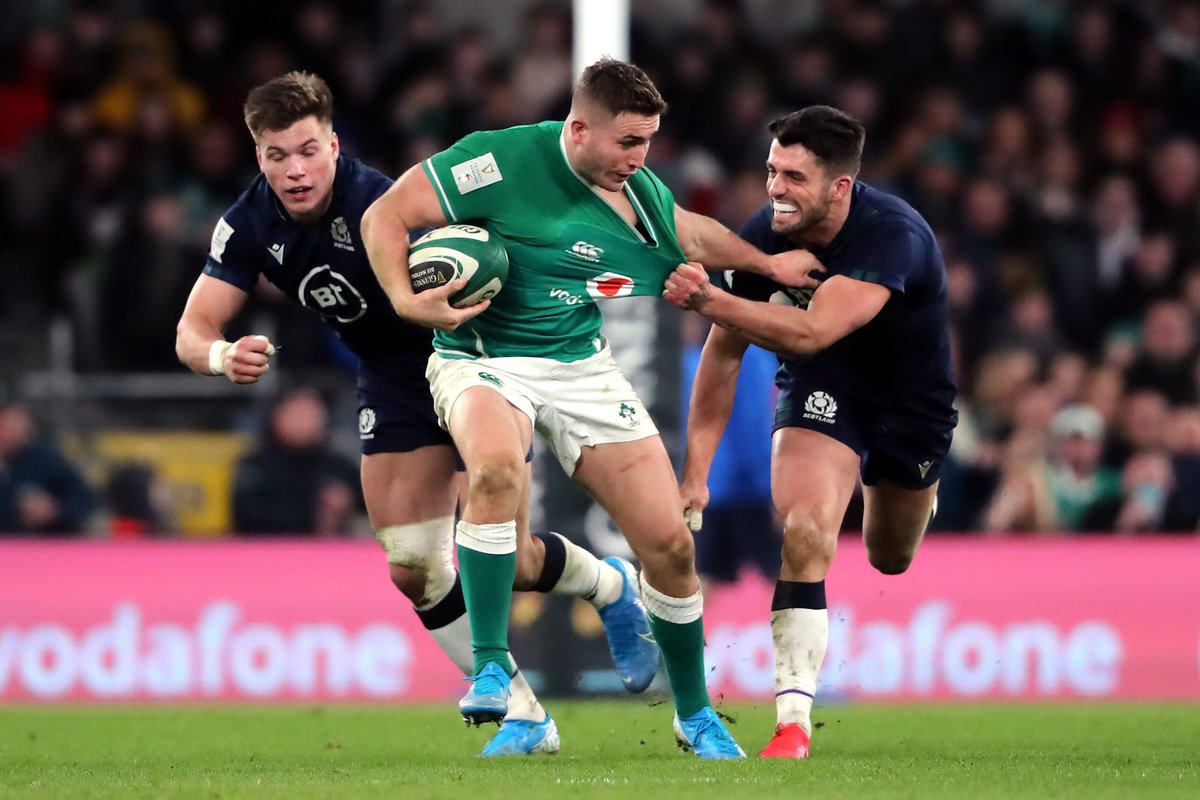 Elsewhere, however, he made noticeable breaks with his predecessor's regime. Joe Schmidt would name his team internally on a Monday and swear everyone to secrecy until it was announced on Thursday but Farrell named his on Tuesday and, in interviews after, mentioned his feelings about avoiding "paralysis through analysis". He didn't have to mention that many thought that was exactly what had troubled Ireland under Schmidt.
Lastly, and most excitingly, outside of 9 and 10, his first selections leant towards form. Caelan Doris, the young Leinster No8, has been outstanding, as have Andrew Conway and Jordan Larmour. Moreover, it was some of the more experienced players like CJ Stander and Peter O'Mahoney who got Ireland through an unconvincing first match. That said, Wales loom next and, if Ireland struggle at home, the pressure will increase.
Italy
On the surface, the easiest team to summarise. Nobody expected them to qualify for the quarter-finals of the world cup and nobody expects them to be anything other than sixth again, new coach or no. On paper, they remain the weakest squad – despite obvious improvement, they cannot seem to move forward quickly enough to catch the rest of the pack. If that weren't enough, in the opening round, they were nilled by Wales.
No let-up yet regarding England's hottest Six Nations topic https://t.co/eGOPToajN9

— RugbyPass (@RugbyPass) February 5, 2020
Is that it? No. Wales put out arguably their strongest line-up, which teams rarely do against Italy. And the Azzuri also have a post-RWC point to prove: they almost certainly would not have beaten New Zealand to make the quarter-finals but, from their reaction to the cancellation of their game, they were obviously intending to give it everything they had to show the world just how far they had come. The fans, players, and new staff will all be hoping they get to do that here.
Teams in the Pro14 have discovered the consequences of only paying lip service to taking Benetton seriously and, with a back row of Sebastian Negri, Jake Polledri, and Brahm Steyn, a rapidly improving Tommaso Allan (still only 26, with 55 caps) at fly half, and Matteo Minozzi roaming the field, Italy should be tougher foes than they showed in the opening round.
Added to that, new coach Franco Smith is addressing their long-standing problem of leaving points on the field with the addition of Albert Keuris, the goal-kicking coach whose teams average 82%. Will Italy beat any other nation at full-strength? Possibly Scotland at home but even that isn't likely. Could a team that sends their seconds out find themselves embarrassed? Quite possibly. In itself, that has consequences for a tournament as tough as the Guinness Six Nations.
Scotland
Another team who didn't make the knockout stages in Japan, coming off comfortably worse to both Ireland and the host nation. Scotland also have the additional discomfort of questions being asked about the leadership at the SRU. Coach Gregor Townsend is one of only two remaining in his post and he has upped the stakes significantly by exiling star man and one of the form players in Europe, Finn Russell, from camp for an unspecified period of time. Losing to Ireland in a game where they were the superior side will not help the mood in camp or out.
On the other hand, Townsend has picked a promising squad with an eye to giving his talented backline players the front foot ball they need to excel, rewarding the form of Edinburgh's Nick Haining and Rory Sutherland. Those two, allied with Glasgow's Scott Cummings, already added a bit of much-needed bite to the Scottish pack.
Seems like the longer this continues, the harder it will be to kiss and make up https://t.co/YsTlv97Cql

— RugbyPass (@RugbyPass) February 4, 2020
Adam Hastings is no Finn Russell but he played well against Ireland, along with a rejuvenated Ali Price, and will back himself to pull some strings if his forwards can make the dent in their opponents. Stuart Hogg, having requested the captaincy, is clearly intent on making his presence felt after seven years and 72 caps of carrying Scottish hopes. His try-line blunder will only make him more determined.
Can the situation with Russell be resolved? Scotland have England and France at home, with Italy away sandwiched between but, if they can't get up a head of steam before heading to Cardiff in the final round, Townsend might find himself increasingly unpopular with Russell as the leader of the opposition. The fly half is, after all, spending a lot of time in France these days.
Wales
Possibly the most interesting team in the Six Nations in terms of expectations. Last year's Grand Slam holders came three points away from a first world cup final, despite an injury list to alarm the most sanguine of coaches. A few injuries remain as a hangover but the squad is mostly experienced, strong, and the right side of 30.
And yet, their most successful coach of the professional era, Warren Gatland, has departed after 12 years and a record-number of games. In his place is the much admired Wayne Pivac, whose unenviable task is to maintain Wales' recent level of success while adding the flair that the golden team of the 70s were known for. That's some ask.
Will Wales fans accept a lower rate of success for a more attractive playing style? Many have long-claimed they would but might feel differently after a tough tournament.
This doesn't sound good for the Wales playerhttps://t.co/ez3WFBpuSo

— RugbyPass (@RugbyPass) February 4, 2020
Such is the form of Dan Biggar currently that the two injuries at fly half, to Gareth Anscome and Rhys Patchell, are less concerning than they might otherwise be (although an early injury will make that picture considerably less rosy). At centre, things looked problematic but George North, controversially selected at 13, grew into the position well against Italy and Pivac's canny swoop for Saracens' Nick Tompkins know looks like a stroke of genius.
The performance against Italy was flawed, especially in the scrum, but there was plenty to entertain. If Wales finish in the top three while playing the rugby his Scarlets side did so well, fans will probably be content – for now. Wales could definitely aim higher, however – and, after so much success under Gatland, the expectation level is much higher.
Tags: Six Nations
Mailing List
Sign up to our mailing list for a weekly digest from the wide world of rugby.
Sign Up Now