'I'm starting to forge my own path and I'm now slightly more known as James Grayson than son of Paul'
It's quite the pattern, the sons of former international players becoming current day stars in their own right – or stars in the making as in the case of Northampton's James Grayson, the son of 2003 England World Cup winner Paul. 
Unlike elite football, where the emergence of someone like Frank Lampard following in the footsteps of FA Cup-winning dad Frank senior is a rare occurrence, a quick glance around the oval ball game in the UK reveals numerous surnames familiar from a decade or two ago are becoming familiar once more as the torch passes from father to son. 
It's an already established trend. We're long used to hearing the amateur Test level era names of Beaumont, Lozowski, Youngs, Moriarty and Graham brought to life again on the rugby scene by their talented offspring. 
The likes of the Fords, the Farrells and the Vunipolas also have a variety of father-son Test rugby strings to their bow, but a newer stream of youngsters are now making their way in the game. All veritable chips off the old block. 
For instance, glance at Harlequins and you have Louis Lynagh and Niall Saunders, respective sons of Australia's Michael and Ireland's Rob who clashed in that memorable 1991 World Cup quarter-final in Dublin. There's also Cameron Redpath above at Sale, the son of Scotland's long-serving Bryan, Matt Gallagher at Saracens, son of World Cup-winning All Black John, and Jacob Umaga at Wasps, the son of Samoan Mike.
(Continue reading below…)
The Rugby Pod on Nigel Wray and the future of Saracens
Switch to Bath and you'll find Tom de Glanville, son of ex-England captain Phil, edging his way into the reckoning. Glasgow's burgeoning playmaker is Adam Hastings, son of former Scotland and Lions skipper Gavin. Then there is the Saints, the club of the Graysons that is also home to Harry Mallinder, son of England player Jim who is now Scotland's performance director after relinquishing the Franklin's Gardens reins. 
What gives? James Grayson simply puts this in-family pattern down to the type of infectious upbringing the kid of a rugby-playing father gets growing up. Nuances are absorbed like a sponge from a tender age, so when push comes to shove as teenagers they are frequently ahead of the posse in getting their feet on the rung of a professional ladder and they quickly gambol their way up towards prominence.  
"When you're a young boy and you see your dad doing something, being involved in a sport, you might think potentially running around playing rugby is probably slightly better job than sitting behind a desk," explained Grayson to RugbyPass.
Lets's gooooooo ?@HarryMal10 is back as we return to @ChampionsCup action at the Gardens ??

— Northampton Saints ? (@SaintsRugby) January 10, 2020
"I reckon that might have something to do with it. Then I just think spending time around the club when you're a youngster as well. It doesn't force your hand but that might be a reason why these boys fall into playing rugby."
Grayson is going places at the tender age of 21. He already has 40 first-team appearances in his locker and the tuition goes up a notch further this Sunday afternoon when he wears the Northampton No10 shirt as a starter in the Heineken Champions Cupfor the first time. Excited? You bet. 
"I'm starting to forge my own path and I'm now slightly more (known as) James Grayson than son of (Paul)… I reckon I'm probably a little more expansive in the way we play but in terms of our mannerisms, the way we are, we are pretty similar and of course we look pretty much identical. I hear that most times someone says something to me."
View this post on Instagram
So strong is the enduring rapport between the Graysons that they now even work together professionally, although young James took the big step last year of fleeing the family nest to get a taste of life on the outside.
"I moved out of home in February so I have been out for about eleven months, but mum and dad live just across the park so I can pop home for a Sunday lunch and see then. It's nice to have my own space but still be able to go back and see family. 
"He [Paul] is a kicking consultant at the club so we do a couple of sessions a week here kicking. We get quite a bit of time here to chat about rugby and I obviously can always pop around for a cup of tea and a debrief if necessary," he said, adding that memories of his dad as a player haven't faded either.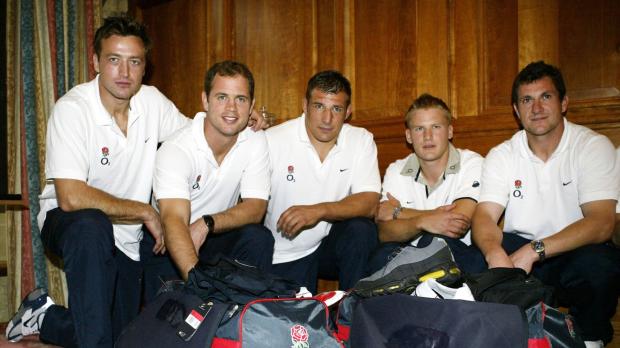 "I did get to watch him quite a bit. I remember being a mascot here at the club, running out with him at Saints. Various bits and bobs. I remember him going away to the World Cup in 2003 and watching the final with my mum, so little bits like that."
When Northampton opened this season's European campaign at home to Lyon in November, Grayson was a spare part, lining out for BT Sport punditry rather than togging off in the dressing room. "I was commenting with Martin Bayfield – he made me feel a little bit small!"
Seven weeks on, the youngster will now adorn the TV screens for very different reasons, the selection door opening due to Wales' Dan Biggar being handed a week off in the hope that Grayson can help get the job done versus Benetton – 'a slippy team' – and keep Northampton in the qualification hunt for next weekend's pool-ending trip to France.
Looking good James ? #chipofftheoldblock #younggunatwork pic.twitter.com/PR8p0xuVdb

— Claire Jones (@redhatphoto) November 17, 2019
"I always wanted to be pushing on at this stage and I just think it is all about coaches and who you have got around you, if they are going to give you an opportunity or not," he said, shedding further light on why he feels up to the task at European level at this early stage of his burgeoning career. 
"You see lots of clubs and their youngsters aren't getting opportunities, but it's nice to know here that Chris Boyd will give opportunity to young boys and if you take it you can carry on playing… he has given me opportunities and has not been scared to give me opportunities which has been nice. 
"The fact that he isn't afraid to chuck me into a game which we need to win is nice for me – it gives me confidence. With Dan being here as well and knowing that he will be away probably for eight, nine (international) games a season, I'm going to get chances as well. That's nice to know. 
What a year to be involved in! Looking forward to the next one with this great group ???? https://t.co/lSglrMsBag

— James Grayson (@JaamesGrayson10) December 31, 2019
"He [Boyd] rotates and he gives young lads opportunities. He shows with the likes of George Furbank and Lewis Ludlam that if you're young and you take your opportunity then you will probably be the first name on the team sheet.
"I have confidence in the fact that I prepare well and my understanding of the game – I have been around rugby and professional rugby for a long time and just learn things as I have gone along and been around players like Dan Biggar and coaches like Sam Vesty ands Chris Boyd, using their knowledge as well. That breeds confidence, being around those type of people.
"I feel like I'm going pretty well at the moment. I feel like my attacking game is coming along nicely. I feel like my error rate can come down a little bit. I have got to try and find the right balance between going all guns blazing in attack and being a little bit more conservative, and with that trying to keep my tactical kicking game going well. 
Over the moon to have signed my first senior contract with my boyhood club! Looking forward to seeing what we can achieve over the next few years. #2021 pic.twitter.com/YHvSAaMpMB

— James Grayson (@JaamesGrayson10) December 6, 2018
"I feel that in the way we play it can sometimes get lost. You can get caught trying to run from everywhere but occasionally you need to pin teams back and try and put them under pressure as pressure generally leads to points, so try and keep that in my game as well."
There have been lows such as the disappointments of Saints getting severely outplayed twice last month by Leinster, European games Grayson stepped into off the bench. But any upset he might have felt years ago as a fan whenever Northampton lost matches has been tempered by how he now earns his living.
"Obviously you are frustrated when you lose but you know you are going to have another chance the next week and I feel in the professional environment as a player you lose that sense of 'we have lost, it's the end of the world'.
"I feel a little bit more open-eyed to it and you have a wider view that you know it is not going to be the end of the world and you get another chance to go the week after," he said, going on to reveal his budding career's highlight so far. 
"The win against Leicester a couple of weeks ago here at Franklin's Gardens – full house, playing against the likes of George Ford, Manu Tuilagi, Jonny May, Ben Youngs, those types of players. To go out there and beat them as convincingly as we did with a relatively young and slightly inexperienced squad was really positive."
Beating Tigers the best feeling? His father has reared him well. 
WATCH: RugbyPass have made something truly special with the Barbarians rugby team – the release date is this Sunday, January 12
Comments
Join free and tell us what you really think!
Join Free