'I was sick of watching finals. It felt quite hollow because I was never involved in them' - Nathan Earle
Not too many people make the decision to leave Saracens, a club where trophies come on an annual basis and the environment and culture is second to none, although that was a choice laid in front of Nathan Earle back in early 2018.
In the last year of his contract with the club, he had to choose between success by proxy with the team that had brought him through as an academy player, or to go and try his luck elsewhere.
Not a man to stand on the shoulders of others, Earle took the chance to blaze his own path and assume a bigger role by agreeing to move across the city to Harlequins, trading in plentiful success in Barnet for the chance to help rouse a sleeping giant in the leafy suburbs of south-west London.
"People always say the grass is greener and it was a difficult decision to leave a club that decorated and with the players they have, but I was sick of watching finals.
"I'd watched the finals and been involved in one of them, even though it was only for five minutes, and I was just sick of being a passenger and watching the other guys do what they were doing. It felt quite hollow because I was never involved in them.
"Yeah, it's brilliant winning when you're playing and I know they'll say it's a squad effort but, for me, it was all about the 23 guys on the day. They're the guys that get all the love and the plaudits, so that made it an easier decision. I didn't see a path [to the team] and I never felt like I got an opportunity.
"And I didn't see it coming. I'd just turned 23 and I know wingers have a shorter shelf-life these days. There's only so long I've got left to push on and with England interested, the only way I was going to start playing for England was if they had more footage of me playing [at club level]."
Saracens lifted six senior trophies during Earle's time there and despite being a successful period for the club, it was also a time which highlighted Earle's lack of luck within the game, as his stellar performances for England at the 2014 Junior World Championship, something which could well have springboarded him into senior action, were undone by an unfortunate Achilles injury on dual-registration at Bedford Blues.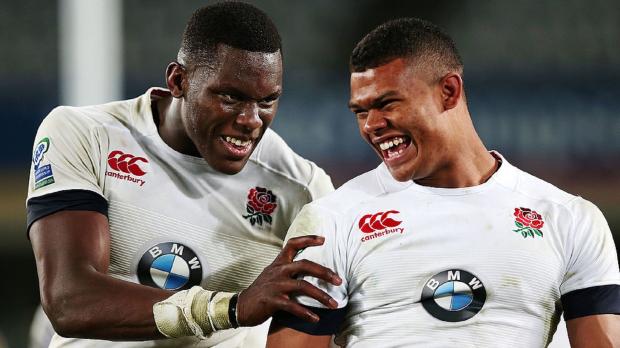 It's hard enough trying to break into the Saracens senior team at the best of times, but coming off the back of a serious injury? It would not prove to be the last time that injury dealt the wing a cruel blow, either.
Even an impressive, title-winning stint with Canterbury in the Mitre 10 Cup was not enough to force the hands of the Saracens coaches, who instead bolstered the squad with back three additions such as Liam Williams and Sean Maitland.
"It was that [the injury at Bedford] to start with, as it came in a season when I might have played, but then other people got opportunities and it was about me trying to get back from that and twist the coaches' arms or turn their heads.
"It just felt like I never really had the trust from the coaches and they didn't have the patience with me that they had with some other players. They're brilliant coaches and I'm not saying it as a bad thing about them, but I just felt I never had the opportunity that some others have been given. I couldn't see a benefit to me staying."
Then came the phone call from John Kingston, the then-director of rugby at Harlequins, offering Earle a fresh start, an opportunity to impress just a stone's throw away from Twickenham stadium and the chance to get away from under the shadow of Saracens.
The 24-year-old happily accepted, only for Kingston to be let go by Quins a few months later, paving the way for Earle's former Saracens coach, Paul Gustard, to take over at the Stoop. With that fresh start no longer looking quite as fresh, you could forgive Earle for having second thoughts on the move, but did that enter his mind?
"None at all. Gussy had always been really honest with me and said it how it was, even if sometimes that was the tougher thing to say. He's still like that now. When I under-perform, he makes sure I know it.
"I've always had the utmost respect for Gussy because of the way he's interacted with me with England and now at Quins. I knew he had confidence in me and we had a rapport, and anytime we've spoken he's always been very positive about my rugby. He was one of the guys at Sarries who was very honest with me, said it as it was, and I'll always respect him for that."
With the move secured and a director of rugby onboard that he knew well and trusted, the 2018/19 season was set up perfectly for Earle to make the kind of impression he had always promised to do since his heroics for the England U20s, but which lack of opportunity and misfortune had denied him.
As the spearhead out wide of Harlequins' mobile attack, adding his finishing ability and top-end speed to a back line already boasting the likes of Marcus Smith and Joe Marchant, Earle racked up nine tries in his 19 Gallagher Premiership starts and looked to the manor born in Quins' famous quartered jersey.
"I wanted more!"
"Personally, I'm really happy with the way it went. I think at one point, I was one of the few players to have played every minute of the Premiership season, which is a rarity. It was probably the first time I'd played that much rugby since I was 18, so it was nice to feel sore on a Sunday again!
"I think we'd call it a successful season with the hindsight of what happened the year before, but we also weren't satisfied, especially with the way it finished, because in February you would have said we were the favourites for the playoffs. Third by eight points, I think, clear of fifth by 12, and we just went through a lull in form that really cost us in the end.
"Hopefully that galvanises the lads and, with the new players coming in, everyone will be really keen to push the club forward. Hopefully next season we can go one better and have a go at the title, because I think if we'd had a chance in the playoffs this season, who knows what would have happened?"
It is easier said than done, though, with plenty of pretenders to Saracens' and Exeter Chiefs' spots at the summit of the Premiership having come and gone in recent seasons. Forcing your way into the playoff mix – or in Harlequins' case, a single penalty kick away from the playoff mix – has been done by a number of teams, although all have fallen by the wayside before they have been able to disrupt English rugby's enviable duopoly.
Whilst fans may fear likewise happening to Quins next season, Earle is confident that the club can not only maintain that momentum from this season, but also build on it.
"First and foremost, it's the quality of the coaching. Our coaches are very good and with Sean Long coming in, I think that is only going to improve what we've got already.
"It's also that I don't think the squad is satisfied. We're pretty unhappy that we didn't make the playoffs and that hopefully acts as a motivator and pushes us forwards next season.
"Between the facts that we aren't satisfied and that we've got a strong squad, I think it makes it a pretty exciting season that's coming up."
When Harlequins announced the appointment of Long earlier this month, it was accompanied by a quote from Gustard that said he had been looking specifically for someone to come in and assist with the "finer detail around running lines and creating numerical advantages," something which is music to the ears of a finisher like Earle.
"If you look at rugby league, it's the wingers who are scoring all the tries. It's kind of the same at Sarries and with the best teams, and that's that their wingers are scoring lots, whether it's from creating a numerical advantage or them getting on the end of something.
"I think it's exciting and will do wonders for our attack. Obviously, the way league attacks is a bit different, but I think union is becoming more and more like league, in terms of the way we have to play to create space, because it's basically 13 vs 13 nowadays. With that many people on their feet, you've got to create a numerical advantage or find a way to create space for your faster players."
Nathan Earle's match-winning try is so much better with the Titanic music #COYQ pic.twitter.com/TyWUFTyqF8

— Harlequins ? (@Harlequins) March 4, 2019
Something else which will help Quins maintain their momentum is the emergence of young wings Cadan Murley and Gabriel Ibitoye, something which the former Saracen has embraced and has led to him taking on a new role since departing Allianz Park.
"Coming from Sarries, I'd always been perceived as a young player. Then arriving at Quins as a senior player, I immediately had a more senior role in the squad. I was given a lot more responsibility, especially by Tofty [Mark Mapletoft] and Nick Evans.
"They were keen to get me involved talking early on, so for me it was almost like going from being in the audience to out front, which I've loved. The fact I've been given that responsibility and that the coaches have that confidence in me is huge, because it's something I've never really had before, apart from when I was in the academy.
"It's nice to have that responsibility and be seen as a more senior figure."
It wasn't all plain sailing for Earle this past season, though, with injury once again striking him at the cruellest time. Having hindered his breakthrough following age-grade success in 2014, the wing ruptured his ACL against Northampton Saints in April, denying the in-form man any chance of featuring for England at the upcoming Rugby World Cup, as well as the opportunity to see out the season with his teammates.
"Watching the match against Wasps was massively frustrating for me because I felt I could have added something to the team. I could have added a spark. I might have been able to help out the guys or galvanised them in some way. It's just the "what ifs" that frustrate you. If I had been fit, could I have helped?
Earle now faces 9-12 months on the sidelines, with the wing eschewing the holidays of many of his teammates and is instead fighting through the rehabilitation process in south-west London, but it has failed to dampen his spirits.
"If I lose a year now, hopefully I gain one at the end of my career!"
Losing a Rugby World Cup year is a particularly bitter pill to swallow, yet the international fire still burns brightly in Earle, despite the wealth of rivals he has for a spot in the England team.
"He [Eddie Jones] keeps saying I just need to keep doing what I'm doing. I think the most saturated positions for England right now are in the second row and on the wing and it's tough when you've got talented young guys coming through.
"Ollie Thorley has been playing incredibly well, Joe [Cokanasiga] has been given his opportunity and has gone well. It's just a matter of backing myself and making sure that I keep playing to a high standard. Hopefully when I'm back, after the Rugby World Cup, I can push for that Japan tour [in 2020]. If not, then the year after.
"There's still a lot of time, I'm only 24. I'm not worried about switching to play for Hong Kong just yet!"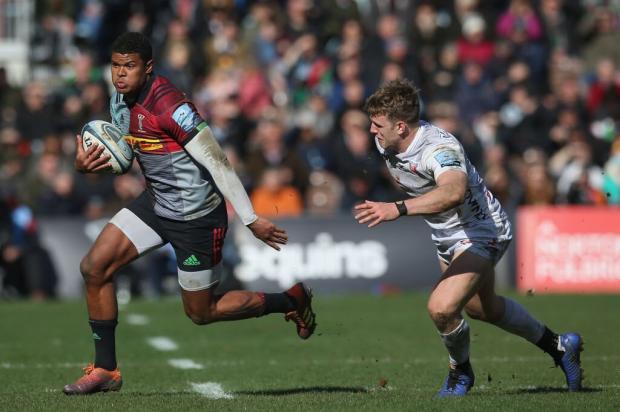 Born in Hong Kong, Earle qualifies for the Asian nation who, despite being ranked 24th in the world, were in strong contention to qualify for this year's Rugby World Cup.
"If I'm not capped and I'm in my 30's…I'd never write it off. International rugby is still international rugby and I want to play it at some point. If it never happens with England I might give it a go, but right now I'm trying to make that England team."
Given the determination Earle exhibited to come back from his Achilles injury earlier in his career, the fine vein of form he's found himself in at Quins and the undeniable physical and technical ability he offers, Hong Kong fans probably shouldn't get too excited at this point in time.
One silver lining to the injury is that it has allowed Earle, a noted basketball fanatic, some extra time to watch the recent NBA Finals, where he has seen plenty of crossover potential from the razzle dazzle of the court to the rather humbler environs of the rugby pitch.
"You look at the way players get rebounds and that's pretty similar to the way you have to deal with high balls. They fight for the position and use their body as a screen. In rugby you can't obstruct, but it's about using your mass as a screen. I think there's things you can learn from that.
"In basketball, they have some of the best vision in sport. In rugby, you see a lot of players staring at the breakdown. There aren't many who are looking up. The best players are always looking up and scanning and I think Owen Farrell is the best I've seen. He knows where all his players are, he knows where all their players are. I think basketball helps develop that."
Over 5,000 miles may separate Earle from Golden State Warriors pair Klay Thompson and Kevin Durant, both of whom are dealing with major injuries of their own, but their stories mirror one another.
Just as Earle was struck down with Harlequins searching for playoff glory, Durant was sidelined for some of the most important games of his career recently, whilst Thompson joined the other two recently in facing an unenviable summer of rehabilitation. Unless you're a professional athlete, it's hard to empathise with that situation and understand the challenges and barriers that they will have to overcome in the coming months.
One thing you would be wise not to doubt, however, is that all three will come back even stronger than before.
Watch: Bill Sweeney discusses the World Nations Championship concept

Comments
Join free and tell us what you really think!
Join Free