'I spent so much time in the gym I'd forgotten what it took to run'
It was so nearly the fully perfect week for Jack Nowell, the 28-year-old who was last Tuesday recalled to an England squad he hasn't played for since a 2019 World Cup appearance 27 months ago. He found out about his inclusion the same way as everyone else, the RFU sharing its list of 36 player names via social media.
Rob Baxter was soon doing the rounds at Exeter training, shaking hands and congratulating his five-strong contingent for getting the invitation to hook up with Eddie Jones this Monday with the countdown now on towards England's tournament start away to Scotland on February 5.
However, amid the hoopla that accompanied the very deserved and popularly acclaimed return of Nowell to the Test squad fold, there was an amusing anecdote which he regaled a couple of days later to RugbyPass.
Lego had been an initial go-to during the early stages of the pandemic which coincided with his miserable run of injury but the magic of the plastic bricks has given way in recent times to a fascination for jigsaws.
His face lit up when the subject of hobbies was first broached in a Thursday night Zoom call, only for him to soon admit that his current puzzle had fallen victim to the worst possible situation – a 1,000 piece challenge getting completed but with one single piece missing. Ouch!
View this post on Instagram
"The girls came in the other day and flipped my jigsaw over when it was almost finished. It was 1,000 pieces and I'd to redo it. It's a Marvel and I have finished it, but there is one piece missing which I am fuming about because I know when the girls came in and destroyed it, that is probably when it was lost and my youngest probably ate it. I wanted to get it framed when I finished it but I can't do that at the moment because I have got to get the missing piece."
For sure, Nowell certainly won't fume for long. After all, his two young daughters are such an inspiration that his favourite tattoos are their names written on the hand he holds up to the screen when chatting via computer from a corner in his kitchen, showing the ink with great pride. "Pretty much every single time I get to do anything I get to look down and see both their names.
"I used to write their names on my wrist when I played rugby just because it can get tough sometimes in the game and then, without getting too soppy or anything, they are the reason why I like to do this now, to perform and be at my best because I want to be making their lives as good as possible. There are a couple of times in rugby when it does get tough but if I look down I see why I am doing it [the name tattoos], it makes me get off the floor, makes me do something."
Nowell has done plenty of something to revive the form that for years made him an England regular who won 34 England caps between 2014 and 2019, adding a couple more as a Lions pick on the 2017 trip to New Zealand. Relinquishing the Test scene wounded him. He'd never begrudge his family and friends having the England match on the telly while he was there with them. He wanted to watch as well but the 80 minutes often came with a painful reminder.
"I struggled to watch it sometimes when you know you can be involved but then once they have got the win, it is awesome for everyone watching and for myself as well. I have got some good mates that play but yeah, it was never nice to watch because you wished you were there, you were desperate to be there.
"That was the tough bit of it but at the same time, it's hard not to watch sometimes because it is exciting. Especially the autumn, those games were pretty immense to be fair and the group of players that are coming through under Eddie at the moment are exciting ones to watch. I went to the Twickenham game against South Africa, the last in the autumn, and that was awesome. So yeah, it is tough sometimes, I'm not going to lie, but it is good to see them do well."
When he legs it back from Montpellier on Sunday night with Exeter, Nowell will arrive into a much-changed Test environment when he checks in for duty on Monday on the English south coast where the plan is for an initial week at Brighton College before the Murrayfield preparations switch the 60-odd miles up the road the following week to the national team training centre at Pennyhill Park.
He won't be the slightest bit phased, the grapevine keeping his abreast of the goings-on in England camp when he wasn't for the two years post the 2019 adventure in Japan. "I'm absolutely buzzing to get back, very excited. I'd speak to the Exeter boys about how the camp was and how everyone was there. They said the atmosphere was brilliant, especially over the summer and autumn games. They really enjoyed it and you could tell when they came back, you could see their smiles.
Nowell hasn't won an England cap since the 2019 World Cup but he is now back in favour…#England #SixNationshttps://t.co/yMtQIr7KzE

— RugbyPass (@RugbyPass) January 19, 2022
"It's always good when you are winning and performing but there has been a big change-up, not just in the staff but the players as well. There are a lot of players who I played with at the World Cup who are not there anymore and likewise with the backroom staff, Eddie has mixed up his coaching team quite a bit.
"I have had a few Zoom calls and chats with them, so I have kind of met them but not in person. I feel like I am familiar with that system but I am going to try and treat it as 'I'm the new guy in camp and just there for the first time'. I have got that excitement and that buzz which is what I want.
"A lot of the players who are there are on form in the Premiership. When you have got the likes of Marcus Smith and lads like that who are doing what they are doing for their club sides, they can hopefully carry that on into the England team because it is good to watch and I'm buzzing to be involved in it.
"I want to get back in there and I want to get back in the starting team. I would say the average age is probably down a little bit but I don't think age is affecting me too much. I'm 28 now and honestly, I have not felt as good at this in a long time now."
Having the ear of Jones during quiet moments was of great help in overcoming the hump of being out of the selection loop. The England boss sounded chuffed to welcome Nowell back, trumpeting the other day: "Jack definitely looks more like a rugby player and less like a bodybuilder. As you get older, you have to train differently."
View this post on Instagram
This was a rethink Nowell enthusiastically embraced. "I agree with that bodybuilding bit," he accepted. "When you are in rehab for a long time you do get a bit carried away in your weights, how much you can lift and how strong you can get. Everyone is like that, especially if you are in rehab for that long, but I did lose my way in terms of the training side of it for a little bit.
"I have spoken to Eddie a few times and (last summer when he potentially could have been recalled) I said I feel that I probably need a bit of time away, I need a rest to get my body right and he completely agreed with me. He said, 'You have lost your bounce a little bit and that is what we want for you to be back in the England team, we need you to have that bounce you had before.
"The fact we were on the same wavelength was pretty cool. And again before the autumn, all I wanted to do was get a handful of games in a row for my club and he was, 'Yeah, that is what I feel you need as well, you need to have a good five, six games in a row and then hopefully you will start getting your bounce and start reading the game a bit better again'. Now I have done that it is easy to say it in hindsight but it was definitely the best thing I could have done for myself and for the team as well. That is what has massively helped me."
The Nowell we see now coming back into the England reckoning is very different from the player ravaged by injury and unable to get a flow in his game. He has slimmed down, even quitting the booze when a September hamstring issue was a sharp reminder that having his body pitch-perfect is the priority.
"I was between 103 and 105kgs and I'm about 93, 95 now," he said, explaining the current lighter weight he hadn't recorded in years. "Probably in my early 20s to be honest. I remember getting up over 90kgs when I was about 18, 19 and then probably 20, 21 I was around 93, 94kgs. That was the last time I was like this."
View this post on Instagram
So what was the healing process like? "The off-season was a big one. We had five weeks off and that was the first time in my career where I had five weeks completely off so I didn't do any running. I did a lot of swimming, so I was completely off my body but I was still getting that fitness side in as I was in the water a lot.
"I thought I'm going to make the most of this time off and let my body do what it needs to do and then I had a full pre-season with the club. From my rehab and my history, I spent so much time in the gym I had forgotten what it took to run and how much load your body is under when I was sprinting and running into contact.
"A lot of the time I was lifting, lifting, lifting and being as big and as strong as I could, and I'd come to play and then get a hamstring or a quad tear. In my mind, my muscles were at the max of where they should be and for my natural body type, I probably shouldn't have been doing what I was doing. That was what I kind of stopped.
"The drink side of it is more the recovery, not so much drinking on a Saturday but I always found I was a little bit hungover on a Sunday, not getting the fluids in, not eating which then affected me on the Monday and Tuesday and I wasn't able to do what I want to do. That Leicester week (in September), I drank on the Saturday, went out with the boys and then tore my hamstring on the Wednesday just because my body wasn't where it needed to be.
"I thought if I have changed my way of training, I have changed my lifting, I have changed the way I am recovering, this is probably still stopping me so this is what I need to cut out now to try and make sure I am doing every little thing possible."
A MUST READ, somethings got to change!! https://t.co/JLMmTKUJEz

— Jack Nowell (@nowellsy15) June 16, 2021
Not having a tipple can have awkward moments for someone as sociable as Nowell. For instance, no sooner had the full-time whistle blown in Exeter's Premiership win over Saracens did Baxter old-school-like march his squad into a Sandy Park marquee for a celebratory toast while still in their muddied kit.
"I'm very sociable so I'm not one of those people who said, 'Right, I'm not drinking so I am not going to go out now'. You can still have a good time without the alcohol involved. I still mix with the boys, still like having the chats and the jokes and stuff. I don't want to miss any of those socials, the bus trips. I make sure I'm always there but I'm well behaved.
"I have got a stronger will now not to drink. My go-to is blackcurrant and soda, a big pint of it so it takes me a while to drink it but they are tough moments. After the win against Sarries and Rob told us all to go down to the bar, you were there beside your mates and they were all on a beer.
"They are the times when you are, 'God, I'd love one now' but what is the point of having one pint when you can have 20. It's either nothing or I'm going to go full bore, so that is why I have stopped it completely and I'm happy with the sodas at the moment."
Sunday's European match in France will be Nowell's 13th start in Exeter's 16-match Premiership/Champions Cup schedule, a fabulous rate of availability, but does he have a practical example that illustrates how different a player he currently is compared to the frustrated figure he cut when struggling for durability and form?
View this post on Instagram
"I don't look too much into the stats and things like that, I just get more of a feel for the game and know if I have had a good game and if I have worked hard," he suggested. "But for an example, high-speed running is how many times you get over 80 per cent of your max speed.
"When I was a bit heavier and nursing injuries and trying to get through it, during the week I would struggle to get one, so that is basically when you are pretty much sprinting during the week in a session. I remember each session the conditioners or the S&C staff would come to me and go, 'Look, I need you to get an exposure, I need to get you a sprint, I need you to get over 80 per cent of your max speed'.
"It would always be a struggle for me to do it in a session. I'd never hit it in a session and I'd have to stay behind after and do a sprint and they would be like, 'Right, that is cool, that is one' and then you would go home. I would probably get in on average one or two (high-speed sprints) a week and you get a couple in a game but not many.
"Now since I have been back fit again, I'm getting between eight and ten a week now and that is not including the game. If anything the conditioners are telling me, 'You have done enough high speed running, you need to stop a little bit, you need to slow down because with all the fatigue of the running, you will be too tired for the games'.
"Struggling to sprint during the week wasn't very good for me. I knew that and I wasn't in a good place. Now on the other side of it, I'm finding it easier to move, finding it easier to get off the floor. Getting off some weight helps a little bit. I'm lighter but not being in pain and running around is a massive effect of that. That is what I'm benefitting from now. I still love that contact area, still like to bust through tackles. I don't think my weight has affected that too much.
every time ?? https://t.co/ASXB8BfbGE

— Jack Nowell (@nowellsy15) January 21, 2022
"I definitely missed that feeling of finishing the 80 minutes and feeling absolutely knackered but knowing you have given it you all for your mates beside you. They have done the same and you come off, enjoy your beers, sit in the changing room after and have a good chat about it. That is what I missed the most and that is what I wanted to get back to because that is what I always thought about throughout my whole career."
That camaraderie matters. Ask Nowell who his best friend in rugby is and he will struggle to answer. They are so many. "I couldn't possibly pick one," he claimed. He has known Luke Cowan-Dickie since the U5s at Penzance and Newlyn Pirates, grew up with the likes of Sam Hill, Henry Slade and Dave Ewers, while Anthony Watson, Mike Brown and Stuart Hogg are other firm pals he mentions.
That last name is poignant given the situation they found themselves in last June. Nowell was chosen as the starting full-back for the Premiership semi-final and final, taking the place of the benched Hogg who sent a classy congratulatory text to his friend. "That was a tough moment for both of us but at the same time, he openly admitted he wasn't playing very well, that he was struggling that time.
"With me coming back from injury and coming straight in, not on the wing but at full-back and him going onto the bench, it could have been very difficult. I'd like to think I would have done the same if I was in his position as well. I didn't actually see the team for that semi-final and he was the first person to text me, 'Look mate, congratulations. I'm buzzing to see you back'.
"He genuinely was happy for me that I had got over these injuries and was back on the team and playing again. It wasn't until I looked at the team after I realised he was on the bench and I was at full-back.
View this post on Instagram
"It was a bit like, 'Oh s***, sorry mate, I didn't realise that. But like I said, he was the first person to text me and said he wasn't playing his best rugby at the moment, so he understood what happened. To have players and teammates like that is only going to help the team and help me individually as well."
Away from rugby, Nowell maintains an entrepreneur streak. Being a pub owner in Cornwall during the pandemic was rough. So too was being the co-director of Mustard Clothing at a time when the high streets were shut. However, just like his rugby career is now enjoying an uplifting renaissance, those businesses are also now revelling in newfound optimism.
"The pandemic was horrible for lots of people and the fact we were shut up for a good year or so and everything was closed was horrible. Obviously (it was) for the right reasons but now we're told we can get out and can start getting back to normal, which is what is needed for those businesses.
"Mustard is going very well," he said about a business founded in 2015 and operating out of St Ives, Looe and Wadebridge. "The reason why I wanted to get involved was that it is really hard to find clothes that fit me. I'm a bit of a weird body shape and the quality of clothes, sometimes a couple of washes and after that they are finished. But I was lucky enough to have a couple of t-shirts from Mustard and I was like, 'This is a brand I want to be involved in, I want to see can I help them.
"I spoke with Tom (Cheesman) and I know his wife as well. I said, '"Would you be interested in letting me jump in? I can hopefully chuck a few designs at you and a few of my ideas and see where we could go'. They were buzzing to have me on board and let me help out. It's nice to have clothes that actually fit me, and good quality clothes as well, and I have actually dropped down a size. I went from an XL top to a large, so I feel pretty good about myself.
"Tom has been doing it for six, seven years now, a few years before I jumped in. Hopefully, we are just at the start of what we want to do and we have got so many plans. Now the pandemic is coming to an end we can actually out and get a few of these ideas out there and try and make the most of it."
Jack Nowell is a co-director of mustard clothing. Keep up to date with the #ForTheDriven movement via www.mustardclothing.co.uk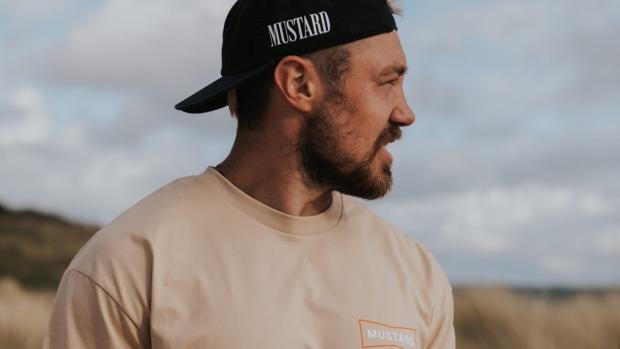 Jack Nowell models some items from the latest Mustard range of clothing (Photo via Mustard)
Comments
Join free and tell us what you really think!
Join Free