Back

By Daniel Gallan
Why do Scotland struggle to breed homegrown props?
It was a performance that will echo through history. As long as there are Scots passing and kicking and chasing an egg shaped ball, that 29-23 win in Twickenham will be revered. Fifty thousand fans who weren't anywhere near London will claim to have witnessed the triumph with their own eyes. Those players who ran rings around their better resourced opponents, who stood against them, who doused cold water on the start of Steve Borthwick's reign and forced him 'tae think again', will be immortalised in Scottish folklore.
Except, it wasn't a perfect display. There was one facet of the game that spluttered along as every other moving part around it thrummed with clinical efficiency. Ultimately it wasn't costly. But if Scotland are to ever challenge for silverware they'll need to fix their scrum.
Scotland had the feed to seven scrums but emerged with the ball on five occasions. England were two from two, an admittedly small sample size, but this is just another notch in a broader trend.
In fact, the last time Scotland had a 100% success rate from their scrum feed when they packed down more than twice in a game was in early February 2021 when Gregor Townsend's team beat England in an empty Twickenham 11-6, procuring safe ball from all six of their scrums. Between then and now, the Scottish scrum has a success rate of 72.8% compared to the opposition's 81.5%. They've been out-scrummed in 14 of their previous 17 Tests. Clearly something isn't working.
"We're well aware that there is a problem and we're looking to address it from top to bottom," says Sinclair Patience, a former tighthead with Edinburgh Accies before seeing out his playing days at Highland Rugby Club in Inverness.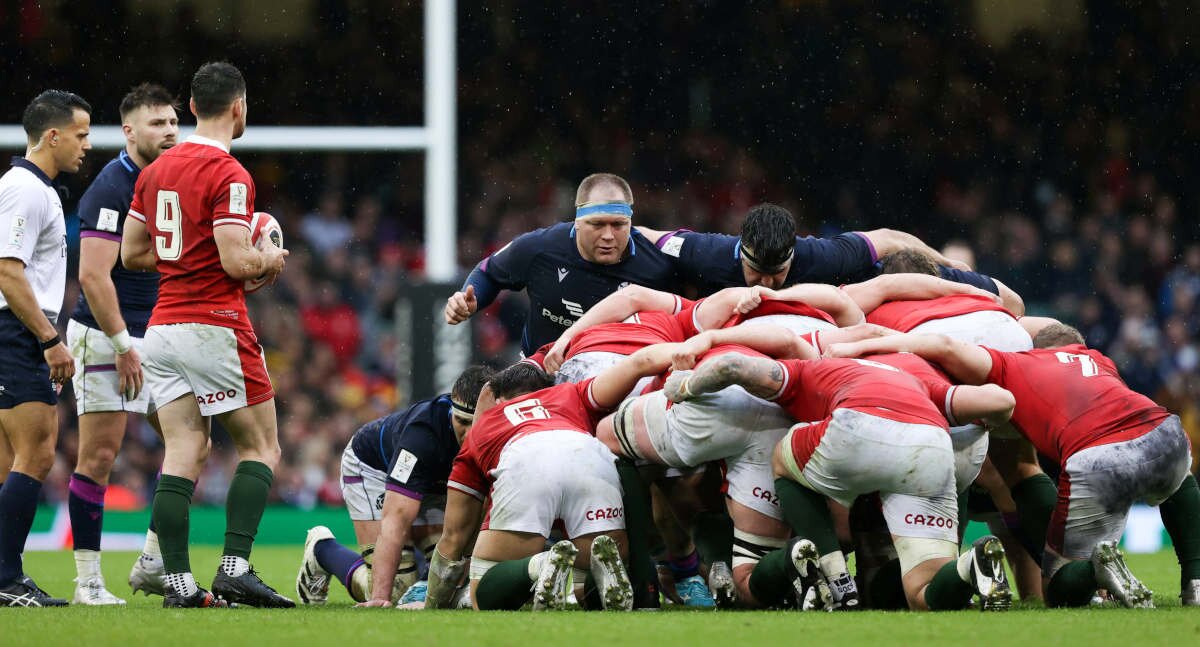 Now he serves Scottish Rugby as a game development manager for the Caledonia region and is a key figure in the recently launched Scrum School that will seek to address this glaring weakness. Regular workshops – as many as 50 across 50 regions in the summer months – will help equip coaches and players with the necessary skills required for this unique discipline. But first, a shift in attitude is required.
"There has long been a perception that props are slow and heavy, that they don't contribute across the field and that it's an undesirable position," says Caitlan Gould, a communications manager in Scottish Rugby whose fingerprints on the project is proof of a need for a psychological recalibration.
"There is anecdotal evidence of club games at all age groups regularly being cancelled or postponed due to a lack of front rowers. Many games have uncontested scrums at the community level. We're not hiding away from the fact that something needs to be done."
This fracturing at the base of the pyramid has yielded an unexpected and, according to some sources, an unwanted consequence at the top tier. Both of Scotland's starting props against England last week – WP Nel and Pierre Schoeman – were born in South Africa and were developed there. They're not the only outsiders in town.
All the imports have added great value but the truth is if we were producing our own props we wouldn't have needed them.

Sinclair Patience, Scottish tighthead
Within the broader Six Nations squad, Javan Sebastian and Simon Berghan are products of Wales and New Zealand respectively. Nine of the 10 first choice props at Edinburgh cut their teeth on foreign shores with only Murray McCallum considered an authentically reared Scot. It's a little better at Glasgow Warriors though five of the nine props fighting for a starting berth have learned their trade offshore.
"This is indicative of our struggles with producing props, and not a sign that young Scottish props are being pushed out," Patience says. "All the imports have added great value. They're well respected at their clubs and with the national team and we can learn a lot from them. But the truth is if we were producing our own props we wouldn't have needed them."
Murphy Walker has a different view. The 23-year-old with two Scottish caps argues that the reliance on foreign talent means there is a gap in the market for his services. Should he string together a run of impressive performances at club level, as he did in the Autumn before his Test debut, then he'll have a clear path to a prolonged stint in the team. Why then is he lending his hand to Scrum School? Wouldn't this create more competition for himself?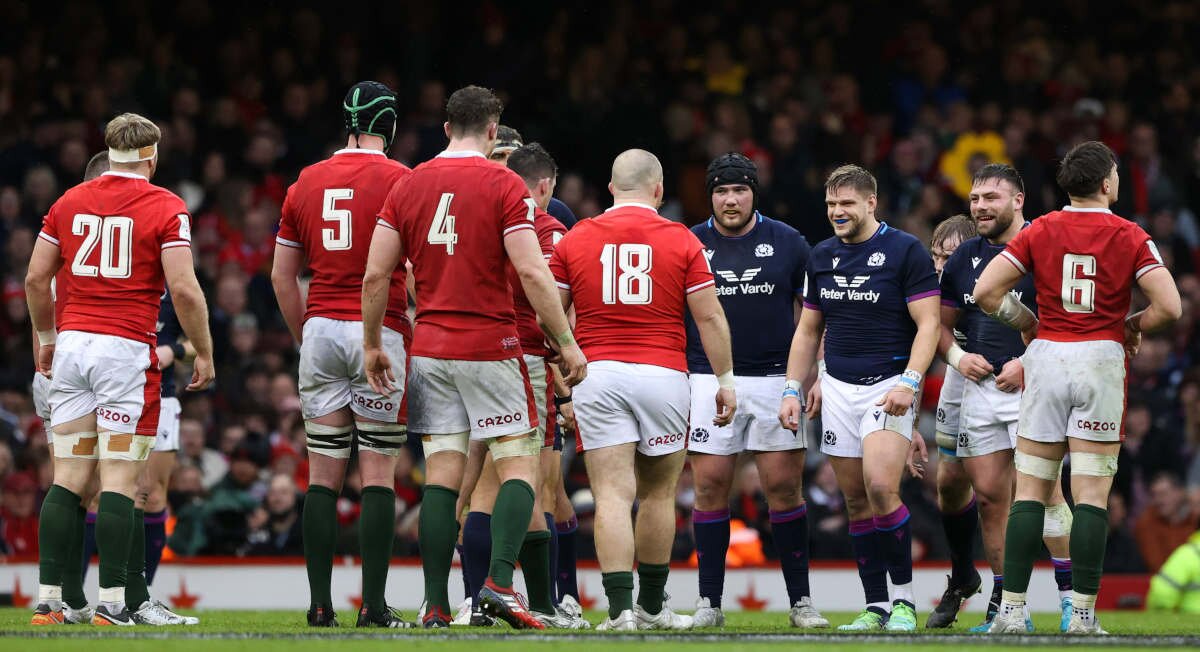 "I don't see any short term fixes," he says with a wry laugh, admitting that the thought of actively crowding his own field had crossed his mind. "There is a problem throughout the structures of the game. If I can help in any way I will and I'll get stuck in with the Scrum School however they need me."
Walker argues that coaching is the primary cause for this dearth. He was fortunate that he attended Strathallan School in Dundee which can also boast Zander Fagerson and Murray McCallum among their alumni.
Like Fagerson, Walker was educated on the fine details of scrummaging by head coach Ed Kalman, who won two caps for Scotland and represented Glasgow over a hundred times between 2007 and 2014. It was this early inculcation that helped Walker gain an appreciation for the hard graft required to thrive at the elite level.
"Scrumming is so technical," he says. "You learn something new with every scrum. You learn the most when you're getting shunted back at a rate of knots and the guy in front of you is hammering you and hurting you. That's when you learn about yourself.
I didn't want to do it. That first scrum was odd. I didn't think I'd get it. But now I love doing it. I take pride in my scrum work. I take ownership of the Scotland U20s scrum.

Callum Norrie, Scotland U20 tighthead
"But it's hard. It only gets better once you learn more about it and you only learn more if you do it more. That's why props peak in their 30s. But if you can't get youngsters interested in it then it becomes this scary thing that they try to avoid."
This hesitancy is part of the issue. Patience rankles at the notion that scrum literacy is still referred to as "the dark arts", implying that some occult knowledge is required to safely navigate this treacherous act. This is not just a problem for grassroots rugby. Take a listen during the next round of the Six Nations matches. There's a good chance a pundit might speak in these terms.
"This is partly why I was reluctant to make the move to the front row," explains the 6ft 3in 19-year-old Callum Norrie, a tighthead with the Scotland U-20s who began his rugby journey in the back row before shifting to lock. "I was playing Scotland U16s and my coach, Chris Bernie, suggested I try it out at tighthead.
"I didn't want to do it. That first scrum was odd. I didn't think I'd get it. But now I love doing it. I take pride in my scrum work. I take ownership of the Scotland U20s scrum. Being in the thick of it, that's your bread and butter.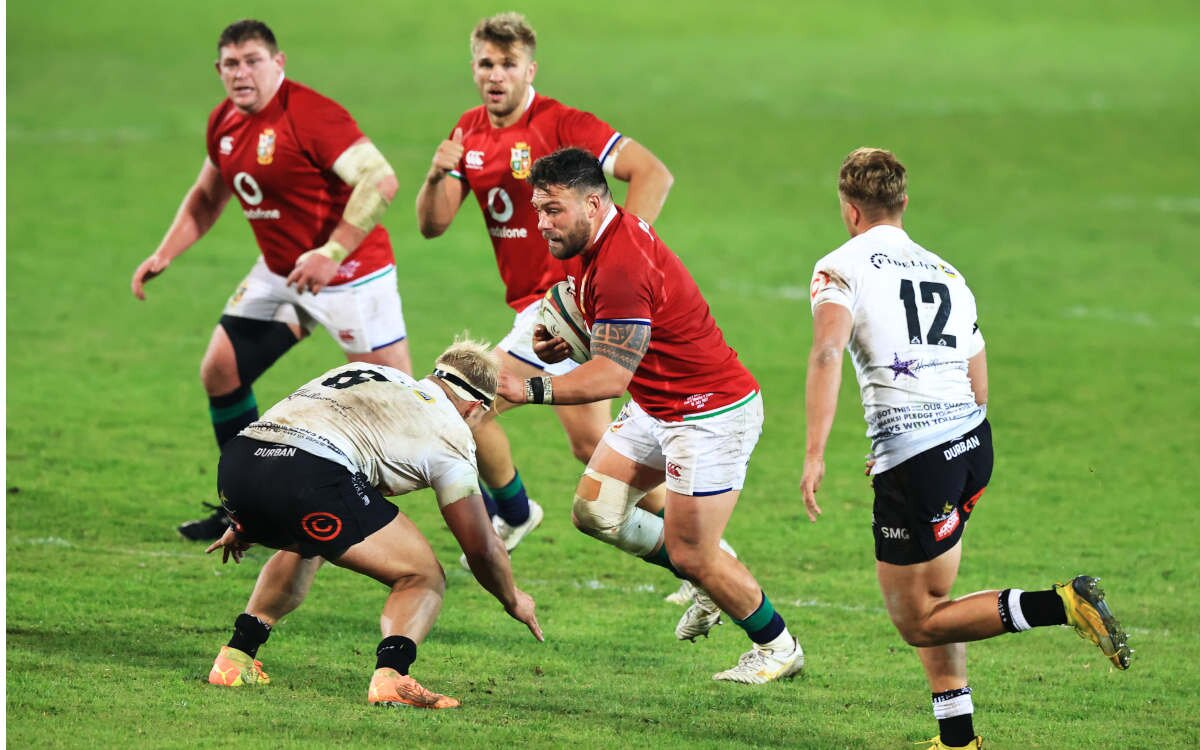 "Growing up I never had any heroes in the front row. You look at the wingers and the fly-halves and the No. 8s and that's who you want to be. Now my heroes are Tadgh Furlong and Zander Fagerson. Those are the guys I look up to. Being a prop can be cool. That's the message I'd want younger people to hear."
This battle of hearts and minds goes beyond simply convincing someone that their right shoulder would be better placed next to the hooker's left. Some long standing perceptions still endure.
"I used to think that props were just on the field to push and do little else," says Elliann Clarke, Scotlands 20-year-old loosehead who has represented her country in three different age groups. Like Norrie she started out in the back row. Unlike Norrie, she had to contend with an extra variable not often found in the men's game.
"Being a girl who plays rugby already means I'm already outside the norm. But when I was asked to play prop I was conscious of what my friends would think of me. I was conscious about my own body image. Props were the big and slow players. That's what I thought and that's not how I wanted to see myself. It was daunting."
As great as those old props were, they'd struggle in today's game. Maybe that's why we're a little smaller than we used to be. You can't be a 150kg beast. You've got to be mobile.

Murphy Walker, Scotland international prop
The evolving nature of rugby is helping to bust certain preconceptions. Players like Ellis Genge, who is regularly involved in backline moves for England, as well as Ireland's Furlong, who has an all-round game on par with any back rower, have shown that props can contribute across the park. In the build up to Duhan van der Merwe's match winning try in the Calcutta Cup, Fraser Brown (a hooker) was instrumental in maintaining a flowing move down the line that saw the flying winger dot down in the corner.
"We're expected to do as much work as anyone, plus we have to scrum, something that no one else does," Walker says. "You've got to haul your big frame around. You've got to hit every ruck you can and if the ball comes out to you, you have to know what to do with it.
"The old days of being a prop are over, especially at the professional level. I've watched games from the '90s. And as great as those props were, they'd struggle in today's game. Maybe that's why we're a little smaller than we used to be. You can't be a 150kg beast. You've got to be mobile. I think that will help Scottish rugby plug these gaps."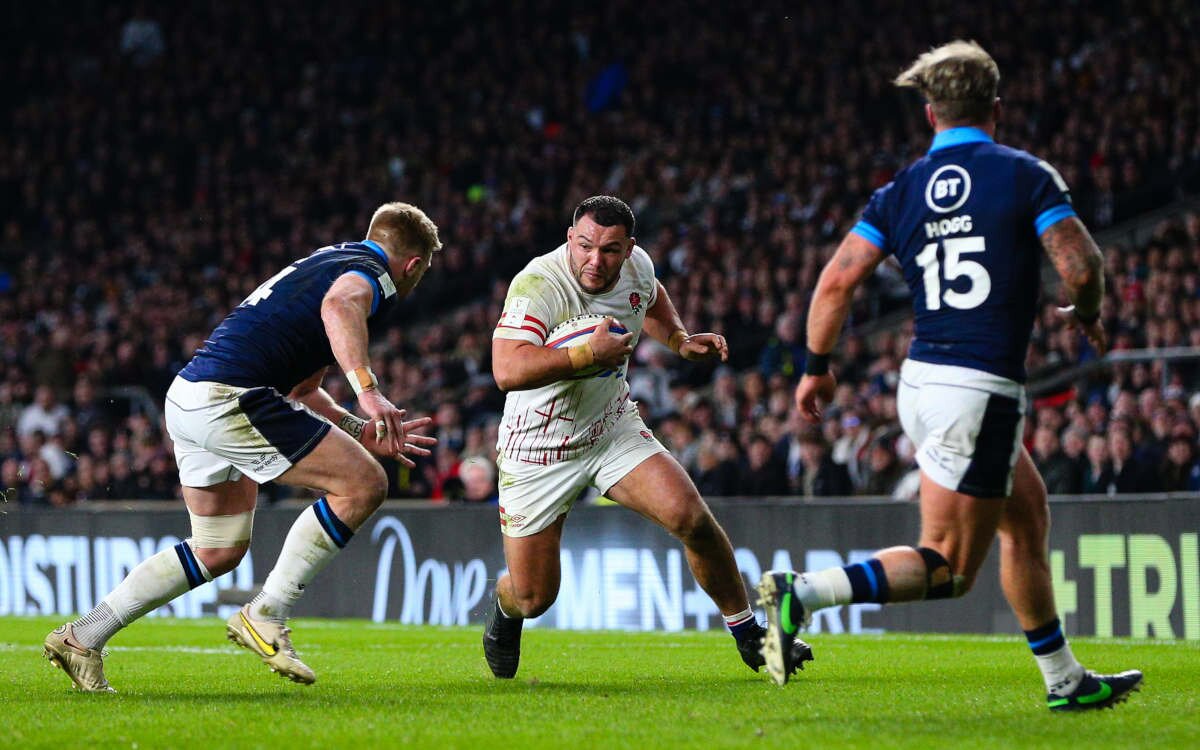 In doing so, Walker hopes to become an "inspiration" for younger generations. He wants to be the living proof that playing prop is an enticing proposition. That this position, for so long derided and considered an unglamorous but necessary cog, can have sex appeal.
South Africans have long understood this. Tendai 'Beast' Mtawarira and Os du Randt are considered titans of the game. Jason Leaonard, Gethin Jenkins, Cian Healy, Tony Woodcock, Owen Franks, Martin Castriogiovanni and James Slipper are among the props with over 100 Test caps to their name. Only Scotland and France do not have a member in this exclusive fraternity.
"It's still seen as a scary position for both players and coaches," Patience adds. "Most players who have been there will tell you that it's not the case. We've got some really successful front row players who are not the biggest. It's about breaking it down and being technical. If we have better technique than other countries there is no reason why we can't compete on an international level."
The Scrum School, which is still in its infancy, will seek to broaden the breadth and depth of Scottish front rowers. Gould believes that by this time next year, uncontested scrums in the club game will be consigned to history.
Looking further ahead, foreign imports will be the exception, rather than a required norm. They'll still be welcome. But, if all goes according to plan, they won't be needed.