Back
By Will Owen
The perfect mix
If you ask the Cambridge Dictionary for the definition of a poppy, it throws up words such as "delicate", with "small" seeds. This definition was evidently written prior to England's romp to the 2021 Six Nations title, in which a certain Cleall twin removed all connotations of delicacy from her forename.
It's easy to look at a player like Saracens No8 Poppy Cleall and see her as a route-one bulldozer – because, by trade, she is. But beneath the surface lies a world-class athlete with superlative technical skills. This year, Cleall has truly announced herself as one of the best No8s in the global game.
It's one thing to have a genetic gift in sport – be it speed, power, athleticism – but it's something else to know your strength and how exactly to utilise it. Cleall always shows up in big games and knows how to get on to the scoresheet. With that in mind, let's have a look at a few examples of how Cleall specifically uses her size and brute force to her advantage, namely in the biggest matches of the season.
This first example is from the England vs France game in the final round of the Six Nations. The scores sit at 0-0 on the stroke of half-time.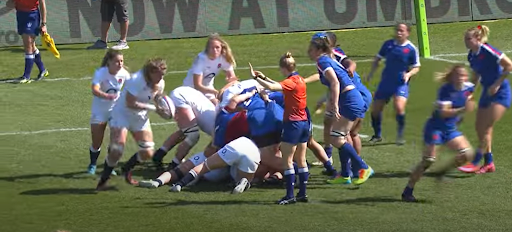 Referee Hollie Davidson awards England a free-kick at scrum time. This allows Cleall to run at a backpedalling French defence. She sees this as an opportunity to charge past fly-half Caroline Drouin and get a dominant carry.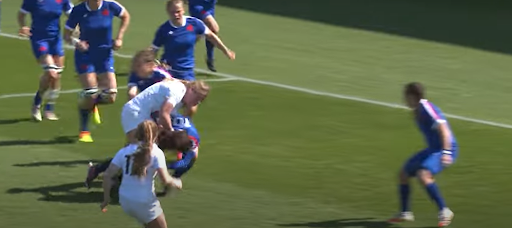 Cleall bowls over Drouin with ease, carrying the ball low enough to maintain a strong centre of gravity, but high enough that she can remain on her feet, free an arm and offload to centre Zoe Harrison. With Cleall attracting the attention of the French midfield, this allows Harrison to find a weak shoulder and carry to within metres of the French tryline.
Cleall's offload doesn't only put her team-mate in a gap, but frees up the No8 to carry again on the following phase. She spots a few England forwards contemplating picking and going, however Cleall takes charge and drives for the line.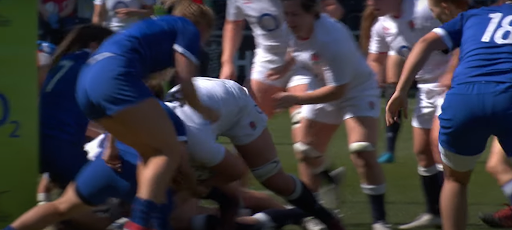 Given her close proximity to the white line, Cleall drives head-first into hooker Agathe Sochat, knowing her back and shoulders are protecting the ball and therefore allowing for an easier grounding. Cleall's body position is low enough that the only way Sochat can stop her is by significantly outmuscling her – effectively deadlifting a 96kg monster back-row forward. Needless to say, Cleall successfully grounds the ball to finish a monumental short-range try.
Next, let's look at how she links up with her brilliant back-row colleague, Marlie Packer, specifically in the Premier 15s semi-final against Loughborough Lightning.
Much like the first example, Cleall's Saracens are awarded a free-kick on this occasion. As soon as the whistle is blown, Packer (far left of below picture) sprints infield to give Cleall an extra, wide carrying option on first phase.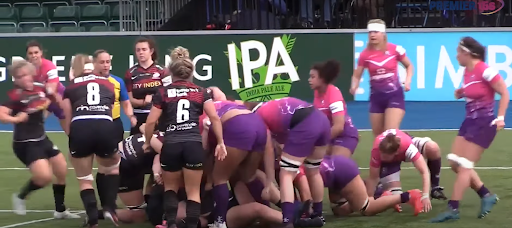 Packer wastes no time getting into position. She doesn't even look at the referee or Cleall – this is evidently a pre-rehearsed move that allows Sarries the opportunity to utilise two of their strongest carriers against an unorganised defence.
Cleall waits until she has the undivided attention of Lightning fly-half Helena Rowland before passing to Packer, who hits a short unders line and is met by two half-tackles.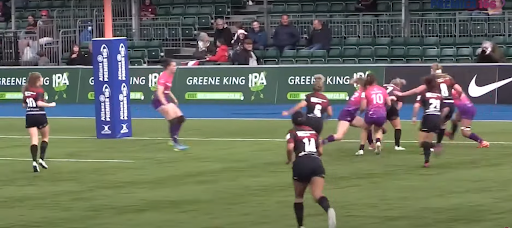 The weight of this pass, in combination with Packer's timing and angle on to the ball, allows the flanker to not only drive to within inches of the Lightning tryline, but generates a fast, efficient ball presentation.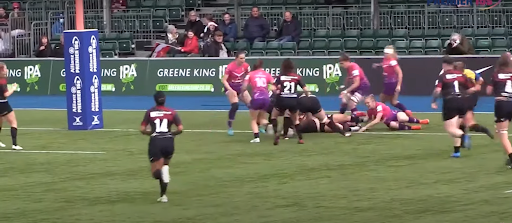 Packer doesn't even consider a speculative grounding of the ball as she knows that may allow Loughborough more time to organise their defence. Instead, she places the ball back, knowing her back-row partner will have the strength to drive across the line, even if a tackler is set. Cleall dives over the top of Packer unopposed.
In Saracens' subsequent loss to Harlequins in the Premier 15s final, Packer picked up two tries of her own. Harlequins evidently did their homework on Cleall and didn't allow her a scoring opportunity. Naturally, Cleall saw this as a chance to hand her colleagues some try-scoring opportunities.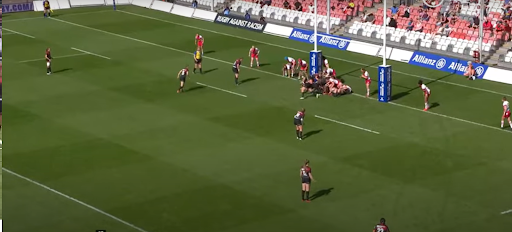 On the above example, Packer acknowledges that she is no longer needed at the previous ruck, so she communicates clearly with Cleall that she is going to offer the No8 an option on the inside. Cleall's body language is so subtle here – she doesn't even look at Packer, meaning the Quins defence don't suspect the flanker to be a genuine carrying option.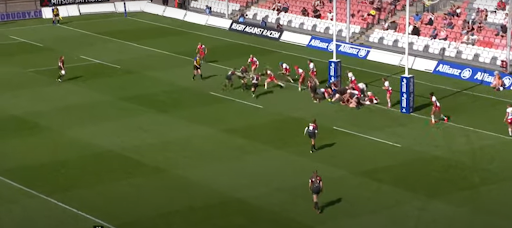 The Quins pack are very aware of the picture in front of them – Saracens' strongest ball carrier is about to receive the ball within three metres of their line. The only way to stop a brute like Cleall is to fly up, remove the space and get a dominant shot on her.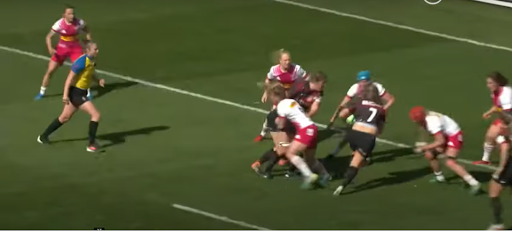 Cleall notices she isn't going to make a strong carry on this phase, but instead sees the space next to her. Cleall's threat on the ball forces scrum-half Leanne Riley to shoot out of line and create a disconnect on the inside. She catches the ball away from her chest and immediately pops the ball back inside to Packer, who scores.
The mark of a top-class No8 is how they adapt under pressure. It's one thing to know how to make ground when on the front foot, but Cleall's ability to see the opposition's line speed as an opportunity to open up space for Packer is sublime.
Later on in the same game, Cleall shoves aside hooker-come-flanker Lauren Brookes with ease and powers toward the Harlequins line once more.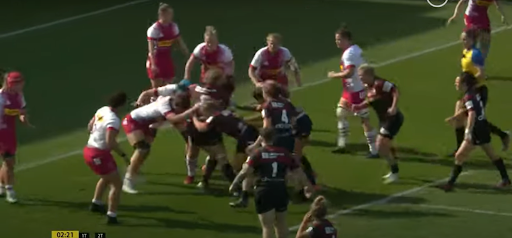 Despite being met by two Quins defenders, Cleall manages to rotate her body toward her supporting forwards, guaranteeing the ball will be available. This also invites the Saracens pack to turn this tackle into a 4v3 maul situation, giving them a good opportunity to propel their totemic back rower towards the line.
Harlequins do an excellent job of preventing this from becoming a maul, as they get the threatening Cleall to the deck.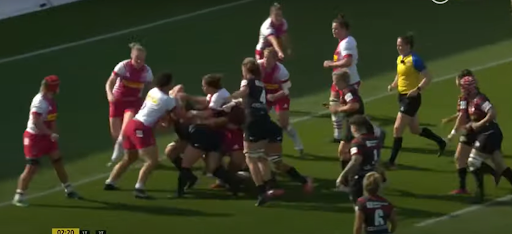 Despite being in a seemingly ideal try-scoring circumstance, she acknowledges that her momentum towards the floor is too strong for her to solely consider grounding the ball. She quickly commits to falling to the floor, which allows her team-mates to latch on and secure the ball quickly.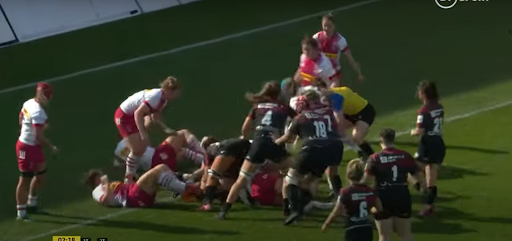 Cleall intentionally places the ball in the direction of Packer, trusting her to have the nous to drive over. She could have easily placed the ball next to a Quins body on the floor and milked a yellow card for not rolling away, but instead Cleall kept faith in her combination with the powerful Packer.
So few players in the world still look for space after they've been tackled, but Cleall's instincts to place the ball in a position that perfectly utilises her flanker's finishing skills are nothing short of genius.
Ahead of next year's World Cup, eyes will be on England's finishers Jess Breach and Abby Dow, however the likes of Cleall and Packer will ultimately give world champions New Zealand a bigger headache.
A strong, balanced carrier is worth their weight in gold – especially when they have the skills to back it up. Ahead of next year's World Cup, eyes will be on England's finishers Jess Breach and Abby Dow, however the likes of Cleall and Packer will ultimately give world champions New Zealand a bigger headache.
I stated earlier that "delicate" isn't a word you'd use to describe Poppy Cleall. In terms of her strength and diligence, you certainly wouldn't. But in terms of her footwork, handling skills and groundwork, she is intricate and efficient. With skipper Sarah Hunter being one of England's most consistent players for several years now, another world-class No8 wasn't necessarily what England fans were asking for, but they certainly won't be complaining.
More stories from Will Owen
If you've enjoyed this article, please share it with friends or on social media. We rely solely on new subscribers to fund high-quality journalism and appreciate you sharing this so we can continue to grow, produce more quality content and support our writers.