Back
By Jamie Lyall
The miracle of Ashton Gate
Few rugby fans will forget the intoxicating semi-final between Bristol Bears and Harlequins. It was one of the great games that will be talked about far beyond the 2020-21 season but there was drama elsewhere. Benetton, a side who had lost every game in the regular Pro14 season, gave the Jake White-led Bulls a salutary lesson in not underestimating the opposition, while Ireland's Sevens team qualified for the Olympics in a breathless finale. We are deep into June and this never-ending season still has many more storylines to write…
Harlequins show their mettle
Sportswriters are a curmudgeonly 'seen it all before' bunch, not easily given to hyperbole, but the blinkers came off on Saturday as the Premiership served up the most gripping, heart-wrenching game since its inception, leaving rugby fans around the world searching for superlatives to explain what they had witnessed.
The facts were stark. With Harlequins overturning a 28-0 margin to emerge unlikely 43-36 winners after 100 minutes of adrenaline-fuelled drama, it was the biggest comeback victory in the league's history. It was Tyson Fury miraculously pulling himself off the canvas at the nine count against Deontay Wilder. It was Liverpool FC turning round a three-goal deficit against Barcelona in the Champions League.
There was no logic to the comeback. No reason. It was a squad with nothing to lose. Backs against the wall. What had started as Alex Dombrandt cantering over the whitewash after picking up a loose ball just before half-time, when most players felt it was a face-saving exercise for their thunderous fans, quickly turned into an unlikely points-chase. This from a side who had racked up six 40-point score lines in their past 10 games. Where this resolve, this heroism came from is anyone's guess but Louis Lynagh, Tyrone Green and James Chisholm have etched themselves in Quins folklore.
At the final whistle, the coaching set-up of Adam Jones, Jerry Flannery and Nick Evans – all former internationals – danced around like A-Level students receiving their results for a newspaper front page. They were lost on emotion. Billy Millward couldn't even watch.
Down on the pitch, their players shed tears as the sheer emotion of such an unlikely result hit home, while Bristol's gallant players squatted dumbfounded or lay out on the turf gasping for breath and looking skywards for answers as they tried to compose themselves. Common sense says Exeter Chiefs should prevail at Twickenham on Saturday but for the battered and bruised Quins players, they may feel destiny is on their side and a first Premiership trophy since 2012 is in their grasp. Either way, a classic awaits.
Cory Hill's departure should concern the Welsh game
There was widespread shock when, in a terse 17-word sentence, the Welsh Rugby Union announced that Cory Hill had been released from Wales' summer Test schedule with immediate effect. Whilst there has been no further comment from the Union and Hill hasn't spoken out on the matter, it didn't take long for the rumour mill to start.
Had Hill lost patience with his paymasters after a 25 per cent pay cut a year ago when the pandemic hit and decided to take the French Euro or Japanese Yen (after all he didn't sign the new terms of employment and was at liberty to take up a better offer)? This seems the most likely. Did the Union have their priorities mixed up with the deep investment in the WRU hotel project or Stadium walk, this after a £51million windfall from CVC Capital Partners.
All of these reasons were suggested for the 32-cap Test lock walking out on a three-year contract that was part-paid by the Cardiff Blues and the WRU after less than 12 months. What we do know is Hill is as down to earth as they come. He is a leader and well liked by his team-mates, not some feckless miscreant, so it would have been with a heavy heart that he took his decision.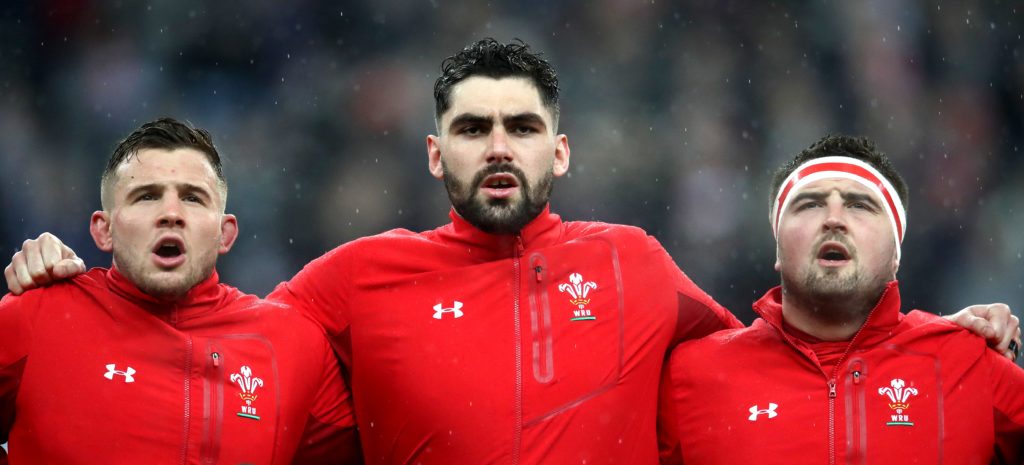 The worry for Wales is that in these uncertain times, the pull of a Welsh shirt is not enough to keep players from heading overseas. It has been an issue for more than a decade and the controversial 60-cap rule (Wales players need to have amassed 60 Test caps before playing outside Wales) is divisive, with players feeling it is a restraint of trade with options narrowing.
Second row is a concern for Wales. Two years out from the World Cup, Jake Ball has left for a new life in Australia, there is no guarantee Alun Wyn Jones' body will hold up for another two years of punishment and we are now unsure whether Hill will still be in the mix. That leaves them with Will Rowlands, Adam Beard and the uncapped Matthew Screech and Ben Carter – a paltry 21 Test starts between them.
It is less than ideal and the concern is more disaffected players throw in the Welsh flag and seek career stability.
Ireland's magnificent Sevens win respect not just a rugby game
It wasn't just about the victory. As Billy Dardis admitted after captaining Ireland's Sevens team through the qualification process for this year's Olympic Games, it was personal.
Games of rugby are hard won; so is respect. Some of Ireland's players live off a basic contract of €18,000 a year plus bonuses, yet repeatedly get told that this is too much, that the money the IRFU throw at the Sevens programme should be redirected elsewhere.
You can't ignore that your correspondent was one of the sceptics. Sevens rugby is unloved in Ireland, you wrote. There are more pressing funding needs elsewhere.
Not every opinion has to be a concrete one, though. When Dardis' team saw off France in the final of the Olympic qualification repechage in Monaco yesterday, scenes of unbridled joy followed.
"You dream of doing something really special for your whole life," said captain Dardis. "It's incredible what we've done just over a number of years, it's absolutely incredible."
It really is. Not just because Ireland's Sevens programme only started five years ago, not just because some serious talent has passed through its ranks – Hugo Keenan, Will Connors, Shane Daly, Robert Baloucoune, Tom Daly, Dan Goggin – but because they kept at it in the face of adversity.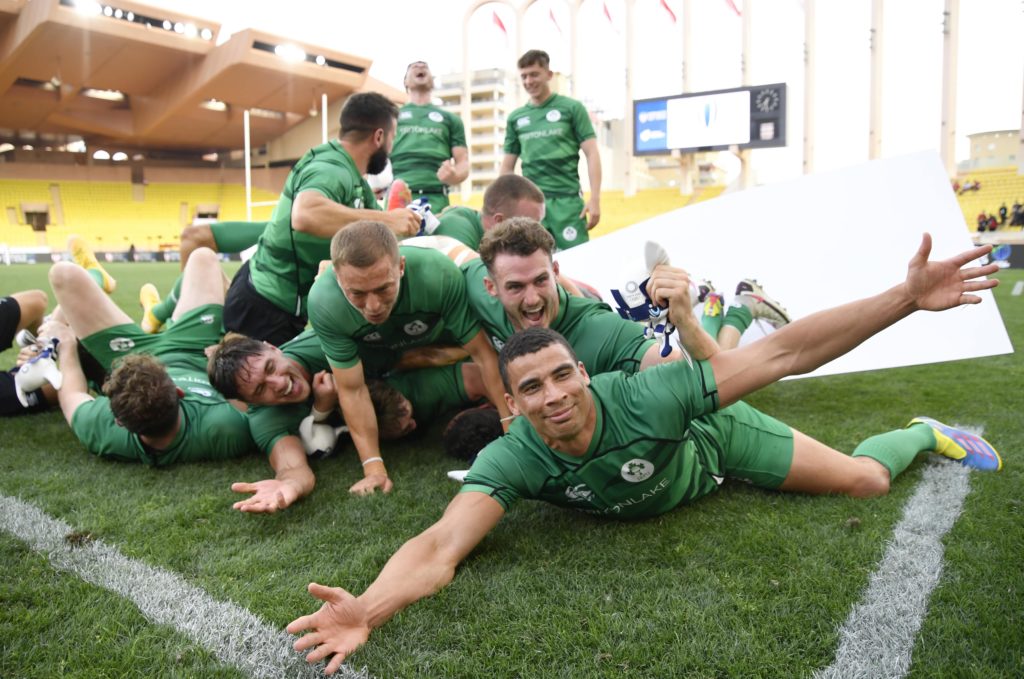 "When I started about five years ago, we had a good enough team," Dardis said. "We played in this tournament in 2016 and we came over, I'd only got my first cap about three weeks beforehand. We won our first day and I remember lying in bed that day thinking, 'Jesus, we could do something really special here'.
"And we didn't, we lost that one. I stuck with the programme and each year we just kept getting better. A core group of lads stuck around and it has been tough, trying to earn a lot of respect. Everyone has been through hardships, and everyone's been through tough times, especially in the last year or two. Guys in this squad have been in academies and they've got let go, and that's the twisted story, the twisted tale of us all."
Now, after Sunday's 28-19 defeat of France, the suffering was worth it. "We're going to be Olympians," Dardis said. "No one can ever take that away from us."
Given the financial strain caused by Covid, renewed pressure will come from all angles about taking away their programme, though. It is a passion project of David Nucifora's, the Union's high performance director. Nucifora won't be there forever, though, and if he goes, you wonder if Sevens may follow him out the door.
Then you see what happened yesterday, the sight of Irish players celebrating a victory on foreign soil, earning a ticket to the Olympics and also, possibly, a future for the game in Ireland.
Brilliant Benetton
From winless in the Pro14 to wonderous in the Rainbow Cup, Benetton's shellacking of the Bulls was show-stopping afternoon for Italian rugby.
In large swathes of the league campaign, Benetton were abysmal. They conceded an average of more than three tries and close to 28 points per Pro14 match. The transformation has been staggering.
There are caveats, of course. Such was the hectic Test schedule and the strictures of international bubbles, Benetton had to do without a heap of their front-line Italians. Injury claimed a couple more still. Without access to international players, their form suffered grimly, they lacked direction and leadership and leaked an eye-watering number of tries.
Then there is the format of the Rainbow Cup itself. Benetton never had to play the juggernaut Irish provinces, never had to go to Wales or Scotland and win. In fact, owing to a Covid-19 outbreak among the Ospreys squad, they only had to play four games to reach the final, two of which came against Italian rivals Zebre, a team who spent the Pro14 season shipping even more points than Benetton.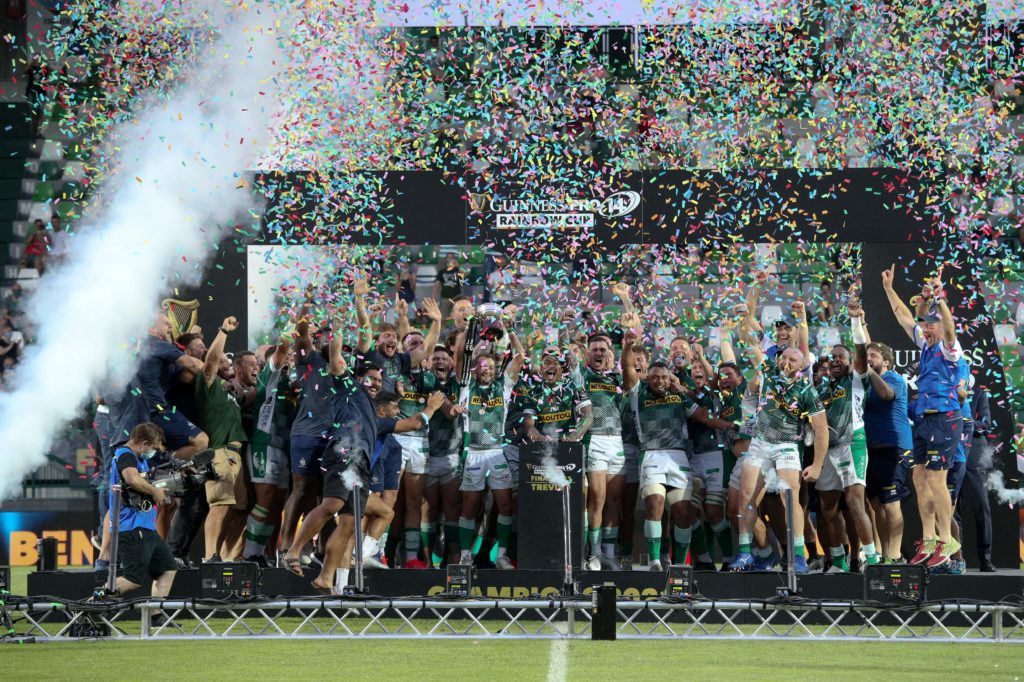 What Kieran Crowley's men did do was put away the sides in their path. They eviscerated Glasgow and overcame Connacht, who had finished second in their Pro14 conference. And my, how they dynamited the cream of South Africa's franchises, widely fancied even without their four current Springboks.
The scenes at the end in Treviso were joyous and uplifting. This team – indeed, this country – have been through such trauma in the past year. On the field, Italy's play descended into anarchy at points during the Six Nations, but they have a core of high-calibre young players emerging, spearheaded by Benetton's fabulous 21-year-old pivot Paolo Garbisi, who dazzled on Saturday.
This ought to be a watershed moment for the Italian game. At last, some silver and feelgood to cherish. Crowley is soon to succeed Franco Smith as the national head coach. Smith moves upstairs to become head of high performance as the FIR reshuffle and look to the future. The Test game is brutal, but they have the chance to make that future bright.
Hemispherical haze
It is a trope as old as professional rugby itself that the game is refereed differently depending on which side of the equator it is being played. Perhaps, therefore, we shouldn't be surprised that Ash Dixon's high tackle on Otere Black in the Super Rugby Trans-Tasman final only landed the Highlanders captain a yellow card, rather than the red it so very blatantly merited.
Dixon clattered Black 23 minutes into the contest, his left shoulder striking the Blues fly-half on the jaw/cheek area. It was not a malicious shot. Dixon made a discernible effort to wrap his arms. He had set himself to make a clean, hard tackle. Several inches lower and you'd have been looking at not only a colossal hit but a legal one.
In reality it was, alas, a clear red-card offence. In the northern hemisphere, especially in the Premiership or Pro14, Dixon would have been sent off and there would have been virtually no grumbling after the fact. Shoulder to head, with force (and no mitigation) and you're gone. For those watching the game from these parts, it was a flabbergasting show of leniency.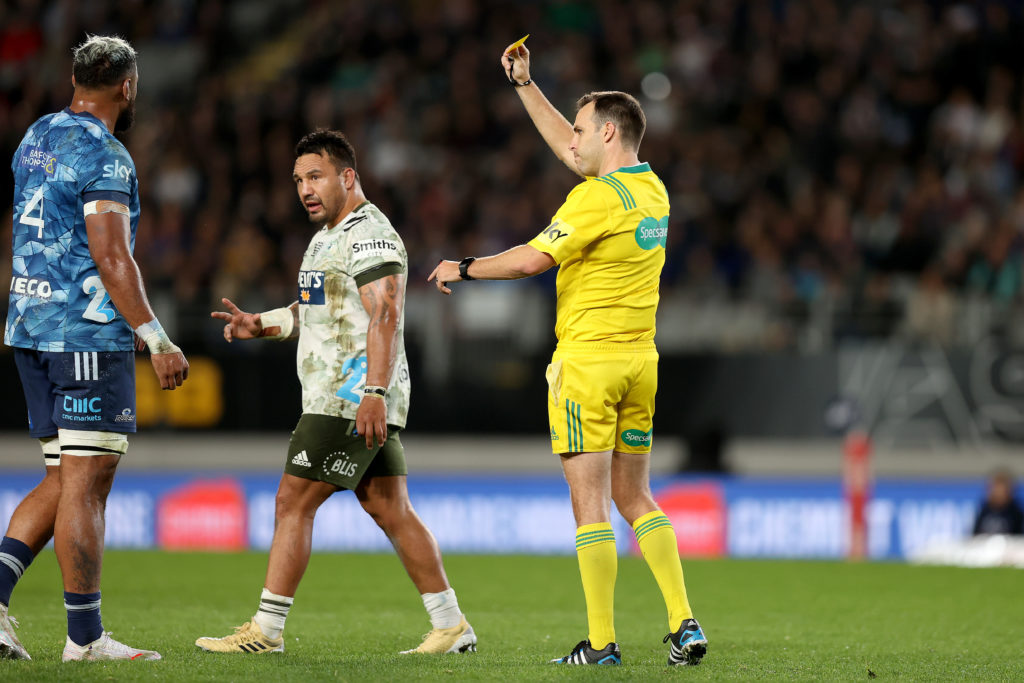 The officials believed Dixon first made contact with Black's shoulder, before riding up to connect with his head, but that is not what the footage appeared to show. The interpreting of a scrum or maul, what does or does not constitute a forward pass, may vary between Europe and Australasia, but no such allowances can be made when player welfare is at stake.
This is one incident in one season, but it does beg the question: when the hemispheres converge, when teams from the south meet those in the north and, more poignantly, when teams from the south are refereed by officials from the north, what might the ramifications be?
South Africans will find Europe tough – and that's no Bull
Old clichés die hard in football. The most repeated one in the Premier League over the past decade or so referred to the latest foreign signing who had landed in England with a big reputation and transfer fee. Ability was never questioned, but attitude was. To earn a rite of passage, the newbie had to prove his ability to do it 'on a Tuesday night in Stoke', an away game in this unglamourous setting serving as a metaphor for toughness, mental and physical. It was a test many failed.
While Stoke isn't on the map for South Africa's Bulls, Sharks, Stormers and Lions in the forthcoming United Rugby Championship, wet nights will be. You haven't seen rain until you see it on a winter night in Connacht's Sportsground. That venue isn't the only Stoke. The old Pro14 was full of them; Scotstoun, Rodney Parade, the Liberty Stadium, Treviso.
Ah, Treviso. That was the wake-up call the South African franchises needed before they venture into this brave new world. Used to the sun on their backs and the firmness of the turf under their feet, these highly-regarded teams are about to discover a new brand of rugby next season; nights when a 6-3 win will feel like a score-fest. Since it was confirmed last week that the 'South African four' would be joining their Pro12 cousins in a new-look, rebranded tournament, a consistent theme has emerged. That the new arrivals will dominate the tournament; thieve the Champions Cup spots; outmuscle their European rivals. To be fair to the South Africans, this commentary has come from Ireland, Scotland and Wales not from the southern hemisphere.
Saturday's thumping of the Bulls by Benetton silenced all that. And rightly so. No one leaves Llanelli, Galway, Swansea, Cardiff, Belfast, Glasgow, Edinburgh or particularly Limerick without a scrap. When fans return to stadiums and the South African sides arrive, there'll be a demand for teams to front up. Throw in another factor. The reduction in the season from 21 games to 18 will allow clubs with top-end talent but precious little depth – Cardiff, Ospreys, Scarlets, Edinburgh, Glasgow and, yes, Benetton Treviso – to put their best team out and best foot forward.
This won't be like Super Rugby. And there'll be nights when the wind swirls and the rain comes at you sideways when it may not even be mediocre rugby. But if any of the four South African sides think they'll pick up easy points when they travel north to Europe, then Saturday's humbling of the Bulls may have changed their mind. If it didn't, it soon will. A winter's night in Glasgow will leave them yearning for a Tuesday in Stoke.
From tight spot to tighthead boom: the changing face of Ireland's front row
Outside of Ireland, you may not have heard the Michael Bent story. The recently retired tighthead caused a bit of a fuss in 2012 when he arrived off a plane from New Zealand and was brought straight into the Ireland camp. "How in the name of goodness have we reached a stage where someone can just land in Dublin airport and get an Irish cap?" asked former Ireland captain, Keith Wood, at the time.
Some context is needed here. Bent, whose grandmother was from Dublin, carried an Irish passport. He also carried a reputation for being able to anchor a scrum when Leinster signed him that year. His job spec was to do a job for the province, first and foremost – and if anything international-wise came beyond that, well then fine.
Bent's problem was that Ireland had no depth whatsoever at tighthead. The choice boiled down to this: Mike Ross, Mick Ross or Michael Ross. Ross's only credible back-up (you couldn't call him a rival) ahead of a November test in 2012 was Declan Fitzpatrick. When Fitzpatrick got injured and Bent had made it through passport control, it made sense to lump him in a taxi and introduce him to his Ireland team-mates. He hadn't even met his Leinster ones at this stage.
Sure enough, he got capped that month. Sure enough, there was a lot of disgruntled noise as there always is in this country when a player who isn't born here gets handed a green shirt. But the problem wasn't Michael Bent; the problem was a system that didn't produce Test-level props.
Nine years on, it's safe to say that has changed. Tadhg Furlong will be the British & Irish Lions Test starter for Warren Gatland in South Africa this summer; Andrew Porter would have been his replacement if not for the injury he picked up a fortnight ago. Beyond that, there are reasonable back-ups: Munster's John Ryan, Connacht's Finlay Bealham, Ulster's Tom O'Toole and Marty Moore.
Now a new star has emerged. Sam Illo is still only 20, a baby in tighthead terms. But if first impressions are anything to go by, then Ireland has a new star. He was immense in the Irish Under-20s victory over Scotland on Saturday; powerful in the loose, scorer of a try, destructive in the scrum. You can't say for certain that any player that age will make it, least of all a prop. Still, if you could get stock in a prospect, he'd be near the top of the buy list.
If you've enjoyed this article, please share it with friends or on social media. We rely solely on new subscribers to fund high-quality journalism and appreciate you sharing this so we can continue to grow, produce more quality content and support our writers.