The Irish eyes are smiling
It was a thrilling second round of Six Nations fixtures, where Scotland buried their Warren Gatland hex against a sorry Wales, England refound their focus and sense of identity against the improving Italians and Ireland and France indulged in a ding-dong of epic proportions that will leave fans salivating ahead of the global jamboree happening later this year.
So what did RugbyPass+ spot?
Ireland can cope with whatever's thrown at them
There was a time when any injury to Ireland's frontliners sparked a series of novenas to pray for a dodgy hamstring or a strained calf muscle.
You only have to think back to Ireland's failed attempt to win the 2007 Grand Slam, thrown away against France at Croke Park, a day when Brian O'Driscoll and Peter Stringer were absent, one irreplaceable because he was the Irish GOAT, the other because there was no one capable of stepping up to that level.
There are a million other examples, the most obvious being the day the Famous Five went missing in Cardiff. This was 2015, when an Irish side minus their captain, Paul O'Connell, their playmaker,
Johnny Sexton
, plus their quiet leaders,
Jared Payne
, Peter O'Mahony and Sean O'Brien, got torn apart by Argentina in that year's World Cup quarter-final.
On the back of that defeat Joe Schmidt realised you needed a squad rather than a team to move top of the world rankings. That's easily said yet by 2019, when Sexton again went down in the middle of a World Cup, we discovered that ambition is not always realised. Ireland's playing population is small, up until Saturday small equated to a curse.
And now?
Well, look at what they did on Saturday, stopping France's progress to a 15th straight win, moving one game but a giant step closer to a grand slam, and look who they did it without. There was no
Tadhg Furlong
, regarded as one of, if not the, best tighthead in the world.
We haven't even mentioned Rob Herring's and Sexton's early(ish) departures with injury while the game was still in the balance and yet even though Ireland finished the match with a third choice front row that sounded more like a firm of solicitors rather than a team of enforcers, Kilcoyne/Kelleher and O'Toole did the business.
So, too, did Ross Byrne. Once considered the second best out half in his family, he is now firmly established as the second best in Ireland, his control and precise kicking so critical to Ireland sealing the deal.
And the best bit of all is that they have not yet peaked. A fourth young hooker,
Tom Stewart
, has a world class label stuck on his coat; another young centre, Leinster's
Jamie Osborne
, looks the business; utility back Jimmy O'Brien has already proved he can hack it at this level, while the depth of backrow options is frightening.
The forecast is bright then, certainly in the near future, as a grand slam is now placed in the probable rather than possible category. As for a charge at the World Cup, let's not go there. Not yet. History has told us to be cautious. Remember Cardiff 2015? Those of us there will never forget it.
Willis the redemption man gives hope to us all
'Hope is a good thing, maybe the best of things, and no good thing ever dies.'
There must have been times during Jack Willis' road to recovery from two serious knee injuries, when he took inspiration from the Shawshank Redemption's Andy Dufresne. Hours spent in rehab replicating Sisyphus pushing that boulder up a hill, nights spent awake wondering whether he could return to stake a claim for a place in the England backrow.
After first successfully battling back from injury, this latter personal strife came after audible cries were heard on suffering an ACL injury against Italy in 2021, as the result of a croc roll from Italy's Sebastien Negri.
Only a matter of months ago, Willis' resolve must have been tested again as he shed a tear for his beloved Wasps, which plunged down a sink hole, leaving him bereft and searching for a new club. He sought solace and Vitamin D in Toulouse, where he has since thrived and shown his class.
On Sunday, he enjoyed a very different emotion. Pure, unadulterated joy at putting in a performance of unremitting power and no little skill. When he left the field after 52 minutes, he had racked up 20 tackles at the rate of one every 2.7 minutes, an England record, with one rib-tickler on his Toulouse team-mate, Ange Capuozzo, taking the breath away of not only his opponent but the Twickenham crowd. He also crossed the whitewash in the first-half and let out a guttural roar Dufresne would have been proud of when escaping the soul-sapping State Prison in Ohio.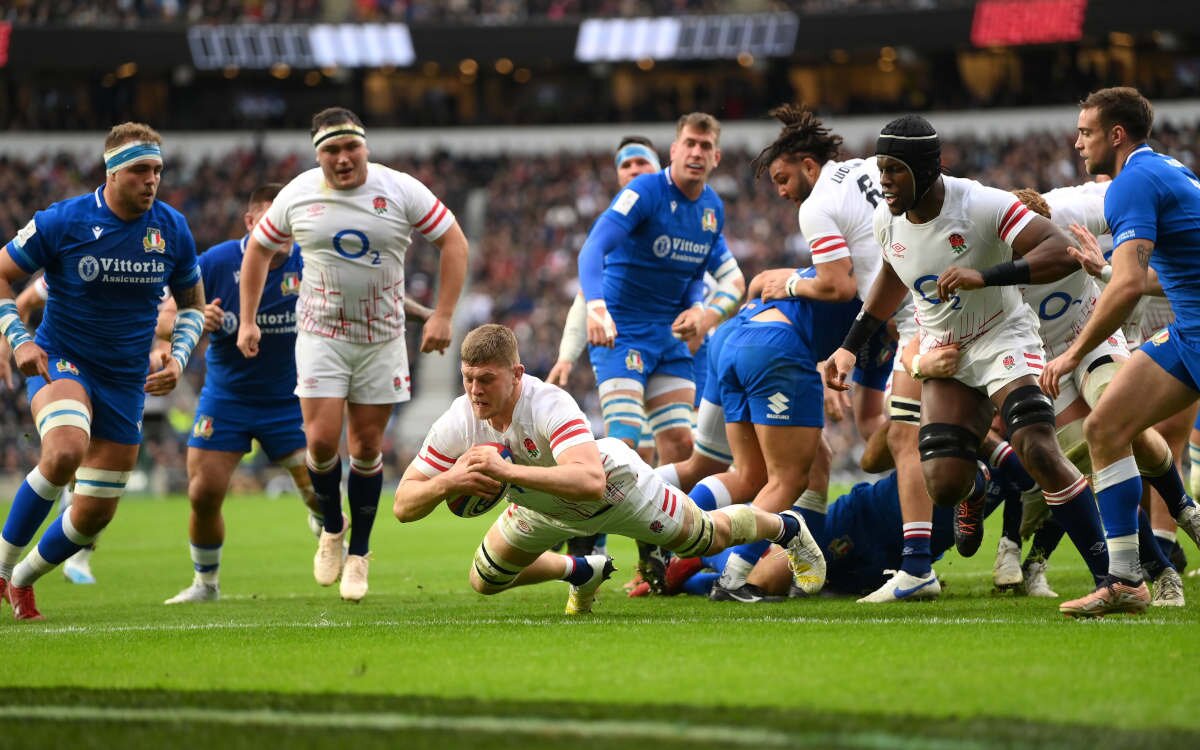 This is the passion Steve Borthwick has demanded from his England squad. The type to energise, inspire and galvanise a new-look squad which has comeback kids dotted all over the field. Max Malins, bereft at being discarded from England duty for perceived poor body language, purred. That most intelligent of footballers, showed his vision by fizzing an inside pass to Jack van Poortvliet to score. Ben Earl, Willis' replacement, relished the fight, hitting everything in blue, attacking the breakdown and looking to the manor born. A word too, for Ollie Lawrence. Another player to receive the shepherd's crook from Jones for not enough game involvements when he was the victim of an egregious game-plan. He powered into heavy traffic and covered the grass like a runaway stream train.
Whisper it, but if Borthwick can motivate these second-chancers to pick up momentum towards the World Cup, England have an outside-chance of upsetting the world order.
No need for French panic
Sometimes you can read too much into a defeat. That France managed to score just one try on Saturday allows us to draw the conclusion their attack is stuttering, when the reality is they produced twice as many offloads (12 to six) as Ireland on Saturday, while their solitary try, via
Damian Penaud
, was breathtaking.
Better again was how they defended, which seems a contradiction given that Ireland ended the day with a try bonus point, but is far from a ridiculous statement when you recall how they took five goal-line drop-outs, prime examples of French resistance deep inside their own 22.
If there was a worry, it stems from the way their pack ran out of gas in the second half. Ireland clearly were fitter, fresher; yet remember this is mid-season, when the French players are flogged in the Top 14.
Come the World Cup,
Fabien Galthie
will have complete control over his players, able to dictate their minutes and get them as fit as any other side.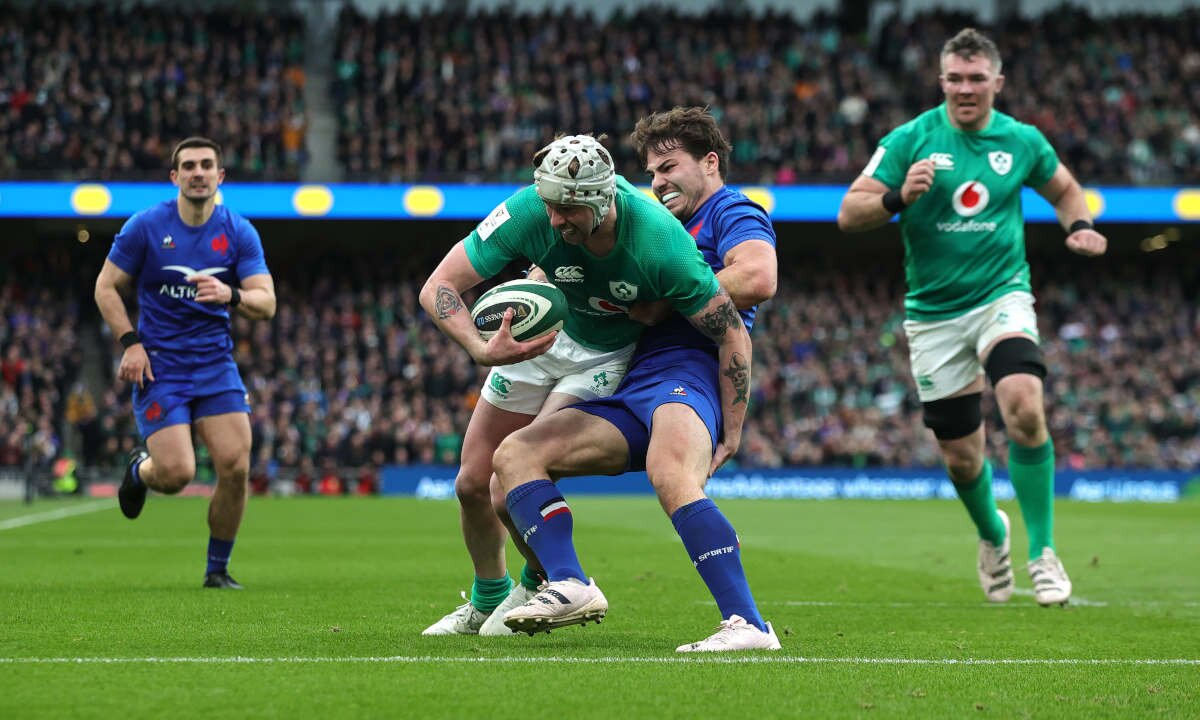 What he can't control is the opposition. Ireland found a way to stop a French attack on Saturday that had scored at least 29 points in 11 of their 14 victories leading into Saturday's game.
Worryingly from a French perspective, it could well be Ireland again in the World Cup quarter-finals, depending on how each country gets on in their pool. If not Ireland, then Les Bleus will probably face the world champions South Africa for a place in the semi-finals.
The road ahead is paved with potholes then. Yet that doesn't mean they don't have the skills to evade them. Penaud showed on Saturday how to avoid trouble. This French team may have lost their unbeaten run but they haven't lost their aura. They remain World Cup favourites. Just.
Fagerson is Scotland's understated colossus
The headlines will go to Finn Russell and Duhan van der Merwe. The column inches to Gregor Townsend. The social media clicks to the delicious off-loads and swooping cross-kicks and bewitching attack patterns Scotland weaved all over Murrayfield in their demolition of the Welsh.
Few outside the camp will talk about Matt Fagerson. But how we should be talking up this emerging force of a number eight. For Fagerson has delivered two near-flawless performances, his tireless grunt and flashes of skill a huge factor in their historic unbeaten start to the championship.
Fagerson was the top tackler at Twickenham in round one and the top tackler in Edinburgh in round two. His total haul of 45 puts him at the summit of the tournament standings. He has carried more ball than any other Scottish forward and most of the Scottish backs, in a side happy to cede possession and territory.
For a while, Fagerson may not have looked like the answer to Scotland's hole at number eight. There were constant questions about his size and heft and at times, they got to him.
"I used to struggle to find myself and what I wanted to be as a No 8," he told RugbyPass back at the start of the season. "I've heard for years that Glasgow and Scotland both need this massive, ball-carrying 8."
Fagerson piled on extra weight to take his 6ft 3ins frame to 114KG before realising his folly, that in trying to satisfy some idealistic criteria he was diminishing his point of difference. Instead, he embraced his strengths – namely, footwork, explosiveness and work rate – and attacked his weaknesses. Defence never used to be a great forte but as those numbers show, it clearly is now. Franco Smith has deployed him as a pivot player, carrying hard one-out or flicking out the back to the waiting strike runners. He has revelled in the role.
Internationally, Scotland's July tour of Argentina was a whopper for Fagerson. He was titanic in the third Test defeat, gobbling up over 100m with ball in hand and making 15 hits without it. He has maintained and bettered that form since, for club and country. It is worth remembering, too, that he is still a relative pup in Test terms at 24 years old.
Caelan Doris is the championship's stand-out number eight so far, but Fagerson is hot on his heels – even if almost nobody is saying so.
Gatland's problems laid bare
Warren Gatland cut a beleaguered figure when he trundled out to see the assembled press in the bowels of Murrayfield. Two months on from the smiles he wore when accepting the chance to retake the Wales head coach role and lead Wales into a World Cup, and two games into his competitive return to Test rugby, his rhetoric smacked of damage limitation mode. Gatland has said Wales are 'in a hole' and in truth, they will need crampons to climb out of the mire. He agreed with the summation proffered that his squad lacked confidence.
This fragility is borne out of facts. Wales have won just three Tests in 14 and are on a woeful run of form. The problem for Gatland is that a few selection tweaks isn't going to act as a silver bullet and cure the game's myriad ills. No, the problems run deeper. Wales lack the quality of player that brought them four Grand Slams in 18 years and a further two Championships. The golden generation of a glittering 2008 U20 side has either been phased out, see Jonathan Davies. Retired, see Sam Warburton, or is clinging onto a final World Cup hurrah. See Rhys Webb, Dan Biggar, Justin Tipuric and Leigh Halfpenny. There is still talent coming through the system but it was telling that Wales' two best players at Murrayfield, Christ Tshiunza and Dafydd Jenkins, are plying their trade in the Gallagher Premiership. Like so many young Welsh players, including Louis Rees-Zammit and Tommy Reffell, they were born in Wales but cut their professional teeth over the Bridge.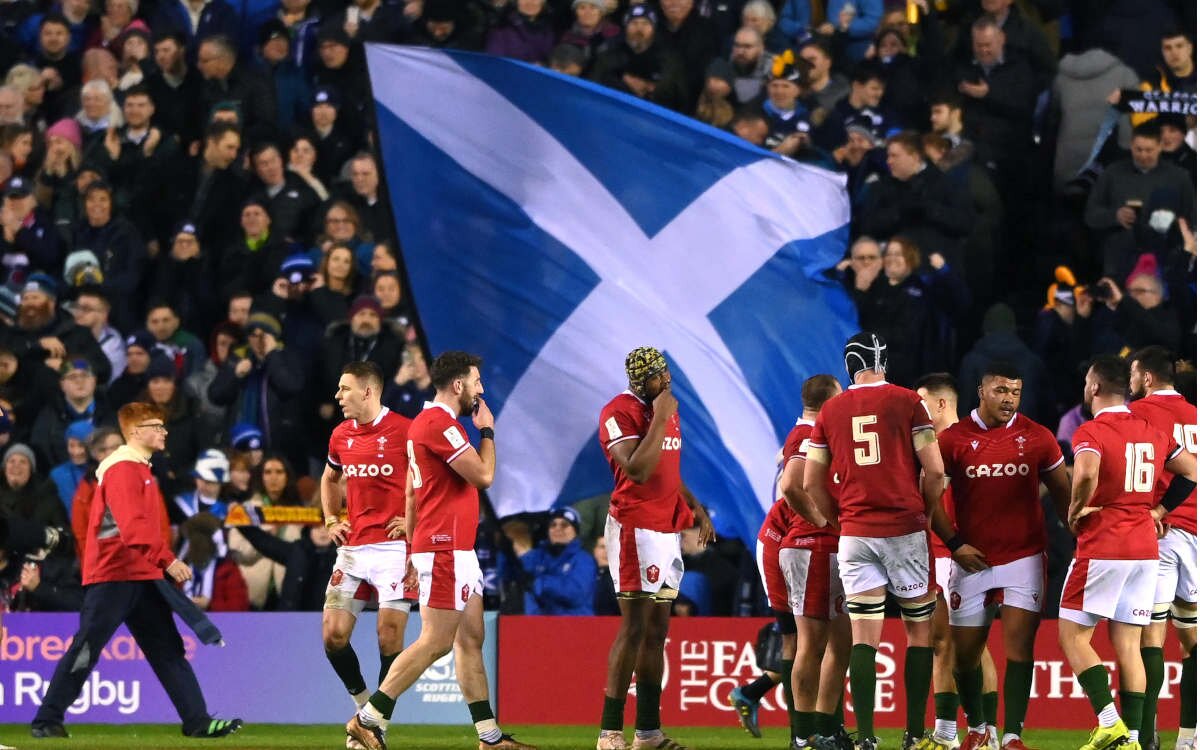 It must also be stressed that the interminable impasse between the WRU and the Welsh regions is having a destabilising effect on morale, with players worried about their futures or indignant at the 'modest' offers put to them by the sport's governing body. When you are looking for the extra five per cent on the field, in the game's dying embers, will players give their absolute all? It's a talking point because Wales missed 34 tackles against Scotland and have now shipped eight tries in their first two games. They have also flattered to deceive offensively, with only 17 points registered, with an attack that looks rudderless and lacking in invention. Compare them to the almost choreographed Irish attack and it's night and day. Discipline, too, has been poor. Thirty-two penalties shipped in two games is not good enough.
For now, Wales must regroup, refocus and work their way out of this sorry mess. Ken Owens said he was expecting grenades to come from outside the camp and should they lose to England in two weeks, then those dissenting voices will grow louder, as Wales travel to Rome to avoid a Wooden Spoon.
As for silver linings. Well they could come on March 26 at the EGM (extraordinary general meeting), called by the under-fire WRU to modernise the board. A Gatland miracle could have papered over the cracks but Wales' day of reckoning draws nearer. Structural change needs to happen.