Smokin' Joe lands knockout punch for Quins
We are at the stage of the season where it's nearly time to pack up the boots and head for sunnier climes, if you've not been successful, or dig in and prepare for the business end of the season and some arduous summer tours. Harlequins will definitely be around as they staged yet another comeback, and Leinster, well they're just imperious. Up in Scotland, Edinburgh and Glasgow live to fight another day, but that's all for the beleaguered folks for the Welsh regions who have had an abysmal year.
Harlequins stage customary fightback but risks remain for play-offs
When Gloucester went into the Twickenham changing rooms at half-time, leading 24-7, they could be pleased with their efforts. Leading Harlequins, who had booked out HQ, and filled it with nearly 50,000 fans, they had largely silenced the home crowd with a brand of aesthetically pleasing rugby that leaves Shed-heads feeling like the glass half-full for the future.
There must have been, however, a nagging doubt in George Skivington's head. Despite three tries from Ben Morgan, Freddie Clarke and Chris Harris, outweighing Alex Dombrandt's solitary Quins try. He knew that his opponents had a knack for turning things round. No more the flaky South-West Londoners of old, the side led by Dombrandt were made of sterner stuff. And so it proved.
As ever, Danny Care was the catalyst, with his footballing skills to the fore, as he threaded through an intricate nudge to a gleeful Joe Marchant to rouse the crowd. Marchant, a surprise omission from Eddie Jones' squad to Australia, doubled his tally out wide, before Cadan Murley, a breakout star from this season, sealed the win, leaving Gloucester's players and travelling fans crestfallen. With play-off rugby confirmed, Tabai Matson can afford to rest players for the trip to the South-West against Exeter Chiefs.
The problem for Harlequins is their opponents in the play-off semi-finals is likely to be Saracens. Mark McCall's men are not as generous as the Cherry & Whites. In recent weeks, save for the disappointing excursion down to Toulon, they have had a steely look in their eyes and have something to prove. They are likely to stop at nothing to reclaim the Premiership title, after a season in the Championship and have the motivation to nullify any rearguard action from the comeback kings.
Quins, as they found out to their detriment against Montpellier, cannot always bank on miraculous turnarounds. They have been warned.
Are Leinster B the second best team in the URC?
Ever wonder who the second best side in the URC is? On Saturday, one team put their hand up. It was Leinster. Or rather, it was Leinster B.
Against what was effectively a Munster first-choice side, Leinster's second-string – albeit a second string which included nine internationals – won 35-25. So much for the idea they'd take it easy ahead of their Champions Cup final.
The truth is they couldn't, not when they knew what was at stake. For some – the soon to retire Devin Toner and Sean Cronin and the soon to depart, Rory O'Loughlin – this will probably be their last Irish derby and possibly their last big game in Ireland's national stadium.
For everyone else, it was an opportunity, a 'remember me' signal to Leo Cullen and Stuart Lancaster, even Andy Farrell.
The Ireland coach has never been shy about delving into Leinster's reserves for his players, choosing Jamison Gibson-Park to start for his country back when the scrum-half was second choice with his province; choosing Leinster's then reserve tighthead, Andrew Porter, ahead of rival provinces first choice props.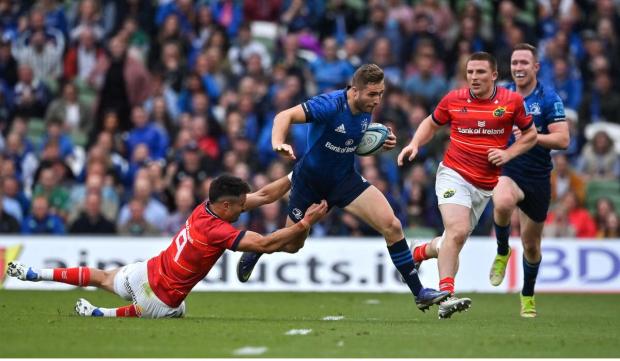 There must have been times when Jordan Larmour spun away from would-be tacklers on Saturday that Farrell envisioned the winger back in a green shirt; times when he identified Ed Byrne as an answer to his depth issue in the front row; times when he saw Ryan Baird as a solution to the thinness of his second-row options.
And there must have been times when the Munster head coach, Johann van Graan, wondered if he'd ever catch a break against his biggest rivals. Yes, van Graan was missing seven first-choice players, Simon Zebo, RG Snyman, Damien De Allende, Dave Kilcoyne, Tadhg Beirne, Peter O'Mahony and Gavin Coombes, but Leinster were voluntarily resting 15 starters.
And still they won. Then again, they almost always do; these reserves.
Remember, as a province, they have played 18 URC games this season. But out of the 15 players who started against Toulouse and Leicester in the semis and quarter-finals of this season's Champions Cup, only one player, Ross Molony, had played over half those URC fixtures.
The remainder have barely featured in this season's URC – Robbie Henshaw, Johnny Sexton, Tadhg Furlong and Jack Conan playing on just three occasions; Ronan Kelleher just four times. In fact only two players – the non-internationals, Jimmy O'Brien and Molony – have played more than a third of Leinster's 18 regulation games in the URC.
And still they have made it to the play-offs as top seeds. If this asks questions about the quality, or lack thereof, of the URC then remember how Ulster and Munster did against Northampton, Clermont, Exeter, Wasps, Castres, even Touluose this season: 12 games, nine wins, one draw, two defeats. Be under no illusion, both Ulster and Munster would do alright in the Gallaher Premiership or Top 14. Two other URC sides would thrive in those rival leagues, Leinster and Leinster B.
Edinburgh rule Scottish roost
In dispatching Glasgow Warriors before 25,000 at Murrayfield, Edinburgh claimed the most significant Scottish derby for years. The 1872 Cup wrested back from the west; the inaugural Scottish Italian URC Shield clinched; most critically of all, a coveted seat at Europe's top table secured.
Edinburgh had more gears in attack and more dog in defence. They were better on the ground, and better in the air. They built momentum and applied pressure in a way their old rivals could seldom muster. The 17-point victory was richly deserved.
All of this reflects well on Mike Blair, the men he has honed and recruited, the jarringly different attacking style instilled in his first season as a head coach. Just as it makes grim reading for Danny Wilson, an undoubtedly astute coach now facing major questions.
Eighth place means Glasgow go to Leinster in the URC quarter-finals; alas, as near an insurmountable task as club rugby has to offer. Deliver their best stuff, and Glasgow will make a contest of it. Play as meekly as they did at Murrayfield? They are in for a harrowing experience.
Wilson was dealt a brutal hand in his first term at Scotstoun as the pandemic raged, recruitment was frozen, and he had to cobble together a squad of callow professionals, back-up loanees and stopgap signings. Circumstances have been tough recently too. In the past six weeks, Warriors have played in Newcastle, Cape Town, Pretoria, Lyon and Edinburgh. They are running without some of their go-to forwards in Scott Cummings, Rory Darge and Matt Fagerson.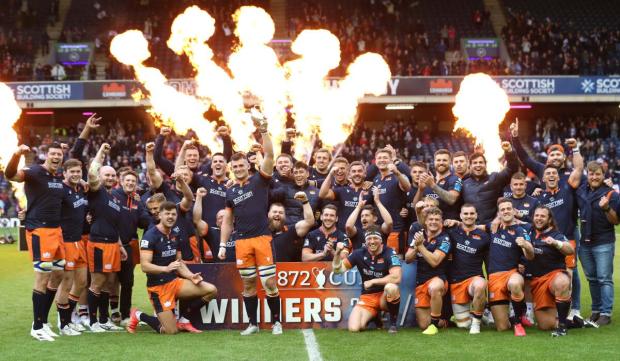 That will not wash with a fan base accustomed to style and success. The Glasgow attack – the exhilarating brilliance upon which their identity was forged – has been too blunt of late. They have lost all but one of their past six away matches. Their second-half displays have gone from niggling sores to maddening handicaps. On Saturday, they went in 13-6 down at the break and lost 28-11. They blew a handsome lead in Lyon, and with it, a spot in a European semi-final. There have been desperate second halves in Llanelli, Cardiff, and South Africa. Is it fitness? Is it belief? Whatever is to blame, the trend shows no sign of abating.
Wilson always planned to temper the all-court elan of the Gregor Townsend and Dave Rennie eras with pragmatism. Darge, Fagerson and particularly Jack Dempsey, have given them a more abrasive edge. Their set-piece is among the most statistically effective in the URC. An average of three tries per league fixture is decent going too.
But if that blueprint isn't bringing results – and at the moment, it isn't – Glasgow's followers will grow restless. Ambition and entertainment and tries have long been their sustenance. Already, some of the more vocal Warriors fan accounts are calling the coach's position into question.
A chunk of supporters were unmoved by Wilson's fine record at Cardiff when he took the role in 2020, particularly after a stint as Townsend's assistant that did not work for either party. It would be grossly unfair to judge him on last season given the insane constraints under which he was working. In fact, he did well to blood and nurture a crop of young players who have flourished since.
But next week, Leinster will surely bring Glasgow's campaign to an end. Two seasons into his job, with an inconsistent team, no Champions Cup spot, and an unsettled fan base, Wilson has a lot to do.
Welsh rugby stares into the abyss
To be fair to Nigel Walker, the WRU's recently appointed performance director, he did a creditable job in defending what has been a tumultuous few months for the game in Wales. On BBC Scrum V, he tacitly straight-batted the perception that the game was in crisis and preferred to call them challenges. He stressed the margins were fine and that 12 months ago, the Welsh public were toasting a Six Nations title.
While Walker can spin that it's business as usual, if he scrutinises the game at school, community, age-grade, Welsh Premiership, United Rugby Championship and Test level, he will find there are fires to douse, and it seems, not enough trained firemen. For many, after the humiliating loss to Italy, the tour to South Africa will be one watched through their fingers, and if you take social media as a litmus test to the sense of disharmony (never wise, I grant you), you could only assuage that it's toxic.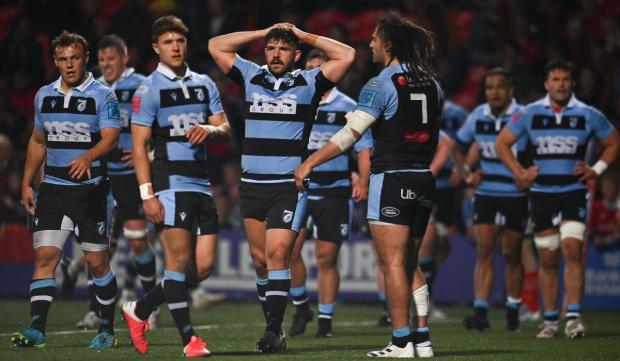 We are told that meetings are going on behind the scenes with the PRB (Professional Rugby Board) that will look to map out an improved path out of troubled waters, but there has been no question of looking at the very structure of the game whereby just 10 per cent of the amateur clubs can call an EGM and vote out a Chairman, as they did with Gareth Davies. Until there's a change in the constitution, you worry the game cannot successfully forge its own path as a professional sport with the amateur game calling the shots.
When Cardiff went down 69-21 to Benetton Treviso, shipping 10 tries in the process, it was the 19th time a Welsh region had conceded more than 40 points this season. Over at Rodney Parade, after a 21-11 loss the the Lions, Dean Ryan could look back at a season where they did not win one home game. In a results business, despite the many mitigating factors, that is simply not good enough. The Welsh regions didn't win a game in Europe and will not have one representative in the URC play-offs and for a rugby nation as high-profile as Wales, and there has to be accountability, because the way it's going, domestically, the regions risk becoming an irrelevance to all but the hardy few.
Walker asked that Welsh rugby 'works together', but at the moment, acrimony is the only currency in Wales while the game flounders. Shrewd diplomacy and a blueprint for the future is required and it cannot come quickly enough.
Veteran Maitland still oozes class
At 33 years old, Sean Maitland no longer boasts the speed and acceleration that carried him to Crusaders honours, Glasgow stardom, Scotland caps and a Lions tour in 2013. But he has lost none of the nous that make him such a valuable component of the Saracens winning machine. It is no surprise Mark McCall has given the winger another year at the StoneX.
Maitland is not the sort of edge-of-the-seat, rip-snorting wide man in the mould of Adam Radwan or Louis Rees-Zammit. But boy, is he effective. And when not playing, conspicuous by his absence. Maitland has a supreme rugby intellect, a knack of knowing where to be in attack and defence, and great aerial prowess. He is also a terrific finisher. Saracens – and McCall – know his worth.
Time for rebirth of the fifth province?
There is an unwritten rule, albeit a strictly enforced one, that prevents Irish players being capped for their country if they are not on the payroll of one of the four provinces, Leinster, Munster, Ulster or Connacht.
While it's all well and good having control over your players – especially when it comes to managing their game minutes – you still can't help wondering if a trick is being missed.
For some, a desire to travel will always be there. Ask Simon Zebo, once of Racing 92, or Ultan Dillane, set to move to La Rochelle. For others, opportunity knocks elsewhere. Tadhg Beirne, remember, had to relocate to the south of Wales after the door closed on him at Leinster. Before then, there was Gareth Steenson, once of Ulster, better known for his heroics at Exeter, who flew the nest.
It seems incredible that Steenson was never capped by Ireland, especially in the years separating Ronan O'Gara's departure and Joey Carbery's arrival, when Ireland struggled for a back-up to Johnny Sexton. The stay-at-home rule killed Steenson's Ireland hopes.
The thinking behind this policy is obvious in that not only can the Ireland coach keep a watchful and controlling eye over his players' game-time but also that the four home provinces can remain competitive by dissuading players from going abroad.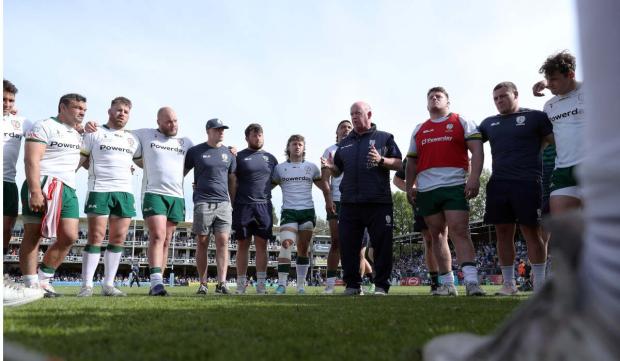 But what if there was a fifth province to cater for those who wish to travel?
Way back in the 1990s, there was. Just before professionalism led to the creation of the Celtic League (now the URC), and the Heineken Cup, the only competitive action Ireland's four provinces saw was in the inter-provincial championship.
For four years, between 1992 and 1996, a fifth province – the Exiles – played in the interpros, providing a playing outlet for Nick Popplewell, Simon Geoghegan, Rob Henderson. Two of those three were British and Irish Lions; Beirne too overcame his Leinster rejection to become a Lion.
A quarter of a century on, the time has come to add to Ireland's depth chart, to tinker with its own unwritten rule, to create an added layer of ready-made talent to the roster.
London Irish have the identity. They also have the outlet, one of the world's best leagues, for Irish-qualified players to operate in.
More than that, they have a former Irish international coach, Declan Kidney, as their director of rugby. All the dots are there; it just needs someone to join them up.