Saracens lay down a marker as McFarland takes flight
The URC is gaining credibility by the week as a serious league, while the Premiership continues to throw up some quite jaw-dropping fixtures, against the backdrop of financial strife. There is plenty on the line, too, with Autumn Series squads set to be picked within weeks, but spare a thought for Worcester Warriors, who are being picked apart, piece-by-piece in a shameful episode in professional rugby's history.
Here's what RugbyPass+ made of the weekend action…
McFarland the show-stopper for ruthless Saracens
Back in July 2019, Theo McFarland was playing basketball for Samoa against Tonga in the Pacific Games. Tonga won a free-throw. The thrower missed. Up sprang McFarland, soaring to claim the rebound, before dashing from one end of the court to another, taking flight towards the rim, and obliterating a flailing Tongan to slam the ball into the basket.
It is this intoxicating blend of dexterity and athleticism that first alerted Nick Kennedy, Saracens' recruitment czar, to McFarland's rugby potential. At that time, the giant Samoan was about to pack both sports in. He wasn't getting anywhere in rugby, and basketball did not hold the promise of a lavish future. He worked his family's plantation while holding down a job collecting debts – a job, needless to say, he despised.
McFarland had spent time in Global Rapid Rugby. Too much time, in fact. His Samoan team were stranded in Auckland for the better part of six months when coronavirus began to rage across the world. He had a trial in Japan, but for whatever reason (and you can only scratch your head at what those reasons might have been, and whether those making them are still employed), wasn't offered a contract. He was signed by the Dallas Jackals, who then deferred their MLR entry by a year, leaving him twisting in the wind.
That's where Kennedy and Saracens came in. McFarland's blistering success shows the value of such rigorous scouting, and on focusing on what a player can do rather than what they cannot. For the Samoan has been an astonishingly good pick-up, exceeding even the loftiest of expectations set out by Mark McCall and his coaches.
His set-piece nous has rocketed, faster than anyone thought it would. Word is, he has started calling line-outs rather than merely jumping in them. The little nuts and bolts of his game, fostered only by immersion in a machine-like professional environment, are firing. On Saturday, as Saracens dismembered the champion Leicester Tigers in a rematch of the June Premiership final, he produced a quite jaw-dropping one-handed stretch, fingertip take, and laser-like delivery to his scrum-half. Line-outs very seldom go viral on social media, but this one has.
When you factor in all the skill and all the panache and all the points of difference McFarland offers around the field, there are few more effective back-five forwards in the English game.
Not bad for a boy who grew up using an empty Pepsi bottle stuffed with banana leaves as a makeshift ball.
Goodbye Ruby Stuesday
The whole Stuart Lancaster/Leinster marriage has been a story of mutual rehabilitation.
They were the club in decline, he the coach in exile. A World Cup had ended in humiliation for Lancaster and there seemed no way back. Now look where he is, due to inherit the most exciting backline in European club rugby, having spent six years fine-tuning the second most exciting backline in European club rugby.
Stuesday is what Leinster players call the second day of the week at their training HQ, for that's the day when Lancaster assumes command of the controls, imposing his vision on the team, putting them through a series of exercises dubbed 'creating chaos'.
With a roster of over 50 players to choose from, Lancaster divides his players into three sets of teams and plays a series of mini-games, creating scenarios where they have to either defend a lead or overcome one, all against a background of a huge scoreboard clock set at two minutes that ticks down noisily, like the clock on Countdown.
When one match ends, a fresh team appears on the field and the scenario is repeated – except every so often Lancaster will disappear to the opposite end of the park and throw a ball down on a five-metre line and shout 'PLAY FROM HERE' – thereby creating chaos.
The whole idea is to make the team adaptable and fit. As for the players, they hate it, because it tests them to the limit, and yet they love it, because it makes them better.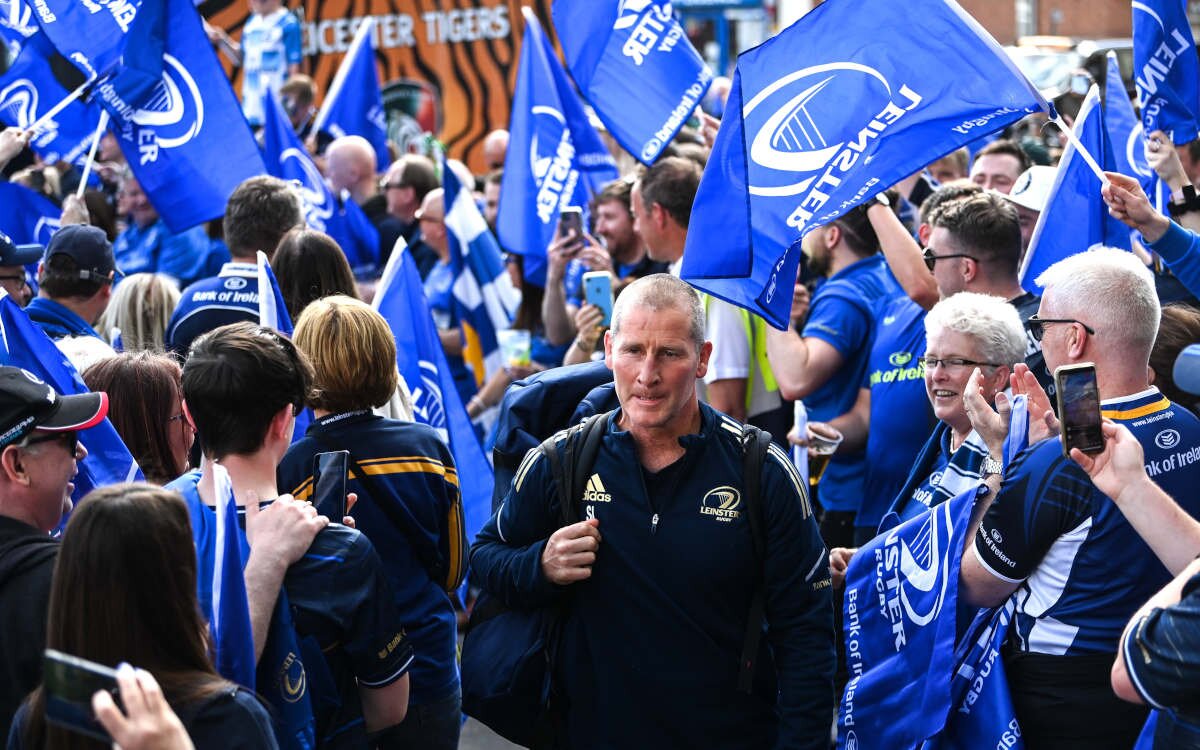 You could say that Lancaster created his own chaos last Tuesday when it was announced that he was leaving Leinster for Racing at the end of this season.
But is he? By seeing out his contract, he is giving Leinster nine months to find a replacement. Remember the last time they had a case like this? It was 2009. They were just after winning their first Heineken Cup when Michael Cheika let them know he was moving to Paris, a very similar scenario to Lancaster's now.
Except with one difference. Lancaster isn't Leinster's head coach. Leo Cullen is. Understated, openly aware he lacks the skills on the paddock that Lancaster possesses, Cullen – to the outsider – appears to be a No2 wearing a No1's uniform.
Well, he's anything but. He's as tough as old boots, Cullen. He is the one who drops players, the one who determines which players stay and which ones leave. He is the one who recruited Lancaster and the one who'll have a major say in replacing him. He's also the one who sacrificed his ego for the good of the club and realised he needed a more experienced sidekick on the coaching ticket.
The fact Leinster have won five trophies in the last six years, as well as reaching another two European finals, is indicative of how smoothly the Cullen/Lancaster partnership has worked. They needed the Englishman. The Englishman needed him. Now Paris calls, and he's a Racing certainty to do well in the Top14. You wouldn't have made that statement with much confidence in November 2015. But Leinster have been good for him, and he for them.
And the last time they lost a coach to a Paris club? They went out and replaced Cheika with a man called Joe Schmidt. When it comes to coaching recruitment, Leinster tend to do okay.
Newcastle find their gears at last
As Mateo Carreras scampered away from the Bristol chasers, slaloming along the Kingston Park paddock and over the try line for a sizzling score that sealed Newcastle's victory and nabbed them a bonus point, the cameras cut to the Falcons coaches' box.
For a decade, this claustrophobic little enclave was the fiefdom of Dean Richards. A giant who was the visceral, imposing epitome of this proud northeast club. Now, though, it belongs to Dave Walder. A long-awaited coming of age for the former fly-half who was Richards' head coach for five seasons. When Carreras scurried clear, Walder leapt to his feet and unleashed a full-throated bellowing roar of joy.
This was a massive result for the new sheriff. Walder had seen his team outgunned by Harlequins, steamrolled by Leicester Tigers and worst of all, thrashed by doomed Worcester Warriors in the opening three Premiership rounds. Though relegation is off the table, Walder knows the importance of keeping Falcons clear of the lower reaches and proving his credentials in the top job. He knows too what an opportunity he has to shape the club as he steps from the sprawling shadow cast by Richards. It will not escape the attentions of sceptical fans that while the old boss has faded into the background, only retired captain Mark Wilson has been added to the coaching staff. They want to see evidence of evolution and improvement. Too often, ravaged by injuries and short of confidence, Newcastle's attack disintegrated last season.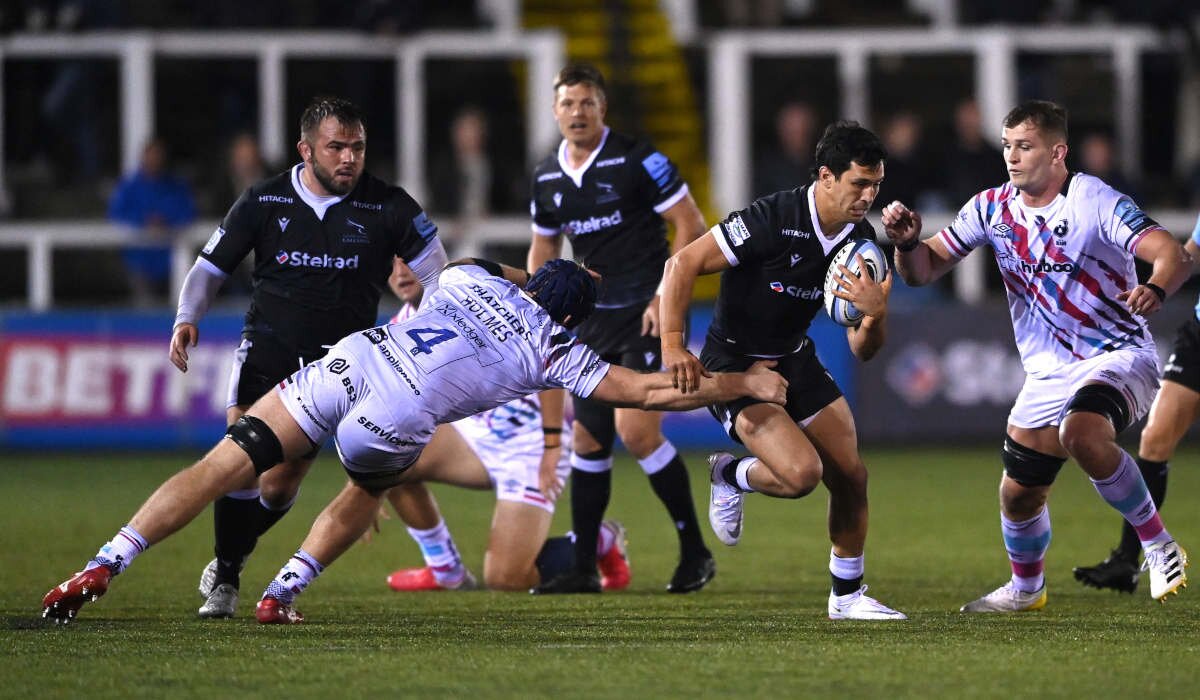 It helps, of course, Walder can call upon three Argentina internationals in his backline. The Matiases, Moroni and Orlando, are phenomenal in midfield, frequently Los Pumas' go-to centre pairing. Carreras, on the fringes of Argentina's top 23, is a dazzling little sprite on the wing. Chuck a certain Adam Radwan into the mix, with a sprinkling of hot-stepper Iwan Stephens, the pace of Nathan Earle and guile of Ben Stevenson, and Falcons have some serious attacking weaponry.
Walder needs this, and so do Newcastle. They are playing more rugby on his watch than they tended to under Richards. To develop their 'true north' new identity, retain and grow their core support, and make a solid fist of the Premiership season, more Friday night fireworks will be the order of the day.
Keelan Giles shows patience is a virtue
Six years-ago, Keelan Giles was another player marked as the 'next big thing'. At 18-year's of age, the youngster from Waunarlwydd's rise was meteoric. He scored 14 tries in his first 19 games and his expected call-up to the Wales national squad seemed only a matter of time. Indeed, he made it onto the replacement's bench for a Test against Japan in November 2017, but that was as close as he got. Two ACL injuries and a series of niggling hamstring complaints, saw his game time limited as the speedster was grounded for significant periods and the physio's bench became his constant companion.
The comeback started at the tail-end of last season where his finishing prowess was visible in the 54-36 win over the Scarlets and the confidence has come flooding back this game with four tries in three appearances. All have shown his electric pace, often in the tightest of spaces and his brace against Glasgow saw him picking up the Man of the Match Award, with respected commentator Ross Harries calling him the 'form wing in Wales'.  The player himself says feels he is faster than ever, despite his injury record, and were he to continue this form for the next few weeks, another Wales call-up is not out of the question.
There is something of a comeback for the small, electric wing with Darcy Graham carving up for Edinburgh, Cadan Murley and Tom O'Flaherty stepping their way to the try-line in the Premiership and the insanely strong Gabin Villiere and Ange Capuozzo thrilling the Top 14 with their derring-do. The hope is that the Ospreys wing can, at some point, light up the international stage.
Another week, another shameless episode in the tortuous Worcester Warriors saga
On the pitch, Premiership Rugby has delivered in spades. Now four weeks in, there have been thrills, spills and individual performances of world-class quality, however, a dark cloud hangs over the self-appointed 'most competitive league in domestic rugby. For all the platitudes being slapped on pace-setters Saracens, Sale and Exeter, the financial crisis engulfing Worcester Warriors continues to spiral into hellish territory for the club's beleagured staff.
The game prides itself on its family values, and the maxim that no one should be left behind should apply to Warriors. At the moment, there is momentum on social media. Gloucester have reached out to Warriors fans and offered half-price season tickets, to sate their lack of rugby. There has also been widespread support from players, who empathise with its plight and the loan moves for Ted Hill and Ollie Lawrence are painful necessities, but the relative silence from the RFU and Premiership Rugby has been deafening. Are they just going to let the club slide out of the professional tier? Are they going to take accountability for the fact they let Colin Goldring and Jason Whittingham anywhere near Sixways? Will there be an independent report and transparent release of its findings to make sure this cannot happen again?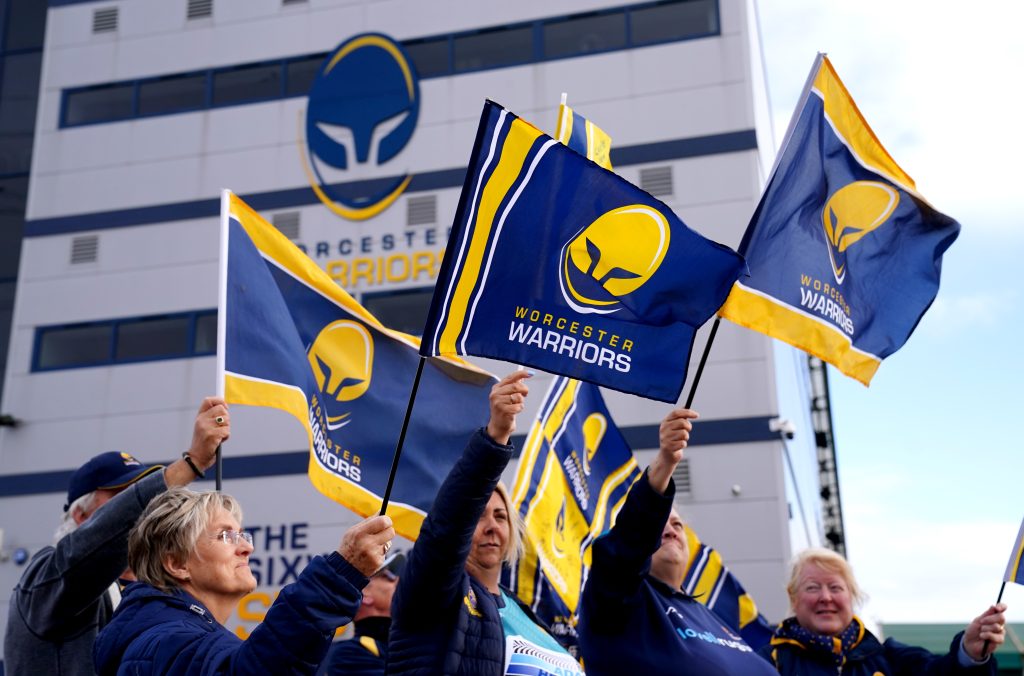 Worcester's disgraced owners are etching themselves a special place in the rogue's gallery of individuals associated with professional rugby in England. Their disgraceful non-apology, released on Friday evening, showed just how little they were prepared to take the blame for putting 250 people into financial hardship, with Academy players made homeless, staff unpaid for six weeks and people worrying about how they're going to pay their mortgage as the country slips into recession. It was classless, crass and crowing. Simply, a disgrace.
With the website taken down, medical insurance being taken away and Hill, one of England's most promising players, feeling compelled to call out the owners on television, it is a stain on rugby's reputation. The game has much to learn. It has to do better.
Demolition derby up ahead
It wasn't supposed to be like this. People in Munster had grown tired of Johann van Graan and change was called for, change desired. Now they've got it. And what has happened? Defeats in Cardiff and Dragons have been followed by a scrappy, tedious performance against Zebre where they failed to secure a bonus point.
Basic mistakes are becoming a nasty habit this season. They'd better sort it soon because you can't stumble your way to a home quarter-final in the URC the way you used to be able to do in the Pro14. This competition has depth now. It used to just have numbers.
The numbers aren't looking too hot for Connacht thus far. Played three, lost three. Points scored 39, points conceded, 102.
On Friday they host Munster and the soundtrack to that game won't have music blaring over the PA but alarm bells. Lose on Friday and Connacht then have to negotiate their way past Leinster (good luck with that one), Ospreys away, Scarlets at home and then Munster away. Bad and all as Munster are right now, Leinster are the only side that ever beats them in Thomond Park.
So Connacht are staring into the abyss. Friday is shaping up to be the pivotal game of their season, and we're only in early October. Lose then and it's not inconceivable that Andy Friend's team could be one win from eight by December. That's an ugly prospect to contemplate, as for Rowntree, is the fear of losing three of his first four in charge. Friday Fright Night will be a horror show for one of them.