Back

By Mick Cleary
Mick Cleary: 'There was nothing to warm English hearts, nothing whatsoever.'
The trouble with England is that you never know which England side is going to turn up. Oh, hang on, that's the French isn't it? Or it was. England only have minor claim on such hoary old cliches: a half-decent lot on some days, totally and utterly rubbish on a drab, dreary, chill Twickenham day such as this. The French cockerel, by contrast, struts to a different beat. They are a joy to watch no mater what your affiliations might be.
There was nothing to warm English hearts, nothing whatsoever. If the Welsh Rugby Union thought it had exclusive rights to presiding over a rotten state of affairs, then the RFU are doing its best to join them in an act of solidarity. Ineptness R Us. The national team used to be the flagship carrier, ploughing on through the waves even if other parts of the administration were taking on water. All sunk now, without trace, drowning not waving.
Eddie Jones must be thanking his lucky stars that he didn't even have to jump ship before it went down, pushed overboard by the RFU into a well-upholstered lifeboat with a fat cheque to help him along his way back home and another pay-day. The RFU are hapless and rudderless, investing in Jones long after he was past his sell-by date. There haven't been many proper passes executed by an Englishman in recent times but there's no doubt that they have perfected the art of the hospital pass. 'Yours, Steve Borthwick.' Chief executive, Bill Sweeney, has been under-fire on a number of fronts. If Ireland do to England as they did to this self-same France side at the Aviva Stadium only a few weeks ago, then there will be more sharp questions to be asked of the whole set-up at Twickenham.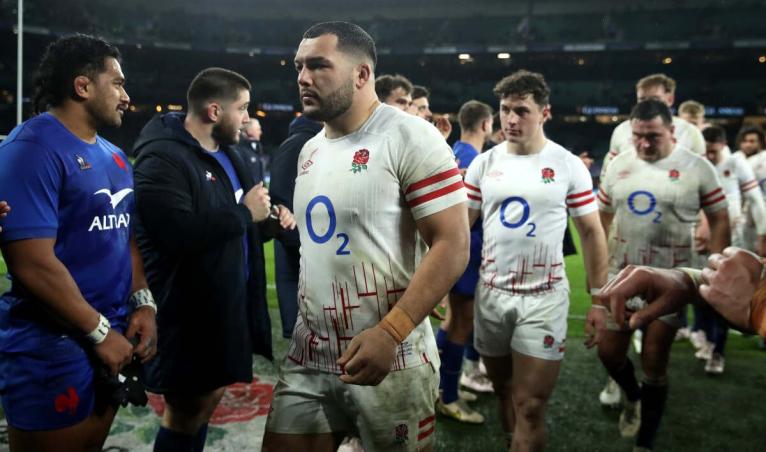 The shambles Jones left behind, of course, had an influence on this horror show. Any highlights package should be accompanied by a warning of its grisly content for England supporters, many thousands of whom were half-way home by the time Ben O'Keefe blew the final whistle. There was no way to camouflage the awfulness of the performance. At times the English defence bore resemblance to a Lineker-boycotted Match of the Day studio, forlorn and deserted, without purpose or identity, no-one at home.
Of course, just as a Manchester United can recover from a 7-0 drubbing by Liverpool, so England might  come back to play with greater purpose in Dublin. Well, in theory at least. "It's what needs to happen," said Jonny Wilkinson in the ITV studio afterwards in the greatest example of glass half-full thinking in the history of sport, seeing virtue in suffering of this magnitude. This is very different to when a young Jonny suffered the humiliation of a 76-0 loss to Australia at Lang Park in 1998 when the biggest casualty of the night were the poor saps who had to do press-ups behind the posts to match the scoreline every time a try was scored. Boot Camp Brisbane. England were hugely under-strength for that trip, resting and restoring. There are no caveats for this team.
There was not a single England player within a country mile of France's standards. Dupont is the epitome (and equal) of Gareth Edwards; all-consuming and irresistible.
True, we must doff the cap to France who played with verve and power, settling all those premature whispers that they might have peaked too soon in their quest for a World Cup triumph on home soil. The Man-of-the-Match award might as well have involved a roll-call of the team-sheet, from 1 to 15 and onto the bench, France were on-message and on-song with a display that was the equal of any of those produced by those hard-core geniuses of old from Jean-Pierre Rives through to Serge Blanco and his pals. Even current French coaching staff, Fabien Galthie and Rafa Ibanez who have Grand Slam notches on their belt, would purr with admiration over this generation. Gregory Alldritt, Thibaud Flament, Jonathan Danty, Thomas Ramos (the actual MoM) and, naturellment, Antoine Dupont – there was not a single England player within a country mile of their standards. Dupont is the epitome (and equal) of a Gareth Edwards, all-consuming and irresistible.
What now for England, assuming that the financial ravages at Twickenham allow them still to purchase a drawing-board? It is certainly a test for Borthwick who does, at least, possess a deep well of sang-froid, never exultant in victory and now, even if the temptation is to head for the nearest darkened room, not inclined to panic. Well, maybe not.
There are no quick fixes on offer. Even if the Marcus Smith-Owen Farrell selections did excite a lot of debate, few people would have quibbled with the XV the head coach sent out against France. It is a measure of the troubling situation that England find themselves in that the Smith-Farrell conundrum is the very least of Borthwick's problems although the England head coach might have cause to ponder his use of the replacements bench after an injury to Ollie Lawrence left the England midfield high and dry for the last quarter.
Alex Mitchell added a bit of zip when he replaced Jack van Poortvliet and the Northampton man should start against Ireland.
That's a minor blemish. England's biggest failing was at the breakdown. They badly miss the speed, strength and guile of the injured Tom Curry. Harlequins' No 8, Alex Dombrandt, is also struggling to impose himself and was one of those who made careless handling errors. Lewis Ludlam is worthy but was simply unable to compete with the blue-shirted mean machine in the France back-row. Courtney Lawes's absence, for sure, is felt.
The set-piece at scrum and lineout functioned competently enough but England simply could not get on to the front foot, a brief flurry of activity after half-time notwithstanding. It was a cross-country two carriage rattler up against the TGV going in the other direction. Alex Mitchell added a bit of zip when he replaced Jack van Poortvliet and the Northampton man should start against Ireland. Maro Itoje and Ollie Chessum were manful in part but ultimately swamped.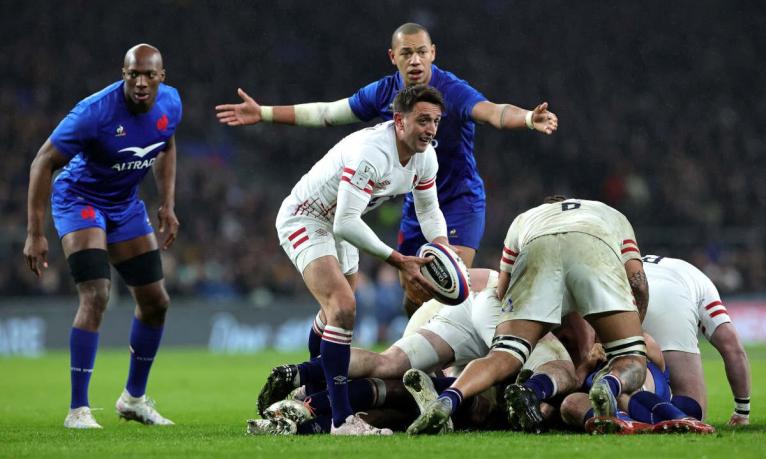 Ellis Genge cut a chastened  figure as he left the field when subbed for Mako Vunipola. The Bristol lad with the tough Knowle West upbringing was experiencing hardship of an entirely different order.
These are not easy days to be an Englishman with all manner of crisis and bother in the land.
England's defence obviously needs tightening but that is not going to happen overnight given how new to the job Kevin Sinfield is.
These are not easy days to be an Englishman with all manner of crisis and bother in the land. It would be good if there were to be a mini lift on the rugby front to (temporarily at least) banish the blues. But there is no good cheer to offer, none at all, after such a humiliating loss. England  will need all their powers of resistance if they are not suffer further indignity in Dublin. At least there is Guinness on offer to soothe the soul. Black stuff indeed.