Back

By Daniel Gallan
Max Malins: 'We were humbled by Toulon. If we're not at our best we won't win anything'
Mid-way through our conversation, Max Malins breaks the mould of a media-trained professional rugby player. At other points he talks about the "family-orientated atmosphere" at Saracens, and how he's "taking it one game at a time", but there is a moment when a refreshing burst of independent thought breaks through.
"I absolutely want to be the Premiership's top try scorer," he says candidly. "It wasn't a goal at the start of the season but the longer it's gone on, the more I saw my name at the top of the list, the more I was driven to achieve it."
And so, his 60th minute score last weekend was more than just a consolation in a 54-7 loss to Gloucester. Saracens were 40-0 down at the time, an immaterial fact given they'd already secured a home semi-final. But Malins' 40m canter was his 16th try of the campaign, nudging him one ahead of Newcastle's George McGuigan to secure the London Pride Top Try Scorer of the Season award.
Incidentally, 16 tries is as many as a 23-year-old Chris Ashton registered in 2009-10 with Northampton Saints when he ended the season as the most productive try-gatherer. Malins understandably admires Ashton's prolific record but also his insatiable appetite for more.
I look at Chris Ashton and how he's outspoken and unapologetic about his desire to score as many tries as he can every time he steps on the park. That's a winger's instinct.
"You have to want it," Malins says. "I look at Chris Ashton and how he's outspoken and unapologetic about his desire to score as many tries as he can every time he steps on the park. That's a winger's instinct. That's why he's scored so many. It's selfish but he's not shy about that and he knows that if he scores a lot of tries that helps the team. I think that desire to reach personal achievements is healthy."
This speaks to Malins' ambition as well as his impulse to stand out from a suddenly crowded field. English rugby is now littered with impressive young outside backs. Scoring more tries than everyone else is certainly one way to get noticed.
"It's probably the most competitive area on the park as far as spots for an England shirt goes," Malins says of the fullback and wing positions. "You've got Henry Arundell who's scoring some ridiculous tries, Freddie Steward is doing an unbelievable job for club and country, Louis Lynagh is rapid for Quins, Jack Nowell is there as well and Anthony Watson will soon be back in the mix. The competition is immense. But there's no point looking at them and wondering. You've got to go out there and do it yourself."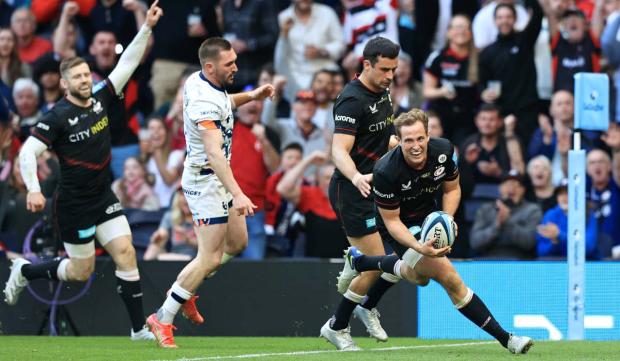 Arundell was recognised as the breakthrough player of the year at the Premiership's award ceremony this week, complimenting his inaugural England call-up a fortnight ago. Steward is the most assured 15 under the high ball anywhere in the world and a clutch of developing wingers, including Wasps' flyer Paolo Odogwu and Newcastle's Adam Radwan, are on Eddie Jones' radar.
Malins would likely have been part of the most recent England training camp were it not for a hamstring injury he picked up just before Jones assembled the group. It was yet another setback at an inopportune time following on from a broken metatarsal he sustained in December 2019 just as he was on the cusp of an England debut.
"It was frustrating back then as I'd heard rumours that I was in the mix for the Six Nations," he says, though he is able to shrug it off now that he's earned 15 caps for his country.
Being a Saracens player means we expect to win trophies.
"But this one [the most recent hamstring injury] scared me at first. The physio who was taking off my strapping after the MRI scan said that I'd picked up a pretty bad tear. Thankfully she was wrong but I just thought, "this isn't good, my season is over". I'm grateful I could still take part. I'd have been gutted if I missed the next few weeks."
Saracens host London rivals Harlequins on Saturday for a shot at the Premiership final in their first year back in the top-flight. Although the team is stacked with British and Irish Lions and international veterans, that is a worthy accomplishment and speaks to the standards that are set from within.
"Being a Saracens player means we expect to win trophies," Malins explains. "That's not to say we go out there and think we'll roll teams over. We were humbled by Toulon [in a 25-16 defeat in the Challenge Cup semi-finals] and it showed that if we're not at our best we won't win anything.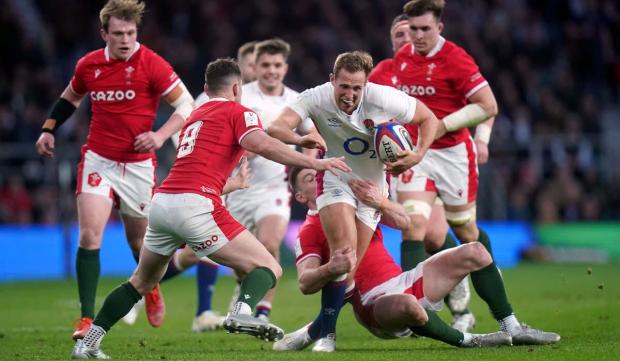 "But this is a club that expects to win things and we take that seriously. That Toulon result has given us a desire to get it right in the Prem, starting with a showpiece event against Quins. It's going to be special."
If Malins plays he'll do so out wide though that is not his preferred position. If he could wave a magic wand and conjure a number on his back for the start of a World Cup final, he'd be wearing 15.
"That's where I play my best rugby, where I believe my skills come out the most," he says. "I also love playing at 10 but that door is probably closed now. I'm happy playing on the wing. It allows me to score tries but I do prefer being on the ball more which is why I'd pick 15 if I could. But I'll play anywhere to be honest and I'm confident I'd do a good job."
My mates still give me stick about it. I wasn't ready for it. Thankfully that storm came and went pretty quickly

Malins on being compared to Beauden Barrett
That versatility is a "double-edged sword" as Malins himself admits. Industrious outside backs can often be viewed as a 'Jack-of-all-trades' but master of none. Malins recognises that this narrative can calcify into immovable perceptions and follow a player for the rest of his career. Then again, he's used to brushing off labels, such as the one ascribed to him by his club coach Mark McCall who once likened Malins to the All Black Beauden Barrett.
"I'm not sure he was thinking and it was more a throwaway line from Mark," Malins says, laughing a little, slightly bashful at the flattering comparison. "My mates still give me stick about it. I wasn't ready for it. Thankfully that storm came and went pretty quickly but journalists do bring it up in interviews from time to time. You can't really get ahead of yourself when those things are said."
Malins self-identifies as "level headed". While his teammates listen to heavy metal or rap before a match to hype themselves up, his headphones are filled with acoustic crooners Ed Sheeran, Jack Cullen and Luke Combs.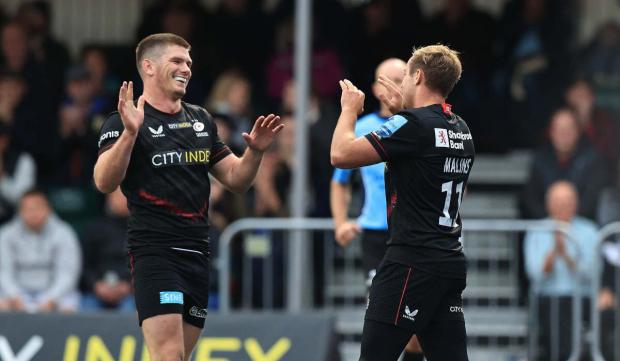 "To be honest, I can't remember the last time I let my emotions get the better of me," he says after a lengthy pause, at least conveying an attempt to recall such an incident. "I've learned from Mark that you never want to be too high or too low. Learning from Owen [Farrell] and Alex [Goode] in the dressing room and on the field, I've realised that there are things you can control and things you can't. If you can't control something, it's not worth getting upset over. If you can control it, then go out there and make a difference."
The gong for top try scorer in the Premiership was in his hands and he duly held on to it, becoming the first Saracens player to achieve this feat outright – four of Ben Earl's 11 tries in 2019-20 were scored for Bristol.
An England recall is not entirely within Malins' control but an assured performance over the next two weeks, if they can navigate their way past Harlequins, and he will surely catch the eye of Jones. And if he can score the decisive try in a Premiership final at Twickenham, he'll be even harder to ignore.