Back

By Ben Smith
Master of his craft
France's dynamic scrum-half Antoine Dupont had a world class 2020 as part of the French renaissance under new coach Fabien Galthie, combining hyper-athletic running, offloading, and ball-playing into a dynamite attacking package that is redefining ruck play.
His form last year saw him crowned Six Nations Player of the Tournament – the first Frenchman to achieve the feat since the award's inception in 2004. So far in 2021, Dupont has continued that form, earning a nomination for a second consecutive Player of the Tournament award.
He has well and truly entered into the discussion as the world best's scrum-half over the last 24 months.
There isn't a halfback around the world that can match the threat of Dupont's running game and France are fuelling his natural instincts with distinctly crafted game plans to enable the Toulouse playmaker to create havoc.
The difficulty in reading the attacking shape of France is that you often can't appreciate there's any structure in place until it's too late. It all looks rather unplanned, but there are certainly calculated aspects to their play.
It feels like France are so unstructured because they kick so much. It never feels like they are in the flow of possession because they don't hold onto the ball for very long.
Second only to England in kick metres (by a solitary metre) in the 2020 Six Nations, France also had the lowest pass count.
Following up on that trend in 2021, France were far and away the side that kicked the most with over 1,000 more kick metres than the next best team and continued as the team with the lowest pass count.
Countering the conservative nature of their preference for kicking is their high offloading rate.
Despite having the lowest pass count, France were offloading in nearly 10 per cent of their carries last year. The next best was Italy at 6.54 per cent, and three of the four home nations were under 4 per cent.
Again, in the 2021 Six Nations, France topped the offloads counts, with a rate slightly lower than last year at 6.9 per cent. The next best was Scotland with 4.3 per cent.
That is an outlier statistic but goes to the heart of how France try to break down defences. They kick, kick and kick, before all of sudden there is a flurry of attacking play through which they try to keep the ball alive.
This is a barbell approach to the game, playing two strategies at opposite ends of the risk spectrum. They are super conservative on one hand with their kicking to ensure territory remains in their favour, and very aggressive on the other to try and make the most of the small number of possessions they keep.
This should naturally balance out over the course of 80 minutes. They can afford more risks with ball-in-hand as they should theoretically play most of the game in safe zones of the field.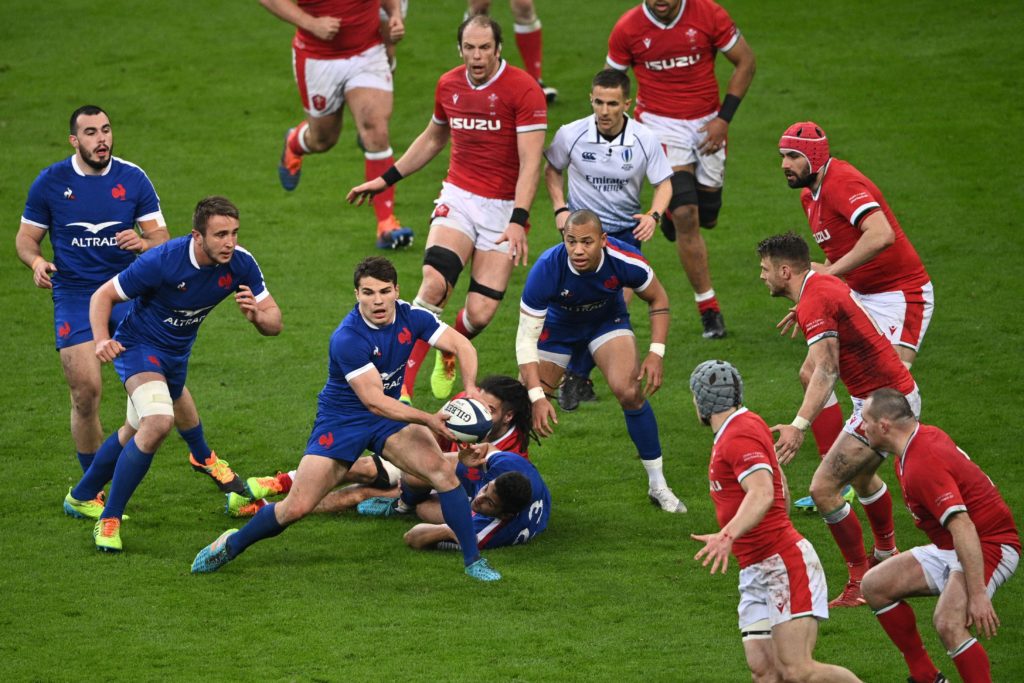 Another factor which has aided France with this strategy is rule changes and the extra policing of the breakdown, particularly now in attack where you stand to lose the ball in possession more frequently. Side entries or dangerous clean outs by the side in possession are pinged more than ever, increasing the risk to sides who play long phase counts.
France aren't keeping the ball in hand that long so needn't worry about this as much as other sides.
We saw how critical this can be in the Six Nations when Peter O'Mahony was red-carded for a dangerous clean out early against Wales, which severely dented Ireland's chances and ultimately proved to be too much of a hurdle to overcome.
France have seemingly found the right strategy at the right time. They have scored the most mesmerising tries in a fashion that has led many to declare that the old style of French flair is back.
Unsurprisingly, Antoine Dupont was the second most frequent offloader in the Six Nations in 2020 with eight to his name, and his captain, Charles Ollivon, was not far behind with six.
This year Dupont topped the charts with eight again, and France had five of the top seven offloaders in the competition.
France find ways to ignite Dupont's running game through their offloading game, and often this means playing tight and close around the ruck where he gets the majority of his touches. His combination with captain Charles Ollivon is certainly a key partnership in this facet of the game.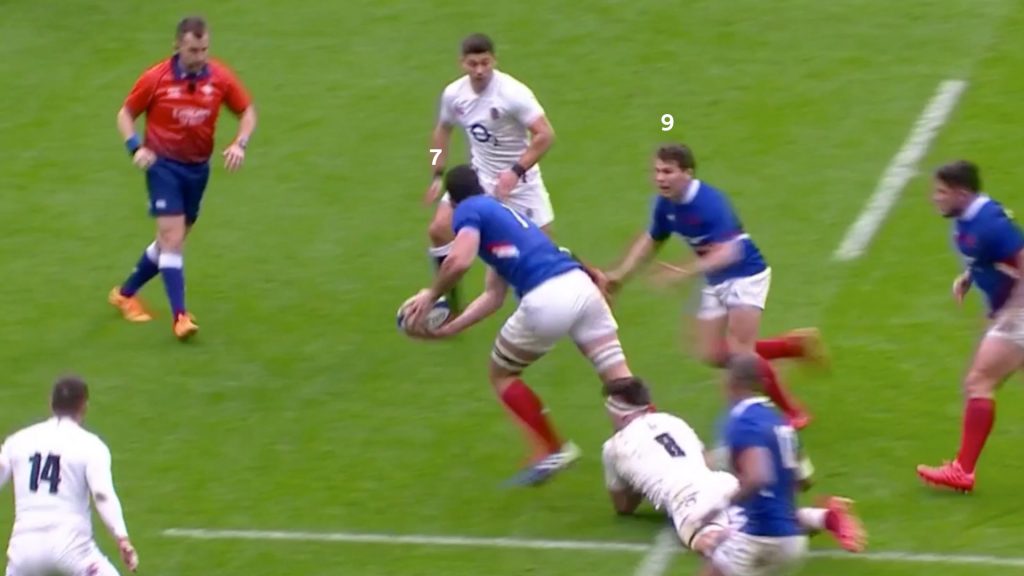 Ollivon is a big, strong, powerful man that also possesses offloading ability. At times you will see Ollivon 'follow' towards the ruck to consolidate play and tighten up the attack.
We can see this unfold against England in the opening round of the 2020 Six Nations in Paris.
After working very close to the touchline, France play strike centre Virimi Vakatawa (13) extremely narrow and funnel him into England's ruck defence. Ollivon (7) is seen crouching in behind Vakatawa as he charges onto Dupont's pass.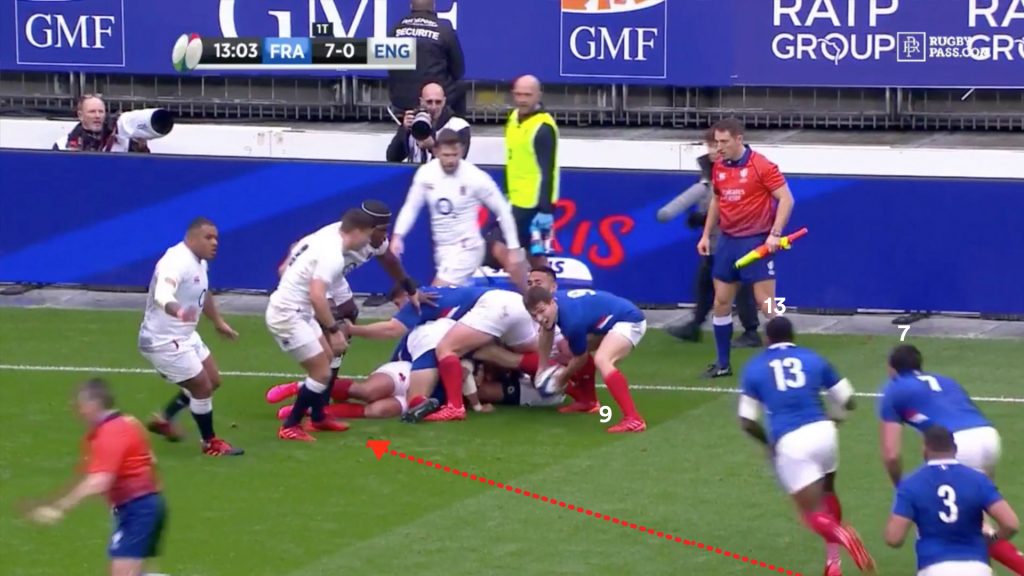 Vakatawa's powerful carry attracts Ollivon's interest, with the centre barrelling over two English players. Ollivon knows the ruck pillars have been compromised and the time is right to double down on targetting England's ruck channels.
The Toulon loose forward pushes past Dupont and follows Vakatawa to the base of the ruck in the pursuit of a quick recycle to use a pick and go to apply pressure to England's ruck defence.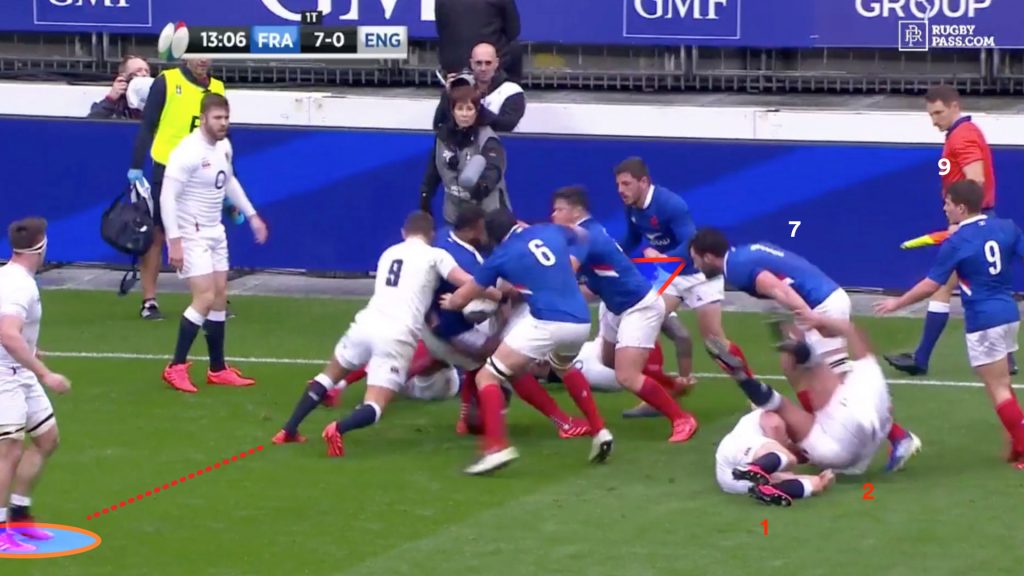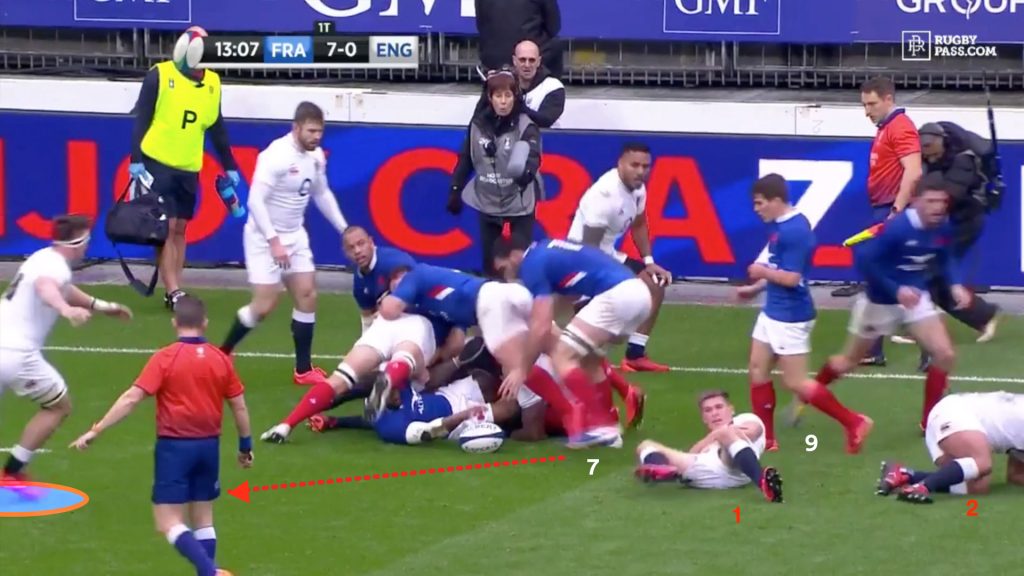 The clean ball placement gives Ollivon the opportunity to snipe where England are weak, but more importantly, free up the dangerous playmaker Dupont.
He submissively takes the tackle of Tom Curry in order to dish up quality ball to his halfback with a one-handed offload.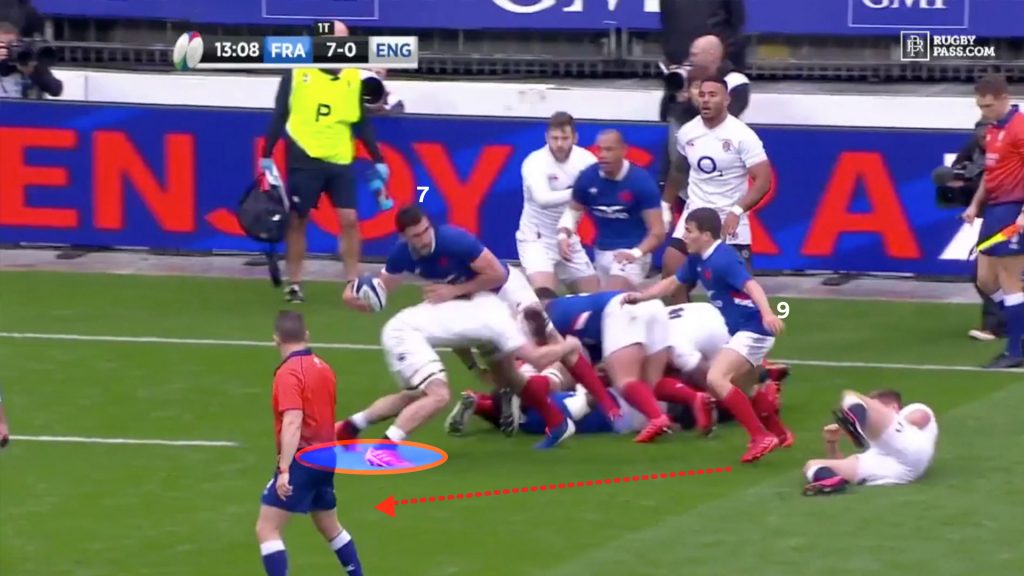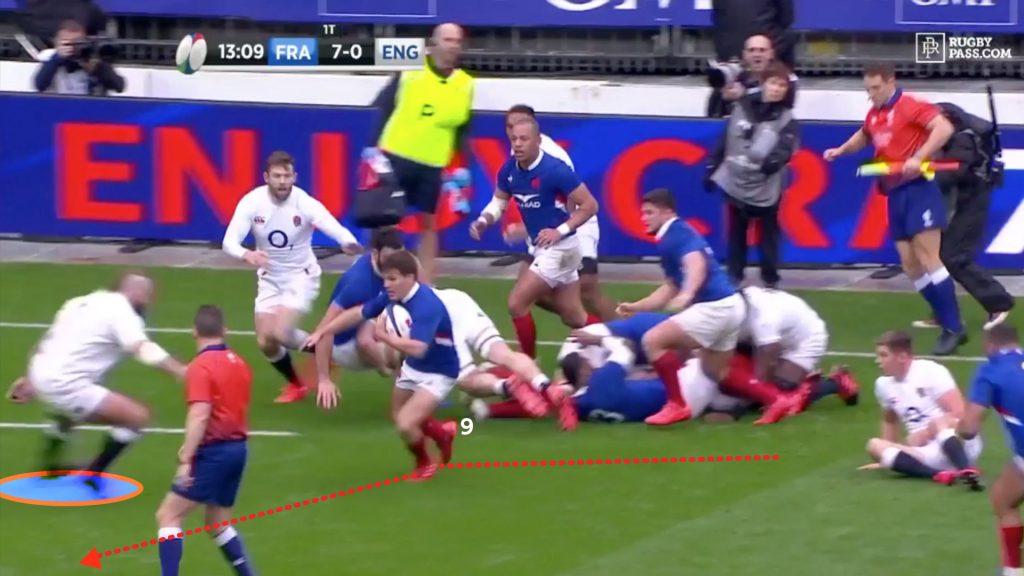 Faced with an English defence that needs to collapse in, Dupont puts a step on Joe Marler and cuts through for another 10 metres, looking for more runners to offload to.
This type of pet play is common through France's attacking possessions.
They will use power runners like Vakatawa, Ollivon or Gregory Alldritt to run crash lines close to the previous ruck, very flat off Dupont. The forwards will tighten and provide pick and goes or carries at the same spot in the effort of creating a chasm in the defence through which Dupont can take advantage of.
You will see forwards like Ollivon arrive at rucks late and think that he has overcommitted and become a passenger, but it is part of a concerted effort to look for weakness around rucks and play Dupont into the game off the back of that pick and go through an offload.
Against Wales below, Ollivon runs the same trailing line behind the ball carrier, this time behind Gregory Alldritt (8), before looking for an opportunity to pick and go with Dupont in his back pocket.
Alldritt's line is exactly the same as Vakatawa's, targetting the interior ruck defence after receiving a flat pass off 9 on a hard line into traffic.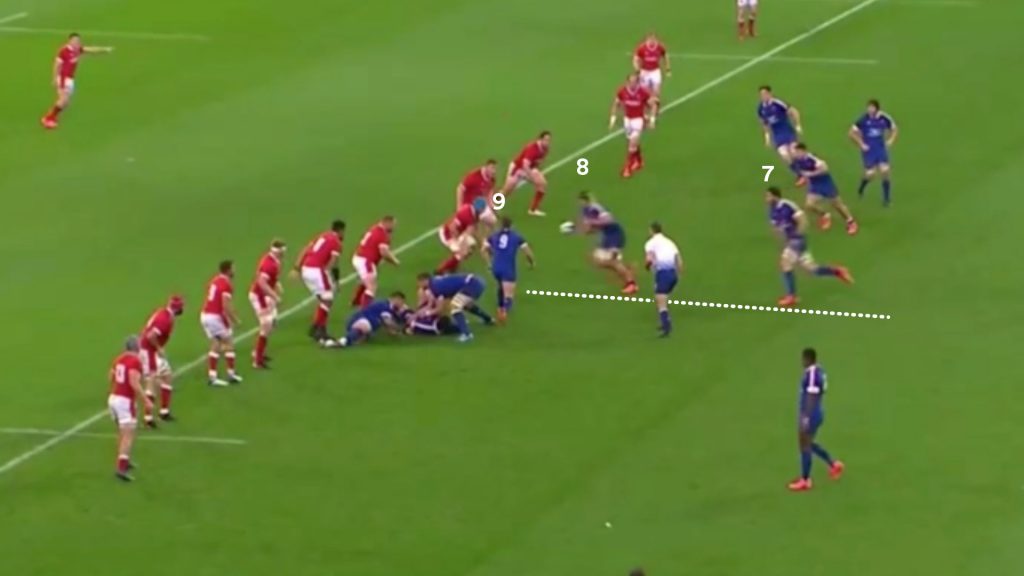 Welsh centre Nick Thompkins is bent over backward during a clean out by another French forward opening up space around the ruck. Ollivon, having trailed Alldritt, again pushes in front of Dupont and thinks about using the same pick and go to target that space.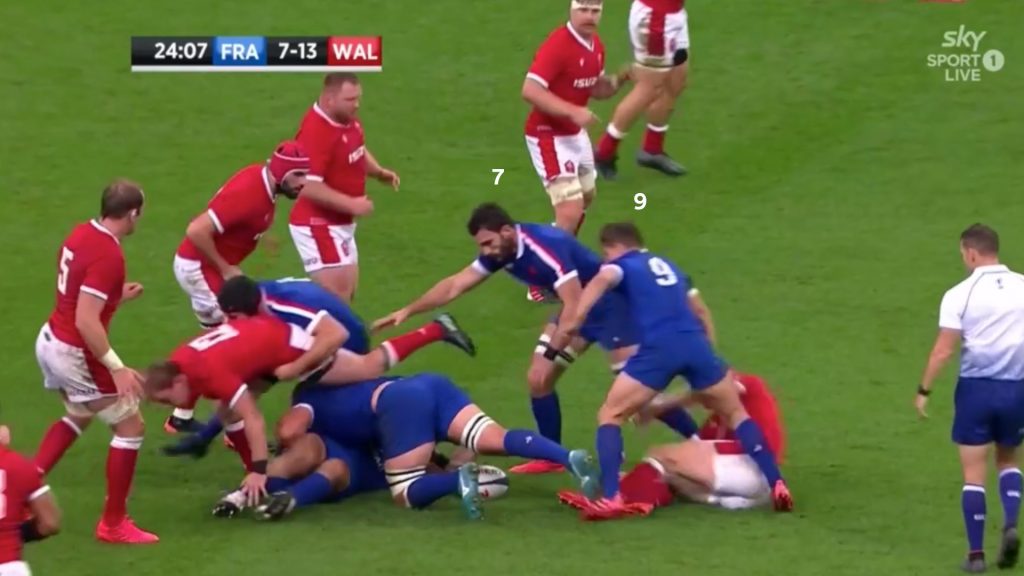 Against England this year, France continued this tactic and turned England's own strengths against them.
Late in the first quarter, an English player competing over the ball gives France the license to carry on with the clean out. If they have an extra forward there, the pick and go is on.
Tom Curry (7) tries to steal possession at a midfield ruck and is met by a strong two-man clean out from Alldritt (8) and Mohammed Haouas (3). France create a wedge by twisting Curry through the clean out towards the right side.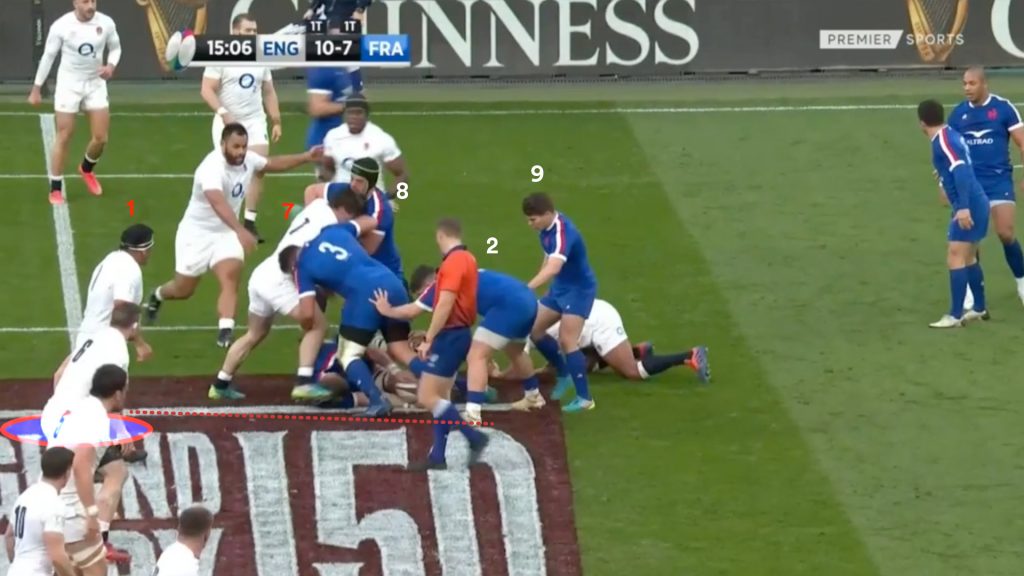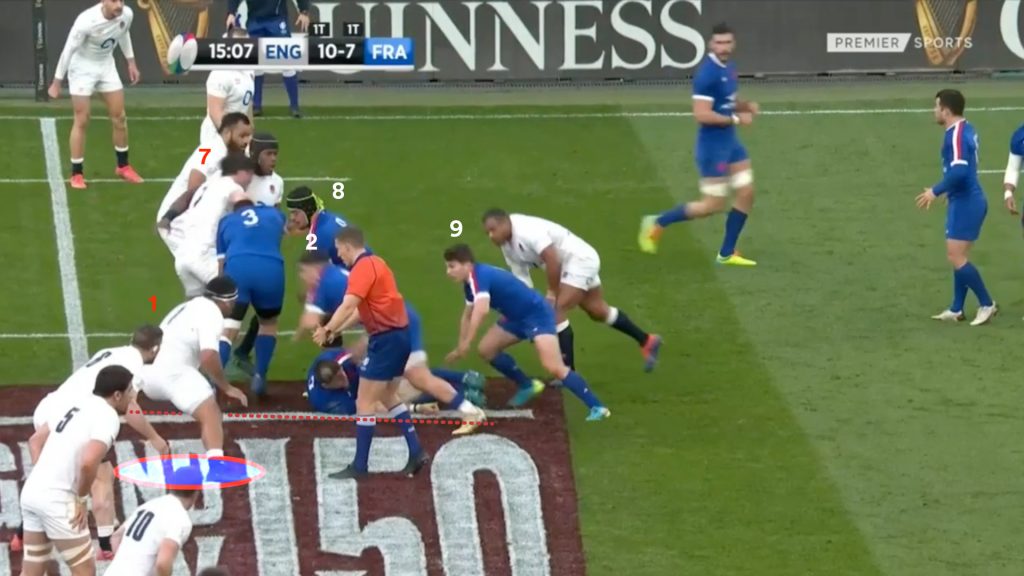 Curry is ploughed into Itoje by Haouas, creating protection and a seal where England cannot access the runner from that side. Hooker Julien Marchand (2) goes up the middle with the pick and go, with Dupont in support to take an offload.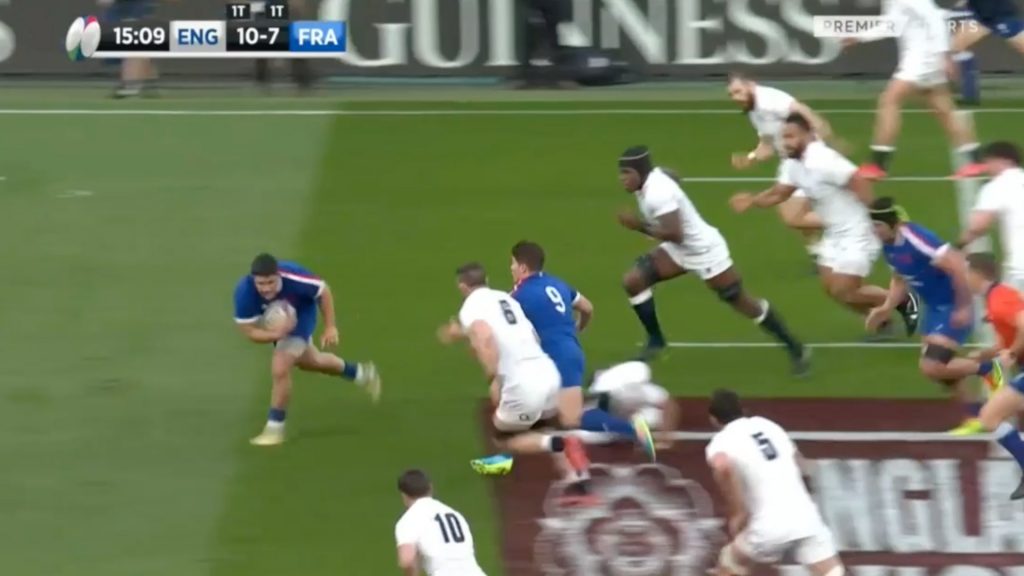 There are similarities between France's ruck play and an NFL offensive line opening up holes for a running back with blocking and shielding employed to open up space.
There are times when France's play around the ruck borders on illegal, but if they can get away with it, it opens up lanes for Dupont to have a run himself from the base.
Anytime a French player is extra keen on persisting with a clean out past the ruck is a sure sign they are clearing the runway for their star No 9 in one way or another.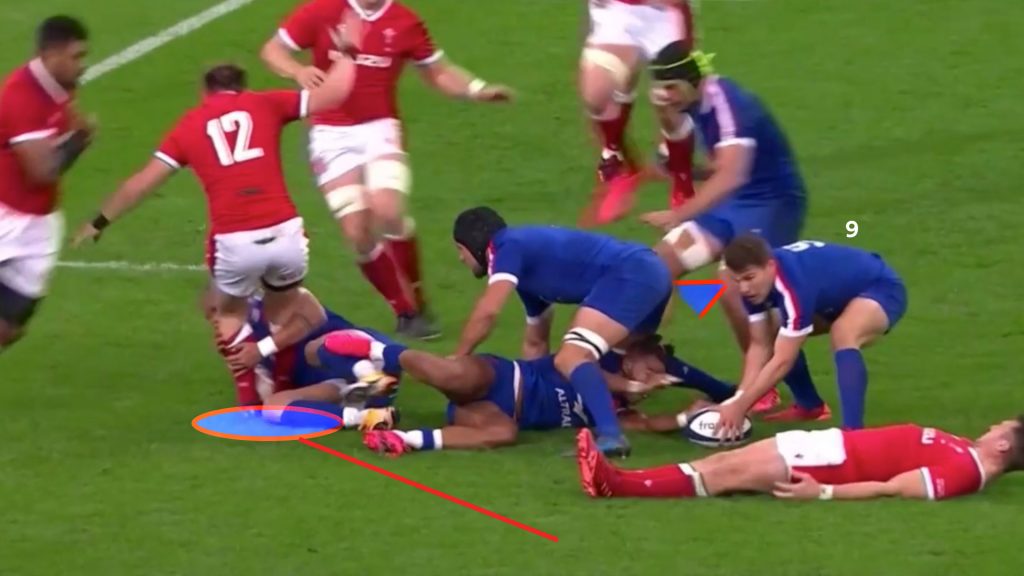 Against England in 2020, the use of blocking helps France break the line with a simple 1-2 taxi play planned with Teddy Thomas (14).
France's prop puts Jamie George (2) well past the ruck with a clean out that becomes a quasi-block.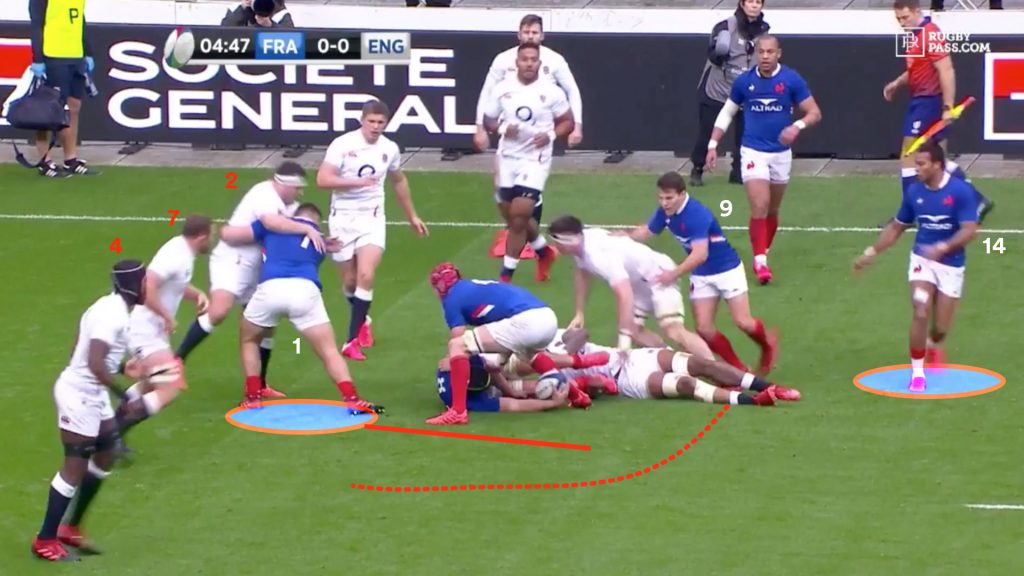 Releasing George just at the right time, France get away with the overzealous clean out despite Owen Farrell's protests. The block gives Dupont the space to attack the left fringe of the ruck, with one of England's pillars already moved out of the way.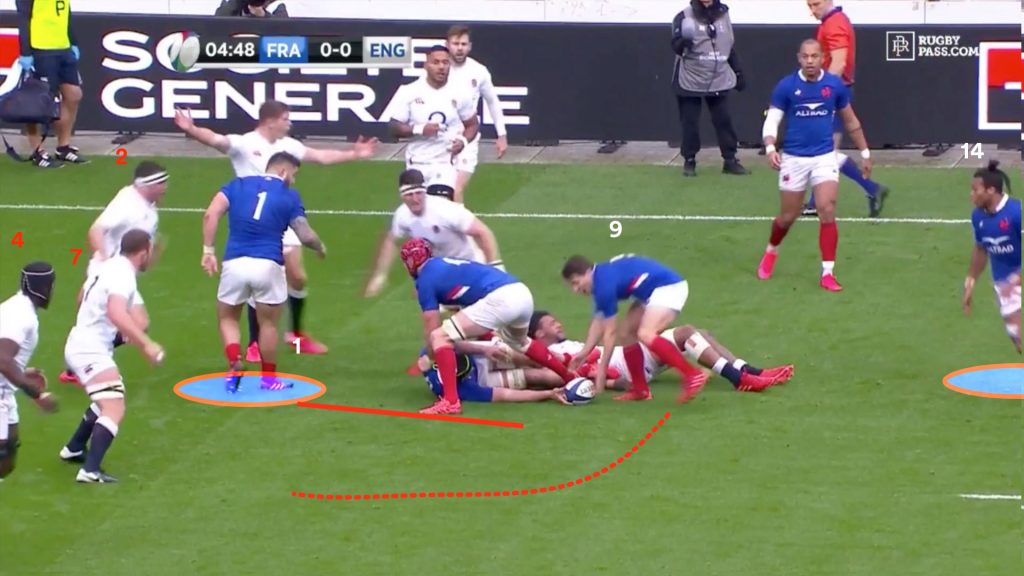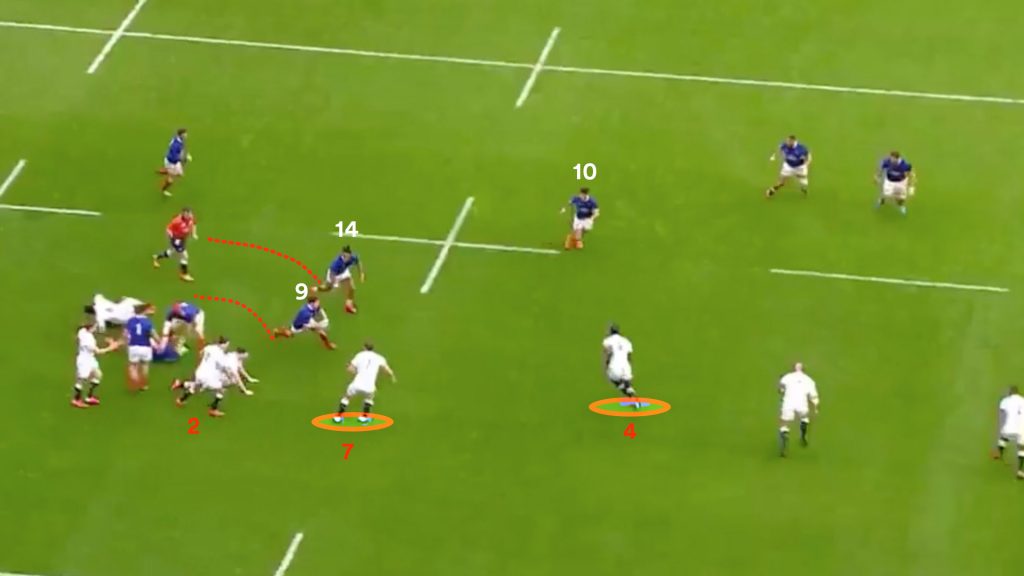 The crafty play by France allows Dupont to bounce out one man further than he usually would to exploit the gap between Sam Underhill (7) and Maro Itoje (4).
Once Dupont is easily past George (2), France have a two-on-one in short space.
Dupont doesn't get the timing of the pass exactly right, failing to draw Underhill into contact, but does enough to keep the gap open. Underhill does well to leave both tackle options open, but an outstretched dive can't stop Thomas (14) at full speed.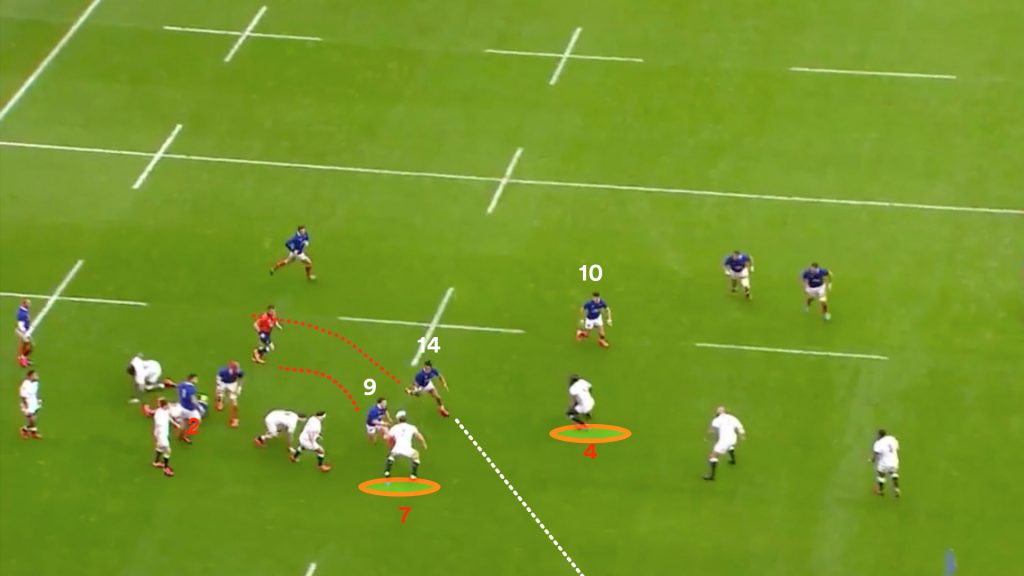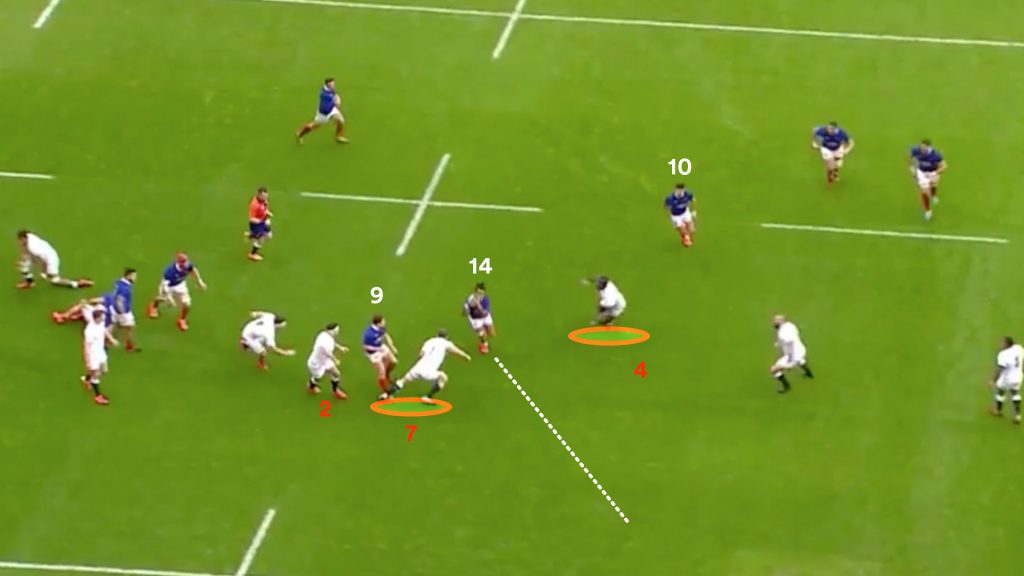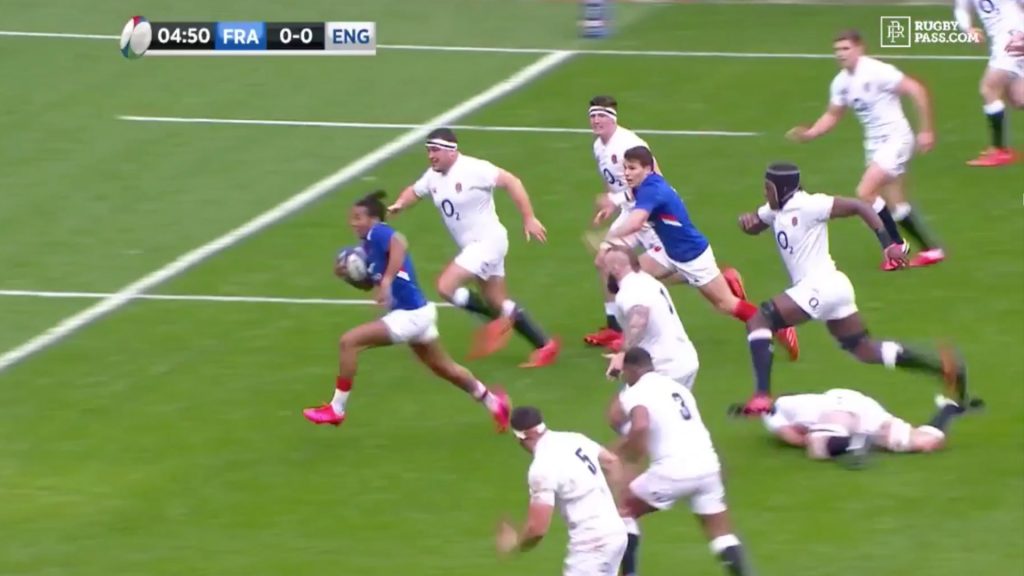 The ruck is a perfect guise to slip in the blocking plays that France are using to great effect. It's frantic a frantic part of the game, with lots for the referee to police where plenty of detail can be overlooked. When France send three or four forwards to a ruck, the picture can be congested for a referee.
It is impossible for the referees to determine intent, and therefore the perfect place to hide shades of illegal play. A clean out that becomes a hold or block by being one second too long is a useful tool to open up running lanes around a ruck.
Maybe the most important aspect of this style of play are that it looks messy. It looks unstructured. It doesn't seem like they have a plan, but that couldn't be further from the truth. Hidden in plain sight are the same moves that get repeated over and over.
It's clever play and gives Dupont a platform to work his magic as a runner or playmaker with ball-in-hand.
Below, Ollivon takes out a pillar defender against Wales to give Dupont a short runway to taxi off and be a ball-player.
France again use their favourite targets, Alldritt and Vakatawa as flat runners to give Dupont two running options to try and play into a gap.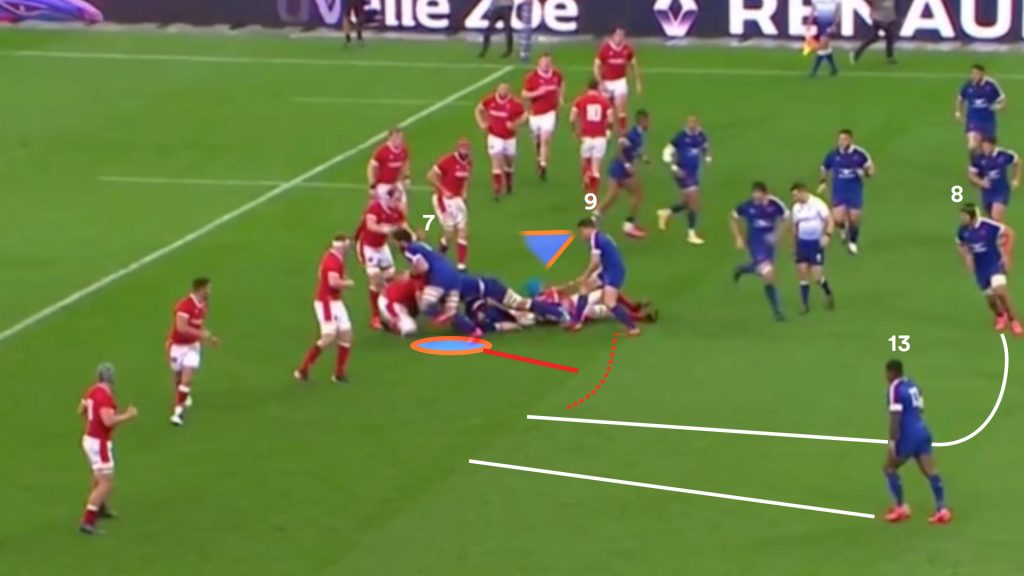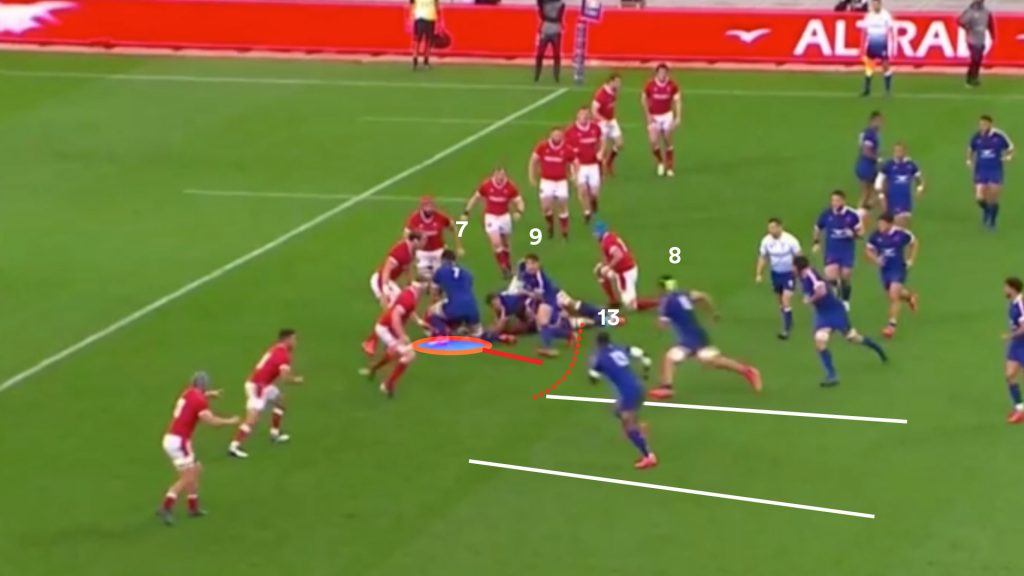 Dupont can dummy and run or hit one of his power runners to weaken the ruck defence again. Behind Alldritt you can see another trailling runner that could complete another pick and go, and Ollivon in close proximity will surely be looking to arrive late at the ruck with that play in mind.
It's all part of a plan to make Dupont the lynchpin figure of their attack and has helped put the Toulouse scrumhalf onto the world stage as one of the best.
It would be remiss to not talk about his support running which any good scrumhalf does, but Dupont has shown an uncanny knack for getting the last pass or the bounce from an inside kick and scoring tries.
When France do decide to attack wide, Dupont is always there looming up on the inside as a support runner running a perfect positive support line.
This is where Dupont's all-round skills have free reign as they try to finish off half-chances.
Against England this year in the first two minutes, he chased down a chip kick back infield from winger Teddy Thomas and tapped the ball up over Anthony Watson's head and caught it with outstretched hands diving over for the try.
Last November against Ireland in the replacement Six Nations clash, Dupont snatched a similar infield kick from Gael Fickou before flinging a wild offload back in field into the waiting arms of Romain Ntamack for a try.
He consistently comes up with big plays when his side needs to finish half opportunities and that's what few players are able to do.
He has all the tools as a triple run-pass-kick threat combined with the instincts that the great players have.
Over the last two Six Nations campaigns where France has finished twice as runners up, Dupont has racked up nine try assists and scored four tries of his own.
As an attacking force in the game, Dupont is currently unmatched. The pandemic has taken the shine off what he has achieved without regular games against the Southern Hemisphere nations to establish himself as a truly global star of the game. When France play a resurgent Wallabies team down under later this year, he will have that chance.
There are few players who reach a certain level of influence in the international game where they can shape the outcome through their individual brilliance in attack, Beauden Barrett did it from the All Blacks from 2016 to 2018 while, arguably, Stuart Hogg was as important a figure from 2015 to 2017. Dupont is at that apex now.
Aaron Smith may have the best pass, Faf de Klerk may have the best defensive game. Both have held the title of the world's best scrumhalf at various points in time due to those strengths but Dupont has taken that mantle over the last two years.
And Antoine Dupont isn't just the best No 9, he is the best player in the world.
More stories from Ben Smith
If you've enjoyed this article, please share it with friends or on social media. We rely solely on new subscribers to fund high-quality journalism and appreciate you sharing this so we can continue to grow, produce more quality content and support our writers.