Marcus Smith rekindles the magic as Autumn Tests loom
Sombre medical bulletins ahead of the Autumn Internationals dominated the headlines, while players overlooked – read Finn Russell, Rhys Carre and Danny Care – thrust forward their cases to national coaches – but aside from selection, what is beyond doubt is that the usual suspects are going into the domestic break in ominous form. Leinster and Saracens are, as ever, the teams to beat in their respective leagues and they have become mirrors of their respective talisman, Johnny Sexton and Owen Farrell; obdurate, competitive and highly-skilled. It will surprise no one if they are heavily involved at the business end of the season.
Harlequins tame the Sharks
One by one, some of the biggest beasts in the Premiership have taken on Sale, and one by one, the Sharks have seen them off, harnessing a cocktail of brutal defence and new-found attacking elan.
They did Northampton Saints and Bath, the latter while playing with 14 men for most of the match. They saw off the champion Leicester Tigers at Welford Road, and sank an in-form Exeter team in Manchester. They put London Irish to the sword last Friday to go five from five, their best start to the season since 2004, and eight from eight stretching back to the end of last term.
Never had Sale started a campaign with six straight victories. Never had they strung nine together in the Premiership. The Sharks had not swum with such menace for an age.
They are still waiting to clinch that slice of club history, though. For on Sunday afternoon, they were brilliantly undone by Harlequins and Marcus Smith.
Logic suggested that Quins, for all their guile and all their flair, would fetch up the AJ Bell and be battered by a massive Sale pack. That on a showery day in the northwest, they would not cope with Sale's power game. That after being flung around by Leicester like rodents in the mouth of a lion, they would fail to contain the north-south forward play of Alex Sanderson's juggernaut.
How wrong those assumptions were. Harlequins defended like demons. They won collisions, forced errors and feasted on them. Where they had been smithereened against Leicester, they bossed the breakdown. They did a number on Sale at scrum time and disrupted several Sharks line-outs. Contrary, perhaps, to the Quins template, they did not muck around in the middle third of the pitch, choosing instead to pin Sale back with raking diagonals and steepling box-kicks, squeezing mistakes from an increasingly desperate home team.
Though the forwards – in particular the outstanding Will Evans – were shovelling the coal, it was Danny Care and Smith with their hands on the wheel. Care has never possessed the raw dynamism of Raffi Quirke, 14 years his junior, but his canny decision-making and kicking game told.
Smith, who became the youngest player to hit 100 Premiership appearances, delivered magic in the first half and maturity in the second. Sure, there were a couple of over-exuberant chip kicks and wrong options taken, but they were heavily outweighed by the moments of sheer class.
Smith's gorgeous, end-over-end grubber off the side of the boot put Nick David in for the opening score. A moment of breathtaking excellence. He pierced through soon after for Harlequins' second. This is the kind of mesmeric, scoop-your-jaw-off-the-floor bonkerdom we associate with Smith. Such supersonic acts have become the norm, expected even.
But what was just as impressive, and just as compelling, was Smith's approach as the game hung in the balance. He kicked 'long and on' over and over, finding yards of untended Sale real estate, asking Joe Carpenter and Tom Roebuck to pluck rabbits from hats, where they were swallowed up by the chasing Quins. He nailed all seven of his place-kicks, each of the four second-half penalties driving another nail into the Sharks' coffin.
It was this sort of grit and doggedness that underpinned Quins' incredible title run in 2021 – more than the highlight-reel stuff we all know and lionise. Every time Sale tried to rise from the canvas, they found Smith's boot wedged on their throat. This was a superb away performance. The pragmatic rugby that claims scalps and championships. After two wins from a run of bruising fixtures, Quins needed this. A timely reminder of their considerable might.
Saracens leave Sandy Park with the spoils
Saracens were humbled back in June. In a stadium where they've enjoyed so much success, Freddie Burns' late drop-goal sent Leicester's fans wild, while Saracens players dropped to their knees in sorrow. What we do know about the North London club is that they know how to pick themselves up and go again.
This season, they remain unbeaten, with six wins out of six. They demolished Tigers, putting 50 points on them, and reminding Burns, entirely legally, who was boss with some eye-wincing rib-ticklers, put Newcastle Falcons away with ease, and defeated an Ollie Lawrence-inspired Bath 37-31, where the word was the powers-that-be were none too pleased with the laissez-faire attitude.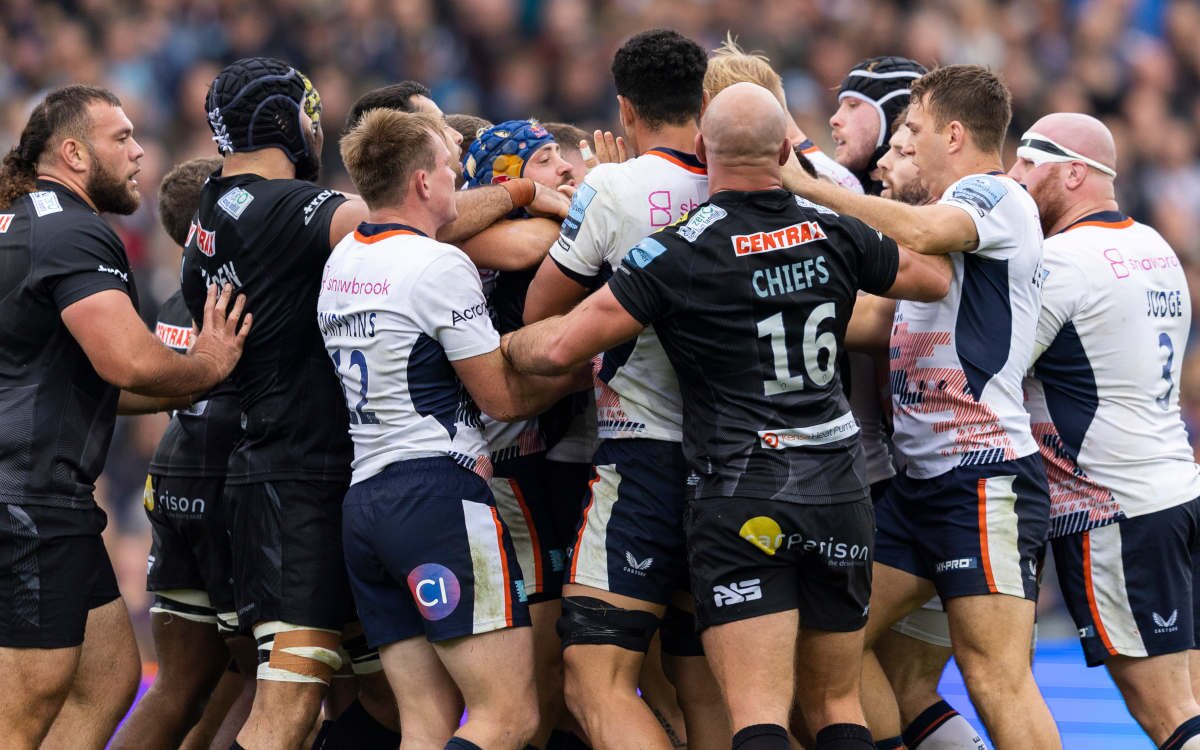 Down at Exeter Chiefs, which has become something of a grudge match, after the Devonians were vocal in condemning Saracens to a season in the Championship, an attritional, hard-fought contest looked to have been won by Henry Slade, in a nod to England coach Eddie Jones, that he still remained a most gifted performer, with a 76th minute penalty, but the Saracens pack gave Alex Goode a final opportunity to take the spoils, with Owen Farrell off the pitch after a knee to the head.
Goode had been on for barely 20 minutes, but on matching Kris Chesney's long-held record 337 appearances for the club, stepped up and struck the ball through the uprights, in the manner of a golf pro, who sent an 8-iron whistling towards the pin with a slight draw as it sailed through the Exeter sky to send his team-mates giddy with unalloyed joy. As the Stone-X is  upgraded, few would be surprised if a Goode vibes bar is opened in the full-back's honour, such has his impact been in the last 15 years.
Saracens, on the early season evidence, appear to be the team to beat in a slimmed-down Premiership.
Cardiff no longer singing the blues
When a side is accused of a public wrongdoing, it can go two ways; drive the side further apart and put even more pressure on a beleaguered coach, or galvanise the side to pull together, even tighter, and kick on. Now whatever went on at the Grange Pub in Cardiff a few weeks ago is open to conjecture and speculation, but whatever the truth, it seems to be a line in the sand for an unperforming squad under Dai Young.
What went on was kept in-house, but what is beyond doubt, is that they have now registered three wins on the bounce in the URC, with two local derby wins over the Dragons and Scarlets before a hard-fought win over the reigning Champions, the Stormers, who were on a 15-game unbeaten run. There's no doubt it's one of, if not the finest win, of Young's Cardiff tenure since returning in January 2021.
They ran out 30-24 winners, but this was no fluke. The pack fronted up to a front featuring Springbok Steven Kitshoff, Joseph Dweba and Frans Malherbe, and Rhys Carre made a mockery of Wayne Pivac's decision to omit him from the Wales squad, with a powerful all-round display in the loose and tight. The backrow duo of Thomas Young and James Botham was particularly productive in spoiling any quick ball the Stormers tried to produce, with Young quickly over the ball and Botham, regularly causing a nuisance of himself at rucks and mauls. Equally impressive was Josh Turnbull, who at 34, is still turning in lung-busting performances in the back-five and showing his leadership qualities, week after week.
Another veteran to roll back the years was Rhys Priestland. The former Scarlet rolled up his metaphorical sleeves in a wet night and pushed his pack around the Arms Park, with some astute kicking, and it was his vision that saw Theo Cabango flying in for a timely score in the first-half after a speculative cross-kick. If Wales, who has ever decreasing numbers of fit place-kickers, need someone to drive their backline, they could do worse than pick Priestland to win his 53rd cap.
A rejuvenated capital side, is good for the regional game, though I doubt Young would ask for a repeat of the events that stirred a reversal of fortunes.
Rivalry? What rivalry?
There was far too much talk in the aftermath of Munster's 27-13 defeat to Leinster on Saturday about how they had rediscovered their identity. That suggests they'd lost it in the first place when the truth is they have been doing alright across the last decade, reaching five Champions Cup semi-finals and a quarter-final, taking big scalps along the way: Saracens, Racing 92, Leicester, Toulon.
The one scalp they rarely take these days is Leinster's. The eastern province have now won 26 of the last 34 games, including nine of the last 10. The one exception was when Munster turned Leinster over in the Rainbow Cup. The what?
Yes, the never to be forgotten Rainbow Cup, a competition tagged onto the end of the season where a random set of fixtures were drawn up and Benetton somehow ended up in the final on the back of beating Zebre twice, Glasgow and Connacht. In this context, Munster's 27-3 victory at the RDS in a behind-closed-doors fixture is not likely to go down in the annals of history.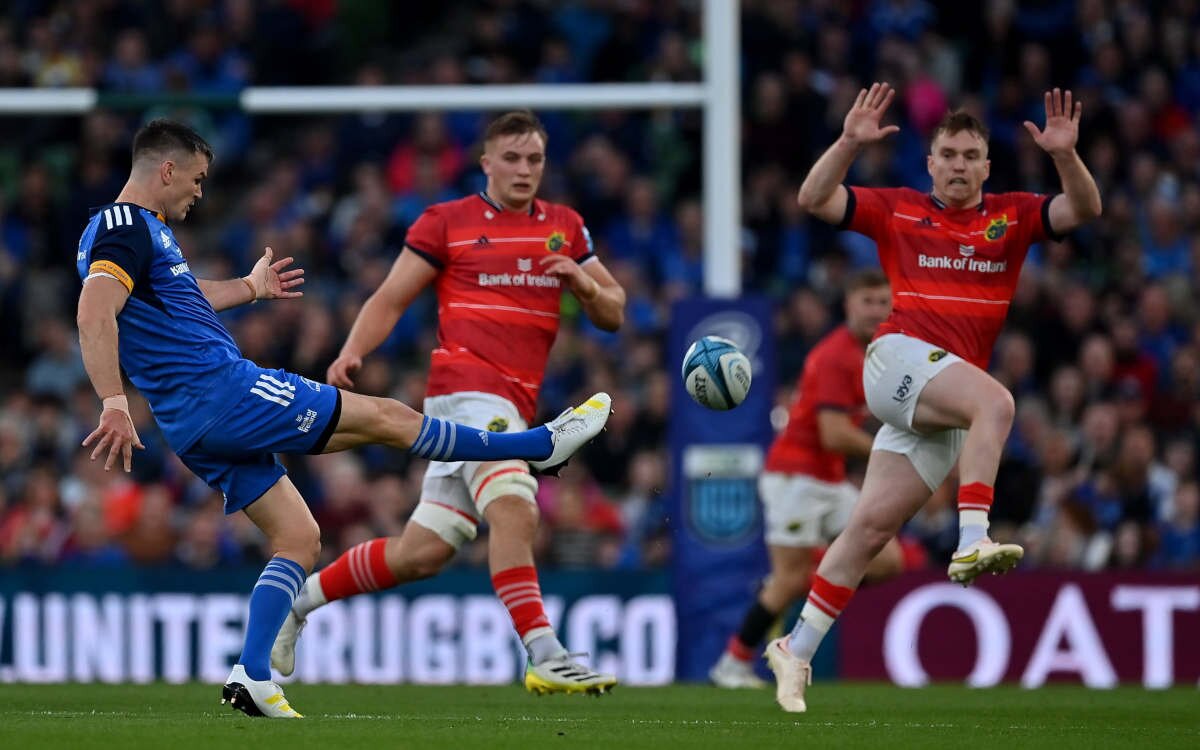 Saturday saw their youngsters get a chance. And they took it, playing with grit, a never-say-die attitude, doing enough to earn the right to be offered the chance to play for the team in another big game. But we're often guilty of overpraising teams when expectations are so low.
That's where Munster were prior to Saturday. Anyone checking on the team announcement had their mind made up. A near full-strength Leinster would crush a largely second-string Munster. The fact it didn't pan out that way doesn't make it a triumph for Munster. They still lost by 14 points against a side who spurned a number of first-half chances.
That's the way this derby has played out in recent years. You have to go back to the 2014/15 season for a time when Munster last did the double of their neighbours. The second of those wins made it 43-41 to Leinster in the head-to-head post-war meetings between the sides.
Since then Leinster have won 16 and lost three of the 19 games between the provinces. That's not a rivalry, folks. That's a slaughter.
Milestone Mata
There's a yarn about Viliame 'Big Bill' Mata that illustrates how far the Fijian colossus has come, in every sense of the phrase.
Back in 2016, Mata was a game-breaking, defence-destroying member of the Fiji Sevens side who seized the Rio Olympics in the palm of his hand. When he flew home as one of his country's first Olympic champions, a village feast was held to honour him, and a contract offer from Edinburgh landed in his inbox. After revelling in the former, the giant turned his attentions to the latter. Mata spoke to Ben Ryan, his coach and mentor. Edinburgh would be cold and gruelling and as violently different from home as he could imagine, but it was a golden ticket to professional rugby, to money he could never make on the archipelago. He signed the deal.
With some trepidation, Mata informed his wife, Wati, that they and their infant daughter would soon be moving to Scotland. Wati had never left the Fijian islands. 'Where's Edinburgh?' she asked.
'I don't know,' replied Mata. 'But it's close to London.'
In making his 100th Edinburgh appearance on Saturday as Edinburgh battered Zebre Parma, 'Big Bill' became the first overseas, non-Scottish-qualified player to break a century for the club.
That seemed a faint prospect six years ago, when the Mata clan fetched up in the depths of an Edinburgh winter. The frigid weather snapped at them. The change in lifestyle and climate jolted their senses. They longed for Fiji. There were glimmers of Mata's lurking brilliance – a blockbuster offload here, a frightening ball-carry there – but no consistency, in form or selection.
Mata was subjected to long, punishing sessions on the wattbike to keep his 6ft 7ins frame from growing too bulky. At one stage, Nick Lumley, the club's strength and conditioning guru, escorted him round the local supermarket and taught him what to put in his basket.
Lumley was central to Mata's ascent, but there were others, too. Ben Atiga, the former All Black who retired at Edinburgh and heads up the governing body's Rugby For Life programme, would stop by for family visits and kava sessions. Relationships with Pacific Islanders in the armed forces and at Glasgow Warriors were fostered. The much-maligned Richard Cockerill got his paws on Mata and effectively designed his entire game plan around the Fijian. Mata was allowed to forego much of the breakdown shovelling, just as long as Edinburgh got the ball in his hands as often as possible.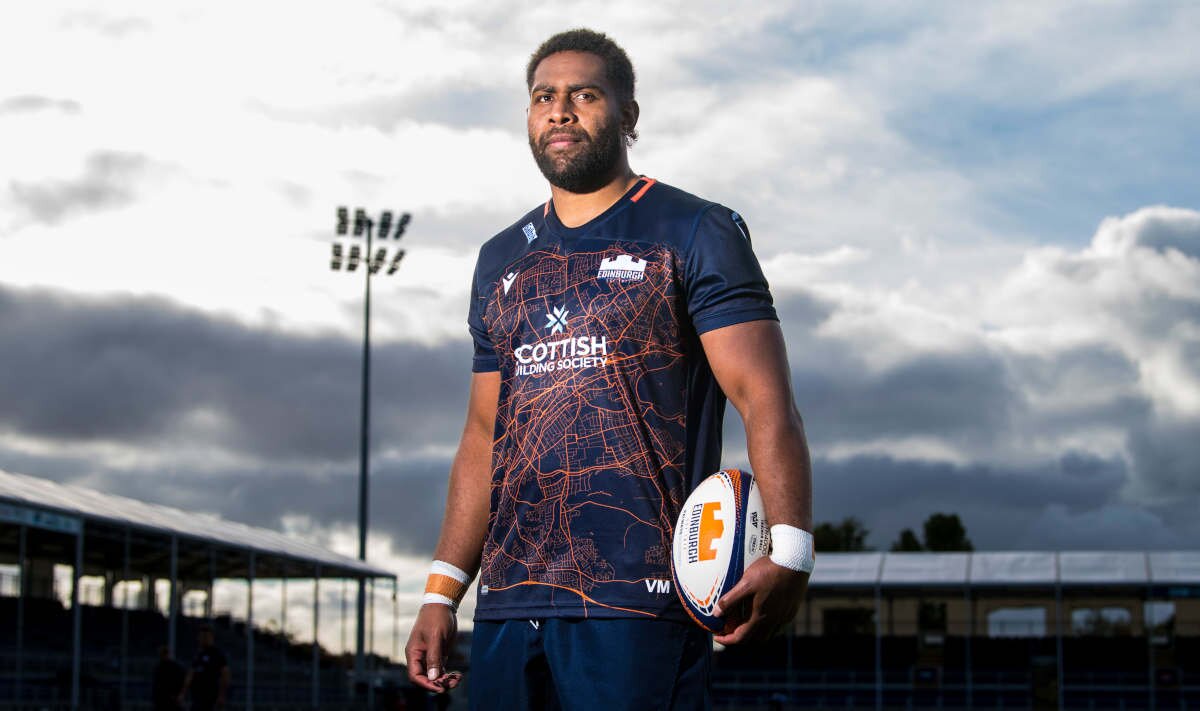 In the historic first two seasons under Cockerill, where Edinburgh made the URC play-offs for the first time, and beat Toulon and Montpellier to make a Champions Cup quarter-final, it was common to see Mata hitting 20 carries a game. One of his most insane offloads – and there were many of them – in the Stade Felix Mayol, is etched in club folkore. At that time, he was the form number eight in world rugby. And somehow, he was Edinburgh's.
"If I had to choose between Vili and the wife, it would be a close one, which Vili would win," Cockerill said, after Mata shone in a Murrayfield evisceration of Mourad Boudjellal's galacticos. He later joked he would sell his children's vital organs to find the cash to keep his prized asset.
Cockerill fought tooth and nail to retain Mata when moneyed sharks in the Top 14 were circling. We have it on good authority that his most recent contract, which expires in the summer, made Mata the highest paid player in the entire Scottish set-up. For a non-Scot, in a centrally contracted system, that is a staggering endorsement of his status.
When Mata signed this deal in early 2021, another was on the table from Ulster. The province were willing to pay a little more than Edinburgh in their quest to replace Marcell Coetzee, but Mata decided to stay.
That's quite the decision, when you think about it. Quite the transformation, too. No longer is Edinburgh a freezing, strange place half the world away, somewhere 'near London'. It is home. It is where he continues to punch chasms in defensive lines, turn muscular tacklers in to roadkill, flip the most stunning off-loads. It is where he is adored and respected and appreciated. It is where his young children have spent the most or all of their lives.
He will not be here forever, such are the cold realities of professional rugby. This may be his last season in Scotland, and how fitting it would be if he could help Edinburgh go beyond the near misses of last season.
How fitting, too, that he should be the first 'non-SQ' player to reach the 100-match milestone. And how fitting he should mark the achievement with a classic Big Bill performance – top for carries, top for metres, top for offloads, and top in the affections of the fans who have watched his gripping rise.
Sexton on fire
Johnny Sexton is rugby's Benjamin Button. He gets younger as he gets older. A year out from the World Cup, the worry was that he'd get one knock too many, or the legs would slow, or time would eventually catch up.
It hasn't. He's 37 and on Saturday he was imperious which reminds you that Andy Farrell was dead right to invest his plans and his captaincy in the outhalf when he took over as Ireland coach from Joe Schmidt. Worries were expressed then that Ireland were leaving themselves open for the 2023 World Cup by pinning so much faith in a player who could be finished by then.
The bigger risk would have been to write him off. Some players you just don't do that, too. And this is one of them, the greatest rugby player Ireland has ever produced.