Back
By Jamie Lyall
Jackson Wray: 'Saracens showed critics we are stronger than any of you think'
Jackson Wray is enjoying a hectic week of lasts. Last meeting, last training session, last team run. Last drive home from the St Albans fields where he has emptied himself day in and day out for the past decade and more.
The flanker is a totem of Saracens rugby. Unassuming, unrelenting, and perhaps underappreciated by those outside the club's four trophy-laden walls. His name belongs with all the international megastars and all the headline acts to have propelled them along a path laced with silver. His career runs parallel to Saracens' irrepressible rise, beginning as a pup amid the Brendan Venter revolution of 2009, and ending, 15 seasons, eight trophies and over 300 games later, on the grandest stage England has to offer. The Premiership final will be Wray's last act.
At 32, there's juice left in the tank. But Wray has always been wary of the long goodbye, lingering past his sell-by-date before shuffling off the podium like a gaudy Oscar winner piped back to their seat by the hurry-along music. He has a job waiting with a prominent wealth management company, four young children to wrangle and a body still remarkably agile for all the pummelling. Besides, what better way to go out than in a Premiership showpiece?
"It's been strange and emotional, but it's a good thing to be leaving like this," Wray tells RugbyPass Plus.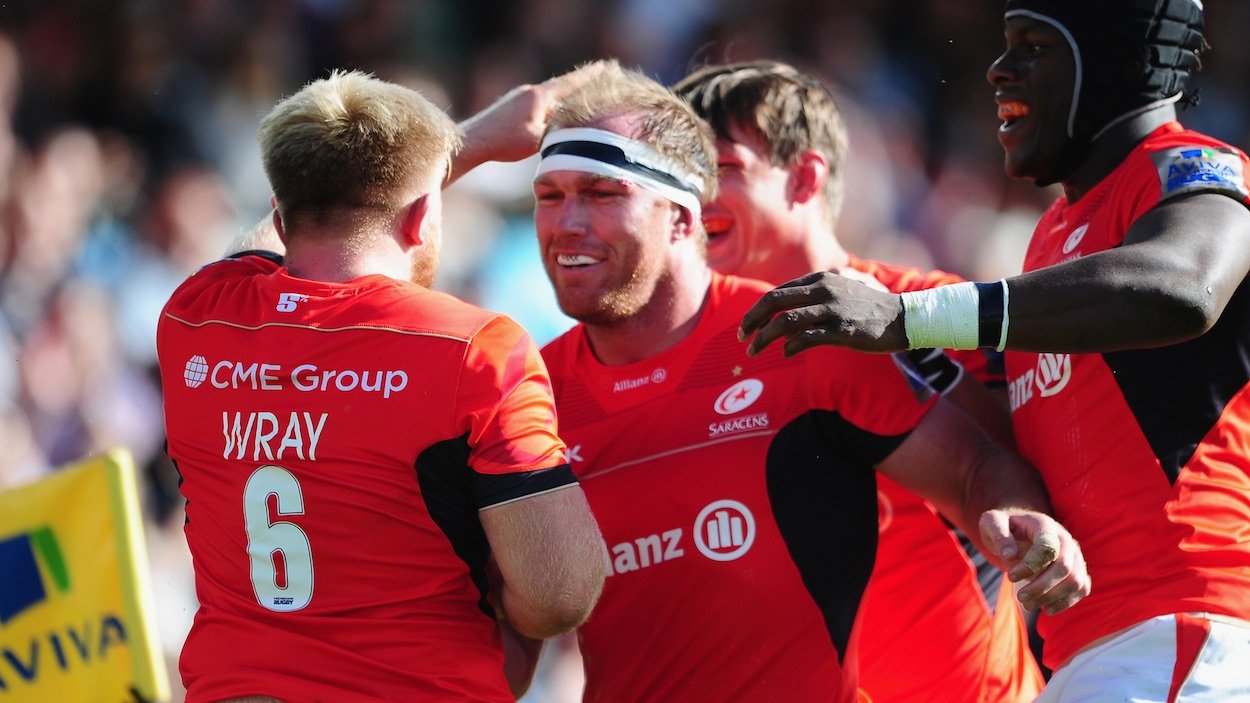 "The financial part of the game next season is at its tightest ever and you're seeing people retire or move abroad. That is part of it. The game takes unbelievable sacrifice and commitment, it is dangerous, and I've been working hard off the field to give myself the best transition possible. I'm in a good spot to make that choice.
"You chuck that in the mixer, and the fact I can leave at the right time, at the top. I might think, 'Christ, I could have done another year', but I would rather leave a little bit too early than a bit too late. That's the way I'm wired.
"It's been a very difficult decision but I feel with everything that's happened and everything I've got to go to, it is the right time. As hard as it will be when it hits home, it's been made for the best reasons. Building up to a big game, it's exactly how I would have wanted it to be."
Wray was thrust into a Saracens match for the first time in October 2008. He was 17. A boy in a man's world, in every sense. Named as a replacement for an Anglo-Welsh Cup tie with Scarlets, he was brought on opposite British and Irish Lion, Simon Easterby and Wallaby beast David Lyons. A few minutes later, one Owen Farrell emerged from the bench to become England's youngest top-flight player, ten months' Wray's junior.
"Physically I wasn't ready, but it gave me that taste of what's possible, and what could be there," he says. "At that point it was still a dream, even though the game and the people there were very different. I remember being nervous, excited, but also keen to see what it would hold and how it would go."
We got invited to a café thinking it was a normal catch-up. Brendan Venter said, 'there's going to be change, I'm going to be director of rugby, Ed is going to be CEO, and we want you to come back for the first day of pre-season'.
Saracens were different back then, perched on the precipice of a sweeping change that would shape their prolific future.
"In January 2009, I went to Stellenbosch with Will Fraser and got some experience with the Western Province academy," Wray says. "The club was about to go through the whole transition from old to new; Ed Griffiths and Brendan Venter came in.
"Brendan was actually our guardian over in Stellenbosch – we needed one because we were so young – and he was a consultant at Saracens.
"I remember very clearly, we got invited to a café, me and Will turned up thinking it was a normal catch-up. Brendan said, 'there's going to be change, I'm going to be director of rugby, Ed is going to be CEO, and we want you to come back for the first day of pre-season'. We were supposed to be there until October and he wanted us back in June.
"I was 18 at the time and just like, 'right, okay, brilliant'. We came back, started pre-season with Brendan and Mark McCall, Andy Farrell, Paul Gustard and Alex Sanderson coaching, Steve Borthwick was captain, and we were off. Since then, I've experienced pretty much everything you can as a player, and then some."
If you could bottle the culture Saracens sculpted over those years, there isn't a team in the land who wouldn't fancy a sip. The elixir of their environment remains potent. Wray has won four Premierships, three European Champions Cups and, of course, the Championship title when Saracens shattered the salary cap and were punted to the second tier.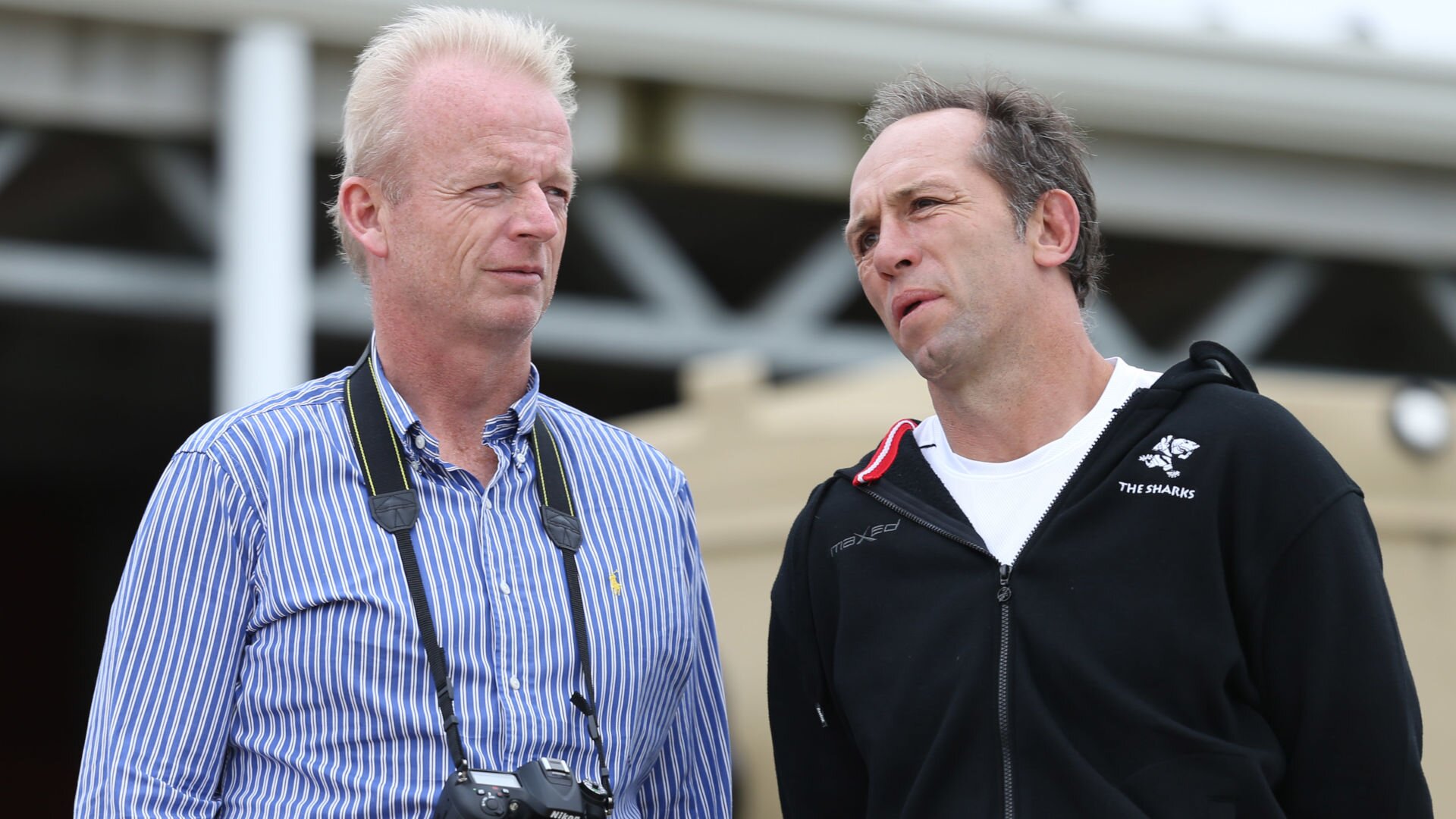 "We always drew in the best competitors and the best people because that's what made the environment thrive," Wray says. "Look at the players who have developed into world-class players and world-class coaches. You invest fully in the environment and special things can happen. You work hard, give more than you receive, and when everyone does that, you see the success and the love and the consistency of what we're trying to achieve.
"We've seen that on the field in everything we have done, but where people have gone to and the success which has followed them, that is the biggest reflection of the environment, and the sustained level of it.
"I remember when Andy Farrell went to coach England, his success has kept on going with Ireland and our success has kept on going. That has happened a number of times. A lot of quality players have retired at Saracens and now hopefully I'm joining a pretty incredible list of people. That says a lot as well. What it instils, I'll be able to carry forward into everything that's coming next."
If he could only have one of his eight medals and all that it signifies, which would Wray choose? The first Champions Cup triumph, when Racing 92 were sank in 2016, is dearest to him.
We showed people who had said things, we are stronger than any of you think you know.
"It's the most difficult competition in the world to win, the intensity, the quality, the fact you have to do it alongside the Premiership.
"It had been something we'd all wanted to for so long and after losing to Toulon in the 2014 final, to overcome the disappointment, come back and win the first one, what followed, the memories of what happened.
"If I had to choose, it wouldn't even be the medal, it would be the memory. If I could remember anything, that would be the one I would want to remember."
The madcap adventure in the second tier was special in a different way. Saracens' financial indiscretions sent English rugby spinning off its axis, and the Premiership into fervour. Rival clubs lashed them in the media and, you suspect, some revelled in doing so.
"People were saying everything under the sun, calling you this and that," Wray says. "But looking back at it, it was an incredible thing to experience because it tested us as individuals and having overcome that, in terms of a moment, trumps any European Cup or anything like that.
"Losing a final is one thing, but almost losing your club, that was invaluable for me as a person and us as a group. We experienced something which no-one ever has apart from the guys at Worcester and Wasps.
"It's something you never want to go through in any line of work. It was very close to all falling apart. We showed what it means to play for Saracens. We showed people who had said things, we are stronger than any of you think you know. It was a true battle to get back to where we wanted to be. We almost got there last year and we hope we can get there this year.
"Bigger than that, the club is stronger than ever and I look back and that and say, 'we overcame something significant and did it together'."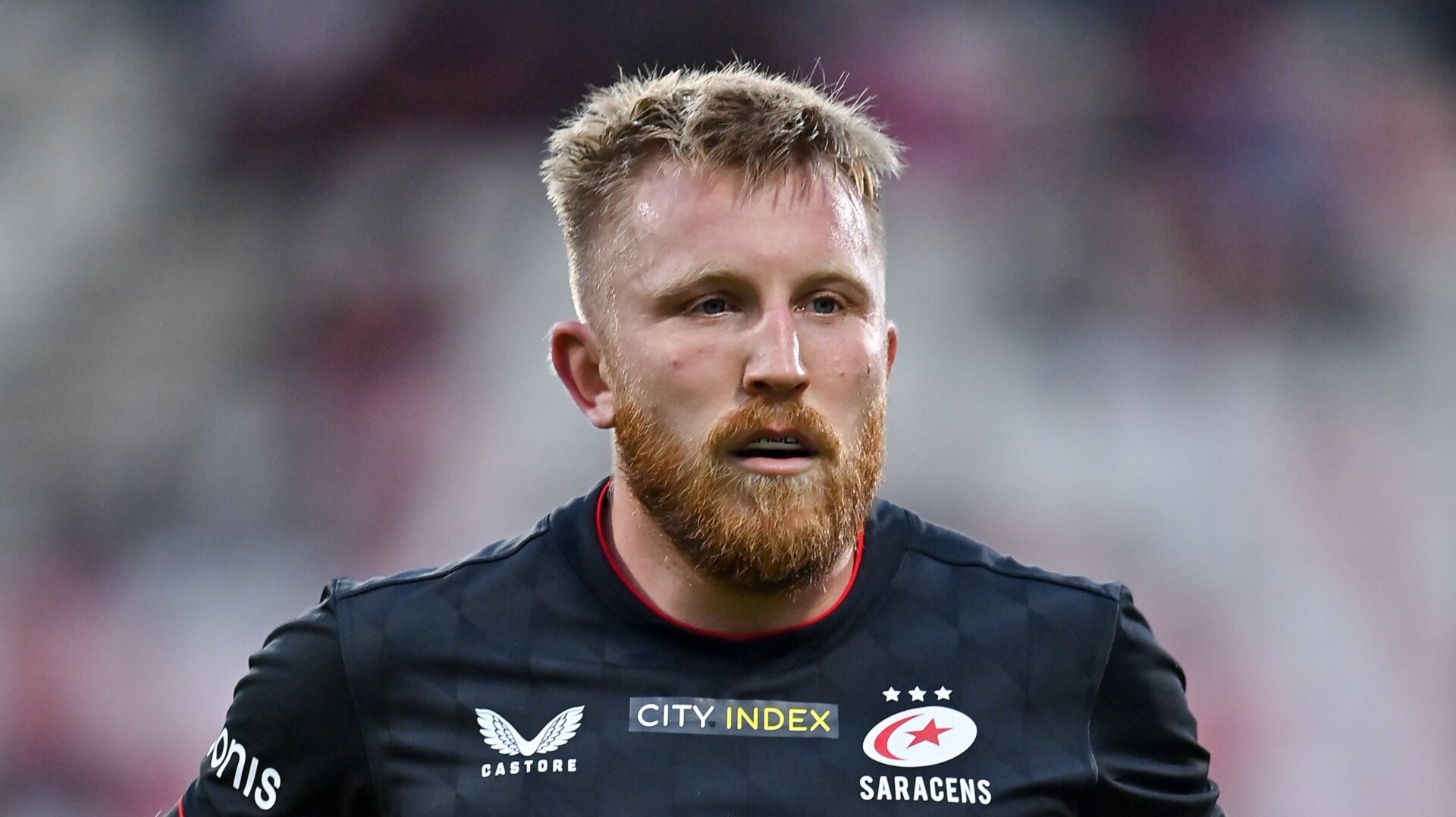 For all Wray's sustained excellence in scything down opponents, charging on the attack and menacing rucks, and for all his sprawling haul of personal honours, international selection never materalised. He recalls sitting in a changing room before a European final and scanning the names on the programme, each with a national badge beside it, except his own.
"I've had times throughout my career of frustration and disappointment but it comes down to an opinion outside of your control. I wouldn't change anything. During those periods have come some of my greatest memories, when the chips are down and you have to go away from home without your internationals.
"Of course I'd have loved to have played for England but would I swap any of it for some of the experiences I've been through? No. If you said to me, 'you can play for Saracens for two years, you'll go elsewhere, and you'll play for England', I wouldn't swap it. That's the honest truth.
"At certain times in my career I've been very disappointed but I'm not the only player who has felt they deserved a chance and not got one. I've been lucky enough to play for this amazing club so many times and that is what really matters. That is what I'll take away and what my family will take away."
Will it make it a failure if we lose? We're very keen to go and put last year right.
Blocking Wray's path to the ultimate denouement stands an old friend. Alex Sanderson was part of Venter's remarkable coaching ticket, injury prematurely curtailing his playing career. He and Wray shared a room when the flanker was a tyro and Sanderson a fledgling coach. The Saracens story is full of these moments of resonance. Steve Borthwick and Richard Wigglesworth, two club giants, denied them a glorious return to the top flight with Leicester Tigers in last year's final.
"Al and I are close," Wray says. "You don't share the experiences we did and lose that. He coached me first when I was 17 at England age-grades, and from 18 onwards at Saracens. We shared some unbelievable memories and some difficult times.
"He's one of the best blokes around. Our families get on well. I saw him at the weekend and he said good luck, and he looked forward to seeing me. It was the same with Steve and Wiggy last year. The game is one thing, but sharing those memories along all of those years, that's what really matters."
Sanderson's Sale are Twickenham newbies, though. Saracens have walked this trail before, over and over. They will not be paralysed by the scale of the occasion.
"It's about being able to differentiate between the emotional ride and the clear mind," Wray says. "That's where we are in a good spot because it's something we've done over a long period of time in these games.
"I focus on what's going to make the difference, which is the rugby. Of course there will be emotion, you can't write that off, but all the focus and attention on the detail, the roles in each part of the game, that's what going to matter."
This time is different, though. This time, it's the last time.
"It's very hard not to put everything on it," Wray goes on. "Will it make it a failure if we lose? We're very keen to go and put last year right.
"To finish on a high like that would be incredible. I try not to think about it too much because if we don't win, it's still been an incredible journey. At this stage, before the game, if Carlsberg did finishes this would be it."
Saracens long to restore themselves to the throne of England. Wray longs to depart a champion, again.