Ireland on top of the world as they humble All Blacks
So that's a wrap. At least in the Northern Hemisphere, after a near 12-month season, the best players in the world will head for the beaches for some well-earned rest. Ireland can rest easy they've created history after the jaw-dropping Series win in New Zealand. England too, can rejoice in coming back from a Test down to take the Series 2-1 in Sydney. They are far from perfect but there were some stellar performances to enjoy. Out in South Africa, Wales returned with their pride in tact after three courageous performances against the Springboks, while Scotland will be frustrated to have thrown away a healthy lead to lose the Series and a morale-boosting win for Gregor Townsend.
It's all covered by RugbyPass+ in their final Talking Points of the season…
Can Ireland win a World Cup? They have got to keep Sexton fit
The Benjamin Button of international rugby was finally made to look his age on Saturday, but only briefly. As Will Jordan broke from the New Zealand 22, he scanned around to consider his options. There was Jamison Gibson-Park to his left, a 37-year-old hall of famer to his right. Jordan chose right, in every sense of the word. Even in his early 20s, Johnny Sexton would not have kept pace with Jordan. Now? At 37? There's more chance of Boris Johnson combing his hair.
The try, the most thrilling one of this compelling series between Ireland and New Zealand, threatened to turn the game, indeed the series, on its head. At half-time Ireland led 22-3. After Jordan touched down it was 25-22, a lead of three.
There and then you could have predicted only one winner. But this Ireland team isn't as fickle as previous editions. In fact they are mirror images of their captain and coach, rugged, skilful; resilient. "We've worked a lot on our mental health, especially since the last World Cup," said Sexton afterwards, a theme picked up on by Andy Farrell, his coach.
"The best part of Saturday's win was that we stayed neutral," said Farrell. "We didn't panic."
It's an understated quality, the psychological training that goes into a coach's thoughts and team selections. For years, Ireland have been accused of mental brittleness, blowing winnable World Cup quarter-finals in 2011 and 2015, losing to Japan from a winning position in the 2019 tournament.
But this team are growing up before our eyes. Saturday's victory was the first time they have been outscored in the second half of a game in 16 matches, a statistic that highlights their outstanding depths of fitness but also their resolve. They came from behind to beat the All Blacks in Dublin last November; they were level with 20 to play in Twickenham in March and ended up winning by 17 points.
Saturday, though, was different again. Jordan and those All Blacks took them to a dark place, one where their spirit was tested. A weak team would have folded, blamed the referee, found an excuse. This Ireland team, though, found a way to win, Rob Herring's decisive try coming within five minutes of Jordan's score before a hat-trick of turnovers from Tadhg Beirne in the final 10 minutes sealed the deal. "I didn't want to let anyone down," Beirne said afterwards. "I was empty but I kept going."
His team are now going to No1 in the world rankings, prompting justifiable commentary about the prospect of them being contenders for a World Cup. Looking from a distance of 17 months, caution is urged. To win the tournament, Ireland have to survive the Springboks and Scotland in their pool; New Zealand or France in the quarters; probably England or Australia in the semis. And that's before we get to the decider. Can a guy with 38 candles on his next birthday cake steer them there?
Put it this way, he has to. With him, Ireland have a chance; without him they don't. Even if Jordan got the better of him in that footrace, no other All Black did across the series. He's Ireland's greatest. Saturday confirmed that.
England progress but yet to convince
England have won a Series in Australia but they are still some way from winning over the public that their brand of rugby will emerge victorious in France in just over 13 months.
Eddie Jones' fiery reaction to an idiotic fan who'd called him a 'traitor' may have given us an inkling of the frustration England's head coach has felt that his side can't quite shake the feeling that they're not the finished article.
There is promise in certain areas of the field, especially in the pack. Ellis Genge has emerged as a genuine leader for the side, indeed, 12 months after he missed out on selection for the British & Irish Lions, few would say he isn't worth the his place in the squad. Courtney Lawes, at 33, is enjoying a consistent run of form in the twilight of his Test career, evidenced by his lung-busting involvement late on as England bore down on the Wallaby try line and breakdown nous and Billy Vunipola showed us in the second Test he still has much to offer at the top-level.
In the backs, Owen Farrell, has shown that talk of discarding him for the spring-heeled Marcus Smith is unwarranted, and patently foolish. The 98-cap Saracens continues to set the standards in the squad, even if his relationship with Smith is at the awkward stage of their courtship. As a last line of defence, Freddie Steward looks like he played in 113 Tests, not the 13 Tests that he's hoovered up since his debut in November. He has simply been imperious and needs to managed over the next year after playing 32 games in a calendar year – simply too much for the modern rugby professional.
Still only six tries across three Tests hardly points to Martin Gleeson reaching Mike Catt levels of backline brilliance, and line-breaks were rare for a highly-gifted yet surprisingly inexperienced clutch of backs. Joe Cokanasiga failed to offer the punch required in Manu Tuilagi's absence, while Guy Porter's Third Test showed defensive frailties that need to be corrected in a white-hot atmosphere of Test rugby. Defensively, too, there was a collapse in the first Test where Australia racked up 21 points in 15 second-half minutes when down to 14 men. With the likes of Ben Earl, Alex Dombrandt, Tuilagi, Sam Simmonds, George Ford, and Max Malins out of favour or injured, there is a glut of talent at home to come in and add dynamism, but sooner rather than later, Jones has to nail his hunches to a mast and stick by them. The time for consistency of selection is upon us.
Rugby's existential crisis
Commentary notes were being scanned, scripts memorised and surnames illuminated in highlighter ink at Sky Sports HQ when news about Ryan Jones and his awful diagnosis broke. Jones is universally liked and immensely admired across the game. He was a fabulous player, a champion and a Lion. He has undertaken scores of charity work and driven fundraising initiatives. He has been diagnosed with early-onset dementia at 41 years old. Some of the television pundits at Sky, men of Jones' vintage, were seriously affected by what they read on Saturday evening.
Concussion is the greatest threat to rugby's survival. It is a very real, deeply nebulous, and entirely existential problem the sport has yet to cure and may never truly solve.
Over the past three weekends, we have seen dreadful high shots missed entirely, head-high tackles punished with yellow cards instead of reds, players showing classic concussion symptoms removed for sideline assessment rather than sat out entirely.
Those are the headline-grabbers, the sense-scrambling hits everyone gawks at and argues over. What we don't see, though they are hiding in plain sight, are the many, many impacts a player sustains over a match, a season, a professional career. A back-row might make a dozen carries, a dozen tackles and be involved in twenty rucks each match. Crudely: forty impacts per game, twenty games per season, plus contact training, which World Rugby has only recently moved to limit to fifteen minutes per week. Over the course of a career, we are talking about tens of thousands of "subconcussive" blows, none of which is sufficient alone to cause concussion, but cumulatively, game on game, season on season, can wreak damage on brain tissue.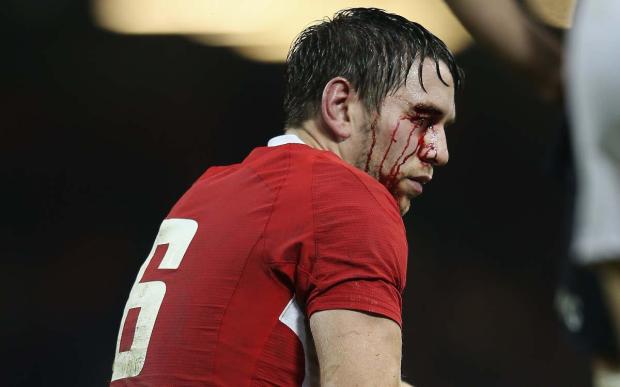 We've read about the ruinous symptoms of recently retired players who have seen their young middle-age demolished by the degeneration of their brains. We've heard about the lawsuit some of these men are bringing upon the authorities, though there remains conjecture over the diagnoses and who is making them. We've despaired at the harrowing accounts of Steve Thompson and Alix Popham and Carl Hayman and now, we add poor Ryan Jones to the list. But this stuff, morbid as it may be, is but the tip of an iceberg. Nobody can say quite how big the portion below the waterline really is.
Rugby is changing, but is it evolving fast enough to save itself from these horrors? As the trickle of brain-damaged players and harrowing tales becomes a stream, will parents steer their children away from the sport? Will people still revel in the gladiatorial brutality when they know how it might end up? Will players still pursue professional careers knowing this fate could befall them, if not the percentage of risk?
Rugby has not gone soft. It is more perilously tough than ever. As always, the players will pay the price.
Wales beaten but unbowed in South Africa
The epitaphs were written. The doomsayers sharpening their pencils. Wales' tour of South Africa was going to be a painful example of how far Wales had fallen down the pecking order since briefly assuming the World No 1 spot in August 2019. Only that didn't transpire.
Wales returned with a bump to the UK with the reputations rebuilt, if not enhanced.
They had gone within seconds of registering an unlikely draw in the first Test, won the second Test in nailbiting fashion with Gareth Anscombe bisecting the uprights with a minute left on the clock, and when the side was patched together by sticky tape for the Third Test, stayed competitive until the last 10 minutes, when Handre Pollard's two penalties gave the Springboks some sheen.
As a result, there will be no movement with the coaching staff, only a firm foundations from which to build on. There were notable individual performances. Tommy Reffell continued the stellar form he had exhibited for Leicester Tigers on the grandest stage, Dan Lydiate rolled back the years with a vintage defensive effort in the Second Test and Anscombe showed there is quality behind Dan Biggar with a peppy half-an-hour cameo.
Two other players this player would like to highlight are different ends of the stratosphere. In the front row, Gareth Thomas, the 28-year-old loosehead at the Ospreys proved that he had what it took to thrive at Test level. His USP was his chop tackling, which regularly stopped a Springbok offensive at source and he showed enough in the loose to display he was comfortable with the ball in hand to act as a link man to his fleet-footed counterparts.
Out wide, Louis Rees-Zammit is a burgeoning world star. His pace is feared and revered in equal measure but the 21-year-old was dropped by Wayne Pivac ahead of the England Six Nations to work on a more rounded game. He replied with seven tries in 10 games for Gloucester, but in South Africa he showed more of his playing armoury. In the second Test, his ability to jackal was harshly penalised with a yellow card, but he has looked far more assured defensively and his positioning has improved markedly. Rees-Zammit also showed his kicking game has come on, with a neat left-footed grubber kick behind the Springbok defence. It showcased that the Cardiffian has the right mental application to thrive in the game, and be seen as far more than just a speedster.
Scotland self-destruct again
Never underestimate the propensity of a Scotland team to point a gun at their foot and empty both barrels. Much like Wile E Coyote, just when it seems they cannot possibly fail to catch that blessed Roadrunner, Scotland find a way to let it slip through their fingers.
The series-defining final half hour in Santiago del Estero was an exercise in how to lose a Test match. A litany of mistakes – bungled lineouts, kicks out on the full or straight up in the air, sloppy handling, cheap penalties – and poor decision-making. They led by fifteen points with twenty-nine minutes to play, by eleven with thirteen left on the clock. They did not have the accuracy to steer themselves through those turbulent final throes.
But Scotland created an awful lot of that turbulence for themselves. There was a significant degree of self-harm out there. The mistakes piled up. The set-piece crumbled. The line-out, in particular, was a near-constant source of woe. Scotland threw in to fourteen of them and only won the ball eight times. A 60% success rate makes desperately grim reading for an international side.
All of this is so maddening, so tear-your-hair-out frustrating, because it is so familiar. Scotland fans have seen more false summits than Edmund Hillary. They have suffered as their team find ways to lose matches rather than win them.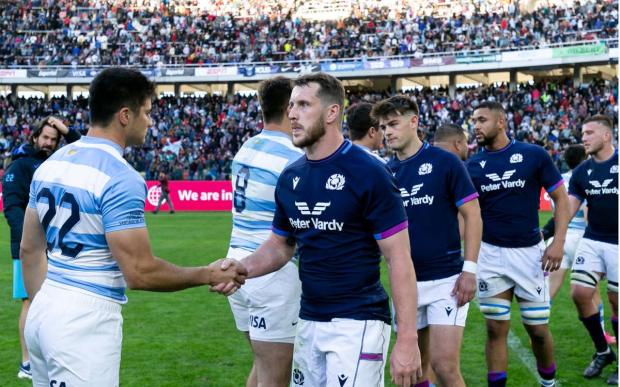 And to make it even more infuriating, for so much of this third Test match, they were excellent. The game plan Gregor Townsend has been talking about finally crystallised in 50 encouraging minutes. There were mighty individual performances from Matt Fagerson, who has made himself top dog in the eight jersey, Rory Darge, the brilliant young Glasgow flanker, and Blair Kinghorn, who is still a pup at fly-half in international terms. Others whose game time on tour had been limited put their hands up too.
There were positive signs that an amalgam of the 'fastest rugby in the world' from Townsend's early days and the pragmatism that defined the post-World Cup years is emerging. And that it could be effective against good opposition. As poor as they were in the first Test, they won the second at a canter. That they built such a commanding lead so far from home against an accomplished team in the decider is heartening. That they failed so calamitously to defend it is galling. It speaks again to the gnawing but widespread perception that Scotland are too flaky under pressure, that they are a team on which you simply cannot hang your hat.
Townsend will take much from this long voyage away. It is the first time the team have been on tour, or in each other's company for so long, since 2018. "Togetherness" has been the buzzword of the trip. Bonds forged in the unique tour environment will hold faster on the pitch.
But there's a large, Webb Ellis Cup-shaped elephant in the room here. In a little over a year, Scotland enter a murderously tough pool in France. They will have to beat Ireland, a team who habitually defeat them with predictable ease and a near-identical strategy, and South Africa, whose power game Scotland cannot live with. Townsend has not beaten Ireland in six attempts. The Boks have won twice at Murrayfield during his reign. At the moment, brutal as it sounds, it is hard to see any scenario where Scotland qualify. Togetherness alone will not be enough.
No ordinary Joe
The All Blacks are in trouble. Four defeats out of five is so unlike them to the extent you have to go back to 1998 for a run of form this poor. Ian Foster, their coach, is a man under pressure but at least he has a plan, an Irish solution for a New Zealand problem.
Within weeks Schmidt comes on board Foster's backroom staff. The pair are friends, going back years and all of a sudden if Foster needs a word of advice, he can turn to one of the smartest men in world rugby, one who won three Six Nations titles with Ireland, who convinced them they were good enough to beat New Zealand for the first time in 2016, who guided them to a first series win over Australia in 39 years and who masterminded their first away win over the Springboks.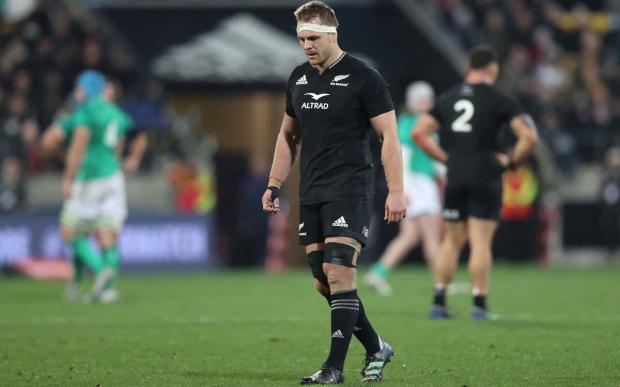 All that intellectual property, coupled with the depth of Schmidt's emotional intelligence, is the gift Foster needs right now. If he has to have any chance of surviving to the next World Cup – and if is the biggest word in that sentence – he needs Schmidt every bit as badly as Ireland needed him in 2013.
And in case you need reminding, Ireland and New Zealand are on the same side of the draw, liable to meet in the World Cup quarters. Four years ago, Schmidt's last match in charge of Ireland was against the All Blacks, a chastening 46-14 defeat. You know what they say in sport; if you can't beat them, join them