Back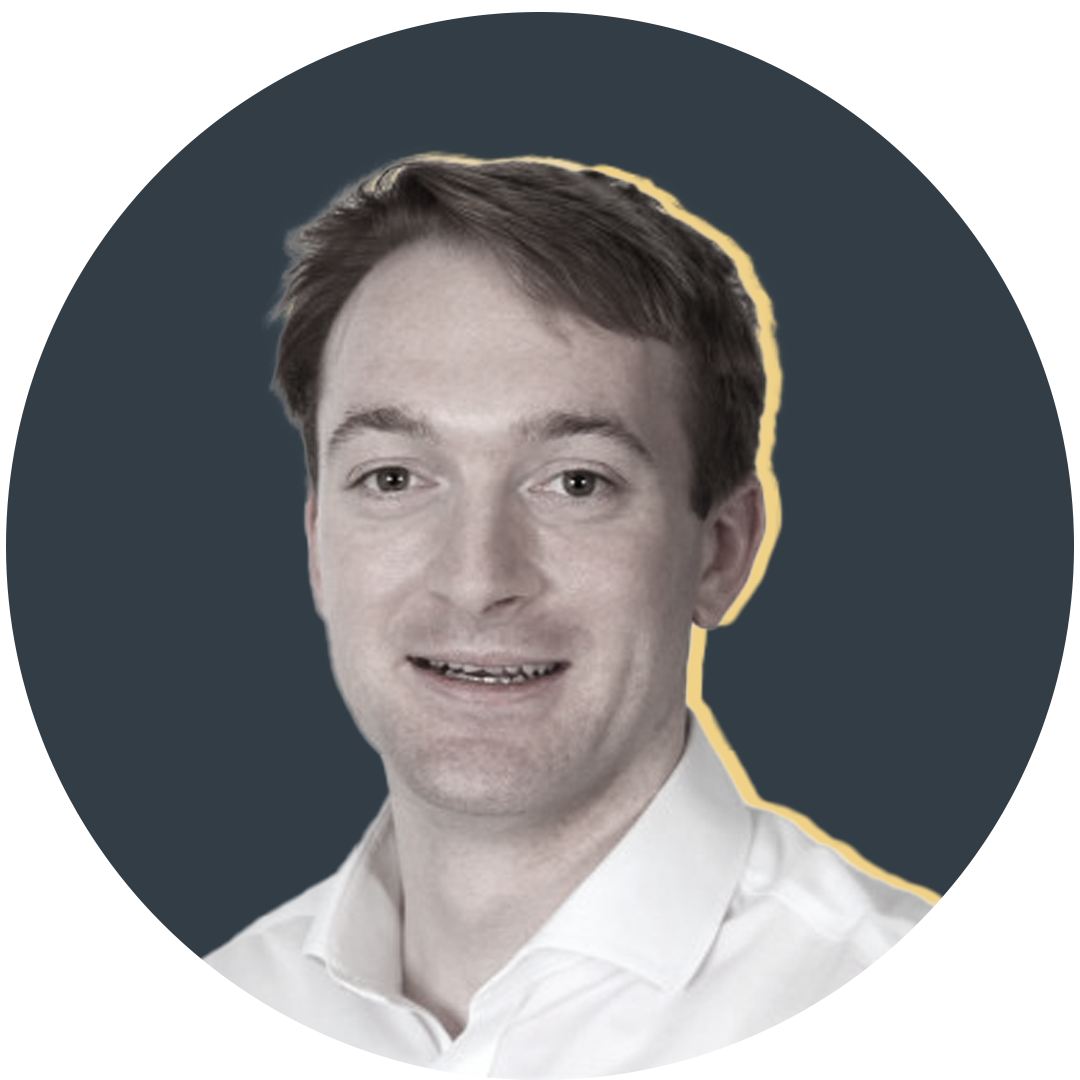 By Ben Wylie
How the Blues and Highlanders will approach their finals clash
Every now and then, followers of top-level men's rugby in New Zealand are exposed to the repetition of a truism about their game.
'All Kiwi teams basically play in the same way,' the theory goes.
Most recently, it was touted by former Crusaders and All Blacks first five-eighth Andrew Mehrtens in the pages of the Sydney Morning Herald.
"On the surface, New Zealand rugby can appear more exciting and lethal," he wrote in March. "I don't think that's necessarily the case because all five New Zealand teams employ a reasonably similar game style. When they play each other, they know intimately how New Zealand teams play and their dynamic is based around that. They get used to that style."
And it's not hard to work out how this theory persists. Every year, the internet's supply of highlight-reel moments from Kiwi Super Rugby sides regenerates — and whether the team is wearing blue, black, yellow, red or navy is immaterial.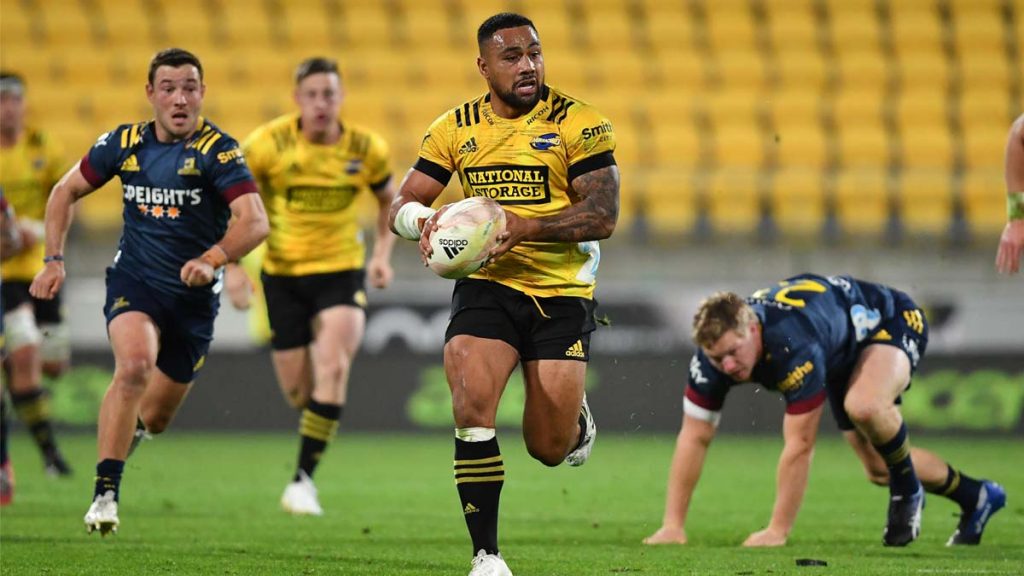 The constants? An awareness of which space on the field to attack, an understanding of how teammates are moving with and without the ball, excellent ball-handling skills and the simple desire to have a crack.
Think of Rieko Ioane's (criminally) disallowed score that began behind the Blues' own 22-metre line against the Highlanders at Eden Park.
Or Damian McKenzie, Chase Tiatia and Brad Weber's combination on kick return to ignite the Chiefs on the way to their first win of the year in Wellington.
Or Ardie Savea breaking out of his own territory in Christchurch and laying on a pinpoint crossfield kick that only just escaped the clutches of a streaking Wes Goosen metres from the Crusaders' try line.
Or that finish from Leicester Fainga'anuku against the Chiefs — only made possible by the ability of David Havili to land a long, arcing pass on his winger's chest while running at full tilt.
Or that  tackle-busting run by Jona Nareki in Hamilton, which he followed with a delicate, underhand offload to send Shannon Frizell away to score.
Moments don't always tell the full story — and sometimes it down to statistics to step in and reveal the trends that aren't as easily discerned by the casual observer.
You get the picture: season after season, these moments of brilliance pile up and cement the reputation of New Zealand, its teams and its players as the preeminent providers of razzle-dazzle rugby.
But moments don't always tell the full story — and sometimes it down to statistics to step in and reveal the trends that aren't as easily discerned by the casual observer.
Certainly, looking at the three most successful Kiwi teams in this year's Super Rugby Trans-Tasman competition from a statistical perspective calls the truth of that assertion by Mehrtens (and others) into question.
The Blues, Highlanders and Crusaders have all been phenomenally effective attacking sides in 2021, respectively averaging 4.2, 4.3 and 4.8 tries scored per 80 minutes across domestic and trans-Tasman play.
However, each team has achieved this success in utterly different ways.
The Crusaders — the only unbeaten team not to make the final of Super Rugby Trans-Tasman — didn't even play in exactly the same manner across both of this year's competitions.
Throughout 2021, Scott Robertson's side were the most expansive of the three with ball in hand: for every 100 carries they made, they completed 143.6 passes and 8.4 successful offloads.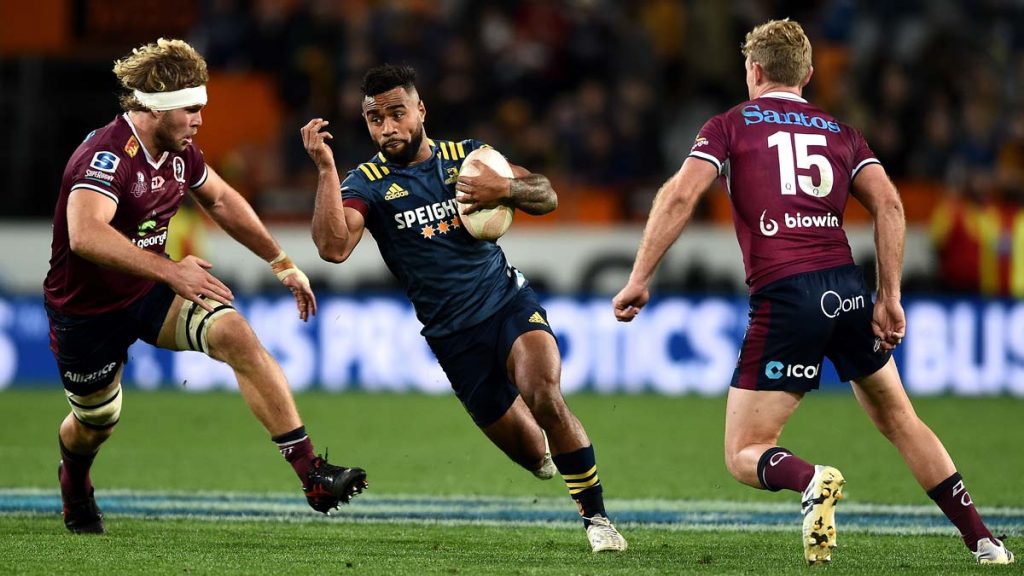 In contrast, the Blues averaged 129.9 passes and 8.1 offloads, and the Highlanders averaged 137.1 passes and 6.3 offloads.
But the Crusaders took things to another level against Australian opposition.
Speaking on the Aotearoa Rugby Pod after his team's win against the Waratahs, Bryn Hall spoke about some of the differences to which the Crusaders' attack had to adjust across the ditch.
"The Australian defence system is a little bit different to what we play in New Zealand," the scrum-half said. "Traditionally, a lot of the New Zealand teams are bringing a lot of line speed … the Australian teams are quite passive in their defensive system, so we're allowed to have more time on the ball."
With this additional time and space to play, they doubled down on their running game, kicking less ball back to their opponents and spreading the pill through more sets of hands when they were in possession.
After kicking once every 4.8 carries in open play during Super Rugby Aotearoa, the Crusaders did so only once every 7.7 carries in Super Rugby Trans-Tasman, and averaged 151.3 passes per 100 carries against Australian opponents — 12.6 more than they managed in Kiwi derbies earlier in the year.
These more pronounced tendencies were clearly identifiable in their final-round win over the Rebels, with Will Jordan's try after four minutes a direct consequence of Mitchell Drummond eschewing a traditional exit and instead moving the ball to Richie Mo'unga (via George Bower) to attack the space in the defensive line between Joe Powell and Andrew Kellaway.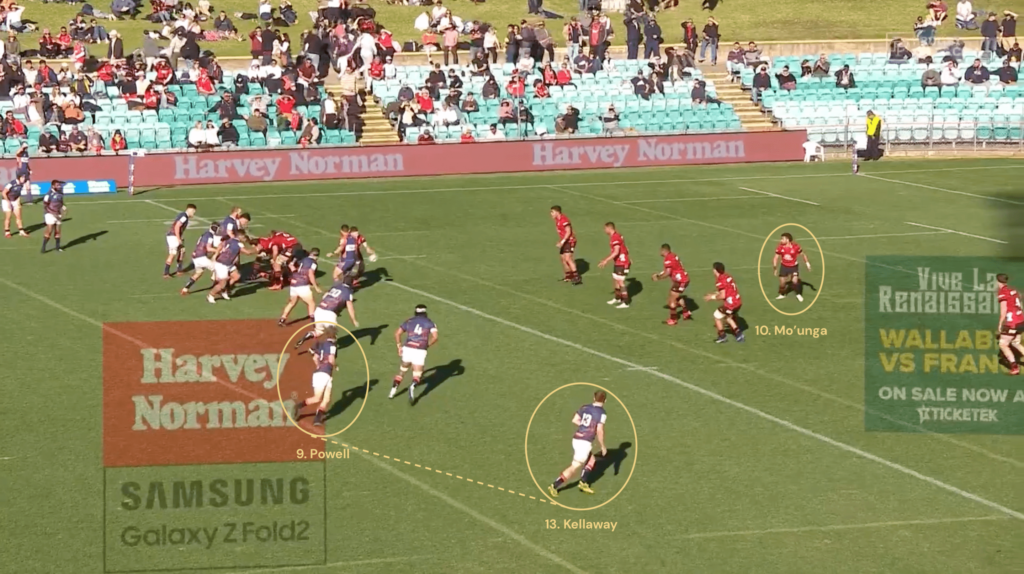 This score was also an example of one of the clearest distinguishing features of this iteration of the Crusaders: their ability to strike from anywhere on the field in phase play.
In 2021, a third of their tries directly following a ruck have come from breakdowns set outside their opponents' 22-metre lines — with their total of 15 ruck tries from this distance in 14 games played more than the Blues (7) and Highlanders (5) have managed between them in 26.
The Auckland franchise have been particularly reliant on their phase-play attack in the red zone, with 31 of their 54 tries directly following a ruck in the opposition 22. (The Crusaders' 67 total tries include 30 such scores, and the Highlanders' total of 56 includes 23.)
And, like their Christchurch rivals, the Blues have taken their style of play even further to one extreme during trans-Tasman play.
As well a renewed focus on managing territory through their tactical kicking game, Leon MacDonald's side have narrowed up and became more patient in this area of the field.
Like their Christchurch rivals, the Blues have taken their style of play even further to one extreme during trans-Tasman play.
In Super Rugby Aotearoa, the 15 tries they scored from red-zone rucks took 4.5 phases on average, and involved an average of 2.0 passes on the scoring phase.
In Super Rugby Trans-Tasman, however, their 16 tries of this type have involved only 1.6 passes on the scoring phase on average — and taken an average of 7.3 phases to score.
While they do rely more heavily on the ball-carrying heft of their pack than other teams — their forwards have made 57.4 per cent of all their carries this year, compared to a proportion of 52.8 per cent for the Highlanders and 50.1 per cent for the Crusaders — they have continued to marry this direct approach with some subtlety.
Like the tries finished by Bryce Heem and AJ Lam against the Brumbies and Mark Telea against the Reds, Dalton Papalii's score against the Force in Round 5 involved the effective use of a simple screen play.
After a strong carry by Gerard Cowley-Tuioti, a hard unders line from Alex Hodgman and a peach of a no-look pass from Hoskins Sotutu release Otere Black and Papalii into a straightforward two-versus-one scenario — and the fly-half doesn't miss.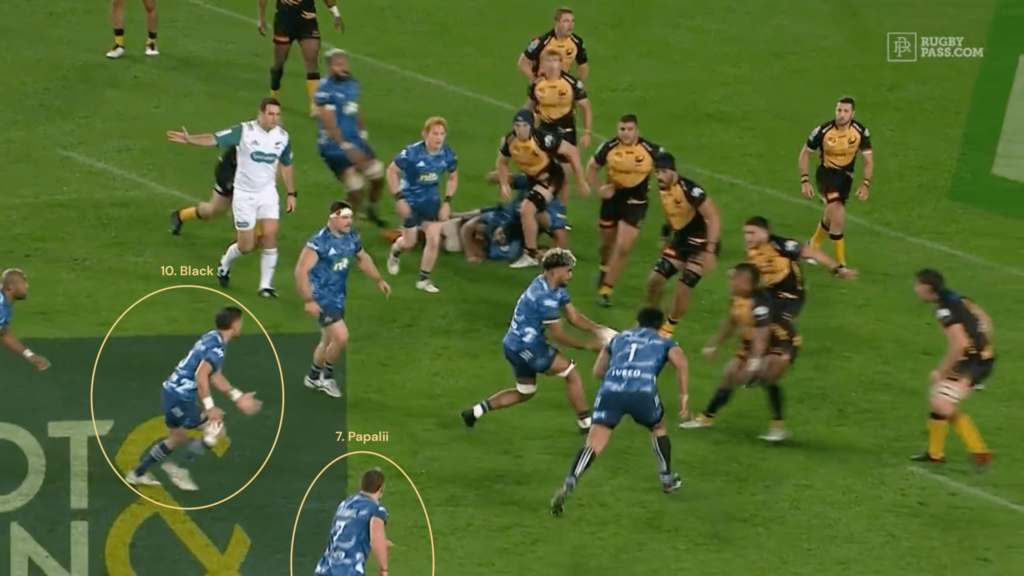 The Highlanders do have some tight carrying threats of their own — even without the injured Shannon Frizell — but dominating with ball in hand has not been how they have had their success in 2021.
In contrast to the Blues (who have made 104.6m more per game than their opponents) and the Crusaders (83.5m more), the Highlanders have not been able to control the running game this season. On average, they have carried the ball for 410.3m per game themselves, but conceded 422.6m to their opponents.
But, such has been their effectiveness in other facets of the game, it hasn't really mattered.
If you wanted to summarise the Highlanders' attacking success this year in one sequence of play, you would have to look no further than the fourth try of their win over the Brumbies last Friday.
After winning a penalty and kicking it into the left corner, hooker Ash Dixon throws a dart to Bryn Evans at the tail of the lineout. A slick pop from Evans — still at the apex of his jump — to his locking partner Josh Dickson in a pod at the front then attracts the attention of the entire Brumbies pack, allowing Billy Harmon and Aaron Smith to sneak down the 5-metre channel and create their own two-versus-one.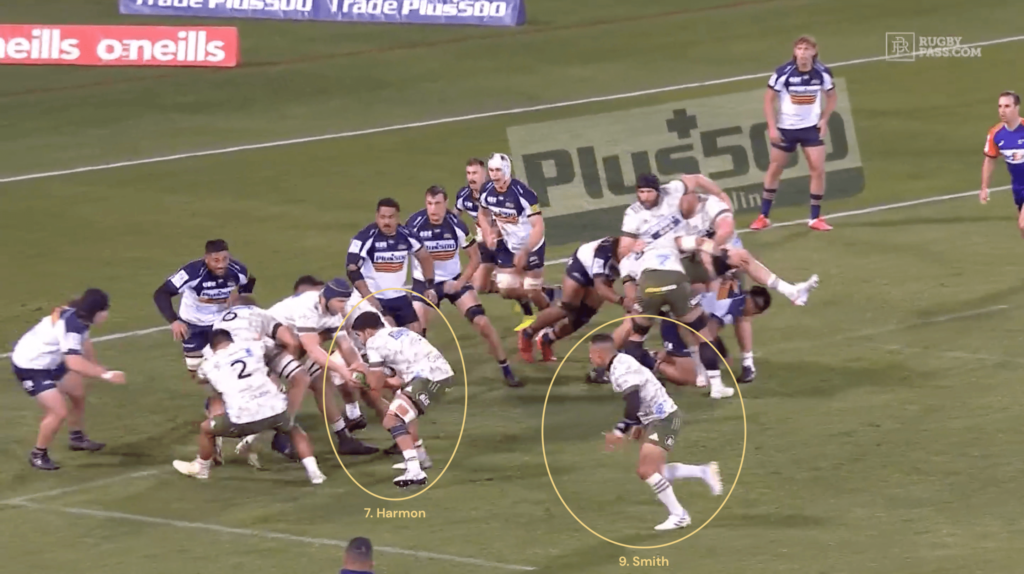 Harmon identifies that it's best for him to hold onto the ball himself in this instance, and subsequently crosses for the team's 21st try of the year directly from a red-zone set-piece platform.
Again, putting that figure into context by comparison is instructive. In 13 games, the Highlanders have scored as many tries on first phase from scrums and lineouts beyond the 22-metre line as the Blues (9) and Crusaders (12) have managed between them in 27.
At this stage of the season, it's no secret that this is their primary means of scoring points — but the accuracy of their set-piece work and the ingenuity of their playbook mean that the only truly effective way of shutting them down is denying them the platforms in the first place.
This weekend, then, both the Blues and Highlanders will be looking to prevent the other establishing possession high up the field — but for different reasons.
Leon MacDonald and Tony Brown may approach the game with similar basic principles, but with different tools at their disposal they have built teams that try and win games in completely different ways.
Consumed through highlights videos and social-media clips, Super Rugby in New Zealand might seem relatively homogenous. Digging deeper, however, reveals a multitude of tactical contrasts and contests to examine — and Saturday's final will be no different.
More analysis from Ben Wylie