Back

By Ben Smith
How Mack Hansen outclassed Duhan van der Merwe in Edinburgh
Test match rugby is an unforgiving arena where fortunes can change week-to-week. For South African-born Scotland wing Duhan van der Merwe, that much was made clear this weekend.
The world was his oyster after the opening round of the Six Nations after his destructive running decimated the English defence on the way to a heroic two-try performance.
After the 22-7 loss against Ireland, Van der Merwe will have nightmares about Aussie-Irish wing Mack Hansen who took advantage of the smallest margins in cunning fashion to outfox his opposite.
The slight frame of Hansen should be no match for Van der Merwe when it comes to pure power, but when it comes to guile, playmaking, anticipation and vision, Ireland's wing showed why an all-round game can be just as effective as power running and strength.
All three of Ireland's tries came from plays made from Hansen against Scotland's No 11, either directly or indirectly, while Van der Merwe missed his big opportunity to lay a try on for Scotland towards the end of the first half.
The warning signs were there for Van der Merwe that Ireland would target any space offered on his side when Johnny Sexton pulled the trigger on a long ball over the top to Hansen during an early attacking possession.
The Scottish wing was up to the challenge, he covered the space to knock Hansen into touch just in time.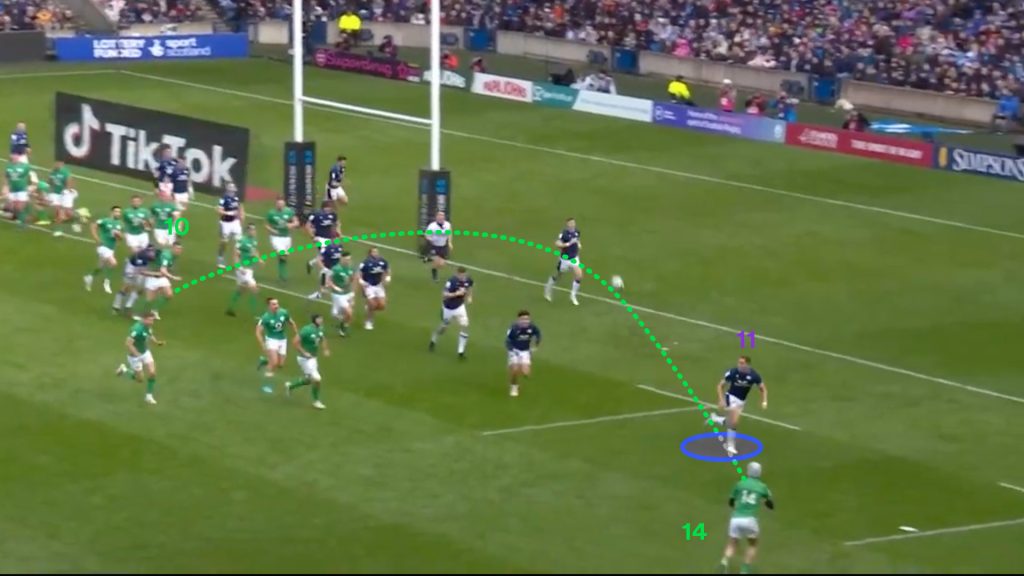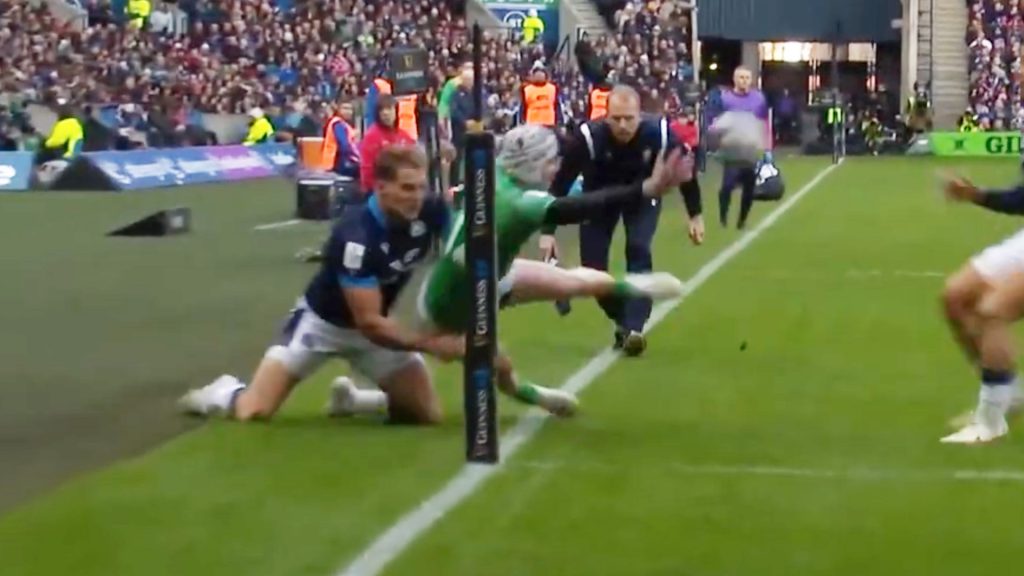 Ireland were forced to settle for a penalty to open their account but they would not let the next opportunity go to waste.
Scotland failed to manage the space effectively during Ireland's next attacking foray, giving Hansen too much unmarked territory on the right flank.
Irish fullback Hugo Keenan identified Van der Merwe's (11) misjudgement and fired the perfect pass to his right wing.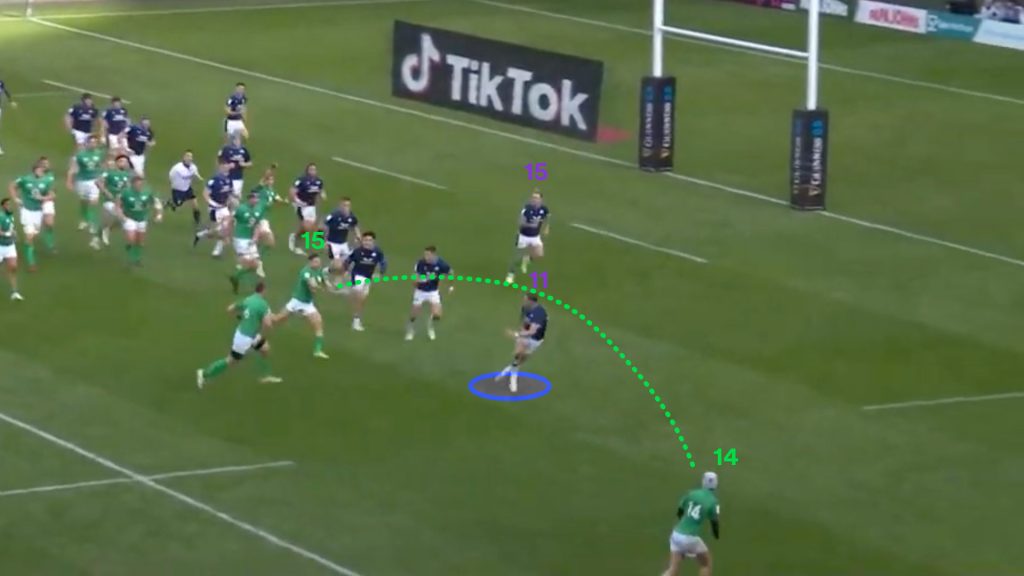 Ireland's shape to find the edge was a variation of a concept that they run frequently, a two layer screen, using two backdoor passes to create space on the edge.
The first pullback pass from Sexton (10) to Ringrose (13) came behind two forward runners, while Ringrose had a forward runner option outside him to disguise another pullback pass to Keenan.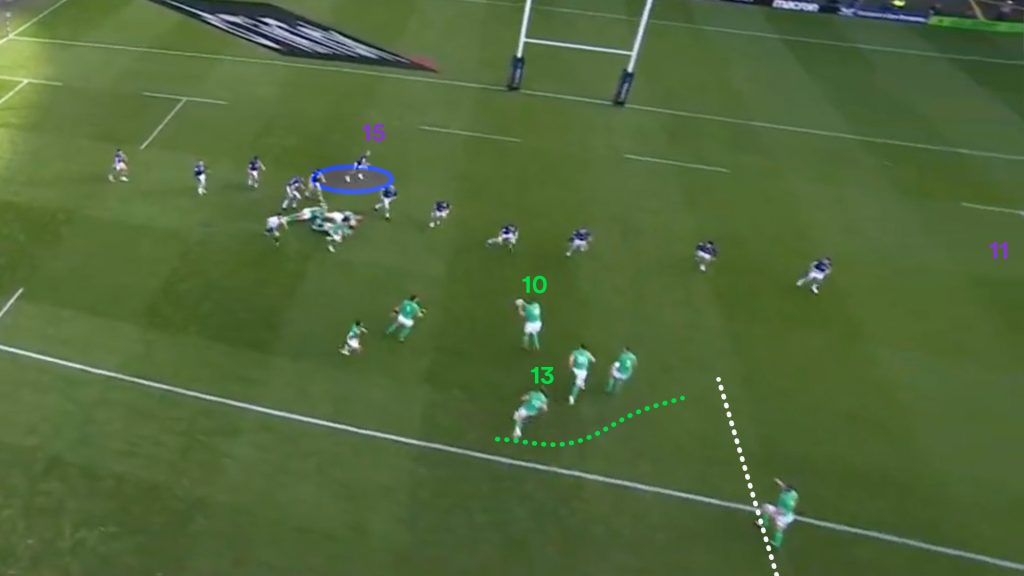 Scotland's Stuart Hogg's (15) positioning played a part in the space being available for Ireland. As the lone patrol across the entire backfield, he was caught at the previous ruck as the play unfolded.
Van der Merwe believed that Hogg would cover the last man, but the fullback was too far away to offer that support from the backfield.
Scotland's wing raced inward to cover the short runner outside Keenan, leaving too much space on the outside.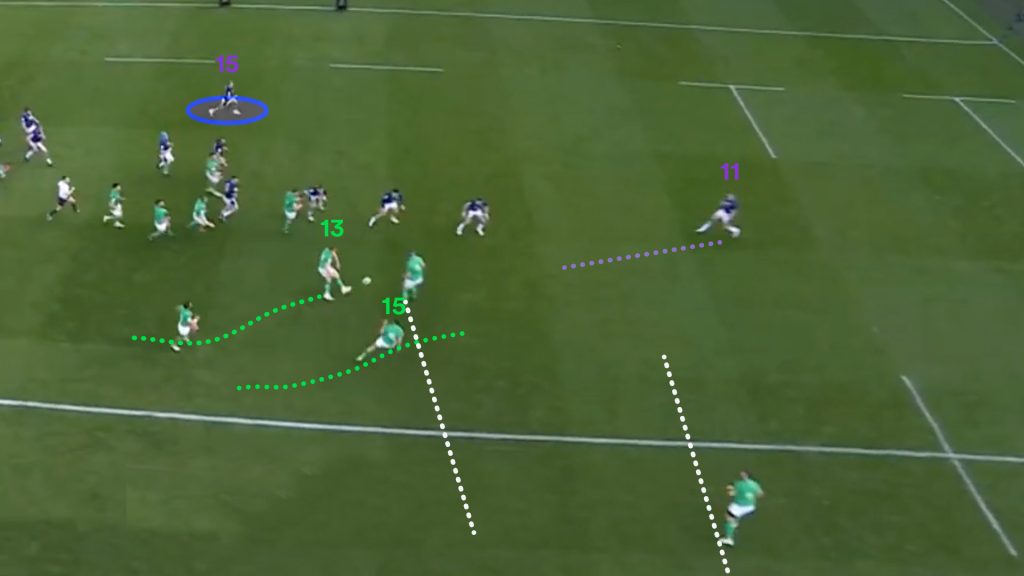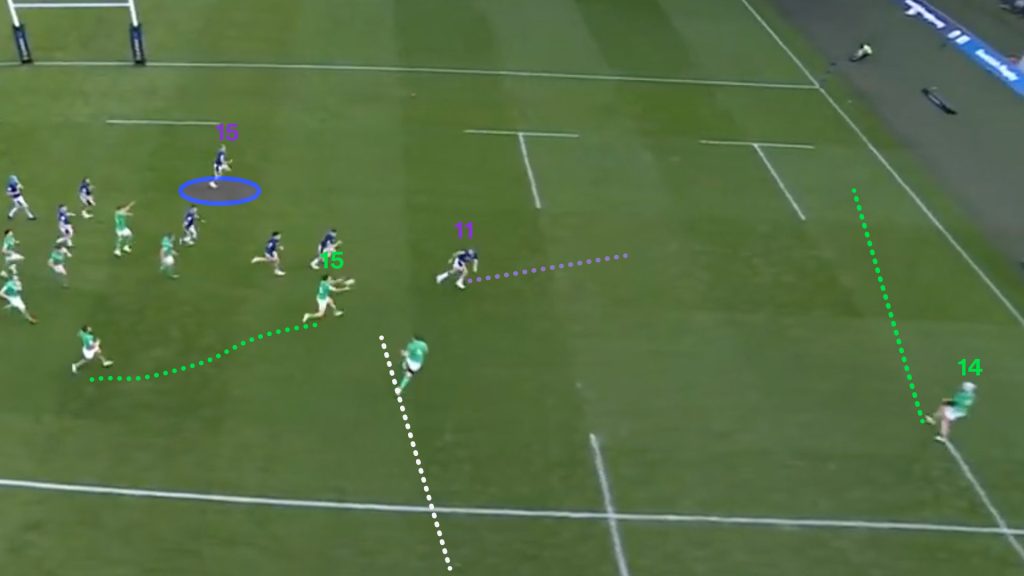 Keenan (15) was quick to fire wide to the unmarked Hansen (14), while Van der Merwe (11) tried his best to backtrack and make the cover tackle a second time.
He ended up arriving a split second too late while Hansen needed every inch available to squeeze the ball down with a brilliant finish in the corner.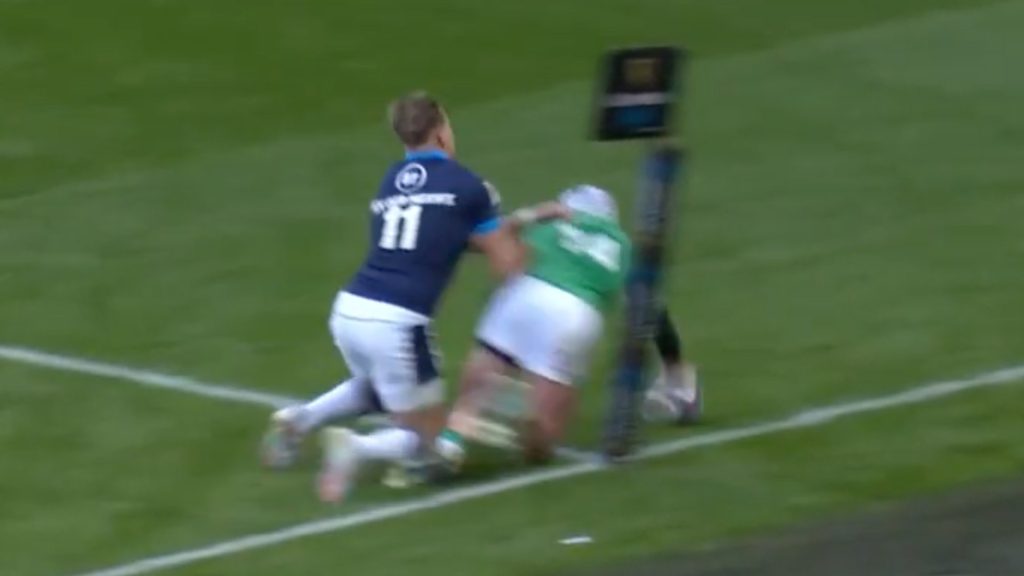 The margin between success and failure for either winger in this situation was incredibly fine. Van der Merwe paid the price for biting in one step too far on Peter O'Mahoney's line.
Scotland had the chance to hit straight back after Hansen's score with a lineout launch from just outside Ireland's 22.
They ran a popular sweep play that anchored off inside centre Sione Tuipulotu. Flyhalf Finn Russell (10) and Van der Merwe (11) swept out the back towards the far edge to create an overlap.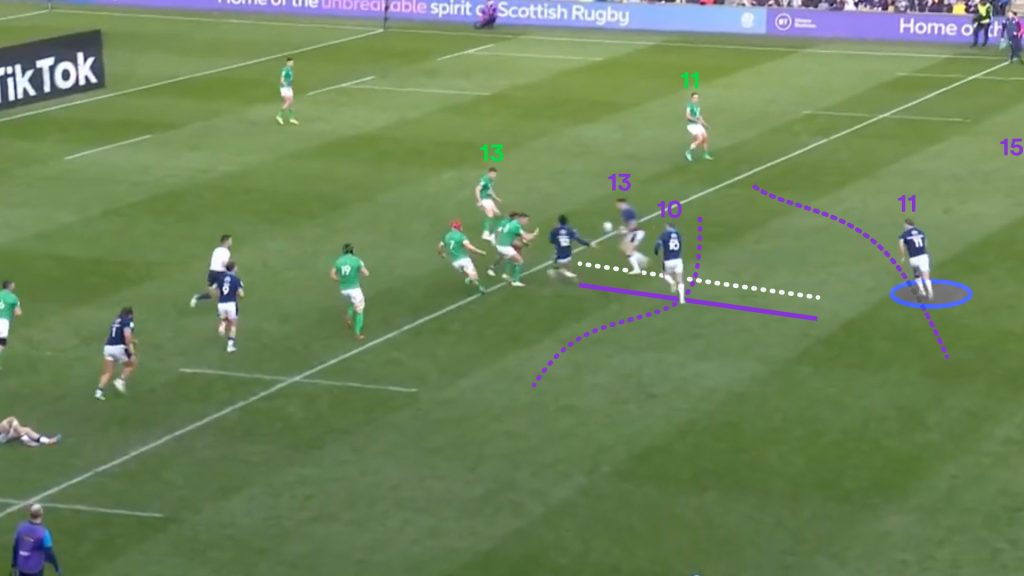 Russell got to the outside of the traffic jam created by centre Huw Jones' line and squared up Ireland's centre Garry Ringrose to put Van der Merwe into a gap.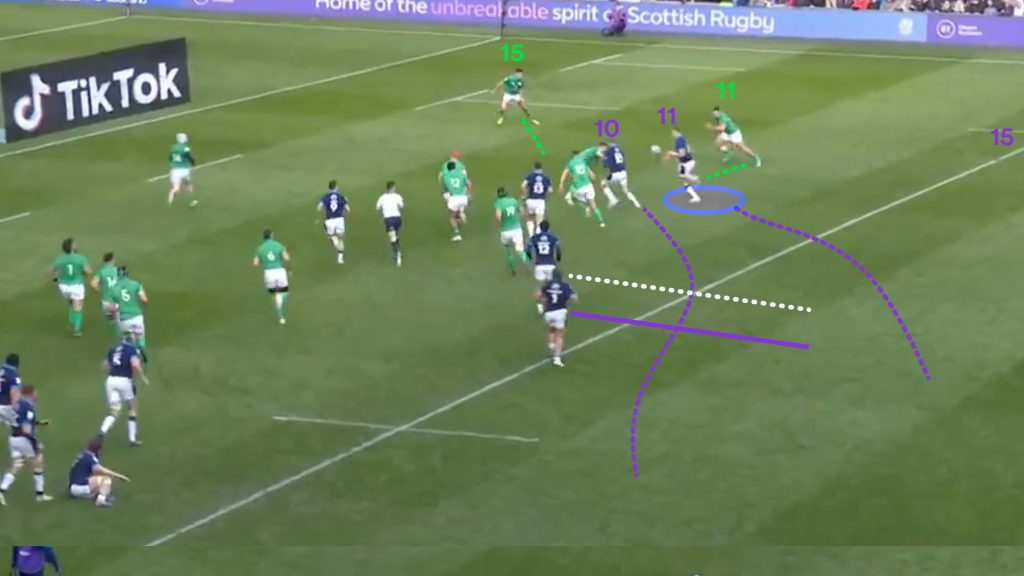 Given how hard he is to stop in open space, Van der Merwe drew the attention of both James Lowe (11) and Hugo Keenan (15).
Having turned the Irish defenders in, the ball absolutely had to go one pass more to the unmarked Stuart Hogg.
Perhaps the fullback was too deep to be seen, but there were two windows for Van der Merwe to put his fullback in for a highly probable try.
The first was pre-contact with Keenan with the Irish edge already turned in, but he had the ball tucked for the carry.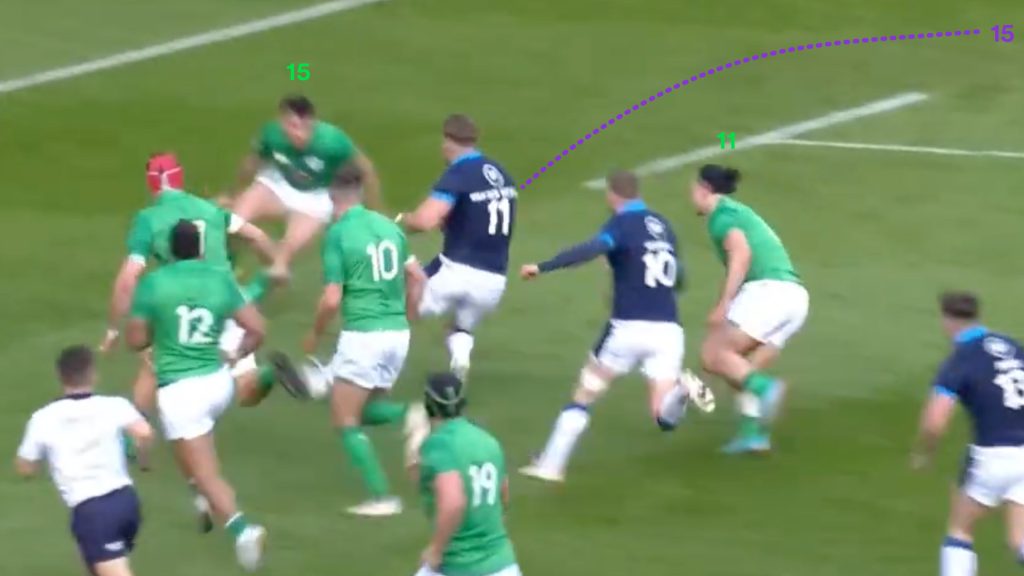 The second window was a short pop pass option back to Russell in support after Keenan's low tackle, who would have then surely fired the pass to the unmarked Hogg.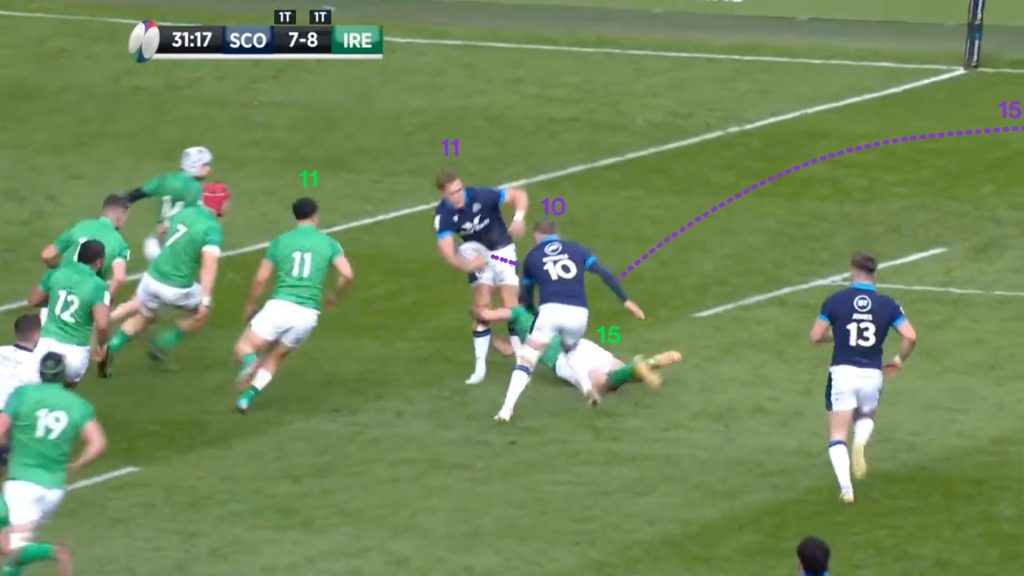 Van der Merwe doesn't take either split-second chance and the try went begging for Scotland as he went to ground with the ball.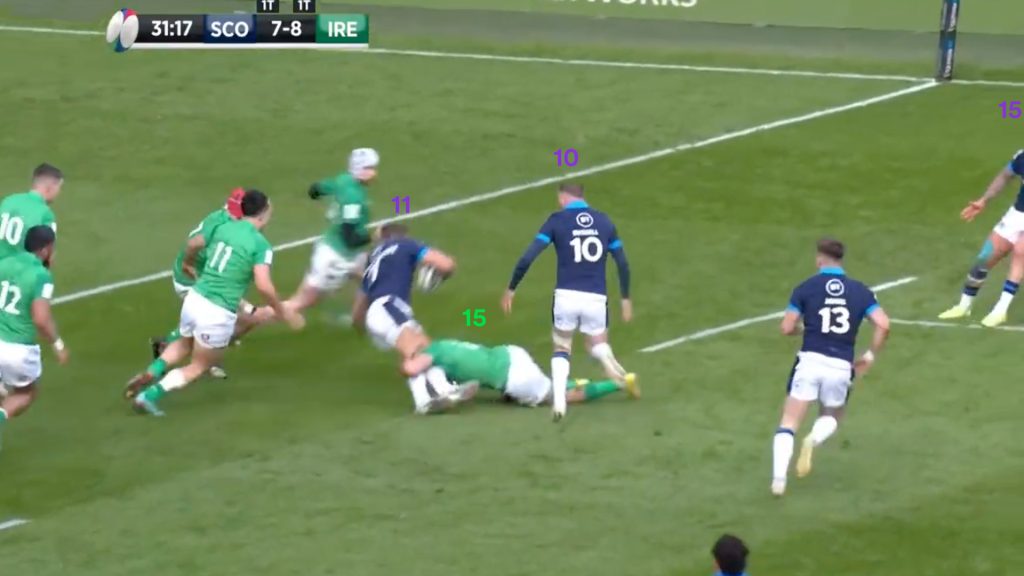 Ireland got over Van der Merwe at the ruck and secured a crucial penalty with openside Josh van der Flier latching onto the ball, spoiling a huge opportunity for Scotland.
This was a critical moment in the game for Scotland re-take the lead and answer straight back for Hansen's try.
Van der Merwe didn't do a whole lot wrong but lacked the anticipation to keep the ball alive which ultimately squandered the chance.
Ireland's second half featured two tries heavily influenced by the play of Hansen once again, the first of which was flying high to snatch a box kick and set up possession inside the five-metre line.
He went after a Jamison Gibson-Park box kick and flew over the top of Van der Merwe to haul it in, before having the instinct to find Sexton in support with a cute offload.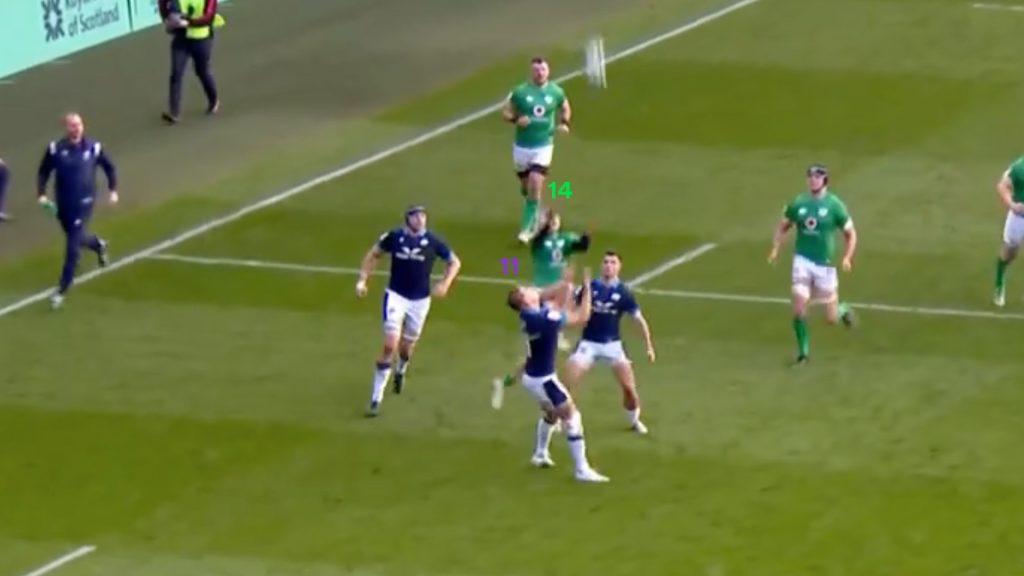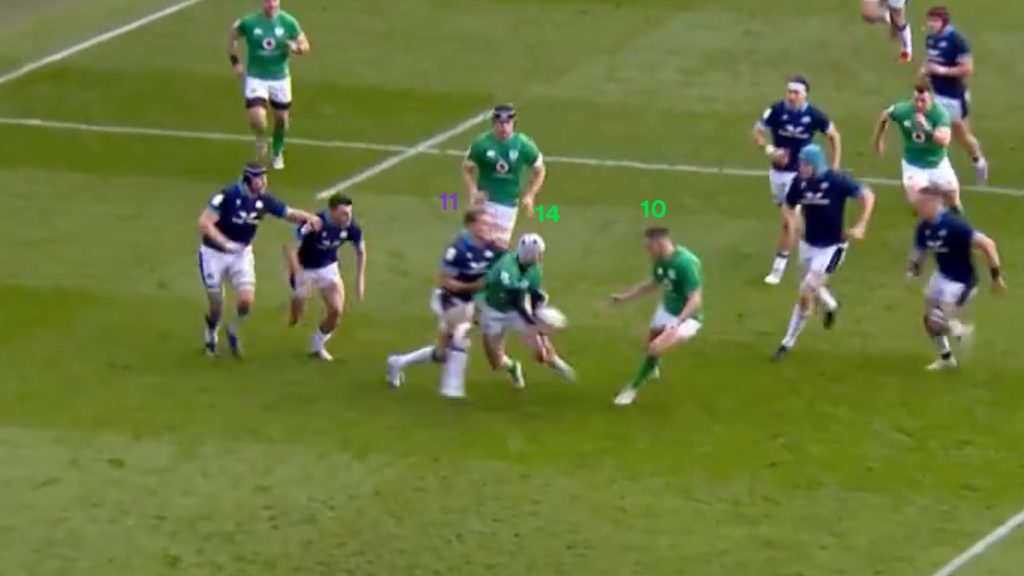 The kick recovery and offload by Hansen set up play inside the five-metre line, which laid the platform for James Lowe's try in the opposite corner from the same possession.
Hansen's playmaking wasn't done there as he then produced a superb piece of ball-playing from first receiver down a short side to prey on Scotland's edge.
Presented with a three-on-two, his first move was a right-foot step with a subtle dummy that appeared to tuck the ball back.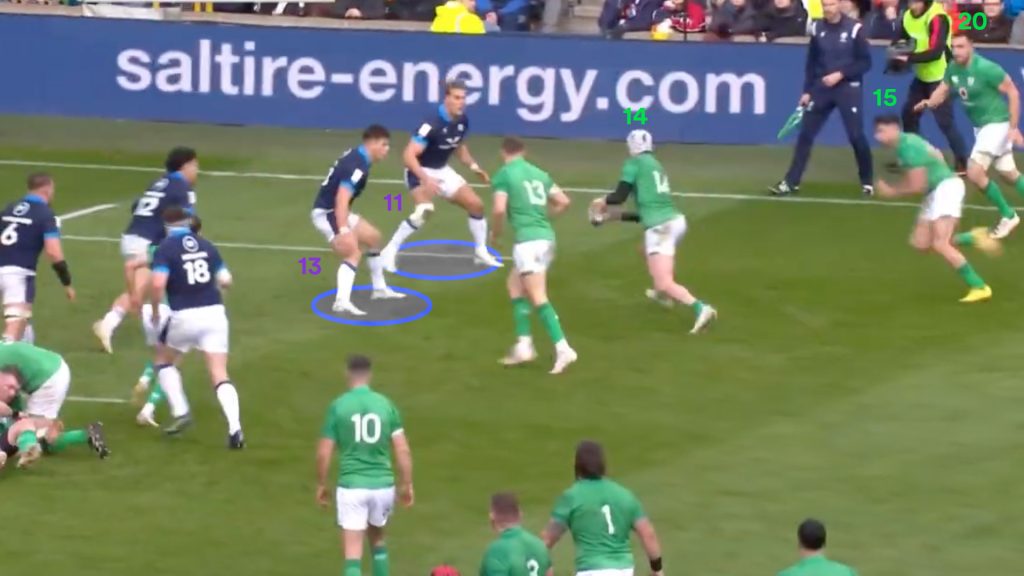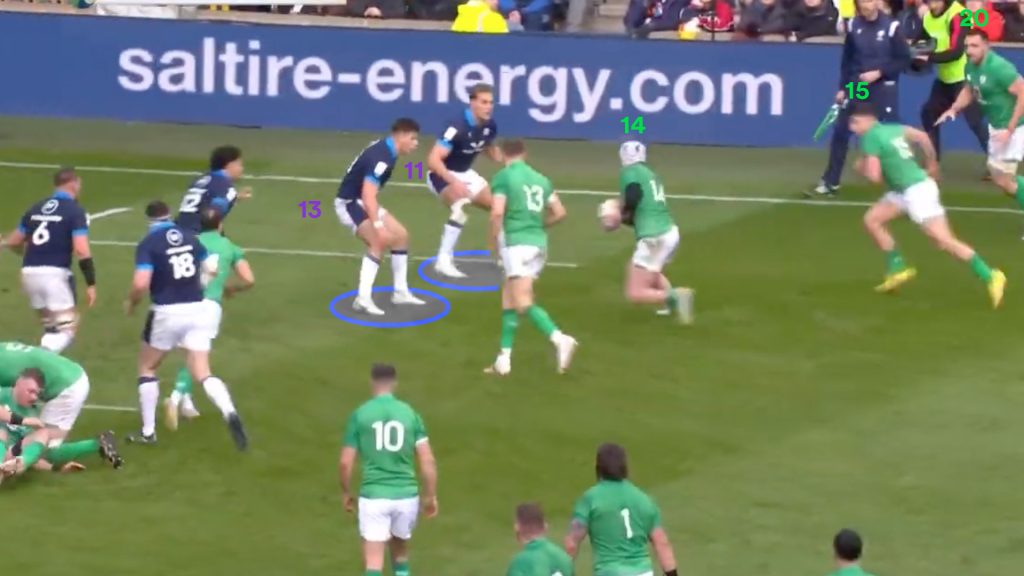 This nuance signalled his intention to run to the defence which helped fix Huw Jones, before he reloaded the pass and fired a beautifully late face-ball across Keenan to the open man Jack Conan.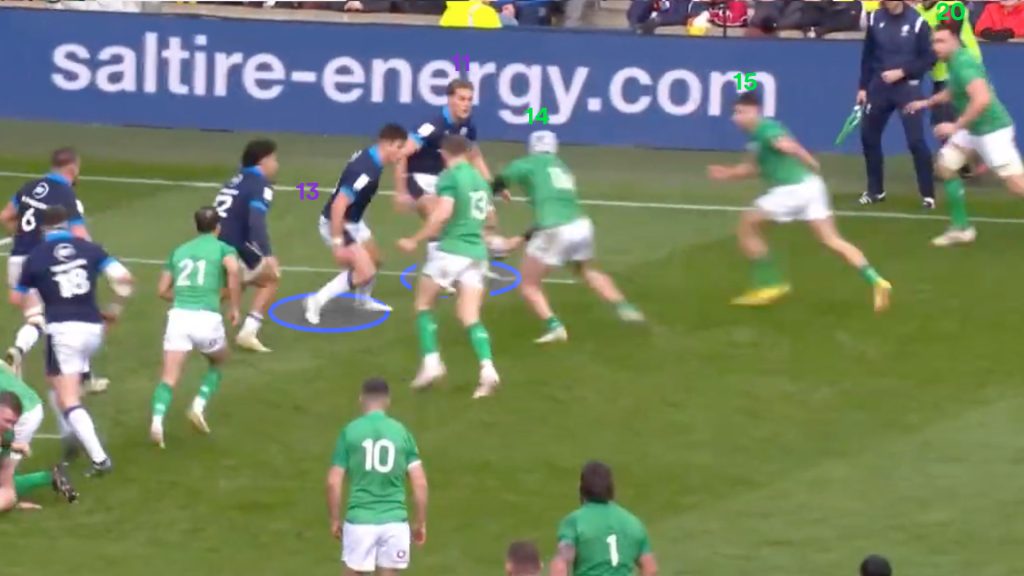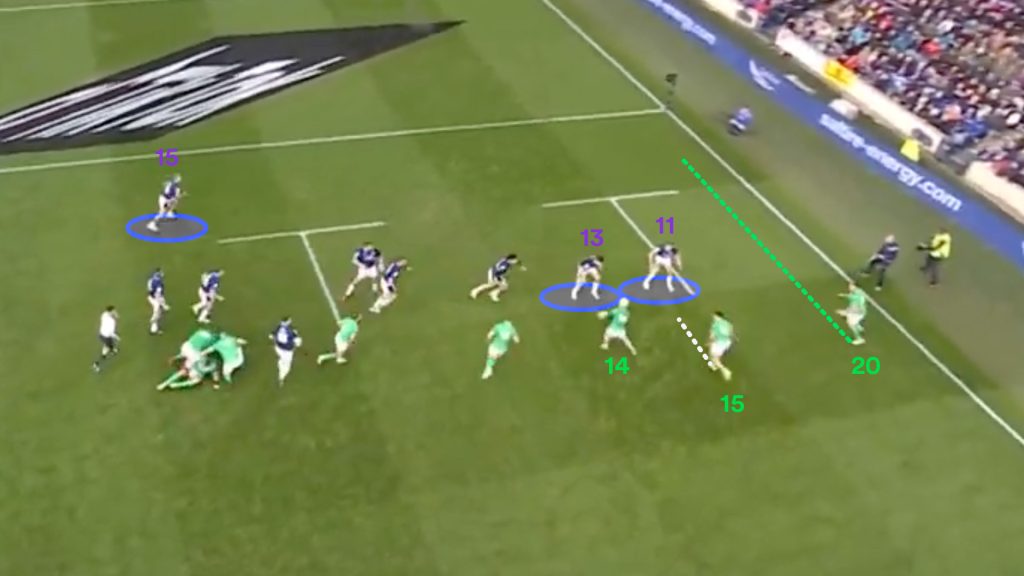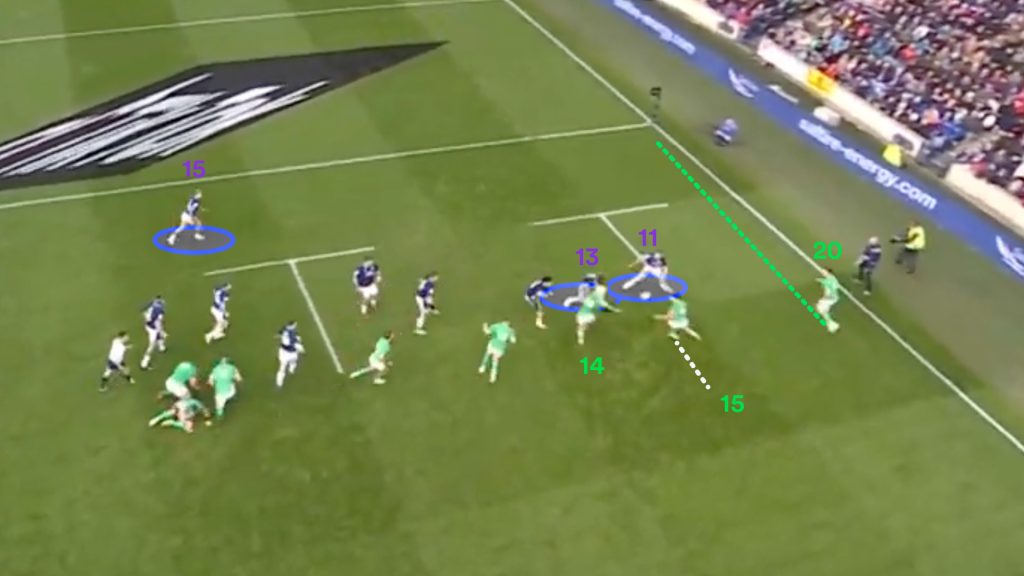 Van der Merwe first covered Keenan and tried to do his best to get Conan (20) over the sideline but was equally matched for strength by the loose forward.
Conan crashed over in the corner to seal the game for Ireland.
Hogg wasn't able to cover back down the short side and take the last man for the second time in the game.
The Scotland defensive scheme is hard for the outside backs to cover every instance.
Van der Merwe has to defend multiple options, starting with the second-to-last man and then drift to the final assignment once the pass goes by. Hogg has to cover the entire backfield and the last man on both sides.
There are times where the blind spots just can't be covered by Scotland as Ireland found at Murrayfield, thanks to the play of Mack Hansen who had the ability to exploit them. These were just opportunities to expose the inherent systemic weakness.
The story of Mack Hansen versus Duhan van der Merwe in this game is not just about the plays on attack by Ireland's winger.
Hansen shut down Scotland's powerhouse weapon with a total commitment to taking away all his time and space, preventing any major damage from being inflicted by Van der Merwe.
Any time he touched the ball, Hansen was right there to make a tackle attempt straight away.
A crafty offload by Russell could have spelt danger with Van der Merwe running off his hip in the first half, but Hansen was on his back almost before he had the ball.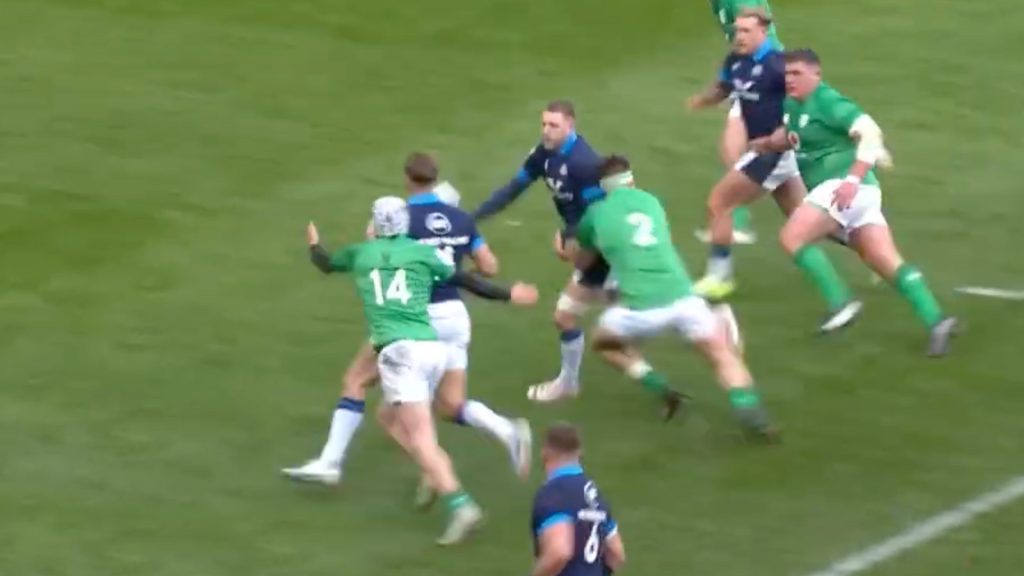 Understanding the size difference between the two, he made sure at every opportunity he was in Van der Merwe's face.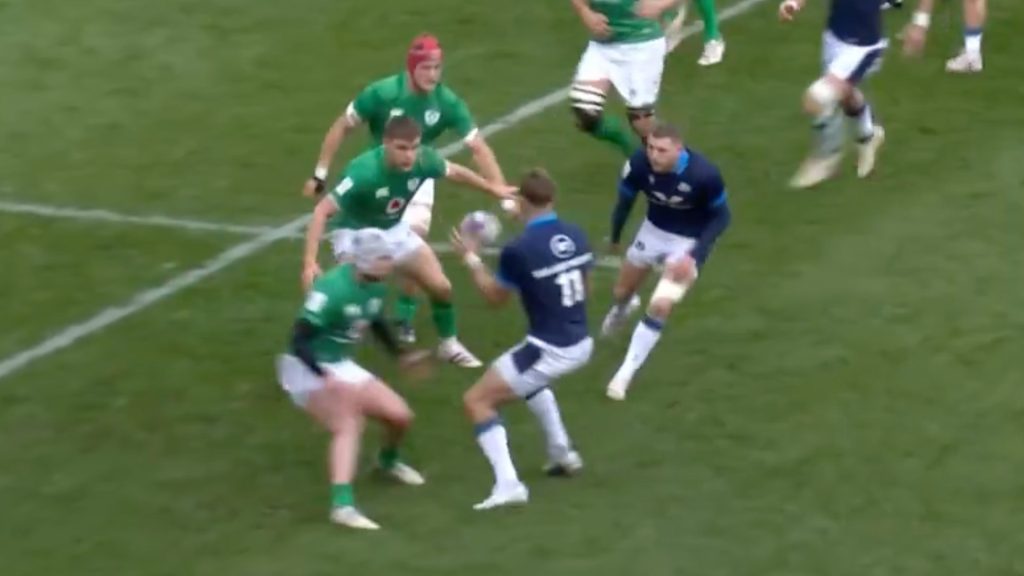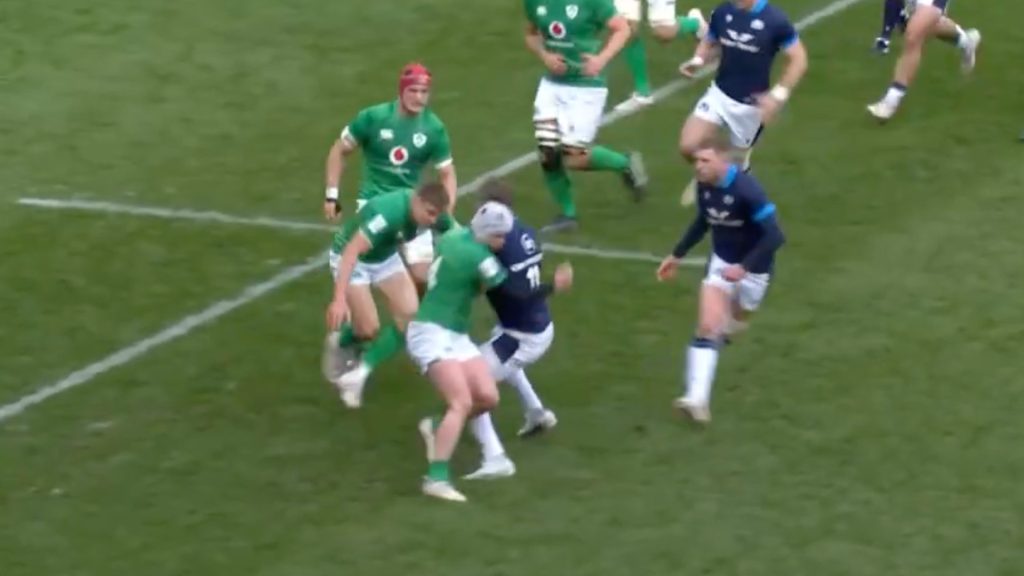 At times Van der Merwe broke through Hansen's attempts, but the contact was enough to slow him down for others to finish off the tackle. The swarming defence by Hansen meant Ireland avoided the worst-case scenario experienced by England.
Ireland's No 14 showed excellent execution of both drift and rush defence styles dependent on the situation at hand.
In a crucial period during the second half with the game in the balance, his rush defence on Stuart Hogg stopped Van der Merwe from getting the ball in space altogether.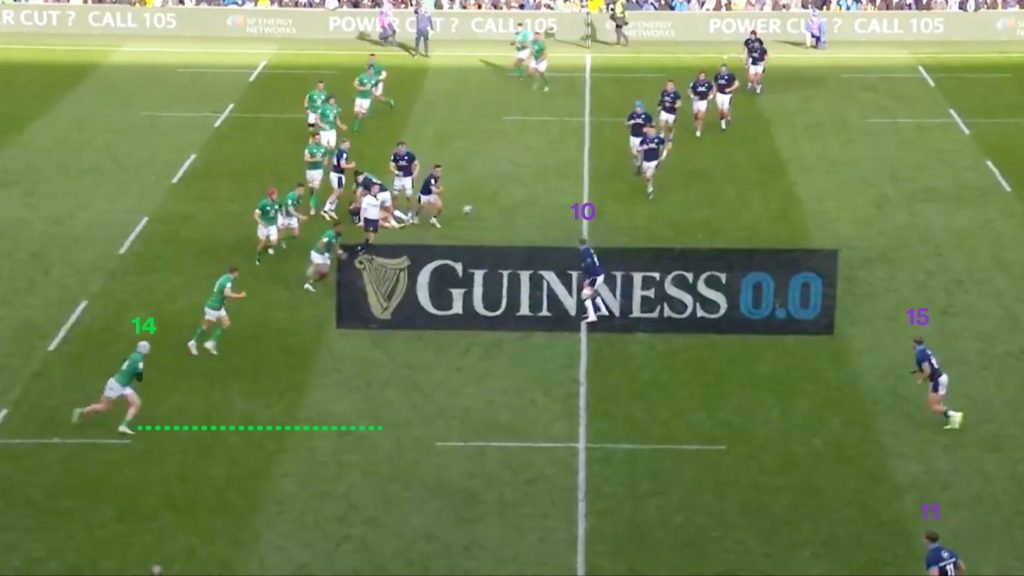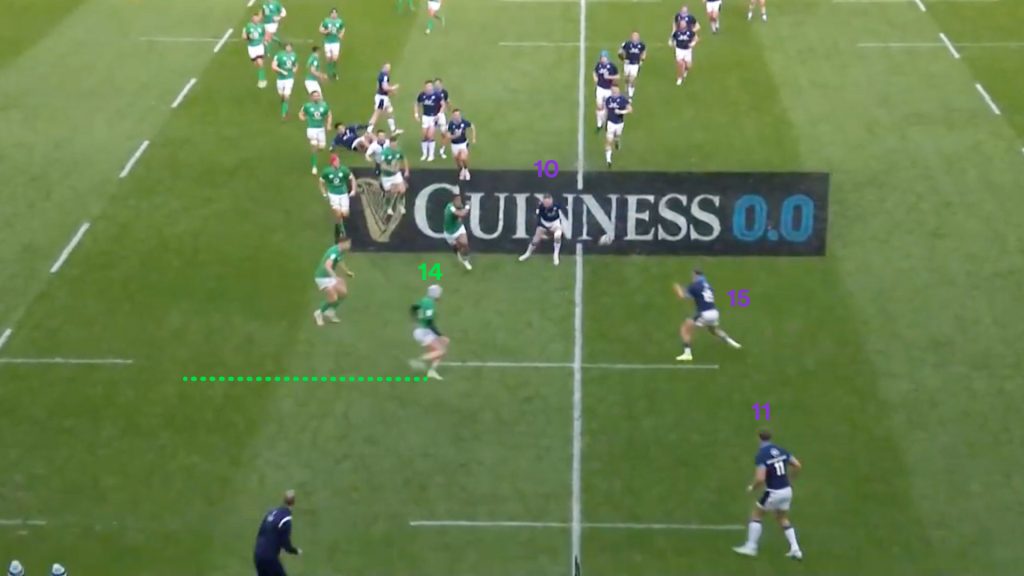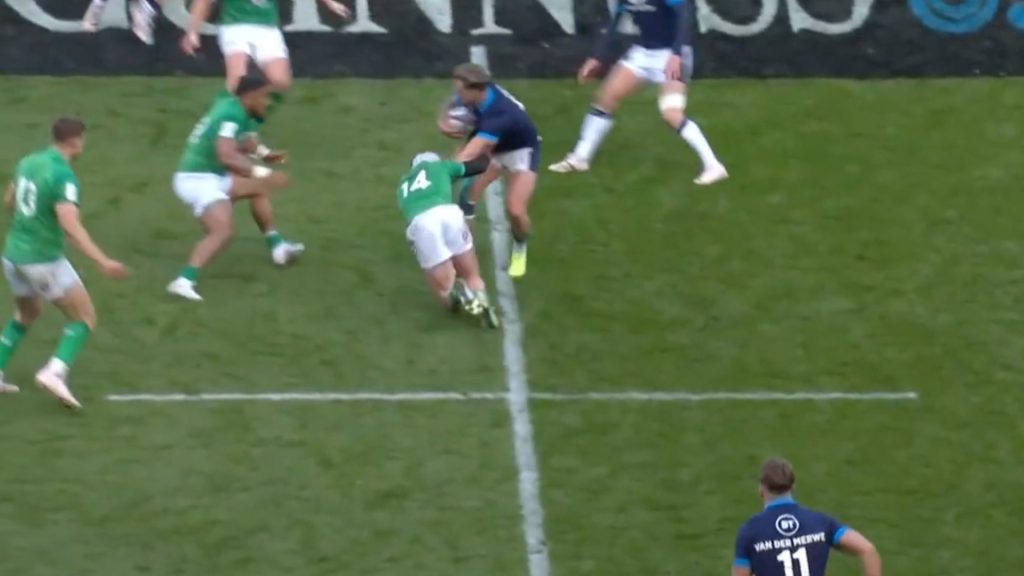 His best piece of defending on Van der Merwe may have been this play covering for Garry Ringrose who was beaten on the inside.
Initially, he faced a three-on-one overlap and was in drift mode to buy time for the inside support as Jones pressed forward.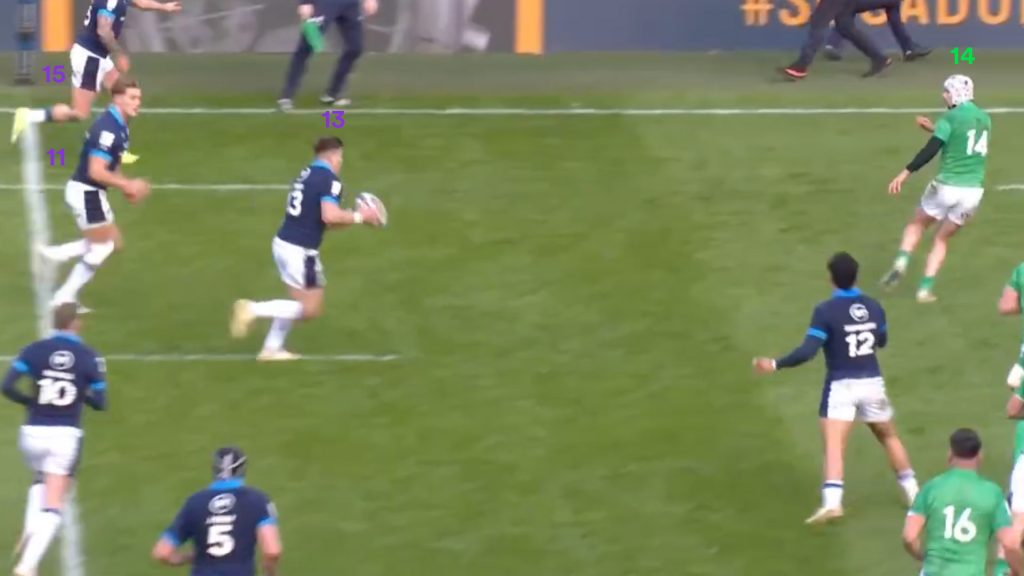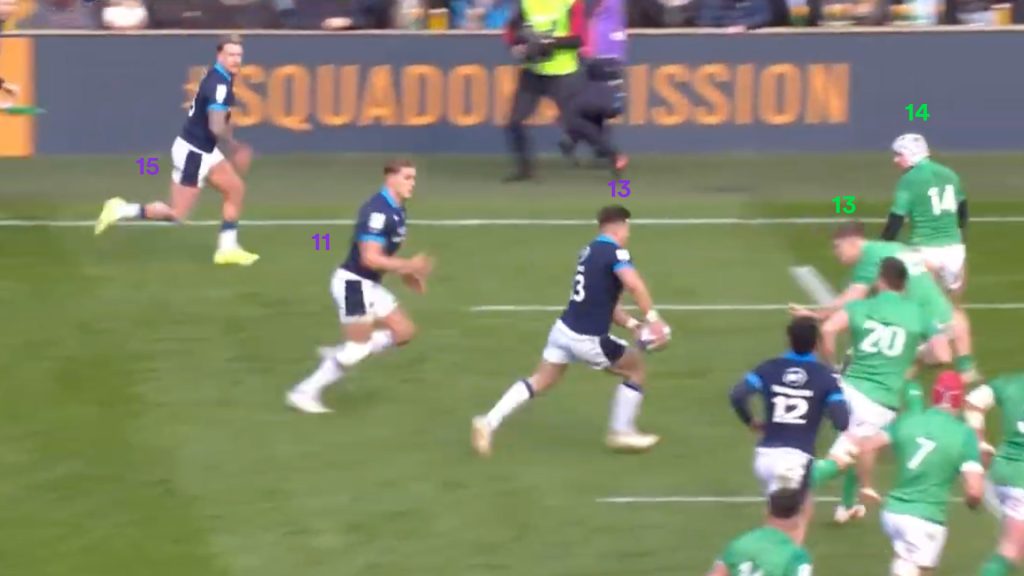 Scotland's centre Huw Jones (13) beat Ringrose with a dummy and burst through his inside shoulder which had the potential to offload to Van der Merwe on a good support line.
Hansen had his hips turned out to shade the last man Hogg (15) but recognised at exactly the right time he needed to prevent Van der Merwe getting free.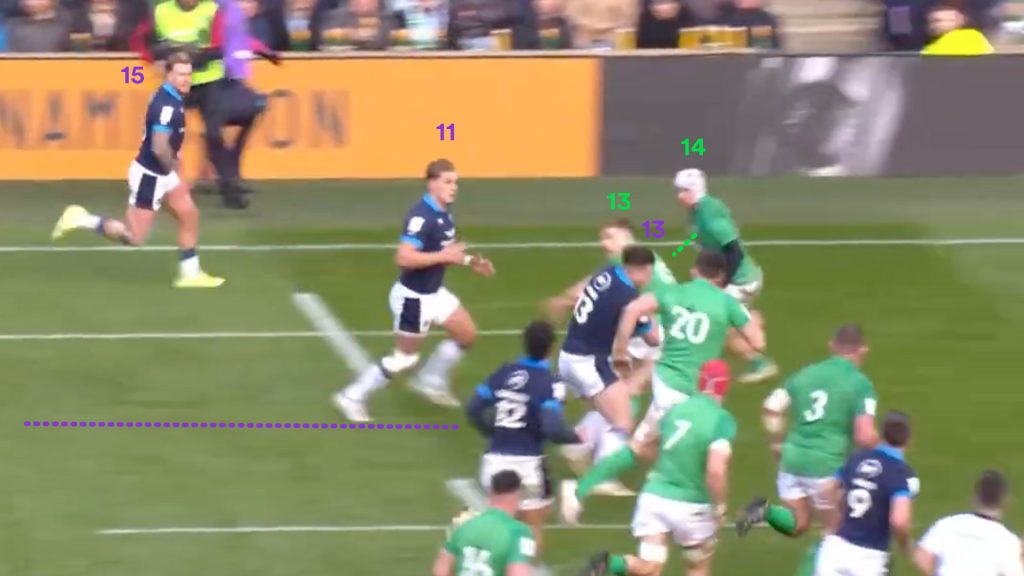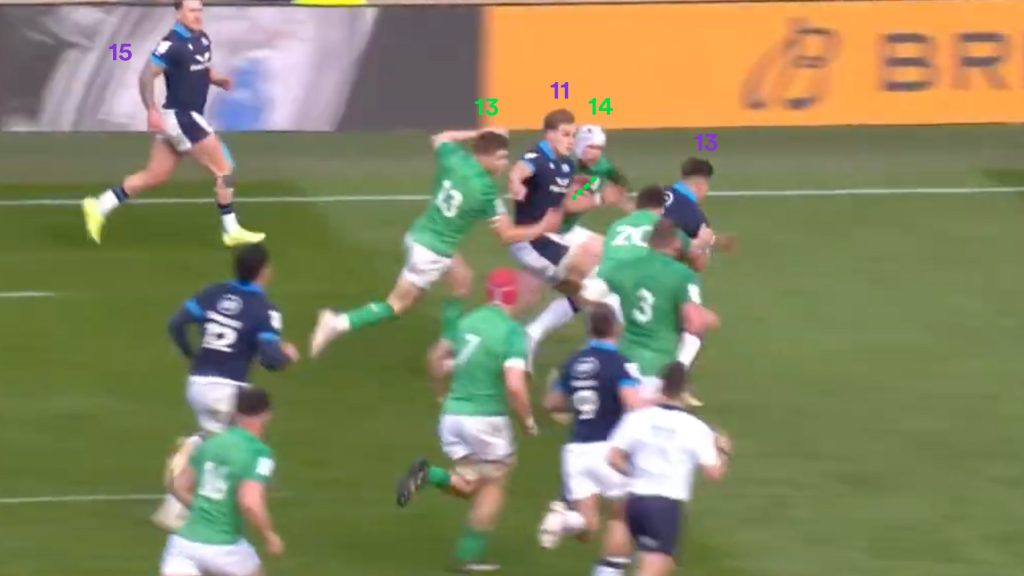 At full speed he flipped his assignment, shaded Van der Merwe with tight coverage, which was enough to create doubt for Jones and his offload. Hansen bought enough time for fullback Kennan to take Jones high and wrap up the ball.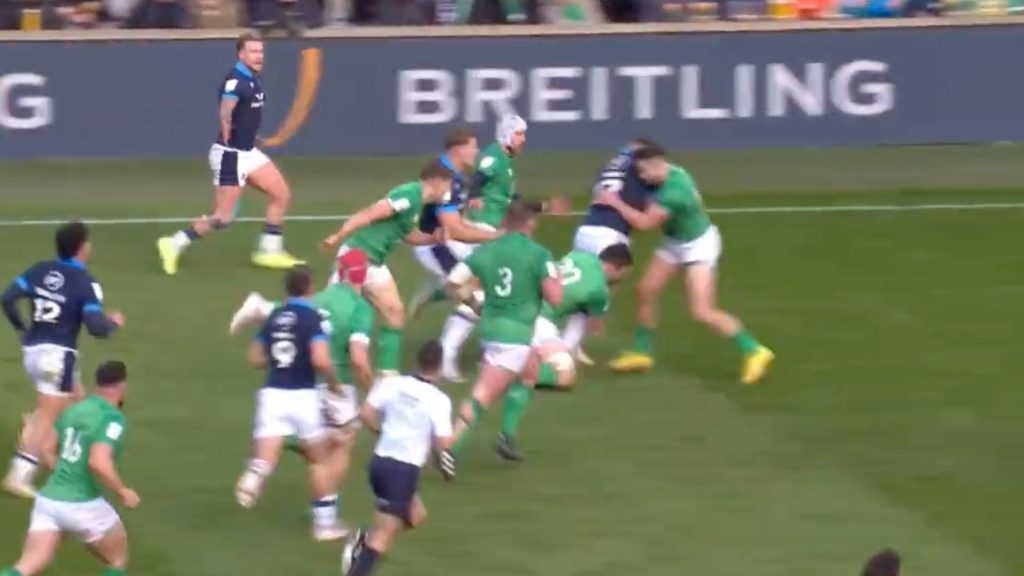 A lesser winger would have continued to drift on Hogg and Van der Merwe would have been free on the burst to take an offload from Jones.
Shortly afterwards, the wily wing pulled off the first of two ruck turnovers. After slipping off the bootlaces of Jones, Hansen was straight back on his feet to chase down Hogg showing a never give up attitude.
Hansen's day out at Murrayfield was as good as it gets for a winger in a high-stakes test match.
He beat his opposite on the outside for a try, in the air for a key recovery leading to a try, and with a fizzing long ball to set up a try. In defence, he kept Scotland's biggest threat largely under wraps and produced two turnovers at the ruck.
Van der Merwe himself didn't have a terrible game, he was just beaten by the smallest of margins multiple times by a crafty opponent who played the game on his terms where the odds were in his favour.
The Scotland winger will probably long remember the wily Australian with a handlebar moustache and hipster tats and contemplate for a while how this all happened.
And it mattered greatly for Ireland that Hansen won his individual battle with Van der Merwe because it won them the Test, and perhaps the Six Nations title and a Grand Slam, while ending Scotland's chance for their own title.