Heineken Cup nears the business end as the elite show their class
It was an enthralling weekend of Champions and Challenge Cup rugby, with drama aplenty, leaving only the European (and South African) elite left standing. There are enough mouth-watering match-ups that a much maligned tournament can still end the season in credit.
Here's what RugbyPass+ made of the action…
The Champions Cup is far from perfect, but South African participation enhances it
The Champions Cup has been much maligned this season. A flawed, unwieldy structure and a 'mega-pool' that saw fans deprived of the requisite level of jeopardy in the Pool stages saw it taking a metaphorical kicking by critics and fans, saying it was tough to follow. Administrators have bowed to this opprobrium by promising changes and reverting to the old model, whereby only two out of four Pool participants qualify, after each side plays each other home and way. All this under the hood work is deemed fixable in a competition that has, in truth, been lacking direction for a few seasons as the game recovers from the pandemic and wrestles over the make-up its global calendar.
The other major addition to the competition has been the introduction of the South African franchises. This has met some vocal harrumphing by French and English commentators because, last the time we looked at a world map, South Africa was, ahem, nowhere near Europe, but more realistically the criticism came because it reduces their chances of lifting the trophy in Dublin in May and beyond. I mean, it's fine having the gallant Welsh, Scottish and Italians battling it out, after all they  have never lifted the 'big one', nor are they likely to, but the might of the South Africans, well, that's a different matter.
Its detractors will remain, but if you saw 33,000 fans in sun-bathed Cape Town willing their boys home against Harlequins, or 27,000 Sharks fans in Durban, as Kolisi, Etzebeth and Am put 50 points past an outclassed Munster, you would have made a conclusion that their participation is not akin to walking over hot coals. If you add the commercial klout of SuperSport's broadcasting investment and a rugby-mad nation of 60m, who will become increasingly invested in the competition with its family-friendly kick-off times, rather than its inconvenient marriage with SuperRugby, and you may find they enhance the competition. In summation, the positives outweigh the negatives, and the Heineken Cup can once again, become the jewel in rugby's domestic calendar. Rugby is right to be underpinned by tradition, but to turn its back on a rugby giant could be construed as small-minded when rugby needs visionaries to remain relevant.
Look at this weekend's fixtures and it would take a cold-heart not to be transfixed by witnessing Antoine Dupont trying to outfox Siya Kolisi in the South of France, or Damien Willemse going toe-to-toe with Jack Nowell in Devon. The Saffas, like them or loathe them, appear here to stay.
Glasgow can be Scotland's first champion:
Where once there was scepticism, now giddiness abounds. Franco Smith fetched up at Scotstoun last summer to little fanfare. His CV was not outstanding at first glance – Cheetahs, Benetton, Italy – unless you applied the proper rigour, which is not a trait renowned among frustrated sports fans. Smith was not appointed until after the first weeks of pre-season training. He had no opportunity to recruit because recruitment had long since concluded. The squad he inherited was the squad he would carry for the next nine months. His first game was a humbling return to Treviso when an international-laden Glasgow team were run ragged.
What a job the softly spoken South African is doing at Scotstoun now. Glasgow have been restored to the swashbuckling joy of their glory years, without sacrificing any of the grunt work and pugilism set in place by Smith's predecessor, Danny Wilson.
Their 73-33, eleven-try evisceration of the Dragons was their twelfth win in fourteen matches. They have now scored sixteen tries in two. Johnny Matthews, the hooker, bagged an astonishing club-record five on Saturday evening. Glasgow have beaten the champion Stormers at home and an in-form Munster on the road. They are mauling teams into oblivion and shredding them with the speed and tempo and accuracy of their attack. The tries from Cole Forbes and Huw Jones were coast-to-coast works of art. The close-range bulldozers from Matthews and his pals will please Smith equally so. It was telling that in his post-match media duties, he lamented the concession of 33 points to a Dragons team depleted by a red card, rather than waxing about his players' devastating attack.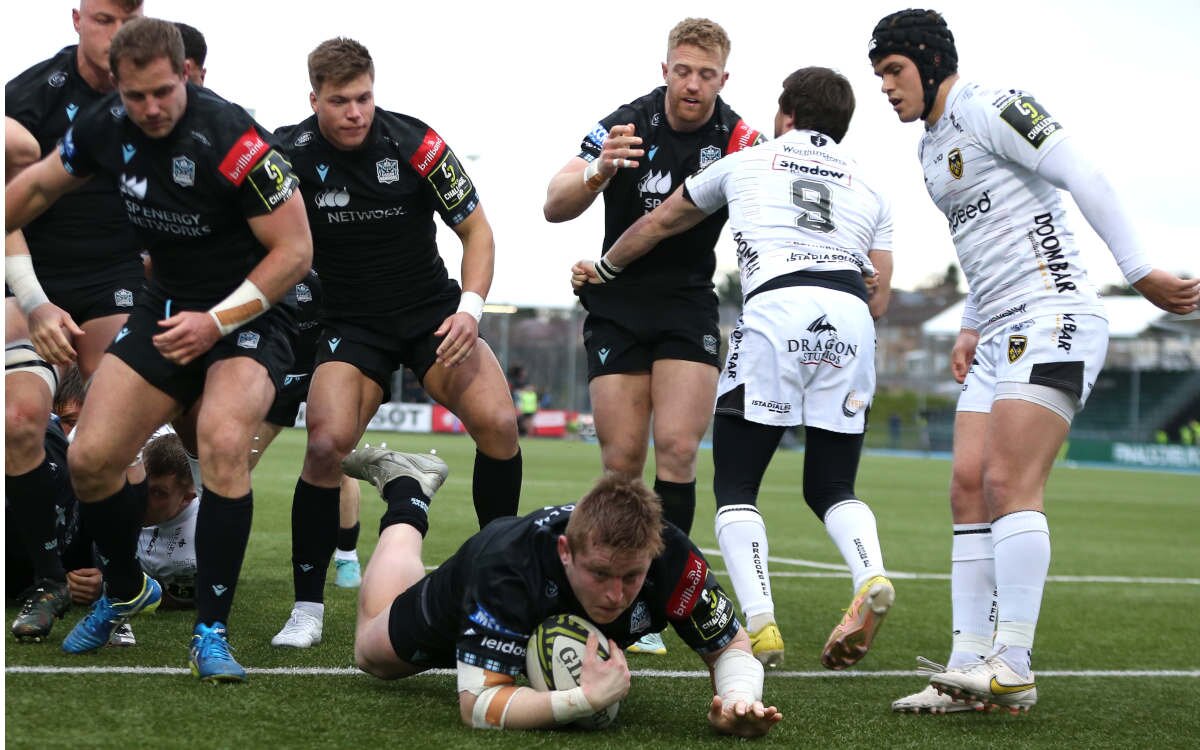 Nobody is sceptical about Smith anymore. Not with the kind of run Glasgow are on, the kind of opportunity that now lies before them in a scintillating end to the campaign.
In the URC, they play Scarlets and Connacht at Scotstoun. Winning both games would wrap up a home quarter-final, possibly a home semi if they do the business in the last eight.
Before that, the Lions travel to Scotland for the Challenge Cup quarters. A dangerous opponent – an opponent who inflicted Glasgow's only defeat, in Johannesburg, of their otherwise unblemished streak – but an opponent sixteen points and seven places beneath them in the table. It's a match Glasgow should win.
This team are champions of nothing yet, but the Challenge Cup holds such tantalising promise. They would play Scarlets, away, or Clermont, at home, if they see off the Lions. Toulon, Lyon, Benetton and Cardiff are still in the mix. Lyon are the holders and the strongest team left standing. Glasgow are good enough to beat them.
Scotland has never had a European champion. Glasgow have a real opportunity to become the nation's first.
Fergus Slattery's story is one of loss and love
In David Walsh's powerful, emotive interview with Fergus Slattery's family in yesterday's Sunday Times, the devastating effects of dementia were outlined in stark terms. Only those with a heart of stone would fail to be moved by the words of Slattery's wife, Margot, who is now his full time carer, and the couple's two children, Cameron and Nikki, who are grieving the loss of the father they knew.
For those of us of a certain age, Slattery represented the best of us, the best of Ireland. He was a brave, skilful, utterly confident flanker, who captained Ireland, played on the two most famous Lions tours of all, 1971 and 1974, and helped end a period of famine, when Ireland won the 1982 Triple Crown.
That was then. Now he lives with dementia and his wife lives with the strain. "I'm consumed with this Fergus and I'm forgetting the previous Fergus," she told The Sunday Times. "You are seeing the total transformation of a man you have lived your adult life with."
There is a twin element to this story. It's both a tale of a family's undying love for a remarkable man who is going through the trauma of an incurable disease, and the distinct possibility that rugby contributed to it.
Within the article, Walsh spoke to a clinical neurologist, Professor Colin Doherty, who fears Slattery will have CTE (chronic traumatic encephalopathy).
"What Fergus has is not normal dementia,"Professor Doherty said. "If you ask me, 'Is his career the cause of this?' I would say, 'Yes.' I am a doctor, not a mathematician, I cannot write an equation that proves it's down to rugby. But if you're asking my expert opinion, if I am called to the stand, I'm going to say, 'Absolutely.'"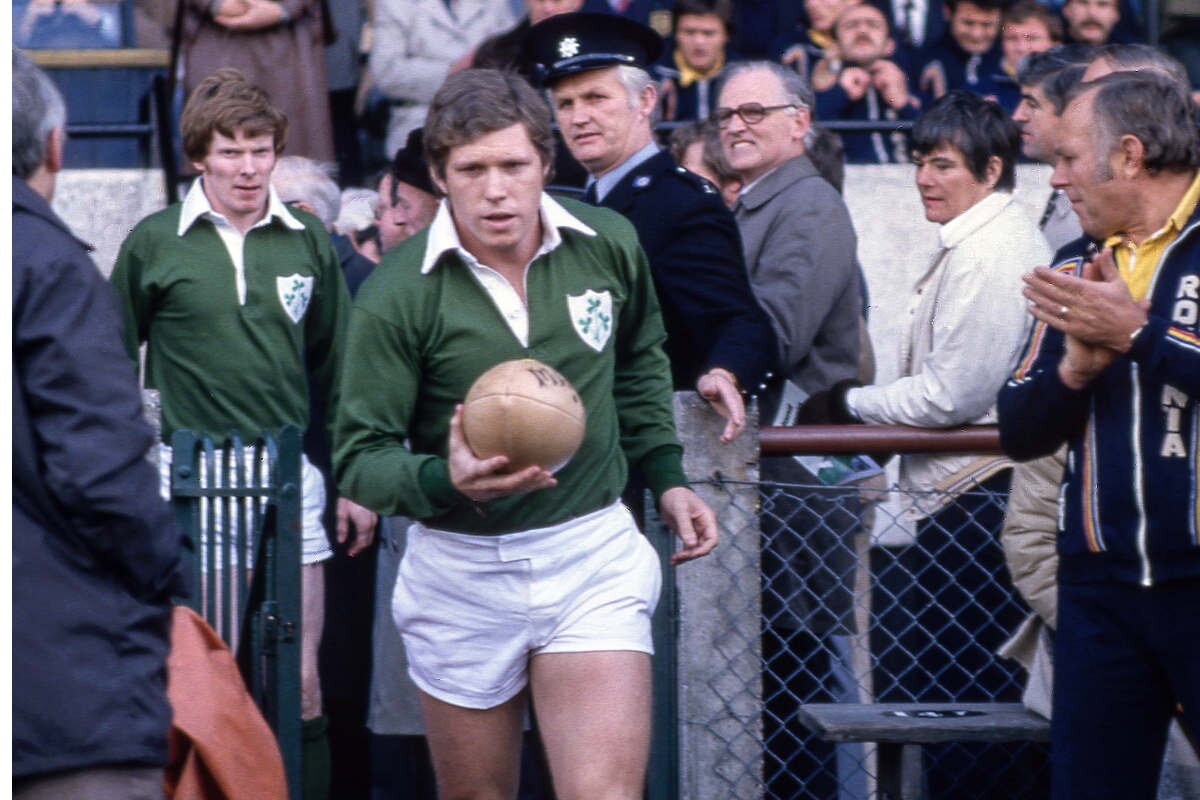 There is something deeply disturbing about this, for the Slattery family mainly, but also, in a much wider context, for the parents and family members of anyone who plays rugby, in particular anyone who has seen their son or daughter, brother or sister, suffer a concussion.
The Walsh article was 4,522 words in length and not one word was wasted. Yet one sentence in particular stood out from the rest, how Slattery's initial diagnosis came in the early part of 2018. That resonated because that was precisely when I interviewed him in the week after Ireland defeated France courtesy of Johnny Sexton's drop goal.
He was such an engaging character, full of stories and craic from the two Lions tours, the high jinks on the Highveld. One yarn in particular is worth retelling here.
The only thing the immortal Lions of 1974 had was a blazer and 70p-aday spending money and were frequently reprimanded for drinking more than their quota of one bottle of red wine per table. "This gruff Afrikaner lectured us every Monday on the bus. 'You lot are a disgrace,' Slattery told me. "You've read your contract. One bottle, one international phone call per night, that's all you're entitled to. I want to know, which one of you has been ringing Pontypool 587894?' With that Bobby Windsor jumped up and said: 'One of you bastards has been ringing my wife, who is it?' "
We laughed our way through that story, listened intently as he vividly described the sights of Victoria Falls in what was then Rhodesia, his disgust at the evident racism that was a South African state policy and admired the fact that the friendships he made on that tour 'were for life'.
That's the most poignant part of Slattery's story. He was 69 when we spoke then, when he was in the fullness of his health, when his mind was clear. He is now 74 and suffering. We all know this world we live in can be cruel and unkind. The fact the sport we love and he played with such brilliance may have contributed to his ill health. It's so desperately sad those memories he shared in 2018 are no longer there for a great storyteller as well as a great player.
Gloucester prove pride can be taken from defeat
Take a quick glance at the Champion Cup record books for 2022-23, and it will be easy to skip past Gloucester's involvement. After all, who remembers losing finalists, let alone losing quarter-finalists. Indeed, spend a moment looking for sporting cliches online, and you will find a glut of sporting stars who will puff their chests out and say you get zip for second place, but that is too binary a summation. There is pride and dignity to be gained in defeat when the odds are stacked against you.
Until the 77th minute of an enthralling encounter at the Stade Marcel Deflandre, Gloucester – a side that was slipping into mediocrity in the Premiership after three consecutive defeats – produced a performance of such wit, ambition and bloody-minded doggedness that they threatened an unlikely victory. Ronan O'Gara, La Rochelle's feted head coach appeared to be adding grey hairs to his temple on a minute-by-minute basis, as the Cherry and Whites cared little for reputations and gave the reigning Heineken Cup champions the fright of their lives.
The defensive set in the last five minutes was nothing short of heroic, as behemoth after behemoth crashed into the Gloucester defensive line searching for a winning score. A pack that boasted Uini Atonio and Will Skelton, both over 140kgs, was repelled with Ben Morgan, who retires at the end of the season, at the forefront, throwing his old bones at ball-carriers with careless abandon. It was a David versus Goliath pairing when you compared them physically and financially but Gloucester nearly did it, with Teddy Thomas crashing over, after brilliant hands from Raymond Rhule and Brice Dulin spun it wide after failing to puncture the defensive wall up front.
Louis Rees-Zammit collected the player of the match awards after a try, three turnovers and 12m per carry, but it could have gone to Freddie Clarke for his acrobatic finish in the corner, Billy Twelvetrees for rolling back the years at 10 or Chris Harris for his defensive excellence and hard line to crash over early on. A word too, for 20-year-old Seb Atkinson, who held his own against Jonathan Danty in midfield. It was heartbreaking for Gloucester's players in the aftermath, but if they looked at the messages of support from their fans on social media, they could have taken solace and heart.
So yes, no one wins prizes for a loss, but it was undoubtedly Gloucester's performance of the season, and will be remembered long after some more pedestrian wins are forgotten. Now they have to do is show that spirit on a consistent basis.
Welsh cheer restored
Welsh rugby doesn't so much need a shot in the arm as a bulging bag of feelgood hooked up to its veins. These have been deeply chastening times for the national game, the pallor of the Six Nations performances against Ireland and Scotland, the lowly positions of the regions on the URC ladder, the abhorrent allegations of abuse blighting the union and the financial crisis enveloping the sport and opening the floodgates to a sea of high-profile playing departures.
To watch three of Wales' four representatives over the weekend, you wouldn't know it. You wouldn't assume these were teams teetering along a tightrope of economic uncertainty, players fretting over their next move, if indeed there is a move out there for them at all.
The Scarlets made heavy weather of a second-string Brive, but the contest was illuminated, as so often, by a flash of Vaea Fifita sorcery. The giant Tongan is faster than any second-row and plenty of international backs. His swerving, blistering long-ranger – his third in four games, all similarly brilliant – was a show-stopping moment. There is box-office talent in the Scarlets squad which has won eight of its last nine games. The visit of Clermont in the quarter-finals is an exhilarating prospect.
Cardiff, too, did the business on a night laced with sorrow and pride. It is no exaggeration to say the region would not exist without the generosity of Peter Thomas, a former player, chairman of 22 years, life president and continuous benefactor. Thomas died on Wednesday aged 79 and a few hours before Cardiff took on Sale Sharks, the club announced the renaming of the Arms Park South Stand in his honour. Many of the players were close to Thomas. Dai Young wept as he left the field following the pre-match silence, and applause, in his honour. Thomas' family were present, too. A people, and a region, united.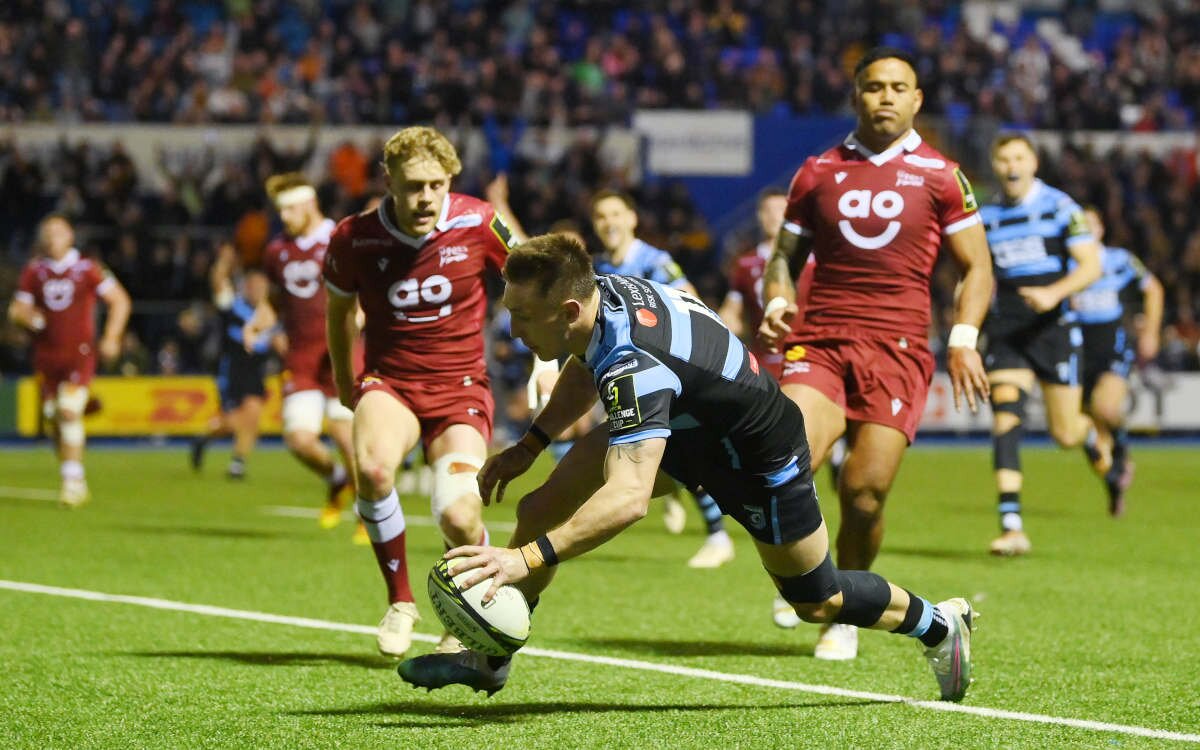 The game was a cracker. Cardiff, clearly feeding off the emotion crackling through the place, weaved some beautiful stuff. Rhys Priestland, playing at full-back, rolled back the years with a sleek display of vision, wisdom and aerial skill. Most compelling, though, was the way Cardiff's pack utterly demolished a Sale scrum laden with South African beef and international competitors. And they did it with their second-choice loosehead, second-choice hooker and third-choice tighthead. Corey Domachowski, Liam Belcher and Kieron Assiratti were simply irrepressible, each layering their set-piece belligerence with powerful work around the paddock. Cardiff will lose several of their top front-rows this summer, but in that trio, Young has a fabulous unit to retain. In edging Sale by a point, they set up a trip to Benetton, a challenging prospect but not a daunting one. There are reasons to believe again.
And then the Ospreys, on Sunday afternoon, were painfully close to claiming another European scalp. Having dispatched the French champions, Montpellier, home and away, and the English champions, Leicester Tigers, at Welford Road, they turned their attention to another giant waiting to be slain. Saracens are the best team in England and yet the Ospreys, with access to their internationals, pushed them all the way. They scored some terrific tries, Keiran Williams wreaking mayhem and Ethan Roots levelling opponents. They bossed the breakdown skirmishes for long spells. Their lineout was fatally sloppy and a quick throw from Rhys Webb gifted Duncan Taylor the winning try. It was the Ospreys' first appearance in the Champions Cup knockouts since 2010 and their raucous travelling support made the StoneX feel like home turf.
We should set aside the Dragons and the mortification up at Scotstoun, for the region poorest by resources and playing performance was never going to trip a surging Glasgow team.
This was a deeply heartening weekend for the embattled Welsh rugby scene. Many of the protagonists will leave over the summer, but the supporters wowed by Fifita's striding athleticism, together in grief with their Cardiff heroes, or out-roaring their illustrious hosts miles from Ospreylia will remain. The game must find a way to give them more to shout about.
You have to dig deep to find signs of Munster's progress
There has been an underlying theme to Munster's season. Overpraised for what they did well, pundits and press have also been far too quick to excuse the things they did wrong. That's all well and good, yet when the narrative of praising the coaching reform also included subtle digs at Graham Rowntree's predecessor, Johann van Graan, it just felt a little off at the time.
Now it looks plainly wrong. Munster supposedly have made great progress this year and anyone with a sharp eye on their attacking strategy can certainly see that Mike Prendergast has done a fine job in this department. The whole coaching team deserves time, certainly, to continue their project.
But have they really made progress since van Graan left? Last year they went out in the quarter-finals of the Champions Cup via a penalty shoot out. This year they were hammered in the round of 16 while they are limping their way to an away quarter final, and thereby likely early exit, in the URC. And this is progress?