Back

By Tom Bradshaw
Has Steve Borthwick settled on his World Cup No 9?
Farrell? Smith? Ford?… And round and round we go. There is an oddity in the countless column inches that have agonised over who should start as England's stand-off and it is that relatively little consideration has been given to the other half of the half-back partnership. Instead, the debate about who should play pivot has pivoted on how any given candidate for the fly-half berth may complement the centres outside him; or, in Farrell's case, whether he should shuffle out to 12 himself.
Yet there is arguably even more competition for the No 9 shirt than there is for the 10. And if a nation can get its half-back axis sorted then a forcefield of élan can ripple through both its pack and its backline. For a powerful lesson in that, just look at the side that is next up at Twickenham. France are a side transformed, with part of that transformation driven by the gel at half-back. And we're not just talking about Romain Ntamack's elegant coiffure.
In the usual run of things, if a fly-half is a band's lead guitarist, then a scrum-half is its rhythm guitarist. The former invariably commands the spotlight, gets to play the best licks and has the chance to make the fretboard around them smoke. But without the feel, tempo and solidity injected by the rhythm guitar the whole piece is at risk of disintegration, no matter how much flashy finger-work the lead can conjure up.
Jack van Poortvliet, England's current incumbent at nine, provided a certain feel and tempo in England's settling – if not wholly convincing – win against Wales at the Principality Stadium, primarily through his box-kicking. But when it comes to their attacking play, England are short of a tune or two. The same cannot be said of their next opponents.
The settled French half-back pairing has been central to the country's ascent up the global rankings. The partnership's not quite at Matt Dawson–Jonny Wilkinson levels yet in terms of unwavering clear-eyed control, but Antoine Dupont and Ntamack's combination is laying the foundations for France's genuine tilt at winning a home World Cup. And the duo potentially still has a decade ahead of them.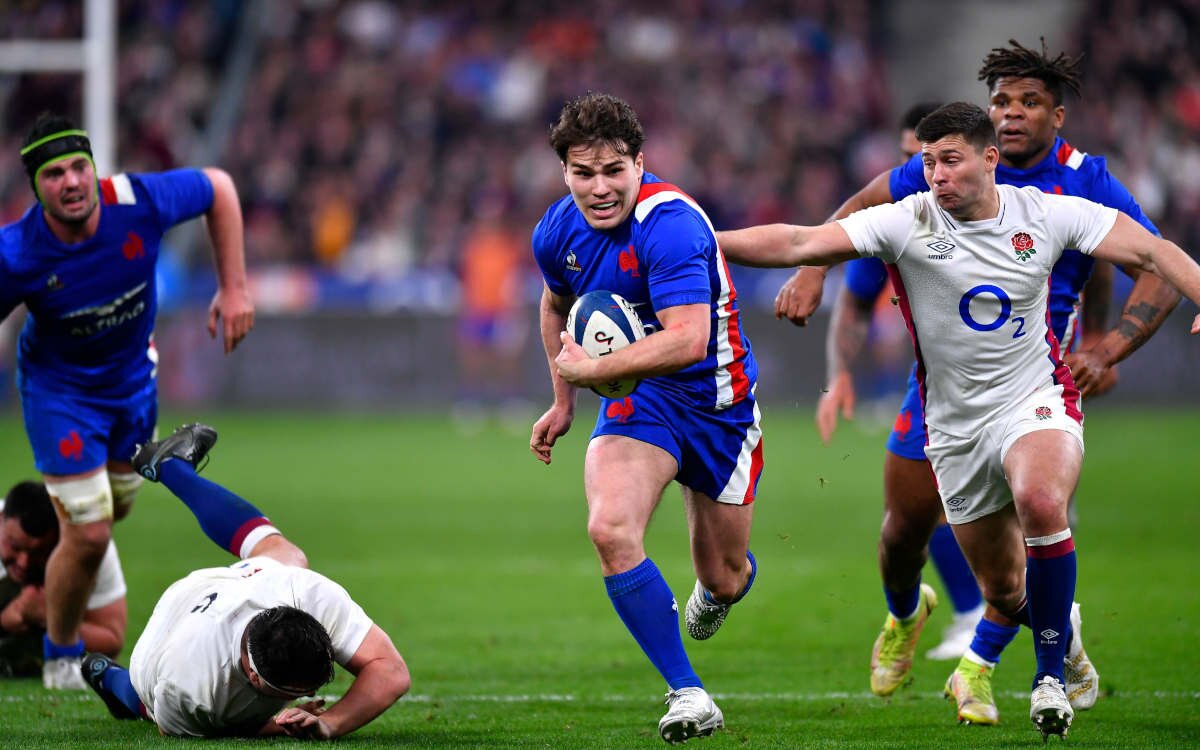 With England head coach Steve Borthwick clearly keen to swiftly integrate George Ford back into the heart of the Red Rose camp after a long injury absence, there is much still up for grabs in the England half-backs. France's visit to Twickenham is likely to prove instructive in highlighting what may or may not be lacking for England in that department. And Dupont's arrival in town certainly draws attention to the occasional primacy of the nine role over the 10.
Borthwick's opposite number, Fabien Galthié, has the luxury of possessing an international half-back pairing which plays week in, week out together for their club, Toulouse. The club and country relationship means that, naturally, they duo have built up a precious rapport – a rapport that makes France incisive and a heartbeat or two ahead of most sides. If Dupont puts Ntamack through a gap, Ntamack knows that – all other things being equal – Dupont will be running a support line, probably on his inside shoulder. And the relationship is reciprocal. Both in the Top 14 and the Six Nations, Dupont has pulled off the kind of implausible, sixth-sense off-loads to his half-back partner which can only really come through the bonds of sympathy and anticipation that are forged in the furnace of daily practice and weekly matches. Between them there is a trust, a mutual appreciation and a spirit of joint opportunism that is every bit as beautiful – at least to the rugby purist – as anything in the Louvre. There is more than a soupçon of Gallic flair but there are strong flavours of composed pragmatism too, when required. Individually, they read the game well; jointly, they turn the page while others are still mouthing the opening sentence.
Duptont is the rockstar and undisputed frontman. He is allowed to rewrite the set list as he sees fit.
England do not have a Dupont-style scrum-half in at least four senses. Firstly, none of the credible contenders for the England No 9 shirt have the kind of strength that Dupont possesses through the tackle, a strength which at times makes him the equivalent of a fourth loose forward. Secondly, Dupont has the instinct for a support line that is reminiscent of a natural poacher such as Chris Ashton, and to boot has the broken-play footwork of an international winger. Thirdly, Dupont makes a mockery of the rhythm/lead guitar analogy mentioned above: he is the rockstar and undisputed frontman, and he is allowed to rewrite the set list as he sees fit. Fourthly, and quite simply, none of England's contenders possess the completeness to their game that Dupont does. However, as with any unit on the field of play, a good half-back pairing is worth more than the sum of its parts. Pair up the right No 9 and 10 and England can scrape back at least a smidgen of the ground that they yield to Dupont simply by him being, well, Antoine Dupont.
As I suggested at the start of the Six Nations, George Ford has rapidly emerged from injury as a central figure in Borthwick's thinking, even though he has not been retained for this weekend's duel. Bringing Ford into the fallow week training camp at Brighton caught some slightly off guard due to the Sale fly-half only just returning to fitness from a serious Achilles injury, but it should be no surprise. Borthwick and Ford are kindred spirits; both are fired by a yearning to exploit opponents' weaknesses by unpicking their tactics in microscopic detail. The England boss has seen this first-hand by working with Ford at Leicester, where Ford's canny kicking and distribution last season was a masterclass in game management. In harness, Borthwick and Ford masterminded the Tigers' Premiership title last season. Why wouldn't Borthwick now want such a trusted and proven lieutenant in the England set-up?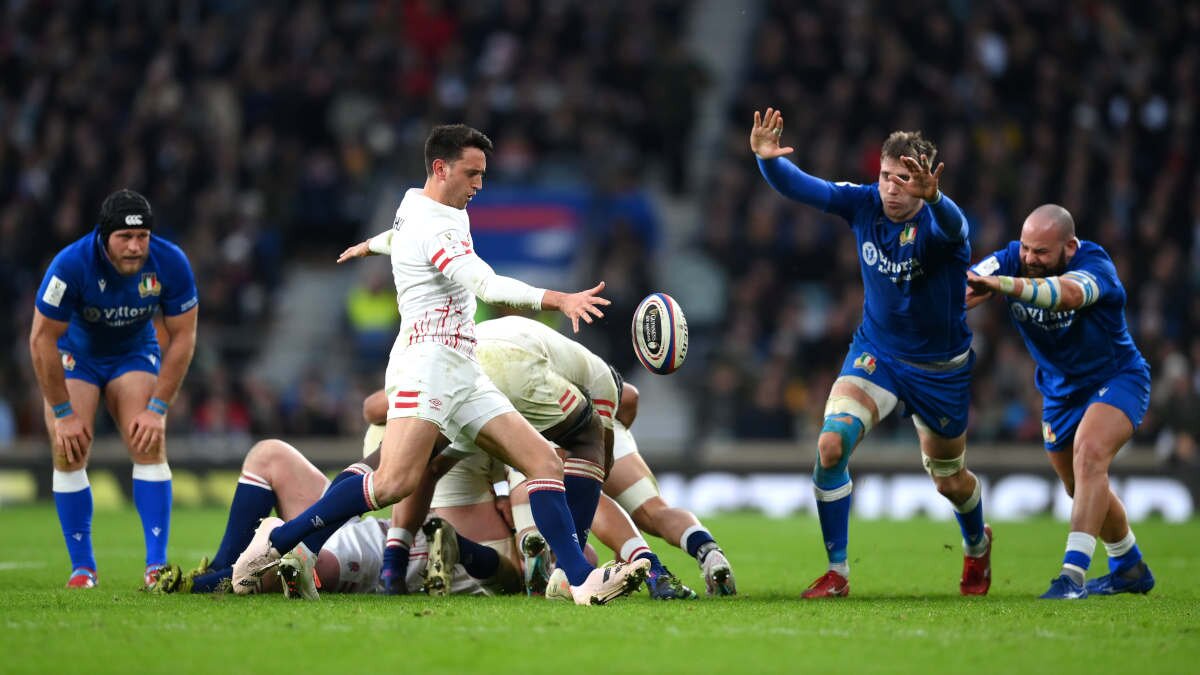 This has a telling knock-on effect for considering who plays at nine for England. There is a wider Leicester – or ex-Leicester – connection. Borthwick knows a side can operate to devastating, disembowelling effect with Ford playing alongside Ben Youngs and Jack van Poortvliet. It is natural to return to – or at least consider returning to – a proven formula. In this sense, Youngs' prominence as a scrum-half in the national side, which has been slipping of late, is to an extent tied to Ford's. If Ford continues his rapid return, then it reduces the odds on Youngs reclaiming second or even first-choice scrum-half status. In this roundabout way, England could almost capture the kind of proven, settled half-back partnership that France possess in their two Toulousian tormentors.
But let's not overlook van Poortvliet's impressive strides in recent months. He is no longer the Young Pretender (or should that be Youngs Prentender?) despite being at 21, umm, young. The manner of his try on debut against Australia last summer – a sniping dart from a ruck 5m out – was something that Premiership-watchers were already well-acquainted with. He has a smart step off his left foot in particular and his try in Australia had echoes of his maiden Premiership try, against Harlequins. He is far more than a siege gun box-kicker, even if recent events in Cardiff suggested otherwise. He has the gas and anticipation to be a devilish interceptor, and his vocal leadership skills – despite his tender age – are acknowledged and appreciated by senior players in the England pack.
An outside, quirky bet for consideration as England's third-choice 9 is Dan Robson, one of numerous scrum-halves to have hovered around the fringes of the extended England squad for a number of years.
But a shadow lingers. Borthwick did not pick him for the Premiership final last year, opting instead for Youngs and Richard Wigglesworth. This invites a question about just who Borthwick would pick for a winner-takes-all game of international knock-out rugby in a hostile French stadium this autumn.
An outside, quirky bet for consideration as England's third-choice 9 is Dan Robson, one of numerous scrum-halves to have hovered around the fringes of the extended England squad for a number of years. Since Wasps' collapse, Robson has been playing Top 14 rugby at Pau. And just as former team-mate Jack Willis – now of Toulouse – has been eligible to be picked for England due to Wasps' bankruptcy being deemed an "exceptional circumstance" that enables an overseas-based player to wear the Red Rose, so too does that principle apply to Robson. In a World Cup year in which the global jamboree is being held in France, there is a certain logic to having a smattering of players in your squad who have been plying their trade on Gallic soil – players who appreciate what rugby means in France and who can bring that je ne sais quoi to a national squad.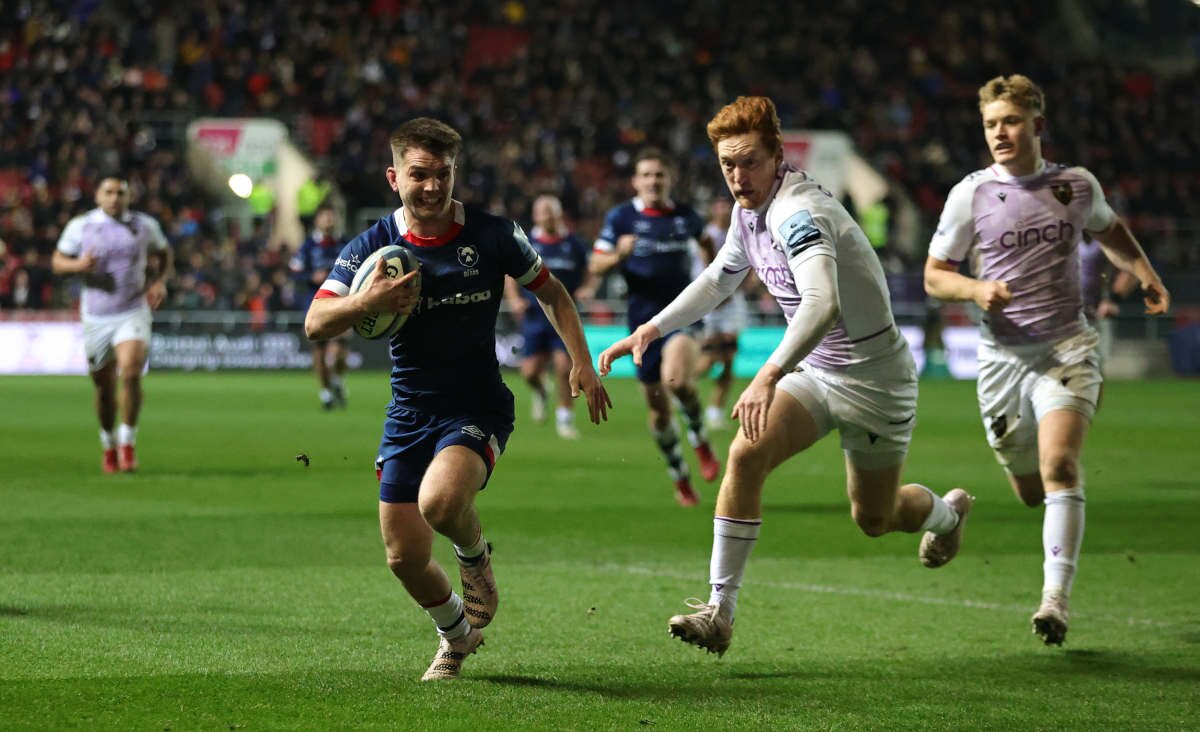 Few would begrudge Northampton Saints' Alex Mitchell his current decent stint in the England squad, and based on his (limited) on-field time in the Six Nations so far there are indicators that he is a good fit as a tempo-raising No 9, coming off the bench to tease the tired legs of wheezy backlines and back row forwards. Indeed, pace and tempo are what many of the peloton of English scrum-halves offer – think Sale's Raffi Quirke, Harry Randall at Bristol and – another outside bet – Ben Spencer at Bath.
Mitchell, Randall and Quirke all have the kind of effervescent, livewire style that resonates with a Marcus Smith figure at 10, although there is the danger of slightly too much fizz making things get a bit giddy. Quirke is also short of match time following injury and is currently second-choice at Sale, while Randall remains in search of consistency. That said, statement performances such as the one that Randall delivered for the Bristol Bears against Northampton show that he is too good to be glibly omitted from the conversation. When on song, he can show a Dupontian appreciation of support lines and can be the circuitry that connects pack and backs with a real crackle. He also punches above his slight weight, as Saints fullback George Hendy discovered when on the receiving end of a Randall fend. More of that from Randall and he will quickly force his way back into genuine reckoning for a World Cup berth. All of which serves to highlight how a head-turning club run from one of the fringe scrum-halves over the next couple of months could be enough to get them to France this autumn.
Spencer, the Bath captain, has a growing air of seniority and authority that puts him more in the mould of a Farrell or Ford, and his strong and varied kicking game is likely to hold an appeal to the England coaches.
At which point, we must include in the conversation another jack-in-the-box, although one of slightly maturing years: Danny Care. The Harlequin clearly still thrives on the big stage, as shown in his performance in the Big Game against Exeter at Twickenham. Yes, there was the implausible off-load that defied Newtonian physics and which will be popping up on Instagram reels for years to come. But it was about more than that. It was about tactical astuteness, space-identification and superb footballing skills, and providing Marcus Smith with a platform upon which the fly-half could spread his wings. Care's fleeting return to the England shirt in Australia last summer did not go according to plan, but more displays like the one at HQ and he too will be complicating an already fiendishly complex selection conundrum.
Further West, Spencer, the Bath captain, has a growing air of seniority and authority that puts him more in the mould of a Farrell or Ford, and his strong and varied kicking game is likely to hold an appeal to the England coaches. Inevitably, though, Bath's lowly league positions won't help his bid for inclusion. Nor will Spencer's cause be helped by the ponderous pace of Bath's ruck speed, although that is more down to his pack's labours than his own.
While the odds on Spencer playing in another World Cup final, as he did as a replacement in 2019, are slim, Bath forwards coach Neal Hatley – who has also worked with Spencer at England – feels the scrum-half is a more mature, rounded player now.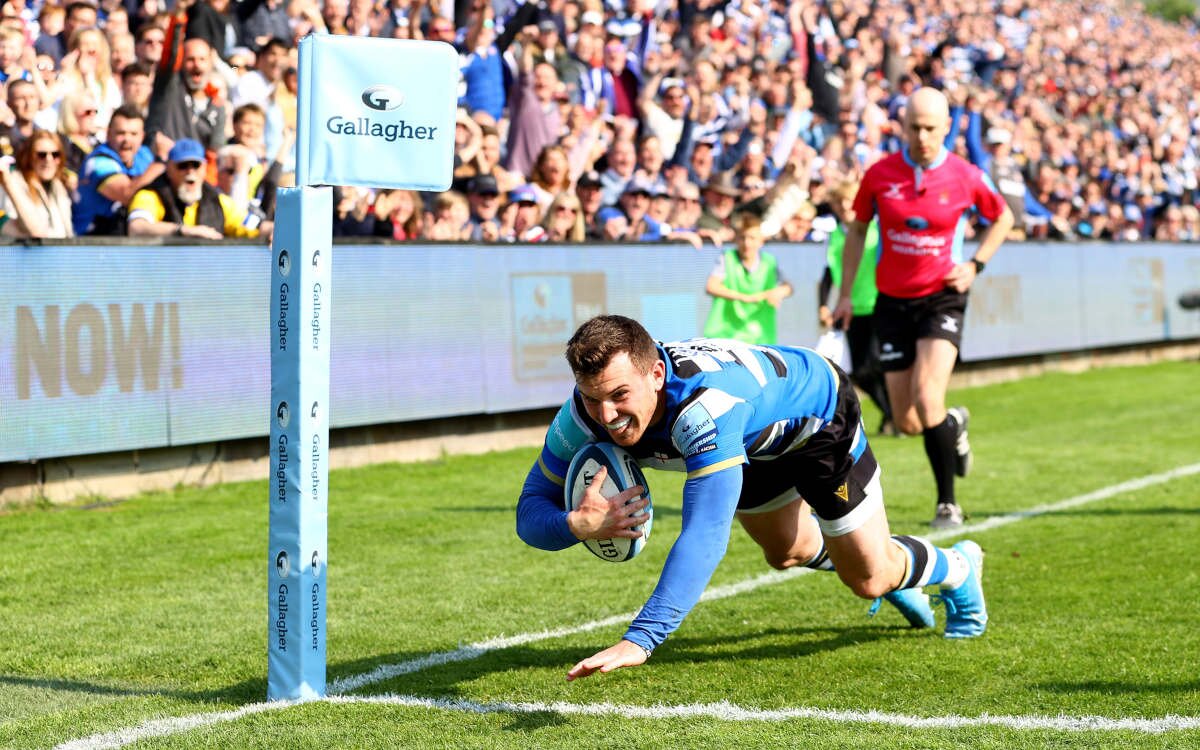 "It's a young back line we've got at Bath, so having someone with experience who's played at that level for as long as Ben has is hugely important," says Hatley.
"What Ben's doing better than he's ever done is using other experienced players around him. His ability to use those players more effectively to assist him is something that, having worked with him before, I've seen real growth in him because it helps get the most out of him as well."
Hatley makes an important point about leadership which can be generalised. One of the reasons for Dupont's and Ntamack's growth with France is that, while each is a leader in their own right, they can also lean on each other. And that leaning-on process makes them better players in turn. Leadership isn't about autocracy but about a mutual regard that brings out the best in all.
The riddle of England's half-back pairing remains an open question, at least until Ford is given his crack in the playmaker berth, with his old Leicester band-mates back in tandem. At his best, Ford is the tactical rugby mind who can defuse the kind of fireworks that X-factor pairings like Dupont and Ntamack can bring, but the France match comes a little too early for him. On Saturday England may well be given a French lesson in just what makes a half-back pairing work, and they will need to heed the lessons quickly.