Back
By Owain Jones
Harlequins prepare to build a thrilling dynasty
R
ugby fans were treated to the last of the summer sun, as tries rained in and reputations were enhanced and dented all over the land. The team on the tip of everyone's tongue were Harlequins, who figuratively blew the roof off The Stoop against Bristol, and not far behind was a young Munster side who humbled the Scarlets. Here's what RugbyPass+ made of the action…
The great entertainers
It was the great Irish philosopher Ronan Keating who once crooned: "Life is a roller-coaster, you just gotta ride it", and right now Harlequins must feel the adrenaline rush of a heady six months where they have played other teams off the park with their brand of exhilarating, devil-may-care running rugby. As proof, they have scored a staggering 57 tries in their past 10 competitive games, which has included a Premiership final win. I mean, you know when you're on a roll as a club when your tighthead, Will Collier, pulls off a show-and-go on a shell-shocked Bristol defence and canters in from distance.
True, their ethos is not built on a watertight defence, but they have an innate belief in their ability to counter from almost anywhere on the field and score tries. At their fulcrum lies Marcus Smith, Alex Dombrandt and Danny Care. While Care may have run his race for England, Smith at 22 and Dombrandt at 24, should represent its future. They are simply irresistible, sharing a symbiotic understanding all over the field. They are ably abetted by a support act of young players; Louis Lynagh and Jack Kenningham are just 20, Cadan Murley 22 and the swashbuckling Tyrone Green 23. Joe Marchant seems a veteran at 25. This is a young spine that could propel the south-west London club to even greater heights.
For Tabai Matson, their new head coach, who looked visibly shocked at the swing from 24-3 in arrears to a 52-24 win, his job will be to corral his side's natural ebullience,when teams manage to find their kryptonite, as they surely will. But for now, as rugby fans, you can just sit back and enjoy the league's great entertainers strut their stuff. To again paraphrase Keating: "We've found love, so don't fight it".
Tackling the stigma
You will have seen rugby clubs and institutions across the land pledge their support on World Mental Health Day this weekend, eager to recognise (or be seen to recognise) the grim pervasiveness of mental illness.
This is to be applauded, for it is not so long ago when rugby clubs, along with most other male-dominated workplaces, were largely oblivious to these problems and the importance of talking about them.
Speak to players entrenched in the rigours of elite rugby, though, and you fancy these same clubs would get a fright if they knew how many of their athletes were still suffering in silence. The emotional pressures of the game have never been more intense. Against a backdrop of extreme physical dedication, contracting, social media scrutiny, public attention, the pandemic and the sheer mental toll of the sport, it is so painfully easy for anxieties to heighten and serious issues develop. And the stigma, though reduced to some extent, clearly remains.
For while reminding us it is 'OK not to be OK', how many clubs and unions are actively investing in their players' mental health? How many provide their people with the facility to talk to a professional who can offer help? And how many players would feel comfortable doing so?
Happy, healthy players indisputably make better players. Yet across the game, resources – both in terms of money and time – allocated to physical and tactical performance vastly outweigh those apportioned to mental well-being.
The culture is changing, thanks to the immense bravery of those who have shared their deeply personal trauma and to the excellent work of mental health charity LooseHeadz and organisations like theirs.
Even the fact rugby en masse now recognises World Mental Health Day is a step forward. To make real, tangible progress, though, we need substance beyond the slogans.
A bandage for misfortune
Even in Llanelli, with the sun shining brightly on Munster backs, every silver lining had a cloud.
They'd just answered every question thrown at them. No strength in depth? Sunday's 43-13 victory over Scarlets was achieved without five players who have been on Lions tours; a World Cup winner, and a further 12 internationals.
An inability to blood local talent? Seventeen of the match-day 23 came through their academy.
Predictability in their attack? Check out Ben Healy's looped pass to Calvin Nash in the lead-up to Gavin Coombes' first-half try, or Healy's pass to Nash for the team's third score, or Jack O'Sullivan's thrillingly adventurous run for their opener, or flanker Jack O'Donoghue's grubber-kick for Coombes to get his second.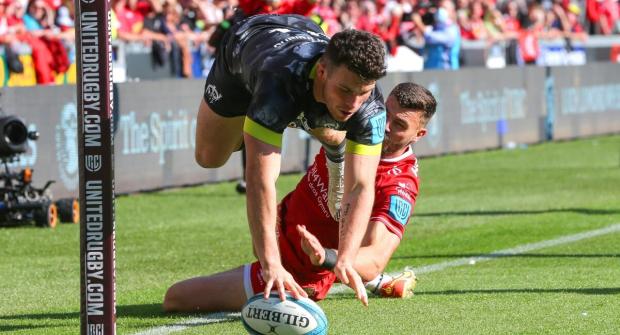 It all seemed perfect. Yet it wasn't. A year ago, after their latest semi-final defeat (there have been 10 of those plus three losing finals since they last won a trophy in 2011), they dug deep into their pockets to persuade RG Snyman to leave Japanese side, the Honda Heat.
This was what was needed, an injection of talent, and beef, into their front five, a hired help to combat the bully boys from Saracens, Leinster, Toulouse, Racing, the teams with bigger budgets and bigger men who they had routinely fallen short to at home and in Europe. Problem solved then?
If only. After seven minutes of his debut, Snyman's season was over, a cruciate injury ending it. A year on, he had played 39 minutes across three games when he went down for a second time, limping off with an injury that Johann van Graan, the Munster coach, fears could be "significant".
That's true on two fronts, first for Snyman, but also for Munster's chance of ending that decade-long drought for silverware.
The snarl is back at Saracens
The two-year anniversary of England's World Cup final will be marked next month and how time has flown. The spine of that team was made up of Saracens players, then playing at the very peak of their powers. Few could have foreseen how the mighty would fall over the proceeding 18 months. Indeed, 2020 was the annus horribilis that sunk the north Londoners to their knees. Shunned by their fellow clubs, fined £5.36million and deducted Premiership points so they had no way of avoiding relegation for salary-cap breaches, many of their superstars had their reputations questioned for the first time.
During hardship is when character is tested and, against Newcastle Falcons, their resolve was required to grind out a win the hard way. In the first half they were 14-3 down and matters were not going their way, as the Falcons showed their wit and guile. Frustration, principally from Owen Farrell, reared its head and spilled over when arguing with the referee, Ian Tempest. This deep-seated competitiveness or, if you prefer, intransigence, is what makes them so difficult to beat. After the break they slowly ground down the visitors' resolve to regain the upper hand.
Jamie George, overlooked by the British & Irish Lions for a Test start, was the principal protagonist to a stirring comeback; he was player with the ball in a driving maul as Saracens were awarded a penalty try, he was the player who powered over the line before pumping his fists in anger at an invisible opponent.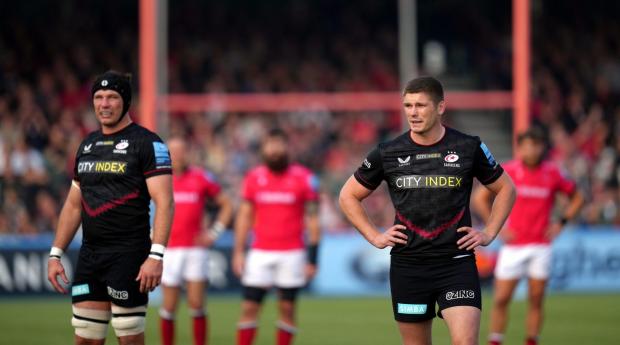 Then it was time for Mako Vunipola and Billy Vunipola, both titans dropped from Eddie Jones' initial England squad, to drive over the whitewash and pick up the try bonus point to their adoring fans. Saracens are not the force of old but the message was clear: the snarl is back and it will still take some efforts to tame them.
There is also room for cautious optimism off the field. A new stand is being built, a new stadium sponsor StoneX and, in the last week, a consortium that included former player Francois Pienaar announced the purchase of the club for £32m from the Wray family's long stewardship, even though his daughter, Lucy, will retain a place as chief executive.
A clean break from the misdemeanours of their recent past, their future looks assured.
Welsh rugby has the stuffing knocked out of it
Welsh rugby must have felt like Deontay Wilder this weekend. They had the elation of a knockdown over Connacht by the Dragons for the first time in 17 years, but it was superceded by a furious three-punch combination that finished with the knockout blow; a 43-13 shellacking by Munster at Parc Y Strade in a humbling loss for Dwayne Peel.
The Ospreys had kicked off with what Sean Holley said was their worst performance under Toby Booth. They were out-thought by a Sharks side who were full of enterprise, notably from their fly-half Boeta Chamberlain, who punished Gareth Anscombe's goal-line drop-out with two thunderous drop-kicks from more than 40metres and a little clip over the sticks when a penalty was coming. There was little to lift the spirits of a despondent Booth at full-time.
Next up were the Blues, who were facing Jake White's Bulls. After living with the South African's in the first half, they fell away after the break, with the physicality of 37-year-old Bismarck du Plessis and former Ulster back-row Marcell Coetzee proving too much for the hosts in a 29-19 loss, which saw Josh Navidi leaving the field through injury and left Dai Young bemoaning his side's soft underbelly.
If those two losses were unpalatable, far worse was to come with what Irish commentators were calling a Munster 'A' side with 11 changes from the preceding week. There were echoes of their capitulation to Sale in April, as the side fell off tackles, allowed Chris Cloete to run amok and saw lesser-known names such as Liam Coombes and Calvin Nash showing the likes of Wales internationals Steff Evans and Johnny Williams a clean pair of heels. Peel said the Scarlets had been "second best, in all areas", with Cloete "having a field day at the breakdown".
With just 19 days to facing the All Blacks and injuries piling up, the early season optimism has taken a blow and a sense of foreboding at what lies ahead.
Unfair playing field
After his Bulls side lost heavily in Galway, White, the most charming diplomat this side of Donald Trump, referenced the slope at the Sportsground, Connacht's home pitch. It's one no one else has ever seen but irrespective of that, there's little doubt Connacht are not playing on a level playing field.
While there are some merits to the conference system introduced to the URC this season, there is an obvious flaw. Namely that a team could finish seventh or eighth and yet be deprived the chance of qualifying for next season's Champions Cup due to a format that ensures the winners of each regionalised conference get a spot in European rugby's most lucrative tournament.
That's not all. In an 18-game regular season, Connacht are forced to play their Irish rivals on two separate occasions, whereas their 12 rivals for a play-off and Champions Cup spot are obliged to do so just once.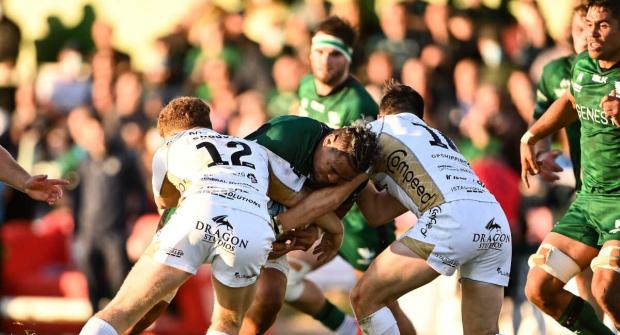 That wouldn't be an issue if those Irish sides were weak. As it stands, they're considerably stronger than everyone else, each of them winning 14 of their 16 games in last season's PRO14, the fourth time in a row that Leinster won the tournament. It was Munster who they defeated in last season's final, Ulster the year before. All three teams have won three out of three so far this term.
Connacht travel to Munster next, then face Ulster at home. Except the 'home' game won't be in Galway and the infamous "sloped" pitch but at the Aviva Stadium, which makes sense from a commercial perspective but is the last thing their coach, Andy Friend, needed after Saturday's chastening defeat to Dragons.
There may be an inclination to say, 'So what? Them's the rules'. It makes a difference, though, if you are the team denied a European spot and all the prize money that comes with that, or if you are the player cut from the roster because budgets need to be adjusted, on the back of missing out on a Champions Cup slot.
Byrne baby Byrne
Two years out with injury, two tries scored on his return. It's fair to say Saturday couldn't have worked out better for Adam Byrne, the Leinster wing.
Having spent so much time on the treatment table, he'd have been forgiven for feeling sorry for himself. Instead he battled back to fitness and, after scoring two fine tries against Zebre on Saturday, appeared as though he has recovered his form too, aided in no small way by Johnny Sexton's creativity, the Ireland captain pinging a crossfield kick straight into Byrne's hands for the second try.
"I definitely owe him a couple of pints," said Byrne.
He has earned the right to have one himself.