Back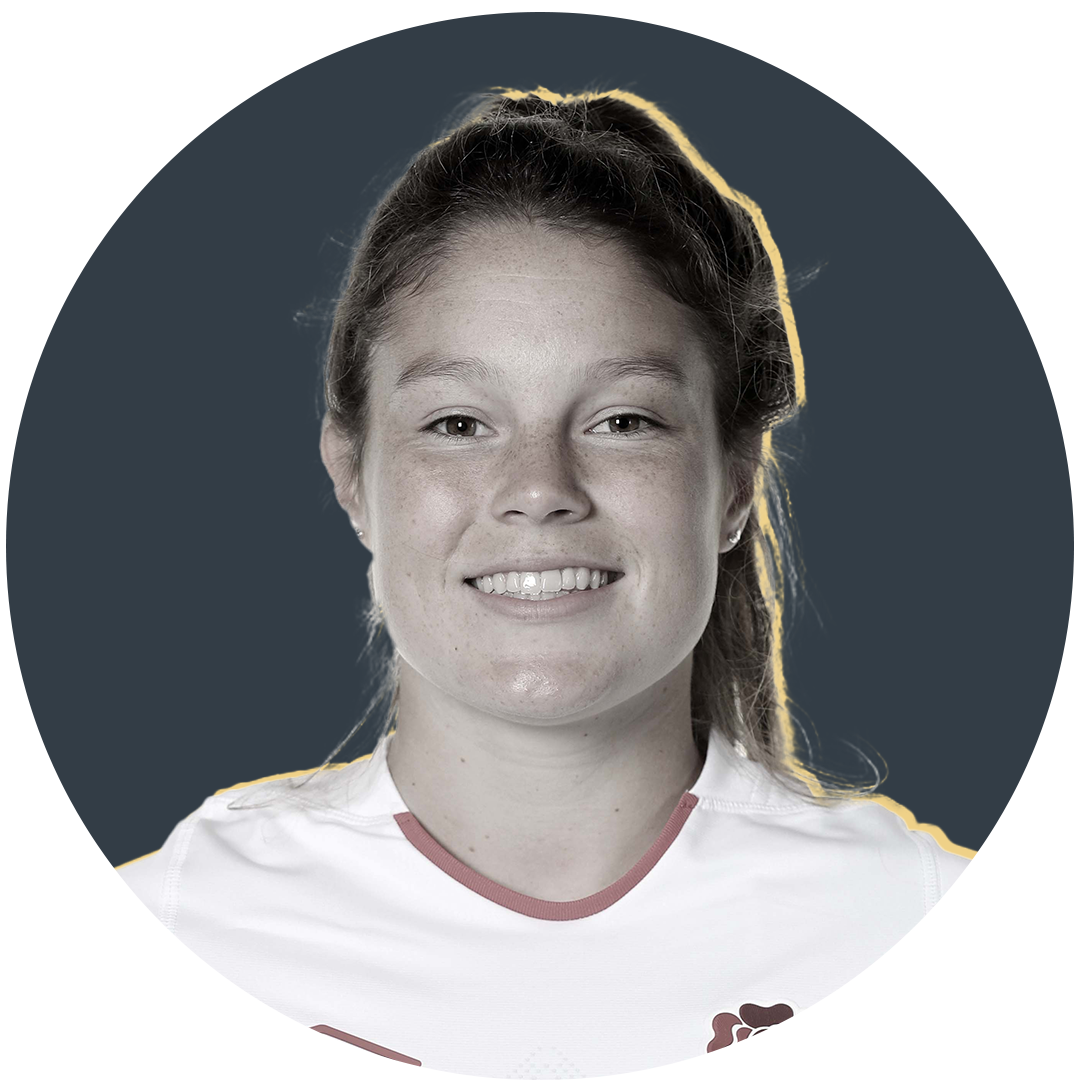 By Jess Breach
Flying machine
Jess Breach is one of England rugby's gems. A full-time professional from the age of 21, she has scored 23 international tries in 15 Tests, claimed last year's Six Nations top tryscorer title and harbours a win/loss ratio for club and country the likes of which only Maro Itoje and James Ryan have tasted before.
Yet despite her outstanding success so early on in her career, the winger is remarkably unassuming, grounded and philosophical. Scoring six tries on your Test debut and five on cap No2 may signal a player who has had a pretty easy path to the top, but Breach speaks openly about the adversity she has faced: her mother's battle with cancer, the barriers she has had to overcome to nurture a positive relationship with pressure, how she coped with the pandemic and how to find value in her performances when she doesn't get on the scoresheet. Here she tells The XV what she's learnt on her rugby journey so far.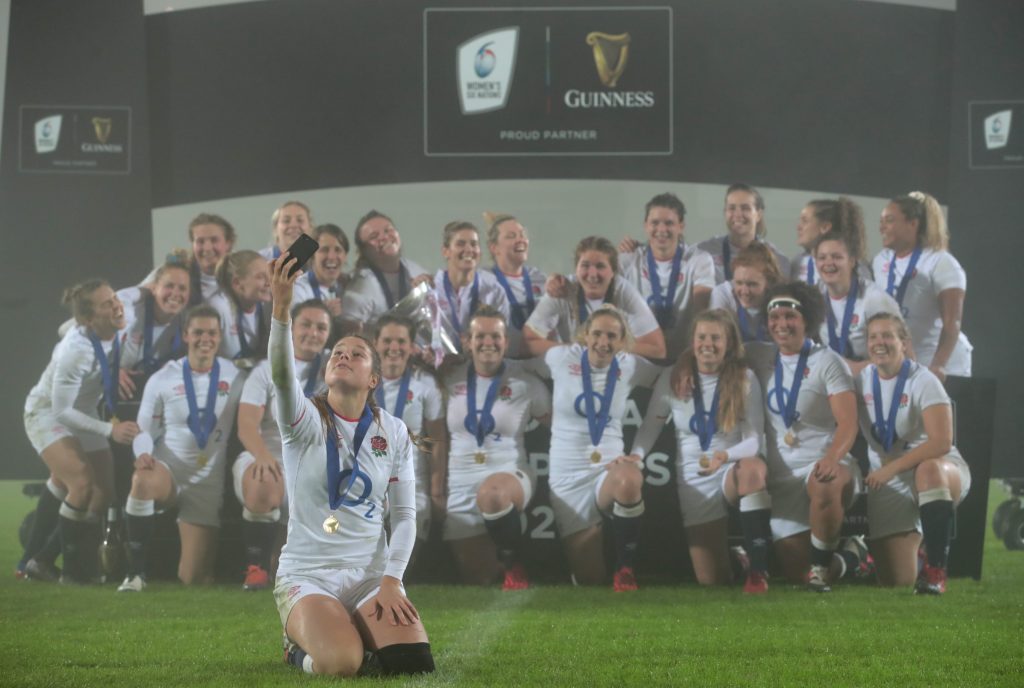 Start as you mean to go on. My debut is mentioned in pretty much every interview I've done since I was 19. I don't think it will ever escape me! The best part was I wasn't under any pressure. No one knew about me as it was my debut. The team were just on fire at the time. I think my game has grown and developed over the years, I definitely used to be just a 'runner' but think I now have a sharper rugby brain and knowledge.
Ease the pressure. My relationship with that pressure has changed. Even 12 months ago, I would think I'd had such an awful game if I hadn't scored, even if I'd defended well, caught all the high balls and set people up for tries – that didn't matter to me if I hadn't scored. I now realise that that mentality was probably a little naïve. Now I don't put that same pressure on myself and prefer to focus on all the other stuff I've done well in a game. You do have to manage your expectations in some respects and value different things that make you a good team player.
You're the only person who knows yourself inside-out and you know when you're in a good or bad place or in a good mood. It has taken me a long time to figure that out. I've had four years of life and rugby experience since my debut but it was only when I started to live on my own and pay my own bills that I realised I was responsible for my actions and how I was feeling.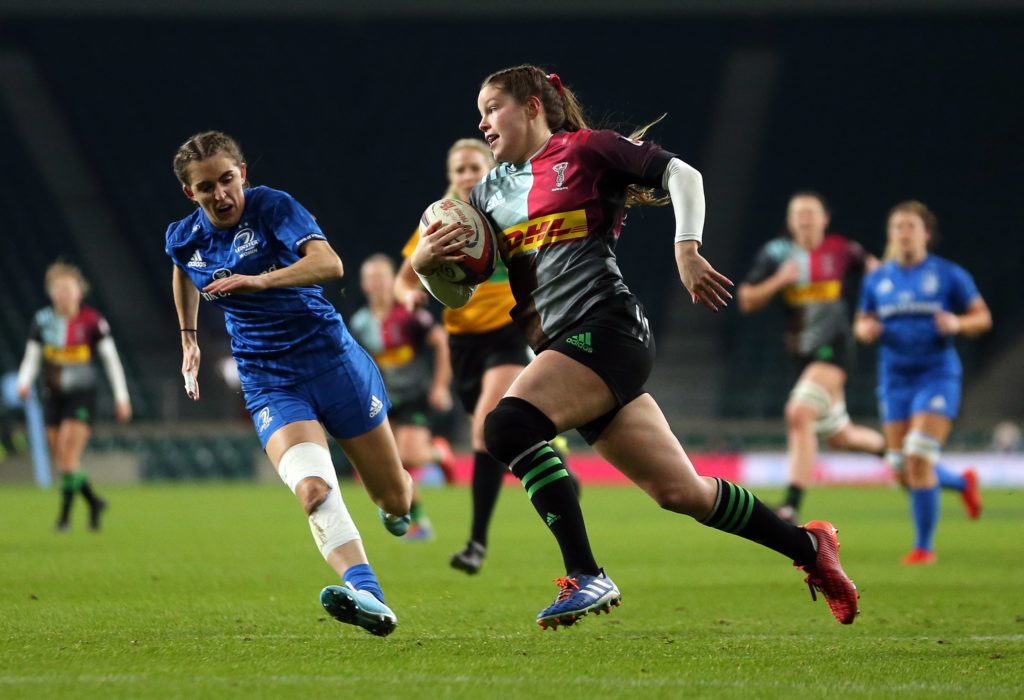 Everything happens for a reason. Someone asked me recently about whether I ever thought about going to Gloucester-Hartpury Rugby Academy for college and I did enquire about going there but at the time they weren't doing the A-Levels I wanted or have the access for me to still do athletics, so I turned it down. In hindsight, I'm glad I did because two extra years of full-time rugby at such a young age may not have been too intense.
No regrets. My focus on rugby probably meant I didn't get into the university that I wanted. I hoped to go to Bath University and play for Bristol but would I have still got an England cap and been this successful? I'll never know but things often turn out in a different way to how you expected. Maybe that's for the better.
Don't play it safe. When I started at Quins, I found Rachael Burford quite intimidating with all her knowledge and experience but now I find her easy to talk to. I joined Harlequins Women (then Aylesford Bulls) at 18, after my A-Levels. That whole year was quite challenging because I'd started university and was making new friends but I was trying to concentrate on rugby having left the safety net of my club down south. Leanne (Riley) was good to me from the off, she showed me the ropes and I now try to do that with the younger players when they come in because it's a shock to join such an elite set-up at a young age.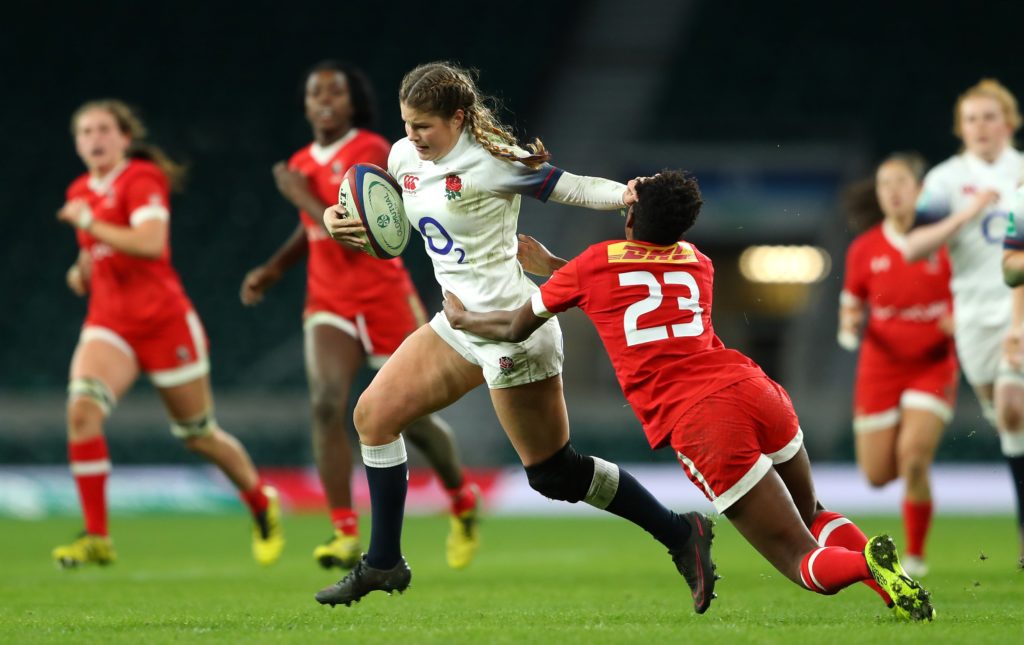 Get the right balance. I learnt from a young age what it means to make sacrifices. I missed friends' birthday parties and day trips but my parents were always enthusiastic about me balancing my time wisely and not pushing me to do stuff I didn't want to. Friday nights would be my free 'fun' night and as we lived by the sea, which meant going sailing with my friends. It wasn't competitive or serious, I could switch off, have a pizza, stay up late and then I'd wake up for swimming or whatever activity was happening on Saturday morning and it would be back to being switched on. I needed that downtime.
Love what you do. I stuck with rugby because you could just turn up on a Sunday and have fun in the mud. I did triathlon, gymnastics and athletics a lot when I was growing up but the other sports were quite pushy saying you need to train for this amount of hours a week. Rugby was a better fit for my personality.
You can't be too hard on yourself. In the first Premier 15s final when Quins lost to Saracens, I was beaming after the game. My dad didn't understand and asked me why, but I just said I played well, did my job and made an impact when I came off the bench so yes, we've lost and I'm sad for the team, but I'm not sad as an individual.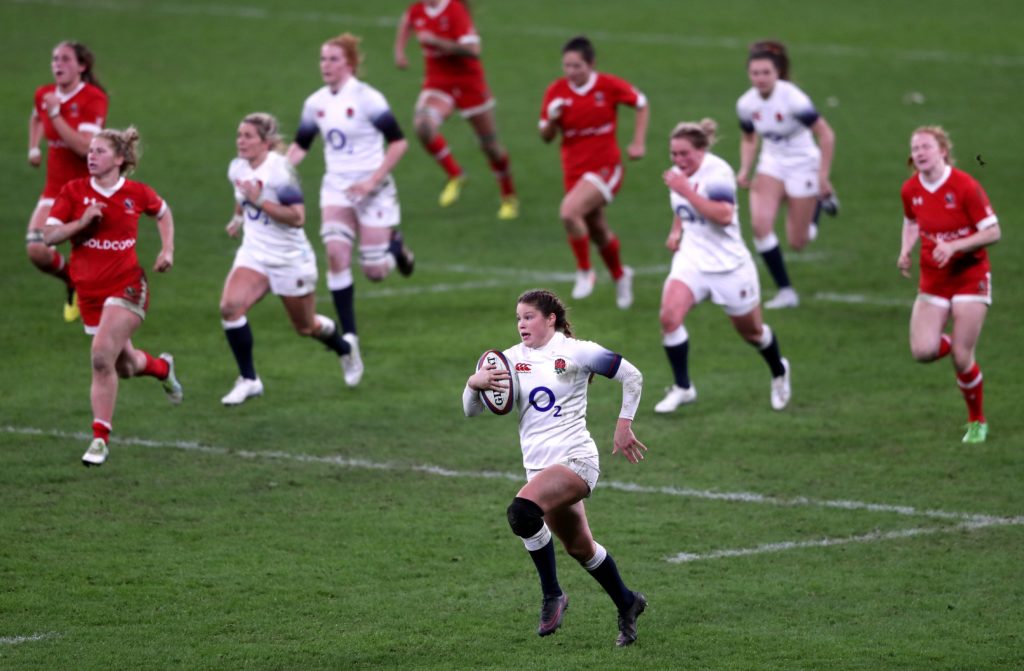 Family comes first. The pandemic has definitely taught me to treasure moments with my family. In lockdown 1.0, I went home to my mum and dad's. At the time, I was in a boot for three weeks as I'd injured my ankle in the Six Nations match against Wales and I actually couldn't do a lot. It gave me the opportunity to spend time with my mum after she'd undergone treatment for cancer. I believe it was the best time to get injured, there was nothing I needed to get back for, I had FaceTime calls with the physio and I haven't had any problems with it since the day it happened. As much as lockdown was horrible for some people, I treasured because it was the most time I'd spent with my parents since I was 17.
Home is where the heart is. This year I've had the opportunity to be by the beach, one of my favourite places, I'll never take that for granted and refer to it as my 'zen' place. I lived near the beach as a child and moving up to London, I miss it every day. That's home to me, even when it's windy and rain. That's actually one of the best days to go to the beach, when it's high tide. I love the smell of the sea and in the summer, I say to people I have a swimming pool – it's just at the end of my road!
Keep perspective. Seeing what my mum went through has made me tougher as a person and a player. I couldn't be there when she was having her treatment and that was hard, but she loves me playing rugby and that kept me sane. She said, 'If I see you're not playing, that will upset me'. It was difficult not being able to see her or help but it was nice to know she was being taken care of by my dad and brother. When I could see her, I'd value it, even if it was just having a cup of tea.
Relish the competition. We've had an influx of talent from the England Sevens team come into the set-up over the summer, which has really added to the competition. As a back-three unit, we're all friends. I get on so well with Lydia (Thompson) and Abby (Dowe) and we thrive off each other. If it's a simple one on one or two on two in training, you're still trying to beat them and show the coaches what you can do but it's healthy competition, never nasty.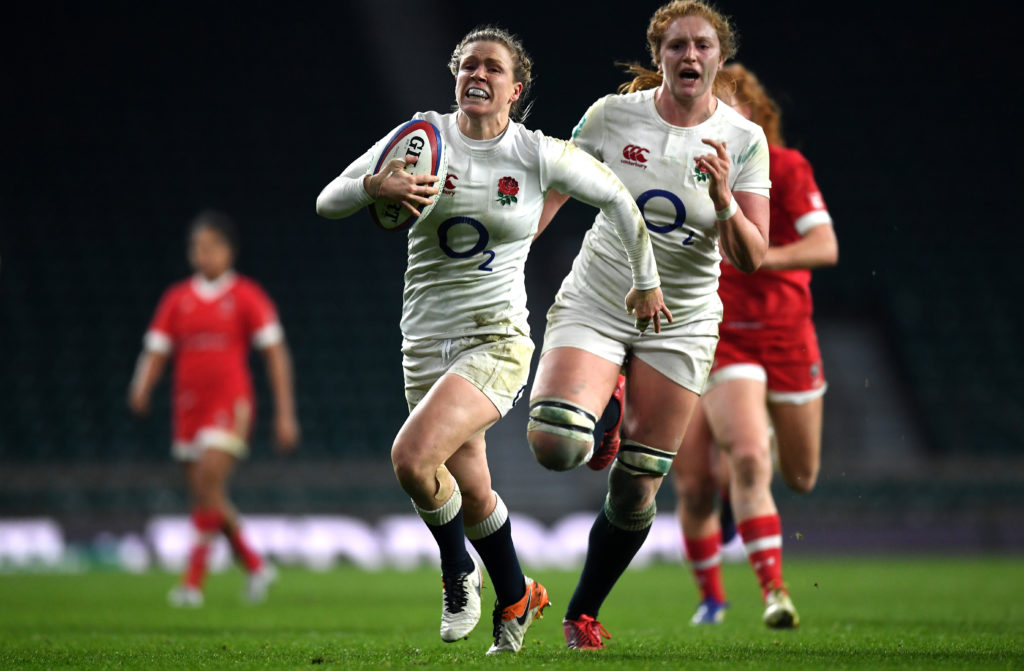 Respect your elders. I learnt a lot from Nolli (Danielle Waterman) when I first came into the England team. She was quietly confident and knew she was going to take someone on or beat them with ball in hand but she had faith in me, Abby and Ellie (Kildunne) when we first got capped together. She trusted us and that was something I really respected about her.
Look to the future. I'll be feeling very confident going into what is a huge year in 2021. Hopefully we'll have the Six Nations, the Premier 15s end-of-season run-in and then the chance of being selected and winning a World Cup in October. There is plenty to strive towards!
Jess Breach was talking to Lucy Lomax
More stories
If you've enjoyed this article, please share it with friends or on social media. We rely solely on new subscribers to fund high-quality journalism and appreciate you sharing this so we can continue to grow, produce more quality content and support our writers.