Back
By Will Owen
Changing lanes
Ever since international debut in 2014, no one has been clear where Anthony Watson stands in the pantheon of great wingers. Would he make a World XV? Is he even the premier winger in England?
The cold, hard truth is that rankings are irrelevant; what matters is Watson's impressive Test pedigree and near-unrelenting consistency, his status as one of precious few England players who never attracts public criticism. Indeed, there are never clamours for him to be dropped, even in a misfiring England team.
The wing role has changed markedly in Watson's senior career. When the Bath speedster played for England Under-20s, he was selected solely to inject pace and score tries – which has forever been his primary task. However, Watson's rise to British and Irish Lions stardom came as a result of the finer aspects of his game.
We all know that Watson is gifted enough to play to whichever style coaches Stuart Hooper, Eddie Jones and Warren Gatland ask of him. The only question mark is which role he suits best. It's long been touted, but is now the time to act and answer whether he should fill England's full-back conundrum?
At club level, he wears the 15 jersey more often than not. Not only does this allow Watson more of an open-field scope than he often enjoys for England, but it accommodates rapiers such as Semesa Rokoduguni, Ruaridh McConnochie and Joe Cokanasiga on the wings.
While Rokoduguni is known for his footwork, McConnochie for his ability to open up from anywhere, and Cokanasiga for his power, Watson blends all of these with the skillset to distribute and kick. Watson reads the game as well as any outside back in Europe, which allows Hooper the opportunity to use him as a creator as well as a finisher.
Now, let's have a look at some of Watson's astonishing rugby for Bath, then assess whether he would suit this role at international level.
This example takes place on first phase, following a scrum. Zebre have opted to defend Bath with a four-man front line, employing full-back Gabriele Di Giulio to cover the wing if necessary.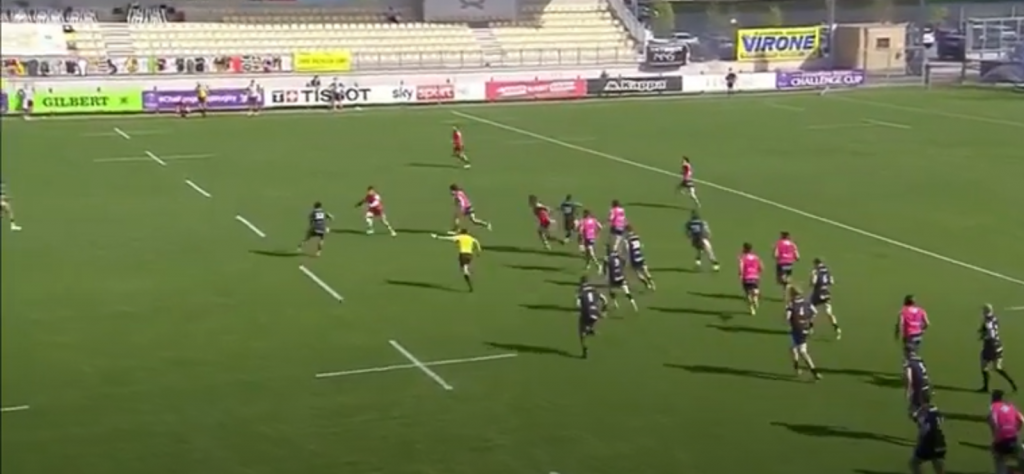 Playing at full-back, Watson (far left on the above image) has realised that Zebre winger Pierre Bruno has bitten in on centre Max Ojomoh, but keeps his depth. While the temptation would be to arc outwards to fix Di Giulio, Watson instead runs for the gap created by Bruno's error.
Watson's perfectly straight line of running turns Di Giulio's hips inwards, and the full-back passes immediately. As an international-standard winger himself, Watson knows exactly what type of pass his outside men want – and on this occasion he delivers a fast, early ball to Cokanasiga to give him a 10m head start on both Di Giulio and Giovanni D'Onofrio, who is covering the back-field.
It looks incredibly simple, but it is always worth praising a winger who isn't tempted by a gap, knowing his outside man will finish. Bath consequently score seven points because of a very simple error by Bruno.
Later on in that game, Watson grabs a try of his own.
Here, Bath set up to play off 10. Watson offers fly-half Orlando Bailey an option out the back, with Elliot Stooke on a hard line. Bath instead choose to carry via prop Beno Obano, and within a couple of phases they travel half the width of the field, approaching the 22. Cokanasiga makes a carry, which opens up a hole for Bailey.
Watson (far right on the above image) immediately spots Bailey rejecting the offer to play expansively, in favour of a line break. He sprints through, knowing he only has to beat three stagnant Zebre players to the space. He does so, and scores a try untouched from this outstanding support line.
For England, we see a mildly different Watson. While many teams would utilise a skillful back-three player by bringing them off their wing, all four of Watson's tries in the 2021 Six Nations were scored while standing on the wide outside with no passing options. Watson is seen by coach Jones solely as a world-class finisher who is positionally flawless in attack.
Elliot Daly on paper made more sense as a full-back than Watson does – he is a well-established distributor with a cannon of a boot and pace to burn. Jones has, however, hinted at steering Daly away from the white 15 jersey after a run of poor form by naming Max Malins at full-back in England's final two Six Nations matches. An injury to Malins pre-match gave Daly another opportunity against Ireland, but one would imagine the Bristol Bear will man the English back-field in the absence of the two incumbent Lions.
Providing Malins plays well in the summer, England's best option would be to persist with the talented Daly in the centre and keep Watson on the wing. While Watson is on excellent form as a creator for Bath, he averaged two passes per game in the Six Nations, with zero try assists – but this is by no means a bad statistic. He plays his role of standing on the edge until a priceless opportunity arises. Let's analyse one of those instances.
Here, Watson doesn't quite hold his width, but is far enough outside Daly and George Ford that he could probably beat Wales full-back Liam Williams to the corner if needed. Ford takes the ball into contact, at which point Watson readjusts his positioning.
After this, England play an extra couple of phases via their forwards. Kyle Sinckler makes a terrific carry and quick ball placement, at which point Ford and Daly swing round to the right-hand side, along with hooker Jamie George.
Instead of passing to Ford from the floor, Ben Youngs carries the ball for three steps to the right. The temptation would be for Watson to flatten up and be perfectly in line with Ford, so the fly-half could zip a miss-pass across for the winger to score, which is exactly what happened for Watson's try against France two weeks later.
Instead, he identifies that Youngs is about to pick out George and create a 2v1 against Wales centre George North, and elects to keep his depth. This allows him to accelerate onto the ball at the last second, step inside Williams and score for England. It would have been much easier for Watson to assume one of the regular playmakers to be the first receiver as opposed to the hooker.
Given the standard to which Watson plays this role, the next step is executing these opportunities for the Lions this summer. It's possible that Gatland will give Watson a game at 15 to warm him up aerially – Sean Maitland had a game at full-back against Combined Country in 2013 despite the three specialist full-backs on tour. Nonetheless, with Stuart Hogg and Liam Williams on the plane, Gatland will primarily be viewing Watson as an option on the wing for the Tests.
Typically, the warm-up matches will produce many more tries than the Test series, but clinching any opportunities that do arise will put these skills to the test. The other important skill for Gatland's wide men, however, will centre on catching kicks, surviving pressure and defending large amounts of space.
It's no secret that the Springboks' kicking game will be one of their primary weapons, and Jacques Nienaber will work day and night to find a weakness in the Lions' back-three.
Firstly, let's look at a brilliant piece of back-up defence by Watson from the 2017 Lions tour.
Jonathan Davies does an excellent job shepherding Ngani Laumape towards the touchline on a line break, but the support of Watson allows Davies to focus solely on Laumape and ignore the supporting Julian Savea.
Watson briefly checks Savea's positioning over his shoulder and makes sure he can block a potential off-load. Davies tackles Laumape, with Watson catching a pass from him.
Watson finds himself alone inside his own 22, with a 108KG monster bearing down on him. He changes direction three times, with the intention of preventing Savea from getting a dominant tackle. Savea's hit is strong, but the Lion shows exceptional strength to stay on his feet.
Watson angles his left knee upwards to prevent it from hitting the deck, therefore meaning he can hold onto the ball uncontested for an extra couple of seconds. Under immense pressure, he buys enough time for Davies and Liam Williams to arrive and secure possession.
Now, let's shift focus to Watson's aerial game. Beauden Barrett sticks a huge bomb in the air for Watson on a cold, wet day, with Savea chasing.
Watson acknowledges the threat of Savea, but keeps his eye on the ball. He moves forward to eat up the space Savea is aiming for, decreasing the All Black's chances of getting a clean catch.
When the ball comes down, it lands on Watson's side of the collision. He has to turn his back to cleanly gather the ball, which means it is further from the grasp of Savea. It also eliminates any threat of a knock-on, plus if the wet, soapy ball goes loose, Davies is present to mop it up. This is an excellent catch of a threatening kick on a treacherous day.
With the monstrous boots of Faf de Klerk and Handre Pollard punishing every blade of grass the Lions leave unmarked, skills like Watson's could save matches.
To conclude, Watson is a world-class winger who has the skillset to play at full-back at club or international level, but would be wasted there higher up. He knows exactly how to use his blistering pace and never misses a so-called easy opportunity, while being technically excellent enough to rule the skies.
The wing is such a difficult, isolated area to defend, so an international No 14 who is never defensively criticised is worth their weight in gold. Youth coaches across the world will put their least experienced player on the wing as though these specialised skills are simple – and while the likes of Watson make them look easy, they become increasingly more difficult at the highest level. Standing on the end of an overlap may be a straightforward skill, but doing it better than anyone else in the world is not.
More stories from Will Owen
If you've enjoyed this article, please share it with friends or on social media. We rely solely on new subscribers to fund high-quality journalism and appreciate you sharing this so we can continue to grow, produce more quality content and support our writers.