Back
By Will Owen
Can the Ospreys down Saracens in their own backyard?
It was only four years ago that the Ospreys found themselves scrapping for any shred of positivity under Allen Clarke – winning a game felt like an achievement, and becoming a mid-table side felt like the goal. Up steps Toby Booth – a man who has created a culture whereby everyone is valued, everyone has a role and everyone loves being an Osprey. It's no coincidence that they've found themselves in this position, four years on.
Point being: It's been some time since we last saw the Ospreys competing for European glory. Saracens, however, are somewhat used to this position. Mark McCall's men are permanently locked in a high-performance environment, with the likes of Owen Farrell and Jamie George driving the standards to maintain their status as one of the best sides in Europe.
These are the European knockout games to savour. Two sides who come from different backgrounds, with different styles of play. Indeed, these two should never meet unless it's a huge occasion. If you look at the form book, the Ospreys are rank outsiders to claim a scalp on Sarries at the StoneX Stadium; but a last-gasp try at Welford Road and a fully-merited double over Montpellier later, they have turned themselves into the perfect set of underdogs.
Owen Farrell has pulled through to start for Saracens, with the line-up mostly as expected. The Ospreys have shuffled a few names around, such as Michael Collins to 15, and no Joe Hawkins in the 23. So, what are the matchups that will decide this game? How will Saracens hold off Boothy's battlers? And how will the Ospreys look to trouble the English league leaders?
The scrum battle
If you look at both of these team sheets, you don't think "that's a Euro-dominating pair of props", but you can't underestimate either set. Ospreys scrum coach Duncan Jones has developed his pack into a unit who can trouble the best and notably they gave Leinster a torrid time in the United Rugby Championship in January. Nicky Smith has low-key been one of the best props in Europe this season, and Booth will be thrilled that he's flown under the radar.
Mako Vunipola may be a 79-cap international and a triple-touring test Lion, but he's going to have to be at his best to dominate the likes of Smith, Tom Francis and Gareth Thomas this weekend. Marco Riccioni has proven to be a diamond of a signing for Sarries, and you can only expect he'll want revenge over Francis for a rough ride in Rome during the Six Nations.
The impact of Ben Earl
Ben Earl has been on terrific form all season, and no doubt will have taken his lack of recent England caps very personally. The challenge for Earl this weekend is to prove he's not only a highlight reel player, but rather that he's exactly what Steve Borthwick wants.
In Jack Willis, Borthwick has an openside who is exceptional at slowing opposition ball down – Earl will want to prove on the big stage that he's not only capable of that, but has a point of difference: his attacking game. Eddie Jones touted Earl as a man who could play on the wing, but Saracens have used him as a central forward, with Andy Christie playing very effectively out wide.
Let's look at Earl's assist for Alex Lozowski last week.
Earl takes the ball with a relatively disorganised defence in front of him. The obvious option here is for Earl to tip the ball onto Lozowski early, but Harlequins' Luke Northmore rushes up alone to close this option off.
Northmore defends on Earl's outside, blocking the passing lane to Lozowski. He's also in a good enough position that he can nail Owen Farrell if he calls for the ball in the boot. Earl, however, essentially stops still. He very slightly shimmies on the inside, as Northmore has no-one to double up with him.
Northmore falls off the tackle, but here's the thing: Earl is a powerful enough runner that he doesn't really need to be balanced to make stupid amounts of yardage. How many times have we seen him make a carry where you think he's been flattened, but he's actually made a half-break? Andre Esterhuizen therefore has to bite in on Earl, even though he's about to drop to the deck. Earl throws a gorgeous offload to Lozowski, who scores under the sticks.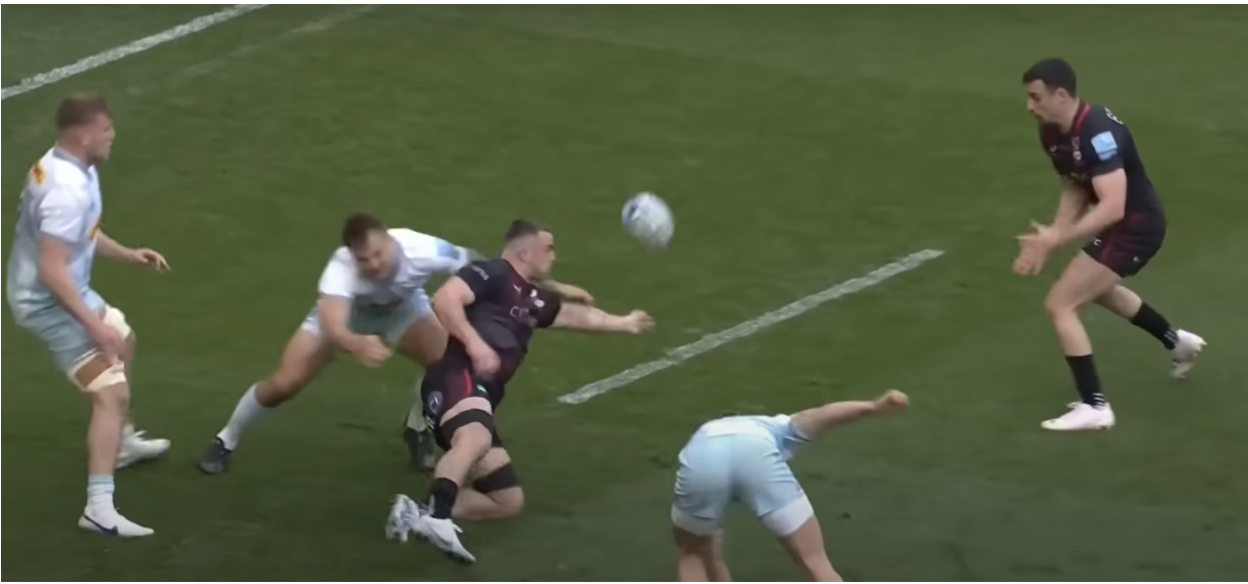 The Ospreys pack will have to defend extra aggressively to drop Earl to the deck early. If you give this man any time on the ball, you're in trouble. The in-form Morgan Morris will certainly relish his battle with one of the most powerful carriers in the competition.
The return of Dewi Lake & Gareth Anscombe
Whisper it but Lake has become the Ospreys' most important players over the last 12 months, and has rapidly transformed into one of the best players in Wales. Lake's ball-carrying, chop tackling, work rate and leadership have never been in doubt, but the improvement in his set-piece work has taken him up four or five gears.
Lake missed the Six Nations with a knee injury, but he has re-emerged at the perfect time for the Ospreys. Lake's task this weekend is to cause havoc from the bench, and he'll be keen to get on as early as possible. He's overdue a showdown with test Lion Jamie George, and if there's any scenario whereby Lake thrives, it's a test against the best.
Gareth Anscombe on the bench is equally a huge boost for the Ospreys. His role this weekend is to watch the first half, figure out what the Ospreys need, and provide it in the second half. If they need to welly the ball downfield, he'll do it. If they need to run from deep, he's their man. A very timely return for a fly-half, whose future is unclear.
Nick Tompkins vs Keiran Williams
Who doesn't love the idea of an audition for the Welsh 12 jersey in a European knockout match? Saracens' Nick Tompkins has often been chaotic in the red of Wales, but with Saracens, he's the perfect foil for Owen Farrell in attack. His lines of running are superb, and he often grants Saracens the sort of tries that make you stop and wonder "how did no-one get him on the floor?".
The Ospreys have interestingly gone with Keiran Williams over Joe Hawkins at 12 – and why not. Much like Tompkins, Williams isn't the biggest centre in the world, but is lethal when he runs short, tight lines off 9. Let's have a brief look at his try against Montpellier earlier in the campaign.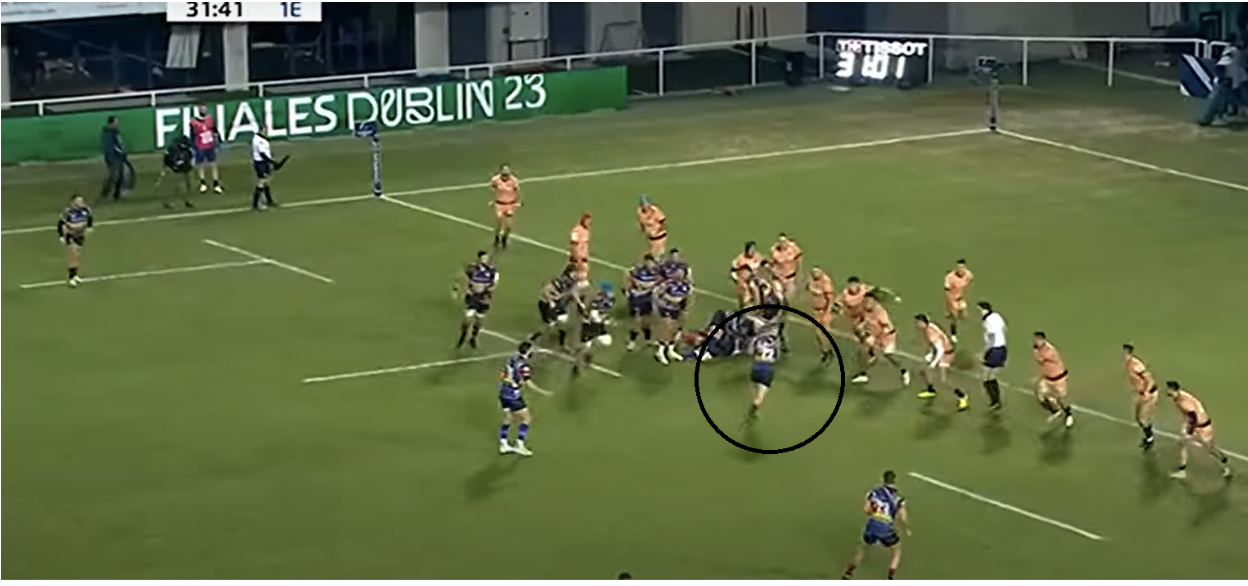 Williams' line here looks suicidal. He's running into the path of three forwards, totally isolated. Wait, did I say this resulted in a try?
His inward line forces the inside defender to plant his feet, ready to put a big shot on Williams. However, after receiving the ball, the Osprey changes his line with a sidestep. With the inside defence rubbing their hands at Williams' initial line, his change of direction essentially leaves him with a 1v1.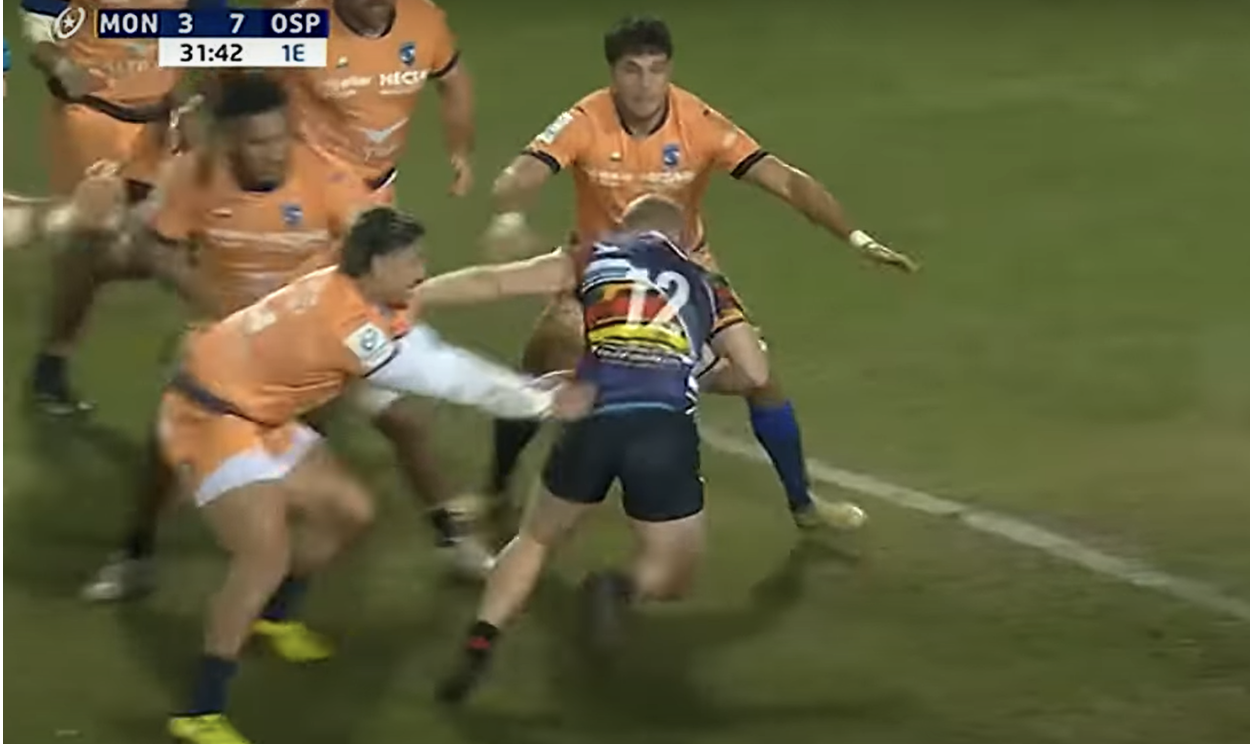 The whole time, Williams keeps the ball tucked under his right arm. He knows his best options are to either lead with his shoulder, shield the ball and gradually drop to the floor, or unleash a powerful fend. Given he is now in a 1v1 scenario, he opts for the fend, and shows ridiculous upper-body strength to power over. Sarries will have done their homework and will know not to underestimate this man's low-slung power.
Sure, it's been the last time since the Ospreys were seen as contenders in Europe. But if there's an occasion to prove they're serious competitors, it's this Sunday at the StoneX. The win at Welford Road proved this Ospreys team can reach dizzying heights. Nullifying Saracens away from home would prove they're right up there. Sarries' squad is stacked with players who inherently know how to win finals. As far as match-ups go, the Champions Cup doesn't get any better.