Top League's foreign first fives are killing Japanese rugby
Beauden Barrett's retention in New Zealand rugby has quite rightly been celebrated as a great coup.
Over the ditch, fewer than 24 hours before details of Barrett's future was made public, it was revealed that Quade Cooper and Bernard Foley would be leaving Australia's shores after the 2019 season.
Couple that pairings' departure with the fact that Christian Lealiifano and Wharenui Hawera, both currently at the Brumbies, are also heading overseas, and there's going to be a huge vacuum of talent at first five in Australia next year.
Australia's stocks in international rugby have fallen considerably in the last five years, thanks in part to the departure of many of the country's stars, which will likely cause major problems down the line. There's a very realistic chance that Australia never again rise into the top echelon of teams, only occasionally knocking off a top dog, if Rugby Australia don't do something to stop the rot.
Australia, however, aren't the nation that are going to feel the burn most from their big stars departing. That 'honour' will instead go to Japan.
Big drop in quality competition
From 2021, the Sunwolves will be culled from Super Rugby, leaving the Top League as the highest calibre of play available to Japanese players who aren't selected in the national side. Perhaps we'll see the Sunwolves re-emerge in another competition but, at least for now, all signs point to the Top League being the last bastion of hope for developing Japanese talent.
The quality of that competition, however, when it comes to preparing players for test rugby, has been rightly questioned.
Michael Leitch, Tony Brown and Jake White are just some of the high-ranking stakeholders in the Japanese game that have questioned the ability of the Top League to develop young players.
"To be honest with you, Top League doesn't prepare you well for Test matches," said Leitch, earlier this year.
"It will prepare you to beat Tier Two teams on a regular basis, but if you want to become a real formidable force in the world then you have got to be playing in the most competitive competition."
That's a damning assessment by one Japan's top players of all time and the man who will captain the Brave Blossoms at this year's Rugby World Cup.
Whilst things are only likely to get worse in the future, already the quality of Top League rugby is not at a level than it can help mould promising young players into men that can regularly perform on the world stage.
Short seasons, lengthy breaks
Part of the problem is that the Top League only runs for 15 weeks each season (and only 10 this year). Whilst this length is comparable to Super Rugby, there's no provincial competition in the back half of the year to keep players honest.
This, of course, makes the competition ideal for players who are tired of the rigours of playing in Super Rugby or the Top 14, but it's abysmal for young players who need as much game time as possible.
Keep reading below…
The more insidious factor which is now crippling the national team is the sheer number of foreign players that have moved to the Top League, likely because of the appealingly short season.
15 matches a season obviously isn't enough for a developing player – but many of the developing Japanese talents aren't even notching up the 15 matches.
Foreign five-eighths running the roost
At present, 16 teams compete in the Top League – though questions remain over the format of next year's competition. As of July, a massive 19 foreign first fives are contracted to first division Top League teams.
Only two teams in the Top League, Munakata Sanix Blues and Robbie Deans' Panasonic Wild Knights, don't currently have foreign number 10s on their books – however Curwin Bosch and Luteru Laulala did turn out for those sides last season.
In last season's final, Dan Carter started for the Kobelco Steelers whilst Hayden Parker came off the bench. The Steelers won that match 55-5. Suntory Sungoliath, their opposition, had Matt Giteau starting at 10.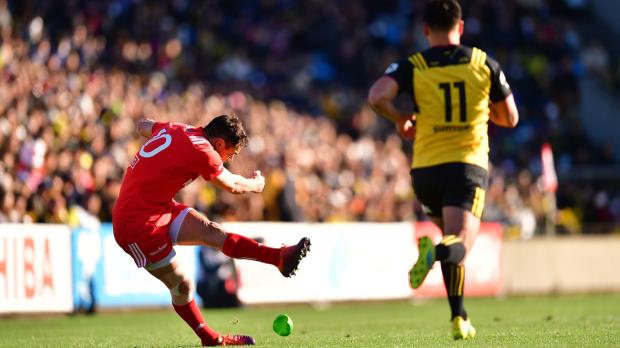 This would not be such a major issue if the seasons were considerably longer – you can't have the same players line up each week when each team plays 26 games a season, like in France's Top 14. With only 15 games a year, however, there is no reason why foreign imports can't run out week after week.
The Top League have rules in place to ensure that their teams aren't being flooded with overseas talent – but it's clear that these rules are not working.
Under the current system, it's possible for only a handful of players in a match-day squad to be born in Japan.
Top League sides are able to field as many players who are currently eligible for Japanese selection as they want. To fit that category, you have to have been born in Japan, have Japanese grandparents, or have lived in Japan for five years but not have played for another international side. This means that a guy like Hayden Parker wouldn't come under any restrictions, should he stick around in Japan for another few years.
Six bona fide foreign players are allowed in a match-day squad, but only five can be on the field at any one time. Of those six, at least half have to be potentially eligible for Japan in the future – this is the category that Parker falls under at present. The other three can be internationally capped for another nation.
Further, one non-Japanese Asian passport holder is allowed to be selected.
Ultimately, these requirements can lead to a starting XV being selected that includes: three foreign-capped players, two uncapped foreign players, one Asian-passport holder, and unlimited Japanese residents (regardless of where they were born).
No room for developing 10s
On a whole, this might work to keep the playing squads relatively balanced between top performers from outside the country, who can improve the quality of the league, and locally developed talent – but there are certain positions where no balance is being found. Obviously, the playmaking first five is one of these positions.
Japan's current 10, Yu Tamura, plays second fiddle to Hayden Parker at the Sunwolves. Whilst certain facets of his game are well-developed, his ability to spark an attack is still questionable – and there really isn't anyone on the horizon who looks like they'll replace him with the Brave Blossoms in the near future. Rikiya Matsuda, Tamura's 25-year-old back-up, has played barely a dozen matches at international level, but is at least one of the few Japanese players to be receiving regular game-time in the Top League, with the Wild Knights.
It's hard to know what the future holds for Japanese rugby. 2019 was supposed to be a huge boon for the country, but it's not turning out that way at all. The Sunwolves have received their marching orders and questions still remain about the organisation of the World Cup – so are we really going to see Japan make the step up from Tier 2 side in the near future?
The influx of foreign talent into the Top League doesn't look to be stopping any time soon and whilst it might make for a higher quality competition, it will only hinder the Japanese talent pool in years to come.
Foreign first fives that will be contracted to Top League teams (* denotes capped player):
Canon Eagles – Fred Zeiliga (South Africa)
Coca-Cola Red Sparks – James Marshall (New Zealand)
Hino Red Dolphins – Hayden Cripps (New Zealand)
Honda Heat – Baden Kerr (New Zealand)
Kobelco Steelers – Hayden Parker (New Zealand), Dan Carter* (New Zealand)
Kubota Spears – Bernard Foley* (Australia), Wharenui Hawera (New Zealand)
NEC Green Rockets – Stephan Donald* (New Zealand)
NTT Communications Shining Arcs – Christian Lealiffano* (Australia)
Ricoh Black Rams – Robbie Robinson (New Zealand), Berrick Barnes* (Australia)
Suntory Sungoliath – Matt Giteau* (Australia)
Toshiba Brave Lupus – Mike Harris* (Australia)
Toyota Shuttles – Tusi Pisi* (Samoa)
Toyota Verblitz – Lionel Cronje (South Africa)
Yamaha Jubilo – Sam Greene (Australia)
Quade Cooper* (Australia), Daniel Hawkins (New Zealand) and Marty Banks (New Zealand) are all contracted to second division sides.
NB: Some contracts for 2020 have yet to be confirmed, meaning some of the above players may not turn out for the teams listed whilst more signings will also likely come in the future.
There's plenty to do for tourists visiting Japan for the Rugby World Cup – check out what's on offer in the Oita prefecture:
Comments
Join free and tell us what you really think!
Join Free