Daly must complete tackle school to get another shot at Leinster
Connacht midfielder Tom Daly will have to successfully negotiate tackle school if he is to feature in the second leg of their Heineken Champions Cup round of 16 tie with Leinster at the Aviva Stadium on April 15. Originally a Leinster player, Daly linked up with Connacht in 2018 but his attempt to make a quick impact last Saturday in Galway against his old club went awry.
He wound up red-carded in the early stages of last weekend's URC derby between the two Irish rivals (click here to see the tackle) and has now been banned for three matches – this weekend's league game versus Benetton and both legs of the European clash with Leinster. However, he has the facility to get the last game scratched provided he undertakes the World Rugby coaching intervention process.  
A URC statement on Wednesday read: "The red card disciplinary process for Tom Daly of Connacht was heard by a judicial officer after he was sent off in the URC round 14 game against Leinster last Saturday.
"The player received a red card in the second minute at The Sportsground under law 9.13 – A player must not tackle an opponent early, late or dangerously.
"The judicial officer overseeing the disciplinary process, Declan Goodwin (Wales), determined that the player's actions met the threshold of a red card and that the act of foul play warranted a sanction.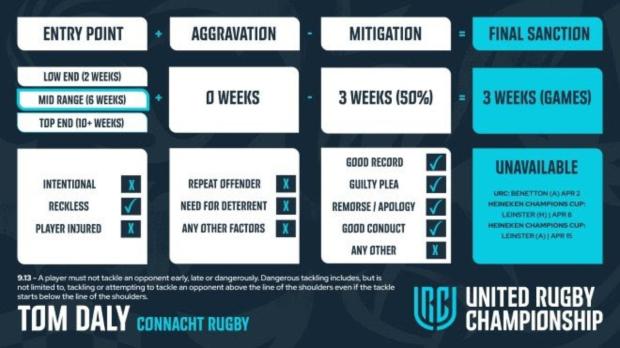 "Goodwin determined the entry point to be mid-range which carried a suspension of six weeks. However, considering the player accepted that the act of foul play warranted a red card, has a clean previous record, made an on-field apology to Ciaran Frawley (the Leinster No12) and the match officials, and his exemplary behaviour during the process, these considerations entitled him to full (50 per cent) mitigation.
"Daly has been banned for a period of three games. The fixtures he is unavailable for are versus Benetton on April 2 and versus Leinster on April 8 and 15 although he will be free to play that last match if he undertakes the World Rugby coaching intervention programme."
Comments
Join free and tell us what you really think!
Join Free