The rise and rise of Dalton Papali'i
Dalton Papali'i's selection as an All Black should surprise few.
With just seven Super Rugby caps to his name and one full season of provincial rugby under his belt, national selection may have come earlier than some expected, but it's impossible to deny that his efforts on the field justify a place in Steve Hansen's 32-man squad for November – the only uncapped player not in the wider group of 19.
Barely 21 years old, the dynamic loose forward offers extreme value both on and off the park and will be in the All Black frame for years to come. Now is as good a time as any to indoctrinate Papali'i into the All Black environment, as he rides a rich vein of form with Auckland.
Papali'i has been in the national setup for several years, representing New Zealand at schoolboy level while captaining Saint Kentigern College and winning consecutive world titles with the Under 20 side in 2016 and 2017.
The 2018 Mitre 10 Cup season has seen Papali'i's star rise even higher as he helped guide Auckland to a top-of-the-table finish for the first time in eleven years.
Appearing in nine of Auckland's ten matches, Papali'i has featured primarily at openside flanker after captain and Blues teammate Blake Gibson went down with a quad injury in week four of the competition.
A five-game stint in the No. 7 jersey was all that Papali'i needed to separate himself and impress selectors as a future Test flanker.
You'll struggle to find someone hungrier for work around the park. As alluded to by head coach Alama Ieremia after Auckland's 45-29 victory over North Harbour last weekend, the young loose forward's defensive numbers speak volumes.
Tackle figures of 23, 29, 22, 21 and 20 in his last five starts make him one of the premier defensive players in both the competition and country. He's also won eleven turnovers while conceding just one.
What is perhaps even more staggering than his remarkable tackle numbers is the astonishing accuracy with which Papali'i brings players down.
With 169 tackles made this season – good for close to 19 per contest – the hard-working flanker has missed just six times. Six. SIX. He actually didn't miss a tackle until Auckland's sixth match, and has a completion percentage of 97% heading into next weekend's semi-final.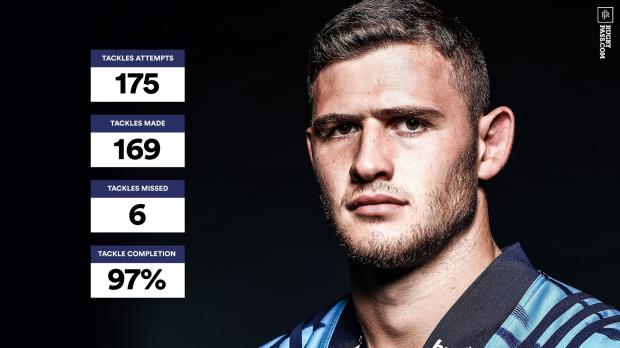 Listed at 1.93 metres tall and 113kg, he has the size and ability to play all three loose forward positions, something selectors covet. But it's Papali'i's growth as a pure No. 7 this season that has been simply incredible. He gives credit to Auckland forwards coach and former All Black Filo Tiatia.
"I felt like I've learnt a lot off Filo, the forwards coach," Papali'i said. "But around my game, I knew the qualities of a seven, tackling and stuff, but they [the coaching staff] were showing me different ways of how to get to rucks and stuff like that."
Next year Papali'i will be working closely with new Blues forwards coach and former Waikato loose forward Tom Coventry, who saw first-hand what the 21-year-old can do during Auckland's victory over North Harbour.
"He gets himself down nice and low, comes forward off the line well," Coventry, the current head coach of North Harbour, told RugbyPass. "He's pretty accurate with his defensive work. Gets back to his feet quickly and is back in the game a lot and he complements a lot of the line breaks that are made. He's often on the shoulder and he's linking and lurking around the support play."
"He's physical and he's got lineout ability as well. He ticks a lot of boxes."
READ MORE: Papali'i primed for international stage
His defensive abilities come down to a perfect blend of his huge engine, extraordinary physical attributes and on-field intellect.
Against North Harbour – and plenty of opponents before them – Papali'i's work around the breakdown and in the tackle was nothing short of surgical as he showcased an array of skills in bringing down the ball carrier or turning the ball over.
Seven minutes into the match, Papali'i won his first turnover after leaping past teammate Waimana Riedlinger-Kapa to steal the ball after Harbour No. 8 Murphy Taramai was tackled inside the Auckland 22. Unfortunately, after the impressive steal Taramai managed to get to his feet and force Papali'i into conceding a penalty for not releasing, but his early presence at the breakdown set the tone for the Aucklander's defensive impact.
Ten minutes later that impact would be felt after Papali'i closed down on the Harbour attack following a Tumua Manu exit. One of the first arriving defenders after the clearance, Papali'i wrapped up Harbour fullback Shaun Stevenson and ripped the ball free, setting a platform for Auckland to strike near the opposition 22.
His decision making on defence ensures maximum output in the right areas of play as he lurks around the breakdown, picking his moments to strike and consistently sealing any gaps around the tackle area. An uncanny ability to stay on his feet – or get back to them quickly – means he often makes an impact on consecutive phases and can get through plenty of work across an 80 minute shift.
On the other side of the ball, both Coventry and Ieremia identified Papali'i's improvement with ball in hand as a major factor in his development.
Against North Harbour Papali'i was involved heavily as a link man, running an excellent support line to set up captain TJ Faiane's first try, and was able to free up the ball on several occasions to put teammates into space.
While his opportunities as a runner have been limited, he still notches an impressive 13 metres per carry and has made a line break on 28% of his runs. 42% of his carries have ended with an offload as Papali'i strives to keep the ball alive and create opportunities.
The diverse skillset possessed by the youngster has created opportunity after opportunity, and now his greatest one yet has reared its head with his inclusion in the All Blacks squad.
Helped in part by the unavailability of Sam Cane and Shannon Frizell, Papali'i will seize this opportunity with the same tenacity and energy he displays on the pitch week in and week out. If he defends the jersey anything close to how he defends for Auckland, he'll find himself in good stead.
It remains to be seen just how much Papali'i will feature during the November internationals, but you can bet it won't be the last time he wears black. That won't be for a long time.
In other news:

Comments
Join free and tell us what you really think!
Join Free