The average height and weight of a Northern Hemisphere inside centre
Of all the positions on a rugby field, inside centre is probably the most diverse. The role and shape of players in this position can differ dramatically from team to team and even within a squad.
It is a position which does not necessitate a particular style, and it is therefore used to suit a team's needs. England's recent Rugby World Cup squad was a perfect example of that, where Eddie Jones would sometimes opt for a ball-playing No.12 in Owen Farrell, or the far more powerful option in Manu Tuilagi in different matches. Both are stylistically different, but equally effective.
WATCH:
This therefore lends itself to a fascinating comparison between the size of different inside centres in Europe's top three leagues, France's Top 14, England's Gallagher Premiership and the Guinness Pro14.
The best time to compare all three leagues in recent weeks was the first weekend in January. That was the last time teams would have been able to field their strongest teams in the league before the European competitions, the Six Nations and the coronavirus pandemic.
As there is no concrete requirement of what an inside centre should look like, there is a wide range of heights between players as opposed to other positions on the field, such as the second row which obviously demands taller players.
The average height of inside centres in the Top 14 and the Premiership were the same, 1m84 (6'0"), while they were slightly taller in the Pro14 at 1m86 (6'1"), there was an observable sweep of heights with each league.
The tallest player in the Top 14 was Montpellier's Francois Steyn, measuring at 1m91 (6'3"), but the Premiership had three players the same or taller, and the Pro14 had two players taller. Gloucester's Billy Twelvetrees, Bath's Jamie Roberts, Ulster's Stuart McCloskey and Connacht's Tom Daly were the tallest inside centres this weekend, each standing at 1m93 (6'4").
Toulon's Anthony Belleau was also the shortest in France at 1m77 (5'10"), but he still stood taller than three players in England and one in the Pro14. This shows that there is more of a uniform height in the Top 14 compared to the other leagues, where there is a noticeable scattering of heights.
There is a clearer delineation between the leagues in terms of weight however, and it seems to buck the trend. Traditionally, players in the Top 14, certainly in the pack, weigh in heavier than their counterparts across Europe, but this was the league that actually had the lightest inside centres on average at 97kg (15st4lb), compared to the Pro14's 99.5kg (15st9lb) and the Premiership's 100kg (15st11lb).
The Top 14's tendency to have such sizeable and brutish packs perhaps renders larger backs obsolete, but there are some behemoths in the Top 14 back lines. This probably suggests the French philosophy may lean towards larger outside centres, judging by Mathieu Bastareaud over the past decade for Les Bleus, and the incumbent No.13 for the national team, Virimi Vakatawa, who both boast solid frames. This is more akin to teams like Australia over the years, who have opted for more creative inside centres, although there are always exceptions.
Conversely, the UK and Ireland have perhaps tended to opt for larger inside centres and more fleet of foot players outside them. This is perhaps more similar to the All Blacks, who have favoured the likes of Ma'a Nonu (104kg) and Sonny Bill Williams (108kg) at No.12 over the past decade. Of course, all nations have selected players that suggest otherwise, but this is a slight trend and perhaps one reason why there is a difference across Europe's leagues.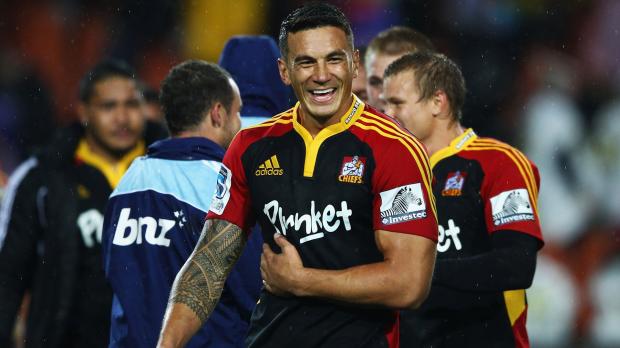 The heaviest player in the Top 14 at inside centre over this particular weekend was the Springbok Steyn, who was 107kg (17st). But it would be wrong to pigeonhole him simply in the category of a ball carrier, as he was probably in the team more for his kicking than anything else.
The three players in the Premiership who weighed more than the South African were Bath's Roberts, Bristol Bears' Will Hurrell and Harlequins' Paul Lasike, and the one in the Pro14, Ulster's McCloskey. These four do serve a different purpose on the field to Steyn, and are deployed more often to carry over the gain line. Lasike weighed in the heaviest in Europe at 113kg (17st11lb), and his direct style of running is vastly different from Steyn's.
Only 33 per cent of the inside centres in the Premiership were under 100kg (15st11lb), which does suggest the league favours a hard-running option in that shirt. In contrast, 57 per cent of the players in the Top 14 were under 100kg, and the Pro14 sat in between with 50 per cent.
Club 140kg – The heaviest rugby players on the planet right now

Average weight of Club 140: 143.5kg https://t.co/FQAQg23XVd pic.twitter.com/b4h8OEOs0X

— RugbyPass (@RugbyPass) December 13, 2017
The Premiership and the Pro14 only had inside centre in each league under 90kg, Leicester Tigers' Kyle Eastmond at 83kg (13st1lb) and Cardiff Blues' Ben Thomas at 89kg (14st). On the other hand, the Top 14 had four players under that bracket (29 per cent). Both centres playing for Zebre and Benetton Treviso from Italy were also more than France's average.
This is yet another indication that there is a clear schism between France's philosophy and the rest of Europe. The Top 14 prefers a smaller inside centre, more likely to play the role of a distributor.
Over the course of the Six Nations we saw Artuhur Vincent start at No.12 twice for France, which fits the smaller mould of the Top 14, and Gaël Fickou, who is indeed more sizeable, but not compared to the larger centres in Test rugby.
It's one of rugby union's most polymorphic positions, and that's reflected in the average height and weight of 7s across the three leagues.https://t.co/0jVKAidDsq

— RugbyPass (@RugbyPass) December 15, 2019
England opted for Farrell, which goes against the trend of the Premiership, while Hadleigh Parkes and Sam Johnson were used by Wales and Scotland, respectively, who are two players that straddle the two extreme sizes that may fill the No.12 jersey. Ireland's Bundee Aki is certainly one, however, who fits the template of a carrying option.
This once again not only shows the diversity in the role, but the fact that there is not necessarily any consistency. While one league, or country, may typically prefer one style of player, it is by no means a prerequisite, which makes it such an intriguing position.
*The height and weight of each inside centre has been taken from their club's website.
TOP 14
Agen – Nathan Decron- 1m85 (6'1")/ 95kg (14st13lb)
Lyon – Charlie Ngatai- 1m86 (6'1")/ 103kg (16st3lb)
Racing 92 – Olivier Klemenczak- 1m81 (5'11")/ 81kg (12st11lb)
ASM Clermont Auvergne – George Moala- 1m81 (5'11")/ 96kg (15st2lb)
Bordeaux -Begles- Remi Lamerat- 1m84 (6'0")/ 105kg (16st8lb)
Bayonne – Romain Barthelémy- 1m87 (6'2")/ 93kg (14st9lb)
Montpellier- Francois Steyn- 1m91 (6'3")/ 107kg (17st)
Brive- Nico Lee- 1m80 (5'11")/ 89kg (14st)
Pau – Jale Vatubua- 1m89 (6'2")/ 105kg (16st8lb)
La Rochelle – Levani Botia- 1m82 (6'0")/ 103kg (16st3lb)
Toulon- Anthony Belleau- 1m77 (5'10")/ 85kg (13st5lb)
Castres- Robert Ebersohn- 1m80 (5'11")/ 89kg (14st)
Stade Francais – Jonathan Danty- 1m81 (5'11")/ 106kg (16st10lb)
Toulouse – Pita Ahki- 1m89 (6'2")/ 96kg (15st2lb)
Average: 1m84 (6'0")/ 97kg (15st4lb)
GALLAGHER PREMIERSHIP
Sale Sharks – Rohan Janse van Rensburg- 1m86 (6'1")/ 109kg (17st2lb)
Harlequins – Paul Lasike- 1m75 (5'9")/ 113kg (17st11lb)
Saracens – Brad Barritt- 1m85 (6'1")/ 95kg (14st13lb)
Worcester Warriors – Ryan Mills- 1m88 (6'2")/ 100kg (15st11lb)
Gloucester – Billy Twelvetrees- 1m93 (6'4")/ 103kg (16st3lb)
Bath – Jamie Roberts- 1m93 (6'4")/ 110kg (17st5lb)
Leicester Tigers – Kyle Eastmond- 1m70 (5'7")/ 83kg (13st1lb)
Bristol Bears – Will Hurrell- 1m85 (6'1")/ 108kg (17st)
Wasps – Michael Le Bourgeois- 1m91 (6'3")/ 100kg (15st11lb)
Northampton Saints – Piers Francis- 1m83 (6'0")/ 90kg (14st2lb)
London Irish – Thomas Stephenson- 1m78 (5'10")/ 96kg (15st2lb)
Exeter Chiefs – Sam Hill- 1m84 (6'0")/ 103kg (16st3lb)
Average: 184 (6'0")/ 101kg (16st)
GUINNESS PRO14
Ulster – Stuart McCloskey- 1m93 (6'4")/ 111kg (17st7lb)
Munster – Rory Scannell- 1m78 (5'10")/ 96kg (15st2lb)
Cardiff Blues – Ben Thomas- 1m83 (6'0″)/ 89kg (14st)
Scarlets – Hadleigh Parkes- 1m87 (6'2")/ 101kg (16st)
Edinburgh – Matt Scott- 1m85 (6'1")/ 106kg (16st10lb)
Southern Kings – Howard Mnisi- 1m84 (6'0")/ 102kg (16st1lb)
Leinster – Joe Tomane- 1m88 (6'2")/ 102kg (16st1lb)
Connacht – Tom Daly- 1m93 (6'4")/ 102kg (16st1lb)
Zebre – Enrico Lucchin- 1m88 (6'2")/ 99 kg (15st8lb)
Cheetahs – Benhard Janse Van Rensburg- 1m88 (6'2")/ 94kg (14st11lb)
Dragons – Tom Griffiths- 1m88 (6'2")/ 98kg (15st6lb)
Ospreys – Scott Williams- 1m85 (6'1")/ 100kg (15st11lb)
Benetton Treviso – Luca Morisi- 1m85 (6'1")/ 98kg (15st6lb)
Glasgow Warriors – Sam Johnson- 1m85 (6'1")/ 95kg (14st13lb)
Average: 1m86 (6'1")/ 99.5kg (15st9lb)
The combined average height and weight of an inside centre across the three leagues was 185cm (6'0.5″) and 99.1kg (15st8Ibs).
Comments
Join free and tell us what you really think!
Join Free