Georgian anthem balls-up can't mask the inexorable rise of Scotland's new rapier
As World Cup send-offs go, this was sound enough; a comprehensive Scotland victory over a tricky opponent, some wonderful tries to have a Murrayfield crowd of over 50,000 purring and, pending further investigation, no major casualties.
This was never likely to be banana-skin fixture – and in fact, the biggest embarrassment did not befall the Scottish players but their administrators, who managed to blare out the wrong Georgian anthem during the pre-match fanfare.
Apparently, the tune played dates back to the Soviet era. This, naturally, drew much silent seethe from the tracksuited behemoths who had a camera thrust in their faces while what was once an ode to Georgia-born Josef Stalin pealed around the bowl. They were a marked improvement on last weekend's limp display in Tbilisi, but they couldn't exact much in the way of revenge for the melodic faux pas on their hosts.
There was no sense in Gregor Townsend risking most of his heaviest artillery – Stuart Hogg, Finn Russell, Stuart McInally, Hamish Watson, John Barclay, Greig Laidlaw and Sean Maitland had all seen enough action over the summer and the risk of losing any to major damage against this hulking foe far outweighed the merits of having them on the field. Russell in particular must now be handled with all the delicacy of a uranium nuclear rod, given how desperately handicapped Scotland would be without their majestic fly-half.
Townsend will head to Japan a little better informed about the cattle he is taking with him and the kind of form they are delivering after Friday night's 36-9 triumph. He got a live look at some crucial combinations, a few of his younger troops made their cases to start the seismic pool opener with Ireland in a big way.
Scott Cummings, the pick of the home performers, was a thunderous presence around the field, as he was during Glasgow's Pro14 run-in.
He is only 22 and this was only his second international start, but his mobility, handling, explosiveness and intelligent running lines set him apart from any of his competitors in the second-row. From four bullocking charges, Cummings made 30m and was Scotland's second-top tackler with eight. He may be callow, but the young lock is in stupendous form. Whether Townsend will start him in Yokohama or bring his significant impact to bear from the bench is fiendishly hard to predict, but he must be involved in some capacity.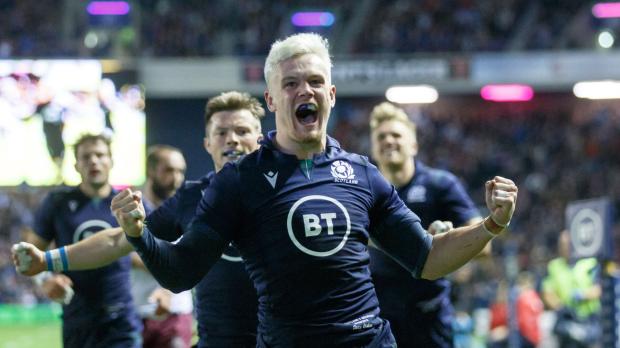 Scotland's pack is short on rampaging colossuses. There is no monster blind-side or snarling number eight who can shove the ball up his jumper and gobble up yards as a Billy Vunipola or Louis Picamoles would. Blade Thomson is a yard-maker in a different way, combining pace and footwork with athleticism and power. He also has a deft off-loading game, which is important to the Scottish strategy. The big New Zealander looks to have played his way into the number eight jersey, assuming the hamstring injury that forced his precautionary withdrawal in the dying minutes is not too severe.
If Cummings' task in forging a path to the engine room is arduous, the challenge thrown down to Darcy Graham in splintering the Maitland-Hogg-Tommy Seymour back-three axis is positively monumental. How the little Borderer is giving it an almighty crack. His sensational finish up the left flank took his international haul to five tries in seven caps and he had a hand in three other scores. His effervescence and top-end speed are devastating commodities, and for a small bloke, he plays seriously big in the tackle and when over ball.
MOTM | Having displayed some great skill and try-scoring finesse in front of an appreciative audience, Darcy Graham is voted Man of the Match! ? pic.twitter.com/gd33sn0o7J

— Scottish Rugby (@Scotlandteam) September 6, 2019
Barring injury, Graham will be a Scotland centurion and is probably a decent bet to break the national try-scoring record (which stands at 24, if you're interested). He is undoubtedly Townsend's form wing, yet unseating the entrenched duo may well be beyond him for that first colossal pool showdown.
The defensive nous and aerial prowess of Maitland and Seymour are precious, particularly against a team who are likely to suffocate, turn and smother Scotland with their kicking game. Those two have 94 caps and 32 tries between them. It seems unbelievably cruel to leave Graham – faster and deadlier than both – out of the starting XV, but that experience will probably win the day come selection. Regardless, Graham will be needed amply in Japan, and his time as top dog will soon dawn.
Inside the miniature rapier, Adam Hastings' performance was laced with clever flourishes and maddening bungles. He still struggles for consistency, but he is never afraid to back himself. Unless Russell goes down, he will almost certainly be asked only to start against meek Russia.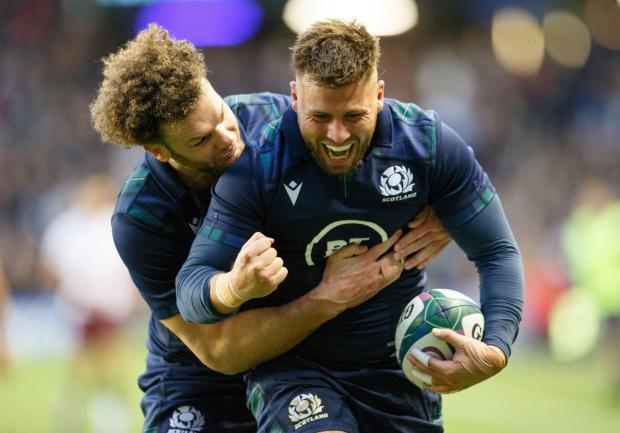 It was heartening to see Sam Johnson and Duncan Taylor begin to motor in their first hit-out as the likely premier centre pairing. Each, especially Taylor, has overcome truly heinous luck with injuries these past few years. Each attacked and defended well and mercifully came through unscathed, Taylor in his first Test at Murrayfield and first at outside centre in over three years.
Johnson and Taylor appeal to Townsend because of their keen intelligence with and without the ball. Both carve beautiful running angles with dynamic strides and soft hands. Both have excellent positional awareness and love to tackle. They give the coach his best blend of potency in attack and brutality in defence. Keeping the two of them, as direct and abrasive and prone to damage as they are, off the treatment table? That will be another matter.
This was a night where the spectre of injury hung almost as large and menacing over Murrayfield as the unthinkable prospect of defeat. The showpiece is so close now that any significant physical damage would leave a player scant opportunity to get back in time to make a meaningful contribution to the campaign. Just ask Sam Skinner.
Ouch! Gregor Townsend could have paid a heavy price for Scotland's latest win over Georgia https://t.co/05c2OtWXEt

— RugbyPass (@RugbyPass) September 6, 2019
By and large, Scotland got through a bruising physical encounter without major losses. Five players went off injured, but the hope is that none of them are serious enough to put tournament participation in jeopardy. Jonny Gray felt a niggle in the hamstring that has plagued him this summer and was removed at half-time chiefly as a precaution. Ditto Thomson in the final ten minutes. The brains of Blair Kinghorn and Ben Toolis will require further investigation after both suffered heavy blows to the head. The gravest concern, though, is over Jamie Ritchie, who was taken to hospital so that a smack to the face could be properly assessed.
There were gnawing issues for Townsend on the field too. Scotland kept Georgia try-less but they could have made life a whole lot easier for themselves with better discipline and better accuracy. The first half was an exercise in sloppiness, two line-outs bungled, seven penalties conceded – several of them dense – a spree of handling errors and only a 10-9 lead to show for their dominance. Only in the final eleven minutes did they score the three tries that burnished the scoreline.
Mistakes are to be expected in a team showing so many changes, and a host of players who have not seen much front-line action since May. But the error count and the glut of silly infringements was not acceptable. Deliver that kind of stuff in Japan, and graver consequences than anything the Georgians could muster will await.
Townsend knows that, and he knows too that his team will be slicker with their go-to men restored to the line-up and another fortnight's fine-tuning under their belts. They fly to Japan on Monday. Ireland and their departing hero Joe Schmidt lie in wait thirteen days later. Scotland will need to be in perfect harmony by then.
Comments
Join free and tell us what you really think!
Join Free