Feature: Lima Sopoaga's legacy in New Zealand
Lima Sopoaga is the latest All Black to make the decision to leave New Zealand and join English Premiership side Wasps on a 2-year deal. At just 26-years old many will say too soon, however, he has always defied conventional 'ageism' looking back on his career.
Nothing has been given easy to Sopoaga – he fought his way to the top of New Zealand Rugby against doubters, odds, criticism and injury.
After a solid debut season with the Wellington Lions in 2010, the Hurricanes favoured Manawatu's Aaron Cruden and incumbent squad member Willie Ripia for the 2011 Super Rugby season, leaving him to look elsewhere.
The Hurricanes passing up on the 19-year old would tragically come back to haunt them and Jamie Joseph's decision to back the young playmaker and bring him to the Highlanders would be handsomely rewarded.
Few will know whether the Hurricanes decided he was too young at 19 for Super Rugby, but Sopoaga's bold move kick-started his career and opened the path to the next level.
In an eerie sign of future events, he started the opening game of the 2011 season against the Hurricanes at the Cake tin, scoring the first try and kicking two penalties in a poetic 14-9 win in his hometown. His dream start, however, did not foreshadow things to come.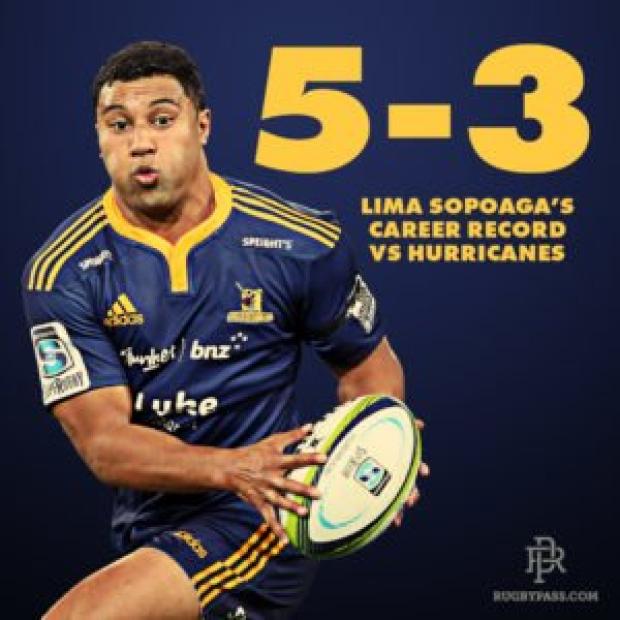 Injuries plagued Sopoaga in 2012 and in 2013. The gamble to move South was proving tough – the Highlanders won just three of 16 games finishing second-to-last in the competition putting pressure on everyone to perform. A mass player exodus followed – but not Sopoaga. In 2014 Joseph told him it was time prove he was the real deal.
Under the tutelage of assistant coach and ex-Highlanders first-five Tony Brown, Sopoaga's play began to flourish and with regular game time, free from injury, consistent performances followed.
"All three coaches here have had big influence, but me and Browny's relationship is a bit more personal," Sopoaga told Stuff during the breakout 2015 season.
"Obviously he's played in the No 10 jersey and we sat down before the season started and had a pretty in-depth conversation about where he thought my game could go. How he thought I could grow it, and what he thought I needed to do.
His short attacking kicks became a signature weapon, showing pinpoint accuracy and touch off both feet. He never shied from taking the line on or trying to fix defenders with his jinking footwork. His fluid passing game rounded out a playmaker with a multi-faceted attacking game. With Aaron Smith at halfback, the Highlanders had one of the best young halves pairings in Super Rugby.
The arrival of Malakai Fekitoa in 2014 added another dimension to a developing backline with Ben Smith and Patrick Osbourne. Under the roof of Forsyth Barr Stadium, the team built a game plan around counter-attack, Smith's box kick and Sopoaga's accurate kicking game on the fast, dry surface.
The team finished 8-8 in 2014 and finished sixth, improved their points differential, averaging 25.0 a game while conceding 27.6. The rejuvenated Highlanders were competitive again.
The addition of Waisake Naholo in 2015 proved to be a masterstroke and completed the Highlanders star-studded backline, providing Smith and Sopoaga attacking weapons everywhere. The pair combined for 42 try-assists over the 2015 and 2016 seasons, the most of any halves combination over that time, and Naholo finished the season as Super Rugby's top try scorer.
"We have some sharp outside backs with some wheels. Browny is all about the three-point attack," Sopoaga said. "You can go through them, around them or behind them and that's what we're trying to do… We try to have those three options and it doesn't matter where we are on the field we feel like all three are always available to us."
Brown's influence provided creativity and direction to Sopoaga's raw attacking talent, finding a way to harness his potential and sharpen his performance.
The Highlanders finished the season with an 11-5 record, averaging 28.1 points a game and an improved defensive record heading into the playoffs as a 'next best record' qualifier.
Nobody gave them a chance as they upset the Chiefs and defending champs Waratahs in successive weeks, riding a wave of momentum into the final against the regular season champions Hurricanes. The team of 'discards' and rising stars were 2-to-1 outsiders to win it all.
Sopoaga was instrumental in the upset 21-14 victory over the Hurricanes, providing accuracy, direction and composure as he had done throughout the playoffs. The win was labeled as 'the greatest comeback in Super Rugby history' by commentators, claiming the title just two years removed from the disastrous 2013 season.
"Yeah – 2013: everyone knows what happened in that year. Fourteenth, to sixth, to champions. Words cannot describe what I feel right now but I would go through all of that again to feel what I like right now." – Sopoaga after the Super Rugby final
His Super Rugby form earned an All Blacks call-up where he was thrown into the deep end in at Ellis Park, to face the Springboks in front of 62,000 raucous South Africans. He helped pilot the All Blacks 27-20 victory with two penalties, three conversions in a composed display.
It would be 799 days until he played for the All Blacks again, although perhaps for no good reason other than timing – a logjam of quality 10s in the system.
At 26-years-old Sopoaga's career in New Zealand should be revered, although his All Blacks appearances were limited, his feats at the Highlanders are nothing short of miraculous and he should go down as the best first-five they have ever had – yes, even more so Tony Brown.
He locked up one of New Zealand's five starting 10 roles for nearly a whole decade, in an age of greatness in the position – with the likes of Carter, Cruden, and Barrett. He basically forced his way into the black jersey by bringing a Super Rugby title to the historically poor Highlanders – and he did it against the team that didn't believe he was ready.
He will depart at the season's end after one more ride with the Highlanders with nothing left to prove.
Leaving now is on his time – just like when he decided he was ready for Super Rugby.
Comments
Join free and tell us what you really think!
Join Free