'Don't you ****ing look at Henry Slade. Don't even shake his hand'
Nic White has reflected on working with explosive former Wallabies head coach Michael Cheika, and the extra mile he'd go to charge up his troops pre-game.
White worked under Cheika in Wallabies camps at various stages between 2014 and 2019 and gave the RugbyPass Offload panel an insight into how the now Argentina head coach's unique rugby mind works.
Cheika enjoyed a bitter rivalry with England head coach Eddie Jones while in tenure, and there wasn't much love lost between the fellow Randwick old boys when it came to facing off against each other in Test rugby.
"I caught the tale end of it in 2019. Missed all of it when it was juicy in 2016, through those years when it went a bit grim there for a bit.
"They're both masterminds of playing the game. There's none better than Cheik for sure and Eddie's got his finger on the pulse. They're both from Randwick, this small club in Sydney that has produced this phenomenal amount of Wallabies. They're both Randwick old boys and they give each other stick.
"I guarantee you now that it's done they've called each and gone out for a few wines.
"They're very good at stirring each other up in the media. It's great to watch."
White, who played for Exeter Chiefs and was familiar with many of the England players from his time in the Gallagher Premiership, was told by Cheika to ghost Jones' charges when they came up against each other before a Test match.
"It gets to the stage where Cheiks says 'Don't even look at them when you walk out. I don't want you talking to any of them'.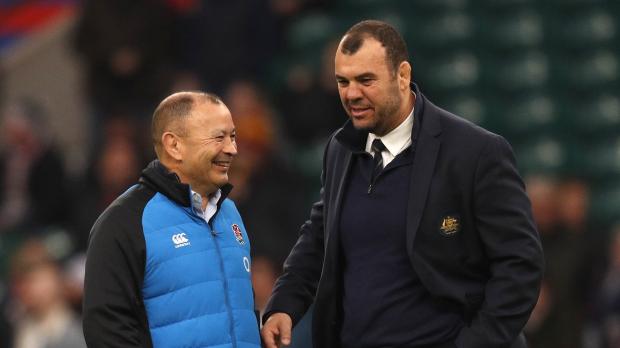 "I'm like walking out the tunnel and I play with these blokes. He's like "Don't you ****ing look at Henry Slade. Don't even shake his hand'.
Cheika could be a hard man to please, even when the Wallabies were winning.
"I remember in 2015, I was on the outer. They knew I was going to France. We played the All Blacks in Sydney and pre-game he's like 'We're going to beat these blokes and we're going to just beat 'em.
"I came on and scored a try and kicked a couple of goals and I come off. And he's like 'I ****ing told you not to beat them by that much' and then walked off.
"I was like 'We just beat the All Blacks, I'm stoked. I'd played the game of my life. Which I'm still living off. And here you are, angry that we didn't just beat them by a couple of points. We beat them by ten.
"He was an absolute character. I think guys understood that he could be so passionate and intense but then he'd leave it there. He was someone very well-liked."
A relatively young coach, Cheika was also known for getting involved in training sessions while head coach of Australia and Leinster, even contact ones. Ireland No.8 Jamie Heaslip famously leveled the Australian during one such contact session in Dublin when the now 55-year-old was in charge.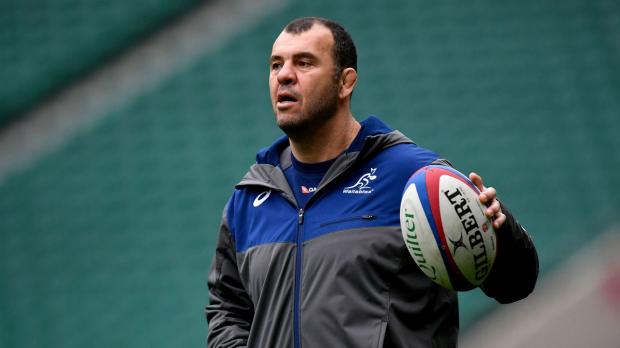 "We were on the Spring tour in 2014. I'm with Matt Hodgeson [the former Western Force backrow] and we're in Ireland. It's game day and we're doing our not 23, getting absolutely flogged. It's miserable and we go into this boxing ring. Two guys have got to go back to back [in the middle of the ring] and eight guys surround you and you're boxing. They're just coming at you.
"You can just shell up or you can throw a couple back. I'm literally with my gloves up around my head, copping it from the lads."
Cheika decided to get involved in the session.
"Cheik at the start of the tour had had his nose operated on, because he's had sleep apnea and what not. And he jumped in and had a bit of fun."
It quickly turned sour.
"Matt Hodgson has just cracked him. Hit him.
"Cheika goes 'Awwwh you ****ing ****. I've just had that operated on and you've ****ed it. Hodgo, your career is done, see ya mate.
"He retired at the end of the year anyway! Cheika loved jumping in. Doing all that mad stuff. Tape mouthes. Run up hills. I loved it."
There was another time that Cheika end up on the receiving end in a session, care of a flying knee from Israel Folau.
"One training session, Israel Folau was doing a specky catch like AFL players. Jumping on the back. Israel Folau can get up like 8 feet in the air and he's launched a knee into Cheik's back and he's hit the deck and done his shoulder.
"Had it operated on the next year. He's just out in amongst it. You wouldn't know it. He kept going!"
Cheika certainly won the respect of White at any rate.
"It's great when yoou're getting absolutely flogged doing mindless hills and having to cop a spray and he's like 'run faster'.  He's there with you in the hurt locker.
"At the end you're like 'Don't have a heart attack on us. We're in the hurt locker. Look after yourself'. It was good. I enjoyed that when he joined in."
Comments
Join free and tell us what you really think!
Join Free